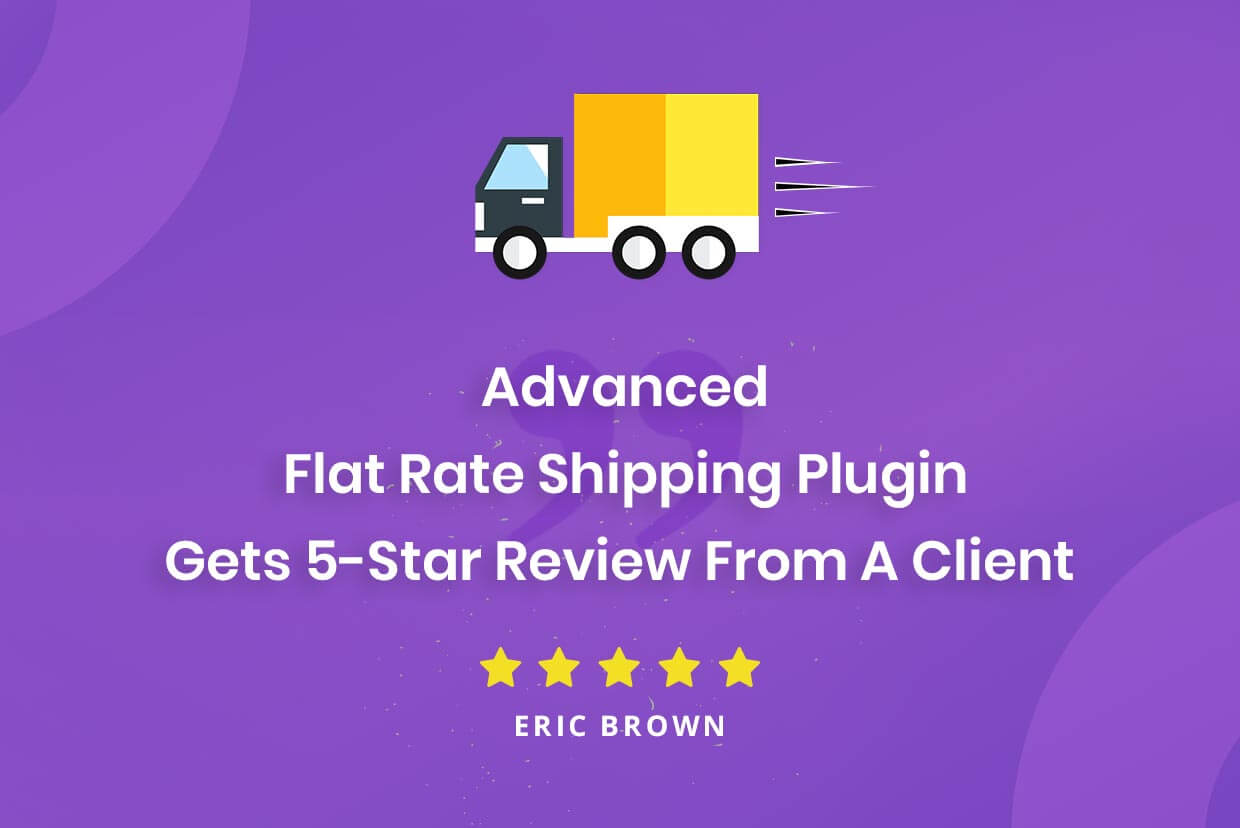 Advanced Flat Rate Shipping Plugin Gets 5-Star Review from a Client
Our Flat Rate Shipping Plugin got a perfect 5-star rating from a Client, overwhelmed by Plugin's Features & Support services
Advanced flat rate shipping method for WooCommerce and free shipping enablement plugin, developed by Multidots has been sold to approximately 4,000 e-commerce store owners or WooCommerce developers. The plugin has all features related to free and flat rate shipping, which an online store owner may want to implement.
Owing to this, a happy WooCommerce developer has recently rated us with perfect 5-stars customer review after receiving the excellent support, customization services from Multidots.
Let's tell you how our plugin and customization services helped our client Eric and what he shared in his feedback.
Why the Client Needed the Plugin and How Our Flat Rate Shipping Plugin helped him?
Being a WordPress and e-commerce developer, Eric needed to add multiple complex functionalities related to shipping. As most of the plugins in the market provide half or partial solution to shipping rate related rule-making and he didn't want to re-invent the wheel, he decided to search a bit more. After doing intensive research, he found DotStore where we offer Advanced flat rate shipping method for WooCommerce.
Eric decided to purchase the plugin and install it on his client's website, as it appeared to have all essential features as required by the e-commerce store owner. After configuring the plugin and using it for a while, Eric Brown (on September 11, 2017) said,
"We needed more dynamic shipping options for WooCommerce, and the Advanced Flat Rate Shipping Plugin solved that problem. The plugin is pretty straightforward to use, and their support is above and beyond. They are more than happy to help, and they go the extra mile to ensure all questions are resolved. I can confidently recommend DotStore."
Not only our plugin made him happy, but our super-responsive support team helped him by clarifying all his questions regarding the plugin. ALSO READ: Greet the holiday season with product bundle boons for your WooCommerce Store
After a while, the client came again with a customization request regarding the plugin. Our team provided flawless support for customization of Flat rate plugin to Eric, making him happier than before.
Take a look at the video where he gave his review and is talking about the awesome experience he had with Multidots' Dostore and Advanced Shipping Plugin: https://www.youtube.com/embed/aaRrTIRyp7c?feature=oembed
Overview of Advanced Flat Rate Shipping Method for WooCommerce:
This DotStore WordPress plugin for WooCommerce users is built as a complete solution to multiple shipping-related problems, as faced by multi-location online stores around the globe. The advanced rate plugin helps the e-commerce store owners in creating shipping methods as per their requirements as its purpose is to achieve realistic goals of the online stores rather than serving as a mere basic set up.
Features of Advanced Rate Shipping Plugins
The plugin can be used for the following purposes:
To add free shipping method(s)
For running sales (The plugin may come in handy during sales. For example, people may require to provide free shipping, shipping discounts for a particular region.)
For fixing flat shipping rates according to countries, states, zip codes, and zones.
For letting the store owner deploy the product based, variable product based, cart weight/amount based shipping methods, and a lot more. [Basically, everything related to flat rate shipping].
As we've developed this plugin after a thorough research on the requirements of customers around the world, we have tried to overcome each and every limitation of default WooCommerce shipping rate functionality. So if you are are in need of advanced WooCommerce Shipping rate features, buy our plugin today and save yourselves from hundreds of hassles. For any query related to the same, comment below. We'll revert at the soonest, providing every possible help to you.