Today, blogging is one of the most highly paid professions around the world. There are a lot of platforms coming up that offers services for blogging and also monetary opportunities. If we take a closer look at some of the blogging platforms we may explore their pros and cons.
In this blog, we will be talking in detail about the two most popular platforms Blogger and WordPress. Here, we will also discuss how they differ from each other in terms of functionalities, performance, features, security, cost, investment, knowledge level, expertise, technicalities, theme designs, content placement, platform dependency, migration support and most importantly popularity.
Here, we will also discuss how they differ from each other in terms of functionalities, performance, features, security, cost, investment, knowledge level, expertise, technicalities, theme designs, content placement, platform dependency, migration support and most importantly popularity.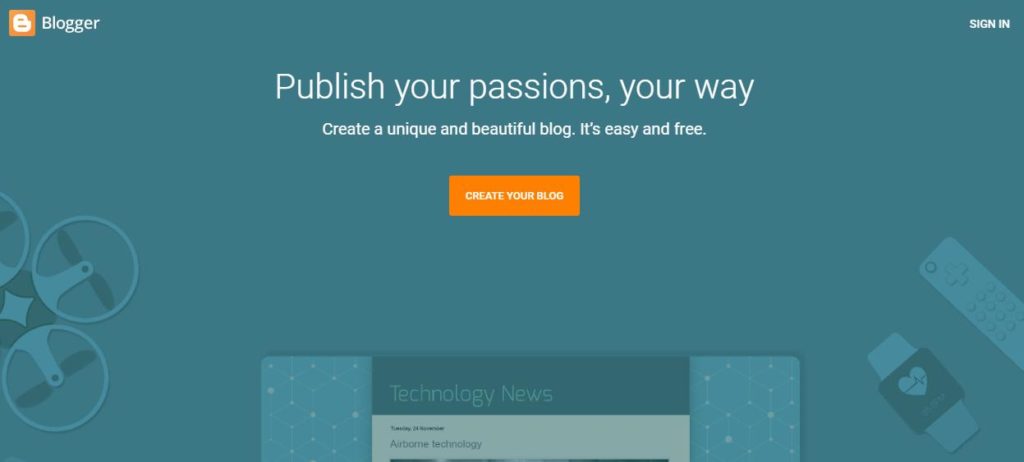 1. Knowledge Level
Blogger When you are planning to just start blogging with no intention to earn money or with higher intention then Blogger is perfectly fine for you. The reason being it requires absolutely no knowledge of setting up a blog. You just play with options and you are done with your own blog.

WordPress It's better to have some basic knowledge of blogging that will help you to set up your blog well. This platform is intended for enthusiasts who are passionate to turn their blog into an earning source. Here, you need to set up well and maintain your blog in order to get monetized.
2. Expertise

Blogger You absolutely need not be expertise while using Blogger. You need to have a hobby to get going and you enjoy at maximum. Blogger is one such platform where you can express your thoughts just as you write a diary, the difference is it is online.
WordPress When it comes to using WordPress platform it is always better to level a basic level of experience or expertise in order to smoothly run your own blog. Here, if you have expertise in using WordPress dashboard it will be highly beneficial to write blogs, post blogs and update plugins in less time. If you save a lot of time that precious can always be given for research on the topic or writing the next blog.
3. Investment
Blogger You cannot deny the fact that when you want to start something you need some kind of investment. But, in the case of Blogger.com platform, it is not the same. The key reason is it has its own platform and domain system wherein your blog name is set in the format xyz.blogspot.com and the other side is you probably cannot change the format.
WordPress To get going with WordPress platform you need to do small investment. Here, you get two options one is purchase domain from WordPress platform itself where you will get the domain in the format xyz.wordpress.com. The other option you have is purchase domain and host from other domain/ hosting service provider with all the installation processes of WordPress platform on it to start blogging as well as earning.
4. Technicalities
Blogger When we talk about Blogger platform it is for people who just want to start writing something without any expertise. They can explore each and every option and its working. This platform allows you to publish your post and improving your writing skills for yourself due to that reason technicalities requirement is minimum.

WordPress This platform is a bit different from Blogger. Here, you require technical stuff to start with professional blogging. It's not just that you cannot simply write but you need to update your installed theme, plugins, you need to understand why plugins crash and which plugins are conflicting with each other.

5. Cost
Blogger – For the novice, Blogger.com platform because you do not have to spend any amount to start blogging. Here, everything you get is in-built with all necessary features. You do not have to pay for the domain, hosting, theme or any other. It's simply like plug n play where you register yourself and get started blogging!!!
WordPress – Unlike Blogger, there is a bit different from the WordPress platform. Here, you have a purpose to start a blog to earn some cash. While you plan to move with WordPress you have to make some payments for purchasing a domain, hosting a website, purchase a theme if you want an extraordinary and appealing look to your website. There are many plugins available for free but if you want to use their advanced features you need to pay some extra cash for it which is actually worth.
6. Features
Blogger – There are very limited features available that are perfectly fine for beginners who would want to explore writing methodologies and platform features. This platform is simple, straight-forward and very basic to handle blogs.
WordPress – When we talk about WordPress platform you have got ample of features to give professional look to your blog with all necessary options like social media link sharing, contact forms, monitoring the traffic of a blog and many other features. WordPress platform has a strong community that regularly update for themes, plugins, security or even internal features.
7. Features
Blogger – Talking specifically about the overall performance of the blog built upon Blogger platform are very basic. Its loading time, response time, optimization is minimum. For that reason, the Blogger platform is not much user-friendly in the context of performance and speed.
WordPress – When comparing to the Blogger platform, it has a wide option to optimize the performance based on data, images, content, videos, etc. WordPress has many promising plugins and features that help you to boost up speed and performance of your website. Improving performance in WordPress is easier and quicker.
8. Functionalities
Blogger – Here, you absolutely require no coding knowledge or idea about each functionality. You just need to know the use of each option available and that can be learned within a few hours. So, here learning time is quick and simple about the Blogger platform.
WordPress – Though WordPress is known for its simplicity still you need to have an idea about their functionalities. You require no coding knowledge to a certain extent but above that, it is always better to understand the coding structure and its implementation. Here, learning time and understanding takes time but it's really easy to grab the knowledge. It is due to the community power that has simplified the WordPress platform overall learning process.
9. Security
Blogger – To be very frank, Blogger platform has the least security architecture where anyone can penetrate with hack knowledge. For that reason, Blogger is preferred by beginners but not experts just because of its security.
WordPress – Knowing the fact that 50 – 60 % of the websites around the world prefer the WordPress platform because of its reliability, scalability, security architecture, features, and functionalities.
10. Theme designs
Blogger – When you actually develop your blog design here, you have very limited themes to select from. It has very themes which can make your day just by design. So, it's better not to expect too much from the Blogger platform. As a platform for beginners, you cannot expect more features, designs, colors or even design styles.
WordPress – When you ask someone as for why do they like WordPress platform? You will get a definite answer as, just due to innumerable themes available for free or paid. It is always a mesmerizing experience working on WordPress platform with stunning theme designs which motivates you to even do much better.
11. Content Placement
Blogger – If you see in Blogger, you will find that they have a specific type of content placement options available which we normally find in blogs. You cannot deny the fact that here you just want to write and publish content with no much plans for further.
WordPress – When it comes to WordPress, it has got to offer a wide variety of content placement options available which is also useful in Google AdSense to monetize your blog. Here, you can place ads which help to generate traffic and revenue both simultaneously.
12. Platform dependency
Blogger – In the case of Blogger, if you migrate your blog you have to start from all beginning and your blog is dependent on Blogger platform.
WordPress – It is advantageous over the Blogger platform where WordPress is not owned by a single entity or organization. This helps it to migrate from one domain to another very easily.
13. Migration Support
Blogger – Here, migration of domain or data is least possible and you need to do much to get right all the setup.

WordPress – If we talk about WordPress over Blogger platform migration of domain, website data and everything else is easy and fast.
14. Popularity
Blogger – Having said that Blogger platform is meant for beginners, all basic stuff is possible and prefer working on it.

WordPress – Undoubtedly, one of the most popular platforms for blogging, personal portfolio, creative website, agency website, small scale industry, and others. It has got all the features, capability and functionality to cater to your needs and interests
We discussed each and every difference between Blogger and WordPress with all the angles. Be it cost, features, setup process, design or anything that is necessary to develop a blog or website. Every platform has its own importance, use and time-frame to use and implement for years. But if you are planning specifically to work upon blogging these platforms can be handy for you to get started all from scratch. So, happy blogging!!!