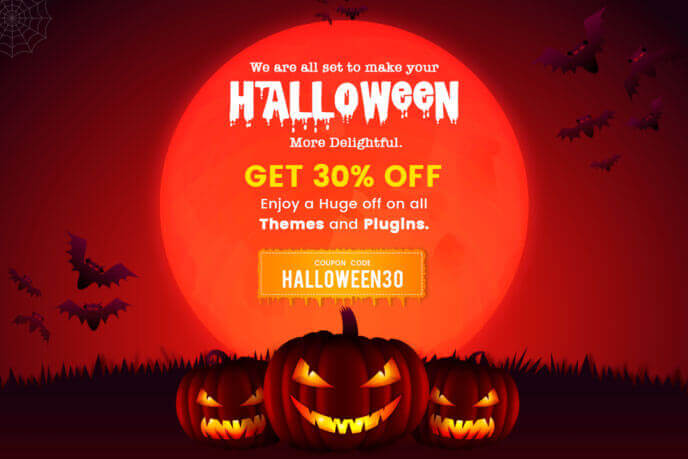 Celebrate Halloween with DOTSTORE
Till now, we have seen only those Halloweens where restaurants and treat shops across the Britain, Ireland, and North America are passing out terrifyingly awesome freebies and frighteningly good deals. But in this age of online shopping eCommerce stores are no exception. In honor of the spookiest of holidays, DotStore is treating you with a special Halloween discount code. Save 30% of your money on purchasing any of our Themes and Plugins. And transform your WooCommerce store into a fully functional shopping platform.Use HALLOWEEN30 and get your discount.
Whether you are thinking of creating a website or have an eye on WooCommerce themes and plugins, don't miss this Halloween offer. Such a great offer comes only once a year. Buy the theme or plugin of your choice from DotStore at a huge off.
Save 28% of your online shoppers just by offering Free Shipping. With key features like creating multiple flat rate shipping methods; setting excellent conditions for price, weight, and quantity; and by placing precise shipping charges for any order – our Advanced Flat Rate Shipping Method For WooCommerce has been proven as a most potent and flexible shipping method plugin for 510+ WooCommerce stores. In fact, the latest version 3.0.0 is faster (page loads in 2-3 seconds, even with 5500 products and 2200 users), user-friendly (engineered for seamless usability), and dynamic (you can create and check conditions as per your requirements ).
Looking to set up conditional fees rules, set multiple conditions for extra fees, schedule fees for a particular period, or charge additional flexible fees – buy our WooCommerce Conditional Product Fees For Checkout plugin with your Halloween discount and earn more by charging for extra services or personalized options.
ALSO READ:
WordPress in 2017: Gazing Through the Crystal Ball
Want to get the real treat? Buy DotStore's WooCommerce Best Selling Plugins Bundle which includes three powerful plugins worth of $157. Save $88 on this Halloween as you are only supposed to pay $69. Not yet confident concerning your ROI. Try our WooCommerce Enhanced eCommerce Analytics Integration with Conversion Tracking and fuel your WooCommerce store's growth with enhanced eCommerce conversion tracking, social media eCommerce conversion tracking, and Google Adwords conversion tracking.
Halloween offer period is limited. So just get through your favorite theme or plugin and make a purchase. Enjoy discounts and save money. The bottomline is easing your shoppers and boost your sales.
Mask your faces. Wear strange hats. Moan like witches. Jump like goblins. And almost manage to scare ourselves.
With a lot of candy and a couple of mischiefs, Have the creepiest Halloween.
Celebrate with costume parties, trick-or-treating, pranks and games!
Spookily,
The DotStore Team
Happy Halloween Everyone!