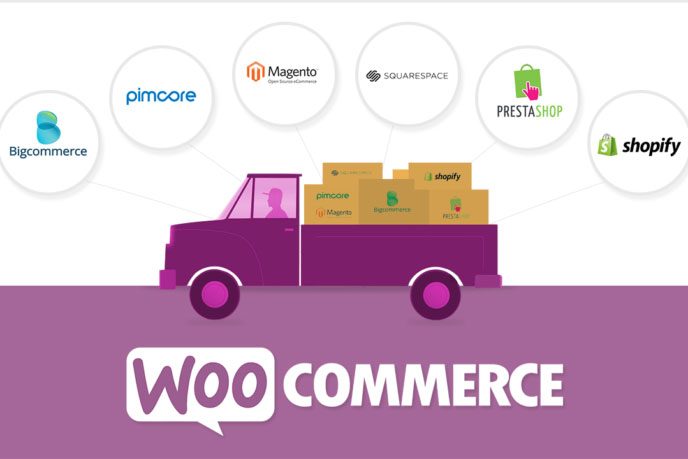 How do you know its time to move to another eCommerce Platform? This post will help you decide
If you are into eCommerce, you have been into this position or might be on the verge. Migration is not a topic that you discuss often. But, when the time comes — you are in a mess.
Worst of all, if you have no clue about how to choose the next platform, you could end up like this. Many of us have and those of us who have been here know it's not a nice position to be in.

This post has been written to help eCommerce business owners know when its time to migrate, which platform to migrate to, what things to consider while migrating etc. All in all, the post will help you eliminate headaches later.
eCommerce is super complex. The 'one size fits all' approach does not hold true here. What works well for one store might be a disaster for another.
So, there is no cut and dried way to decide when you should start changing your software and how to choose the new platform.
BottleKeeper
started out on WordPress & WooCommerce. But….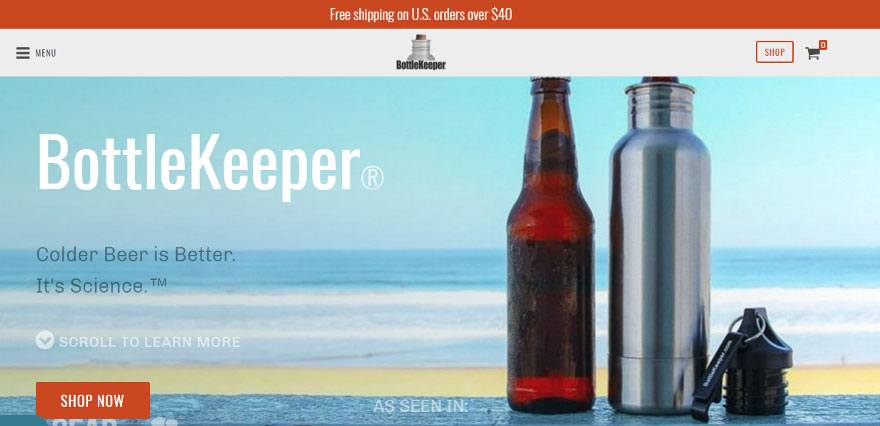 When the site outgrew, the site performance was hitting rock-bottom. Why? The website used almost 29 plugins which pumped too much code into the site leading to higher response time. A lot of time went into maintenance.
After careful consideration, Shopify seemed to fit their needs better. The platform helped them eliminate time spent on optimization & maintenance, thus, reducing overall costs.
Self-hosted options are great for their flexibility but can eat away your time and resources for maintenance. This quote from Patrick Rauland has never been so true as it is now.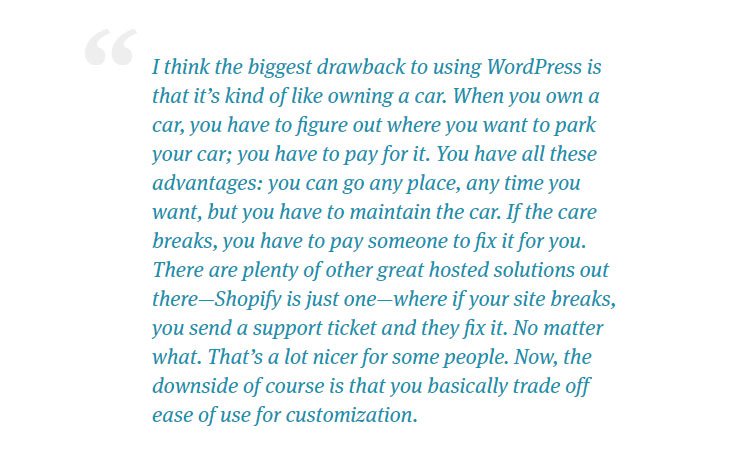 This brings us to our…
Lesson #1 — Keep a close eye on how your store is growing. When you feel it has gone past its limit, hunt out for options. It does not matter if you shift from a self-hosted option to a hosted eCommerce platform like Shopify. If your needs are met, customers satisfied and your conversions are hitting the roof — MAKE THE SWITCH. You might end up paying more but have very little to manage. So, if you are down on technical skills, hosted solutions might be your best option.
Why can Shopify be the best option under this scenario?
We bumped into this forum discussion and loved every piece of advice given by its members. For a relatively simpler store, Shopify offers everything you need to manage on your own. There is unbeatable value because every feature you might need, there's an app for that and
For a relatively simpler store, Shopify offers everything you need to manage on your own. There is unbeatable value because every feature you might need, there's an app for that and it's very much polished and offers higher value than most plugins available for self-hosted solutions.
You want to send automated emails to visitors who have abandoned your cart. There's an app for that.
You want to run a remarketing campaign. There's an app for that.
And, if you want an email telling you the traffic source of each sale when it occurs. There's an app for that.
Finally, if you to want to plug in your favorite analytics companies without touching the theme code. There's an app for that. So, it all comes down to your goals. If you are selling simple products and see too
So, it all comes down to your goals. If you are selling simple products and see too many costs going into maintenance, maybe, Shopify is your best alternative. The only problem we see with Shopify is that customizing checkout can be a pain. Now, this can be a big trade-off for you.
Moment Lens
was founded on Kickstarter….and gradually…they shifted…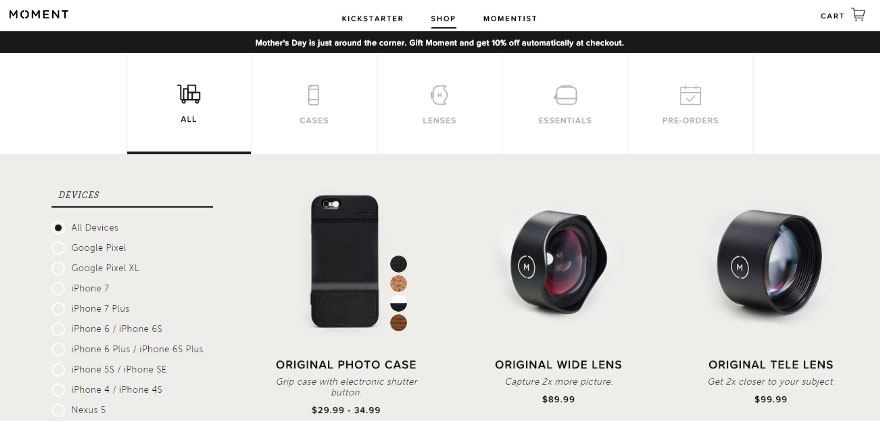 to WooCommerce to start selling big-time and drive sales. As time passed, they believed Craft Commerce better suited their needs. The site is still running on Craft CMS.
"Kickstarter was an early fundraising platform that played a key role in getting off the ground, gauging customer demand, and funding early production," says founder Marc Barros.
And, this leads us to…
Lesson #2 — When you are in your early stages of online business, start with small platforms like Etsy or crowdfunding sites like Kickstarter. Move on to self-hosted solutions like WooCommerce once you have a good understanding of your audience and the kind of traffic & sales you expect in the coming months. Once, you pass that stage, again analyze if your eCommerce Platform is serving your growing needs. If YES, stick to it. If NO, make the SWITCH.
The story of moving
BULUBOX

from Shopify to Magento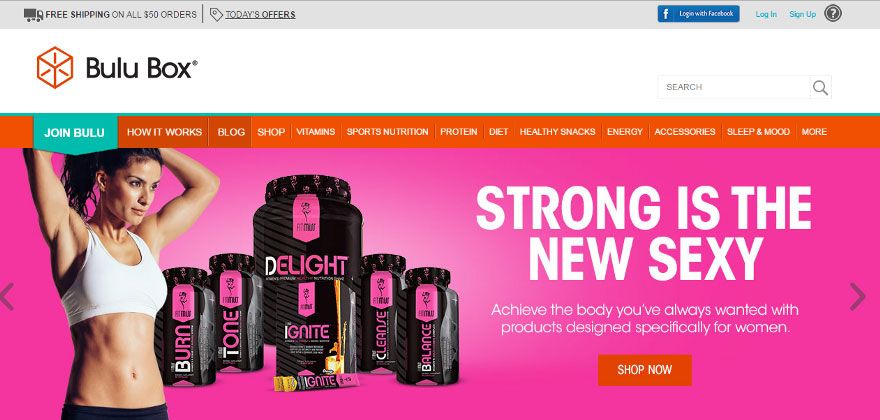 Tegan Snyder was one of the people who helped BuluBox make the shift from Shopify to Magento in its growing stages. One of the early challenges they faced while using Shopify was that inspite of having great features, the platform did not allow them to sell a combination of full-size products along side subscriptions.
There were customers who needed monthly supplement box service and that required handling monthly credit card payments. Initially, they used Recurly with Shopify to address this need.
But, it ended up confusing customers….

Ultimately, they had to look out for a more flexible solution. After comparing various options ranging from OsCommerce to ZenCart, the team finally settled with Magento.But, mind you, the migration had its own hurdles because
But, mind you, the migration had its own hurdles because it's a giant software. You should know what you are dealing with in case of Magento or else you will be in a mess. Read the detailed case study here.
Which brings us to…..
Lesson #3 — Magento can be the best alternative when you are making a switch but…but…be extremely careful. You will need to heavily invest in this platform even if it's open source. Make sure you make at least $500K of business per year to afford this solution.
How
Right Channel Radios

lifted conversions by 41% by moving from Magento to Shopify.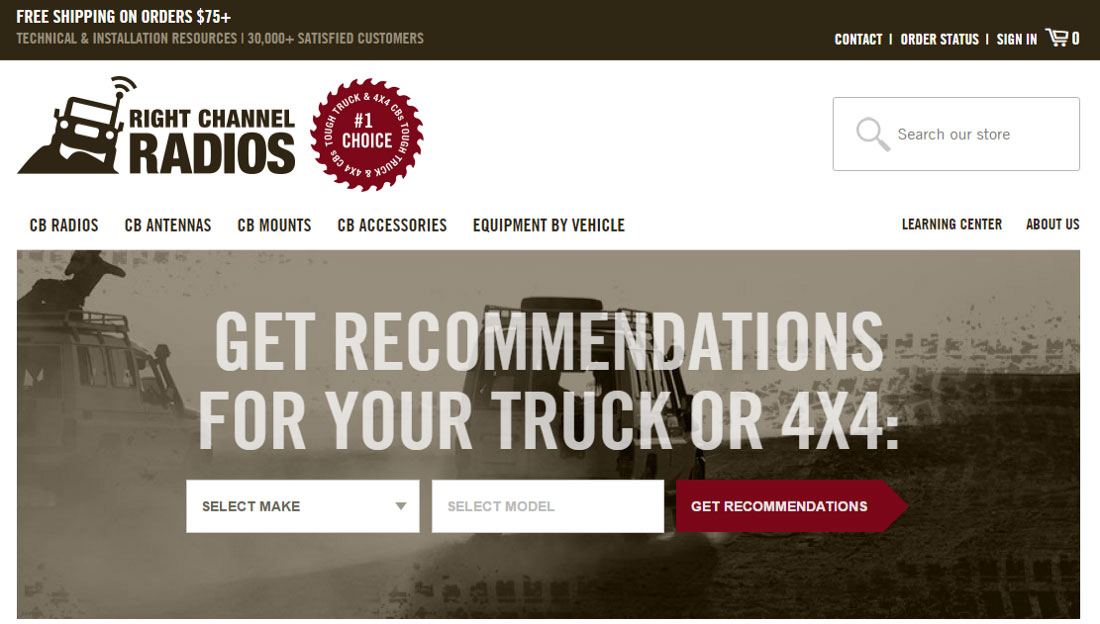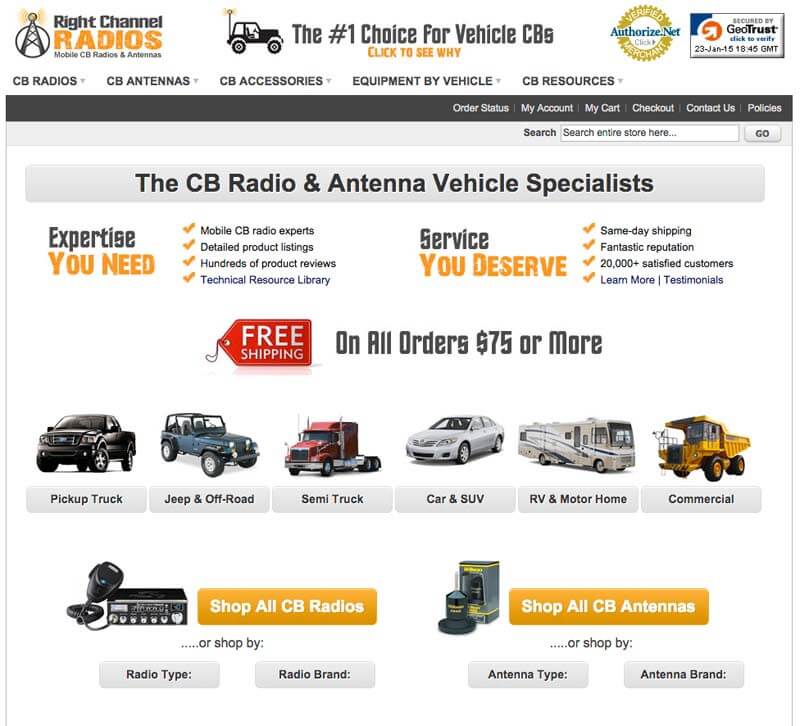 Andrew Youderian invested around $50,000 in the re-design of his online store — Right Channel Radios. His site was running on Magento.
Raising your eyebrows?
Migrating from Magento to Shopify + investing fifty grands for the makeover? Why would somebody ditch the Magento Community Edition which they have been using for over 3 years? This guy must be crazy.
Apparently not.
Here are his reasons for making the switch –
Difficult to administer.
Requires a hell lot of resources.
Pain to customize.
Frustrations in up-gradation.
Expensive Rackspace account.
Issues with extension compatibility.
Less intuitive user interface.
You might argue, customizing checkout in Shopify can be a pain as we listed above. However, with a team in place and a new responsive checkout introduced by Shopify, this seemed less of a hurdle.
One of the biggest concerns while making the shift was SEO. When you migrate from one eCommerce Platform to another, considering how your rankings will get affected is crucial. Since Magento and Shopify use a different URL structure, Andrew still decided to take the risk and it was worth it. There was no major change in his traffic.
Read the following posts to know about this case study in detail.
So, here's our…
Lesson #4 — Despite running your online store on the most sophisticated platforms like Magento, you must be aware when to stop making further investments and make the shift for the long — run. If your present eCommerce Platform is eating away a lot of time, resources and money. Maybe a SWITCH is underway.
ALSO READ:
Here's how to add extra flat rate feature in a WooCommerce Store.
Dollar Hobbyz
— A large scale retailer, too, shifted from Magento and here's why
When you process thousands of orders every month using a platform like Magento, Migration is the last thing on your mind.
However, Dollar Hobbyz was not convinced that Magento was the best platform for them. With 150,000 visits a month and about 10,000 SKUs, many very shocked to see them migrate from Magento to Shopify Plus.
And, they were only about 1.5 years old.
Too early to make a switch right?
Wrong.
Here's what they were facing.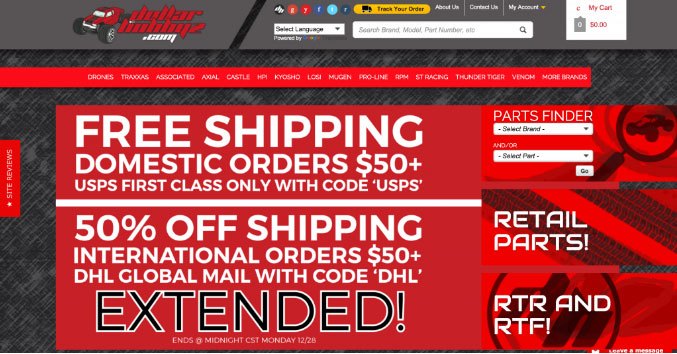 Thousands of dollars went into maintenance every month.
No plug and play kind of apps to install extra features. Specific types of extensions required extra development time.
500 error on the checkout page.
Security and bug issues.
Now, these guys actually talked with a lot of other companies ranging from LemonStand to Shopify Plus, Mozu, BigCommerce & Magento too. Read about their process of selecting a platform here.
The point brings us to….
Lesson #5 — Even if you are a big retailer irrespective of the no. of years you have been into business, shifting to another eCommerce Platform can become a priority. No matter which platform you narrow down to, make sure to test it out by building a Proof of Concept to see if it's capable enough to handle your business or it can be a costly mess. Also, when it comes to security and customer experience if issues keep coming up — maybe — it's a signal you change for the better.
before, a South African retailer, moving from Joomla-based VirtueMart to WooCommerce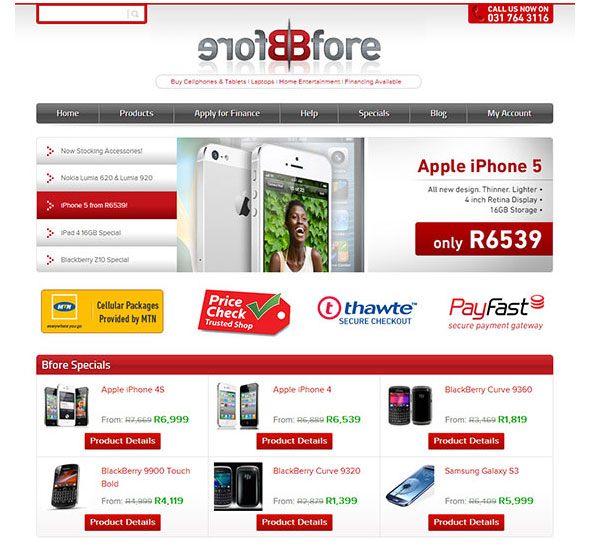 BEFore deals in tablets, TVs, air time, tablets, home electronics goods etc. The earlier version of the website was based on VirtueMart 2.
The problems with their existing store.
A lot of features were not available in VirtueMart 2 like the ability to edit a customer's shipping address from the backend. The platform also lacked in terms of plugins and the BFore team had to actually hunt out for plugins for features which should come as default features.
Also, since the store catered to the South African market, plugins were required that were specifically meant for the local people — like PayFast plugin.
Another major concern was VirtueMart was way behind in SEO & Analytics in comparison to WooCommerce. For instance, with WP & WooCommerce, you have the Yoast SEO Plugin that literally streamlines your SEO and you don't need to worry about a thing for rankings. Read the case here.
This explains us…
Lesson #6 — When you have chosen a wrong platform, don't be afraid to make the switch as soon as possible. Don't wait for the rankings to suffer, don't wait to spend extra bucks on development, rather make the shift and save yourself hours of frustration.
How
Bomb Tech Golf

turned into a multi-million dollar business by switching from Volusion to BigCommerce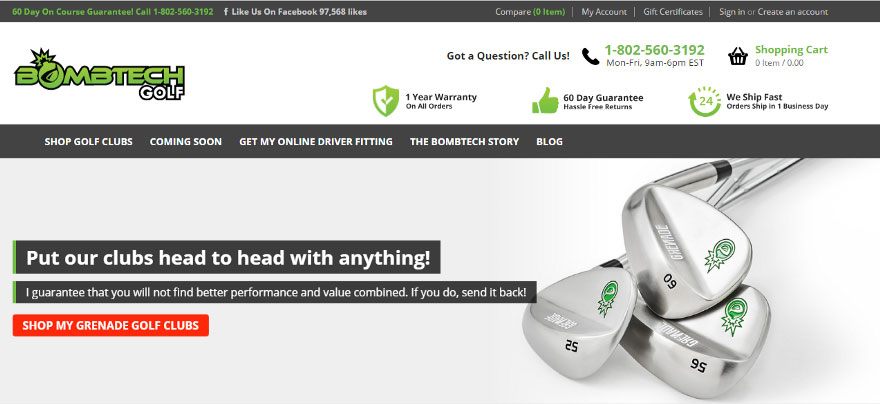 In less than a year, Tyler Sullivan was able to lift his revenues from Bomb Tech Golf by 300%. The sales had tripled from $400,000 to $1,100,000.
Earlier he ran his store on Volusion. About 60% of his traffic came from mobile and during that time Volusion did not have a mobile responsive option. Also, he had to spend around $3K-$4K on developers to maintain his Volusion website.
Another problem, he frequently ran into was when changing CSS a bit would break the check out leading to a poor experience. This led to a lot of frustrations.
Fed up, he decided to make the switch and found BigCommerce would fit into his business needs. The entire case study here.
This leads us to our….
Lesson #7 — Keep a close track on your analytics and see what's going on with your site. If you feel your present eCommerce Platform lacks on certain features which lead to a do-or-die situation for your online store, don't hesitate to migrate.
And lastly,
Learning from the grand Marks and Spencer's £150 million debacle in 2014…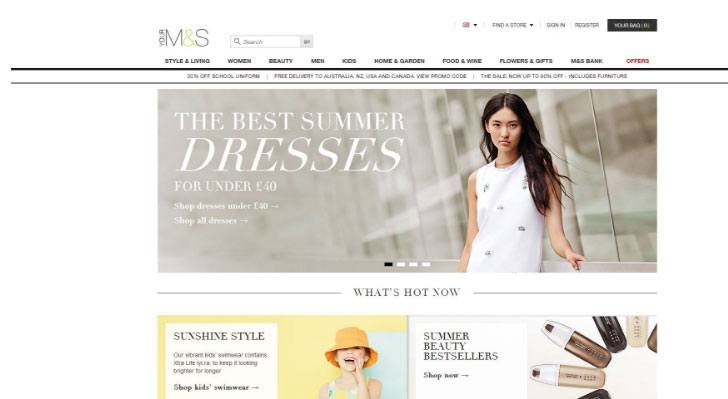 Marks and Spencer had entered into a partnership with Amazon way back in 2005 for their cloud services. In 2012, the team decided to overhaul the website and migrate to their in-house system. They had found a reason which was holding back their sales. And, then began the costly redevelopment and migration process.
After nearly two years of these efforts, the sales had actually dropped by 8%. How was that possible? A £150 million overhaul is supposed to push numbers north. There must have been some mistake.
Yes, you are right there was not a single mistake but a pool of costly errors.
When you have 6 million registered users on your website, such mistakes are the last thing on your mind. Yet M & S committed these blunders.
You can't just decide to build and migrate to your own system on any morning. There has to have solid reasons behind it. In this case, migrating from Amazon Cloud led to the loss of a database of 6 million registered users. The database & website information could not be moved from the Amazon cloud without rewriting applications. One migrates from a cloud based service because of quality and not transfer costs. You need to plan thoroughly before going on the migration path.
When you are a largely sized retailer, you have to test on a micro-level like we discussed above developing a POC. You have to introduce the platform changes to a set of your audience in a beta stage before doing the final makeover.
Biggies like Amazon introduce changes gradually to their online store. Sometimes these are so subtle, one can't make out the distinction. This drastic makeover from M&S led to users abandoning their website because of many awkward changes and navigation flaws.
Check out this post to know about the issues in detail.
Everything boils down to…..
What your business needs. You can just, one fine day, decide you want to migrate platforms because you have been running your store on a software for over 3 years. You need to have rock-solid reasons for making the shift.
When in a fix, some of the questions you can ask
Is my present platform good enough to meet the needs of my business?
Is it allowing me to offer a great shopping experience to users?
Where is my traffic coming from?
Is the platform customizable to meet my growing needs? Will, it cost too much to make those changes?
Are too many people abandoning my site for some specific reasons? Can the platform help me fix those problems?
Am I spending too many resources on just maintaining the site?
Does the platform offer core functionalities as default or do I regularly have to buy plugins and inject additional code in my store?
Am I approaching the threshold of what the platform can handle in terms of products, SKUs, transaction volume etc.?
Have you migrated from your existing eCommerce Platform? What were your learnings? How did you decide to make the shift? Was it worth the effort or did it turn out to be a costly mistake?
Feel free to share your stories, thoughts, and comments below.