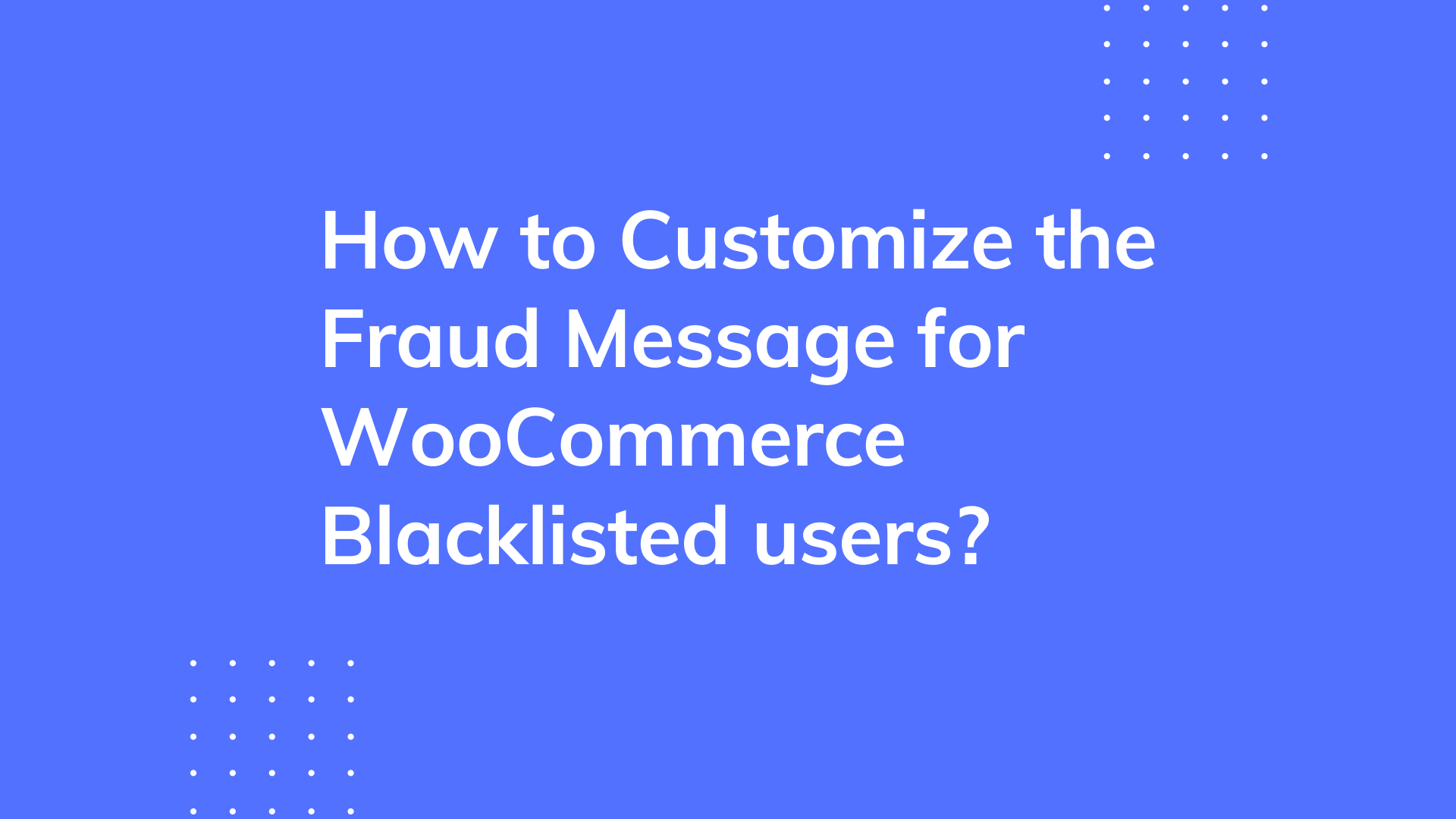 How to customize the fraud message for WooCommerce blacklisted users?
Having an online store might be easy but running and operate it successfully is really tough. With each passing day, more and more entrepreneurs are migrating towards online channels to make a purchase. And as this happens, spammers and hackers find a whole new way to exploit money and commit fraud.
Not sure how?
Imagine receiving the notification that your store just received an order costing say $100. Without a doubt, you would be on cloud nine. The first order of the day and of a good amount. Long before the happiness sinks, you realize someone has just tricked your system and the order is no less than a felony. You were forced to initiate a refund and to top this, the amount spent on getting your piece of item back was tremendously high.
Do you think it was just a one-time thing? If you are, let me tell you that this can happen every time. Once a spammer gets inside your store, they can then use it to their benefit once and again.
So what should you do?
Definitely, you cannot leave it as it is since it might cost you a fortune. While you can simply rely on anti-spam settings, they are not the best way out. Instead, what you can do is invest in a plugin.
Yes, that's right. An anti-fraud plugin for WooCommerce is all you need to shield your website and make it spam-free. And in this post, we will be talking about:
The best anti-fraud Plugin for WooCommerce that allows blacklisting of spammers
Installing and configuration the plugin
How to customize the fraud message for WooCommerce blacklisted users
Without much ado, let's move ahead to see how can a plugin help you block customers and eliminate the possibility of being spammed.
Anti-fraud Plugin for WooCommerce: Blacklisting Spammers from Your Website
Anti-fraud plugin by DotStore is one that allows you to prevent fake orders and automate the process of blacklisting suspicious customers.
The plugin has a wide variety of features and can be used to safeguard your online store from being hit by a spammer. Whether you want to rule it out based on the zip code, the zone, email address, or the name, the plugin will help you do all.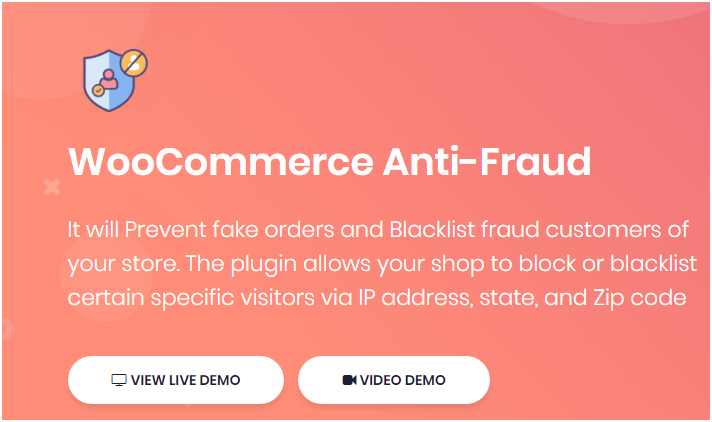 How to Install the Plugin?
Like any other WooCommerce plugin, you need to follow the process of first installing it and then configuring it to act accordingly.
Here is a step-by-step guide to follow when using the plugin to blacklist fraudsters.
Start with logging in to the WordPress website.
Use your credentials to validate your identity.
On the dashboard, move down to the plugin section and click on add new.
Here, move to the Search tab and enter the name of the plugin and click search.
Click on download now to start the process and then install the plugin. After this, all you need to do is activate it and get started with using the plugin.
Configuring the plugin
The next thing to do is configure the plugin. There is a multitude of ways in which you can do it. Here, we outline a few of them to see how the plugin can be used to block spammers.
Go to the plugin dashboard. Here, under the settings tab, you will see a list of factors that can be used to configure the plugin
Type: Block customers based on, whether you wish to block them during the registration process or is it that you want to prevent a particular customer from placing the order.
Email ID: In case you have an e-mail list of spammers, the same can be entered here to block those users. Depending upon the type selected, these customers would be blocked either at the registration phase or during order placement.
Name: Either the first name or the last name, using the Anti-fraud Plugin for WooCommerce, you can block customers and hinder them from ordering.
IP Address: Sometimes, little is known about the customer or it so happens that someone from a particular IP address is changing names and email addresses to place a fake order. The IP Address field enables you to block users based on the up IP address of the device used to make an order.
Browser: Noticed fake orders from a particular browser? Block the same entering the name here.
Address/State/Zip Code: You have the ease to block spammers based on the state or the zip code of the delivery address. This will work only at the time of placing an order. One thing that you need to keep in mind is that this will block all orders from a particular state and so is not the best way to avoid spamming.
Phone Number: If you have it, this is the best to stop someone from placing an order. The fact that giving a number is mandatory and hence, you can keep an eye on the numbers, track phishy ones, and block them right away.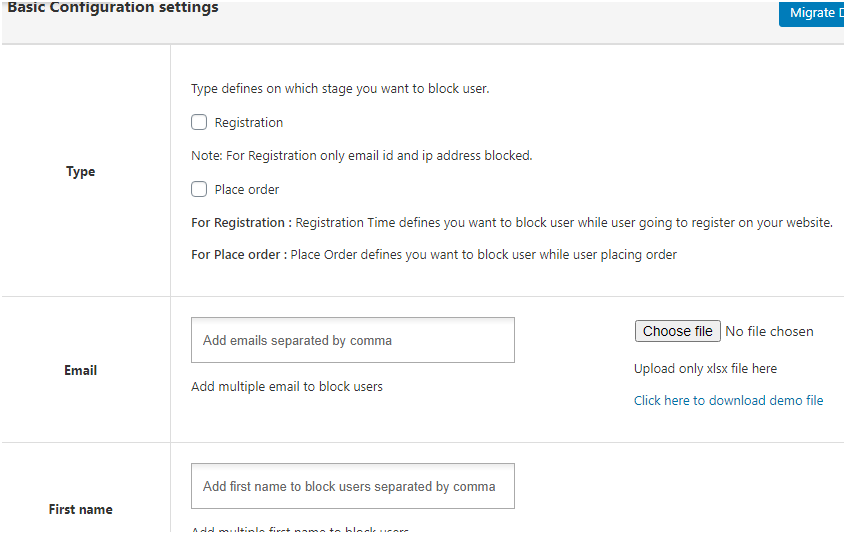 Fascinating, right?
But have you thought about something, like what will you notify the customers about? You have blocked them and justified but you need to provide them with a reason or send a customized message as to what has happened and why are they failing in their attempt to create an account or place an order.
This is where the idea of messaging comes in. While the plugin would have a default message, you can always customize it for a better experience.
Just below on the settings page, you will see: Add your custom message. Here, you will find all of the fields for which you have created a rule above. Based on the input given from your end, you can customize the message and decide what to display on the screen once a user has been blocked.
Lets us consider a few examples to understand this better.
Case One: Block through Email Address
Matt is a user who has been placing orders for a long time. However, you have noticed that every time an order is placed by Matt, it is either canceled after shipping or not accepted i.e. returned from the door. While you might not find it suspicious, it is stacking up a huge loss for your business.
Packaging and shipment cost a lot of money and after doing everything needed, if the user returns the product, the total cost is billed against your store. So, to prevent this from happening again, you find blacklisting Matt a better way out.
All you do is enter the email address of Matt and select the type to be orders. Next, you need to notify Matt why has he been disallowed to create an order. For this,
Move down to the section that says Add custom messages.
Here, under the email section, create a custom-fit message that would be displayed every time Matt tries to place an order.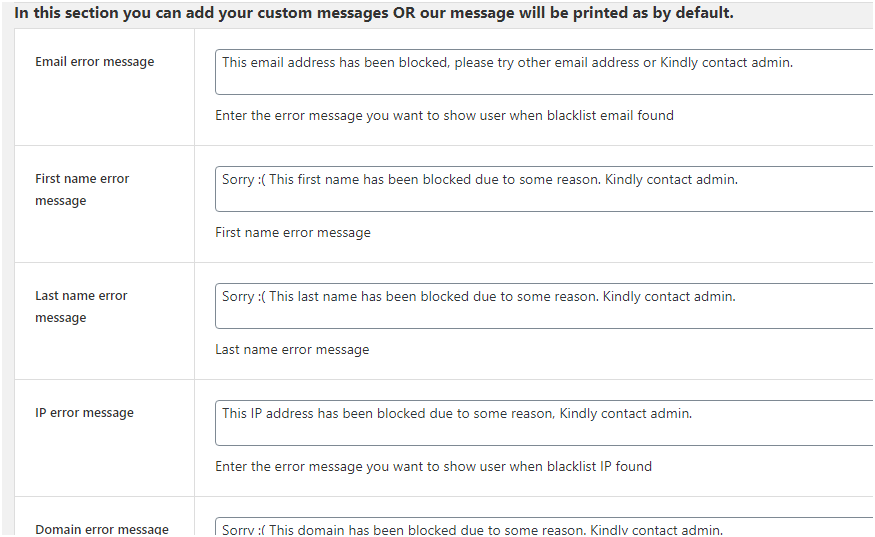 For instance, you can have a message that says:
Hey Matt, we noticed something suspicious from your profile. Every time an order is placed, it goes undelivered. So, to prevent this, we have blocked further orders for this address. Thank you.
Other Cases
Following a similar process, you can create customized messages for every rule created to block or blacklist spammers from creating fake orders. Do not forget to save the changes made.
Once done, you are all set to keep your WooCommerce store free from spammers and avoid any irrelevant activity in the future.
The Final Word
Fraud orders in the WooCommerce are rare, but may cost you a lot. Secondly, with the increasing traffic to your online, the frequency of such orders may increase. To save yourself from the trouble, it is always good to take safety precautions and install Anti-fraud Prevention plugin. With it, you will be able to block spammers and add customized messages for them so that the transparency of operations could uphold.