This Plugin Will Save You Hours of Efforts to Manage Your Menu
I, have seen, countless times wordpress developers and (website owners too) struggle with managing menu of their cms website having more than a hundred menu items. Take for example education or financial websites having hundreds of pages to be managed.
The current WP Menu structure turns out to be a bit cumbersome for managing such websites. Countless times one has to go back and forth to manage these items. Plus, you don't get a complete overview of the site's menu items in a single interface.
This leads of human errors, not to mention, the time that goes into finding menu item id, pages, posts and lot more. If you own such an elaborate CMS website you know what I am talking about.
The Existing WP Menu Limitation
My friend, a WordPress developer, faced the same problem a few months back.
His situation was graver.
He had a client who runs a comprehensive education website allowing users to search colleges across India. Considering the variety of disciplines and courses within each of them, you can understand what his situation would be like.
His team spent over 30 hours combined each day managing menu. At times, it was a nightmare.
He discussed his situation with me and asked for a solution, if at all, it was there.
I said I would look out for something and get back to him.
Honestly, it was difficult for me to hunt down something that would solve all his problems. There were plugins available but something lacked in each of them.
So, we decided to build one.
Rethinking Menu Management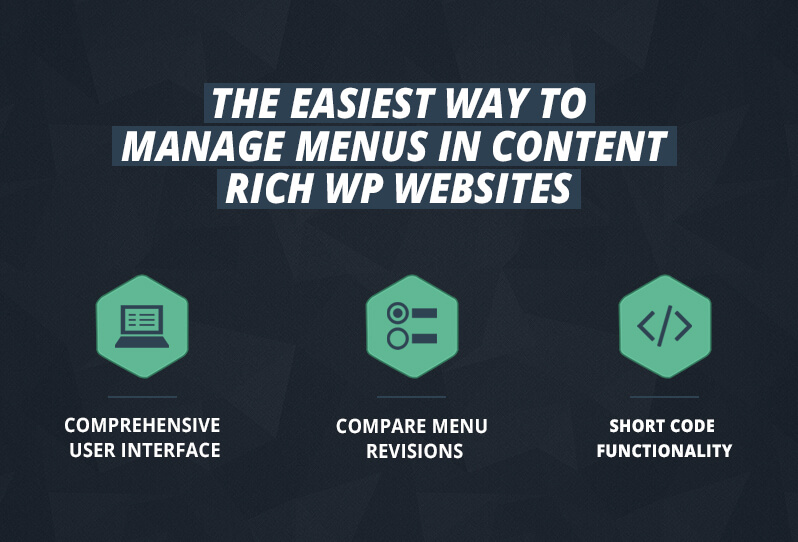 When we sat down to build a solution for this problem, we had to think like an end user. As a site owner, what features we required to get complete information about my menu in a single interface.
ALSO READ:
WordPress in 2017: Gazing Through the Crystal Ball
This is how we came up with Advance Menu Manager.
As a WordPress Plugin, it provides you brief information about your menus including whether a menu item is a page/post, item id, its attributes etc.
One does not require going back to the existing WP functionality to create menus and add pages/posts. All this can be done from a single interface.
Redefining the WP Menu User Interface & Overall User Experience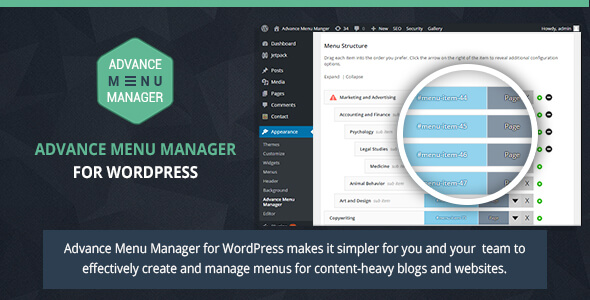 As a site owner or developer, you will find it delightful to get everything in front of you when it comes to menus.
Whether it is comparing menu revisions or inserting a small short code functionality to replicate a menu structure into a page/post, this plugin will be quite handy for you if you have to deal with hundreds of pages on a daily basis.
Highlights of the prominent features
Add, edit, manage and delete pages from a single interface.
Easy scrolling functionality allowing you to navigate quickly across the entire user interface from adding pages/posts to seeing revisions and viewing /applying the short code feature.
Compatible with UberMenu.
add a menu item as a child category without going back and forth. Next, simply drag the item to make it a sub-item. No scrolling down to find the item and dragging it all the long way.
Easy to use page/post search functionality so that you know you have selected the correct item.
Hide/show a parent item's sub-category
How to download the plugin?