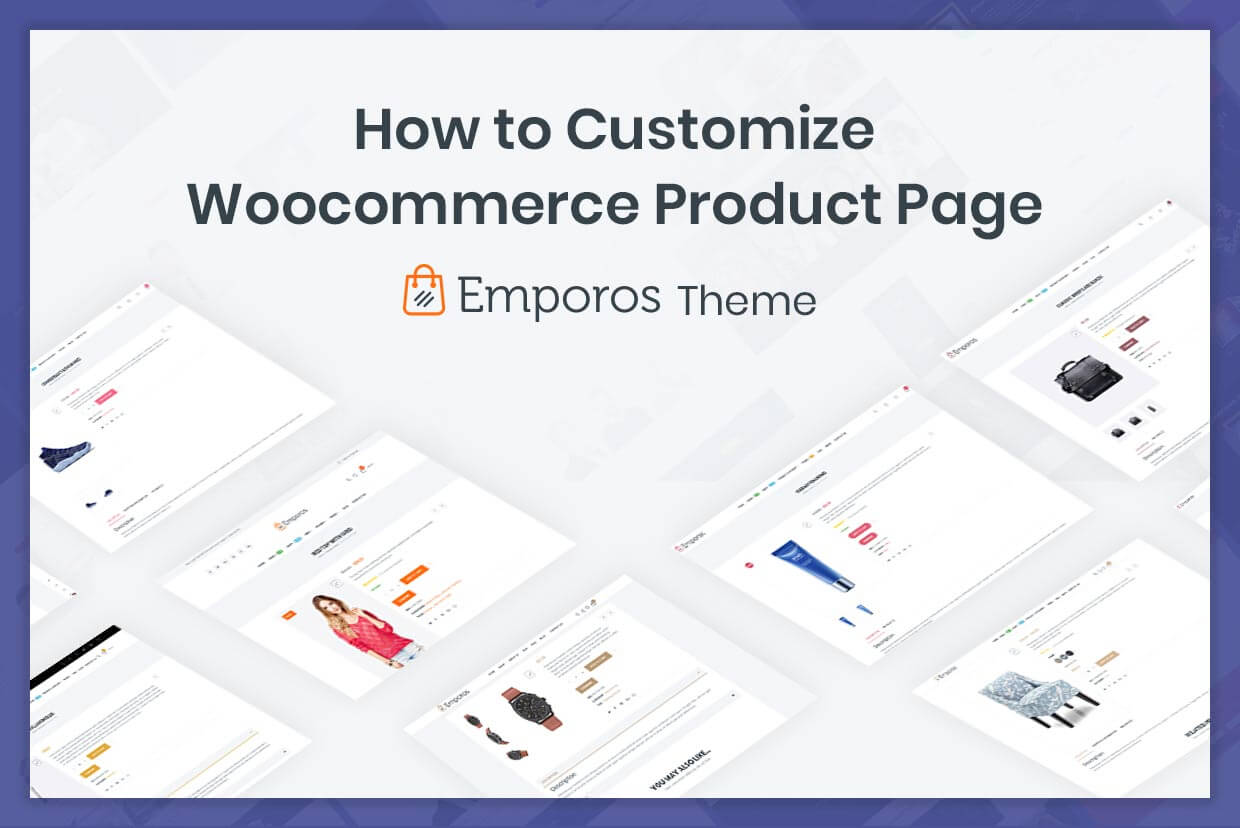 Customize Your WooCommerce Shop and Product Pages with Emporos theme
Wait a minute. Check out the complete theme so that you can decide on it better.
Now, if the answer is 'yes', you can get Theme Emporos using this link. Emporos comes pre-loaded with impressive demos that render a premium quality to your website. Developed over
Now, if the answer is 'yes', you can get Theme Emporos using this link. Emporos comes pre-loaded with impressive demos that render a premium quality to your website. Developed over optimized and lightweight code Emporos offers a fast website for more engagement. The pre-loaded quick to use demos span multiple business domains with striking layouts.
As you have installed this theme on your shop domain, it is necessary to know how to customize woocommerce product page, set up the whole website and add products perfectly. We are going to teach you the same in this tutorial. But let's first talk about how Emporos empowers its users with super-special abilities to manage shop page and product details page. After that, we will tell about how to build an E-Commerce Website from Scratch using Emporos?
So stay glued to us for the whole tutorial.
What can you do with Emporos?
The answer may overwhelm you!
You can do almost everything you might ever want to do with your e-commerce shop. Using Emporos empowers you for customizing your Shop and add product pages as and when you desire. The best part about Emporos customization is that it is simple and augments your skills to develop a phenomenal retina-ready WooCommerce Shop.
To get started with ease, you can pick your favorite pre-made sample and begin the customization. Just install sample data by clicking on 'install'.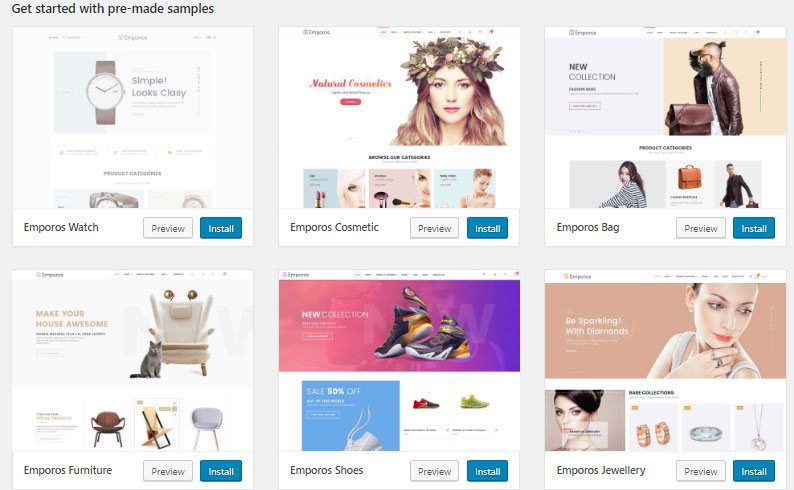 And, almost everything you need to change could be changed using the options, built within the theme: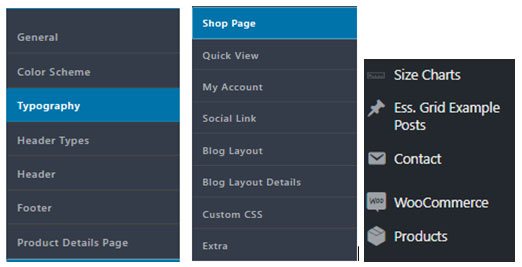 What made customization even easy is the tutorial that follows:
Customizing and Options for Shop Page
Emporos has all the main options grouped in one place so that you can organize your online shop without any difficulties.
Just Go to Main Dashboard > Appearance > Emporos > Shop Page
Here are all those features described: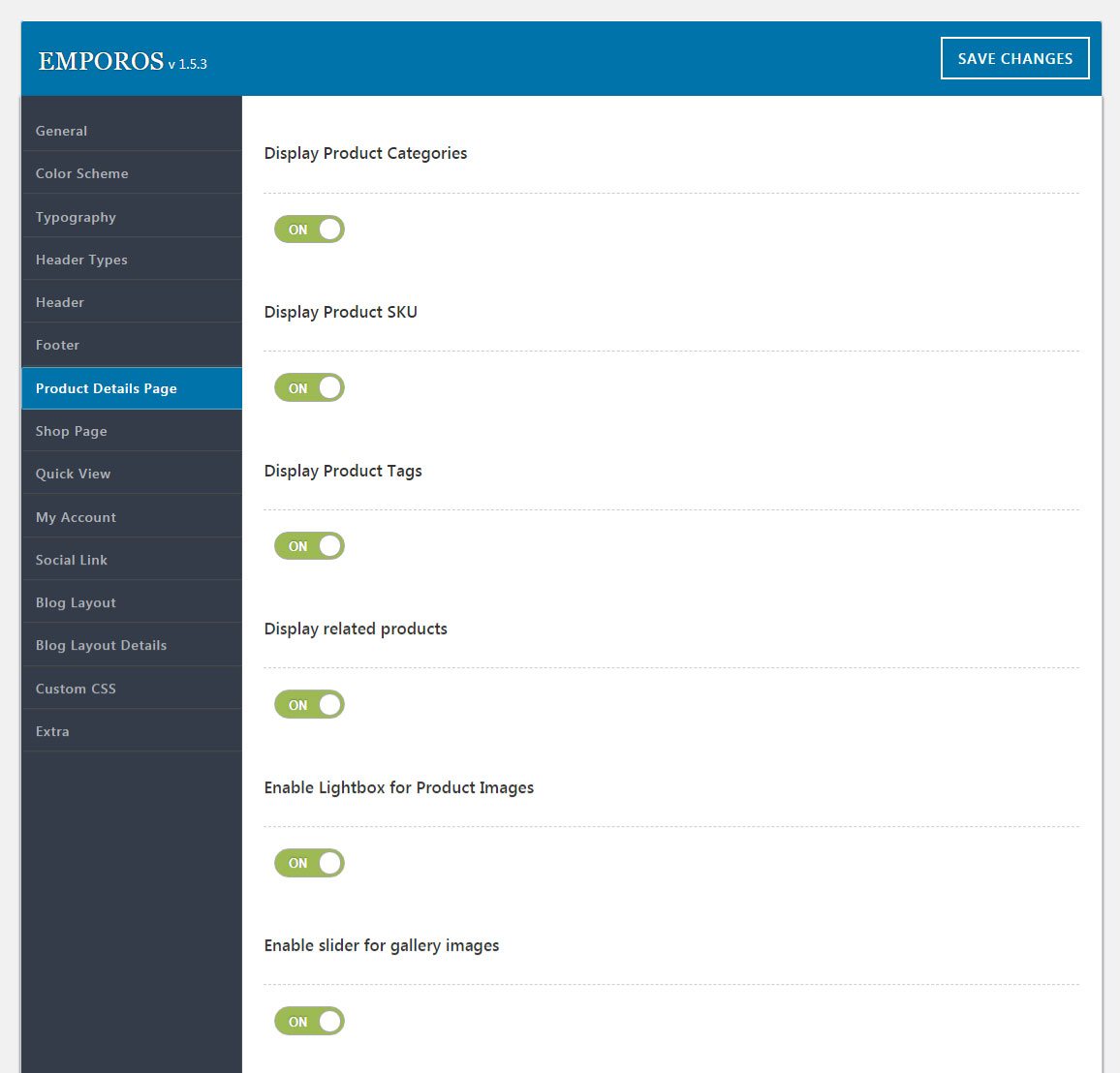 Sidebar Position
You may or may not want to add a sidebar to your shop page, irrespective of what is the setting of your main website. In Emporos, you can keep the sidebar on left or right or nowhere. Just choose what you want and it's done!
Product View Mode
Some people like using grid layout for the products, others want lists only and some wish to use both. With Emporos, shop owners can get into any mode.
Products per Row
Without any manual customization, you will be able to decide how many products to add in one row. You may choose whether to add 2 or 3 or 4 products in a row, as per the image size and website layout. This option will help you keep website well-built and clean.
Product per Page
Using this option, you can choose the number of products appearing on one page or in the search results.
Show Product Name
It's up to you that whether or not you want to show the product name on the shop page. Enable or disable the button to hide or show this detail on the WooCommerce shop page.
Show Add to Cart Button
In your online shop, you can add or hide the 'Add to Cart' button as per your choice. You just have to hit the toggle button!
Show Price
You can also show or hide the product's pricing in Emporos theme.
Enable "Out of Stock" icon
What will you do if an item isn't available in the stock presently?
Deleting it is a bad idea because, on re-arrival, you will have to add it to the product list again.
So, use this feature. Just Enable the 'out of stock' button and customers will be able to see this tag on the product. Purchase of it will be disabled automatically. Great, no?
Enable "Sale" Icon
If you have planned a special sale for a special occasion, Emporos makes it easy to implement the relevant changes to the store. By enabling this feature, you can tell your buyers about which items are on 'Sale'.
Enable Wishlist
Wishlists help the buyers keep their future purchase ideas stored in one place. It also allows the sellers increase the chances and amount of total sales happening. That's why we let our users add the wishlist option to the shop. And if you do not want it, just hit the disable button.
Enable Compare
To let your customers compare between multiple products and pick the best, you should enable this feature.
Pagination Type
If you like the traditional way of pagination, keep it static i.e. Default pagination. And if not, you can enable Lazy Load which loads more products to the same page while buyer scrolls. With 'load more' option, you can allow the buyer view newer products on the same page when he or she hits this button.
If you like the traditional way of pagination, keep it static i.e. Default pagination. And if not, you can enable Lazy Load which loads more products to the same page while buyer scrolls. With 'load more' option, you can allow the buyer view newer products on the same page when he or she hits this button.
Customizing and Options for Product Details Page
As the show is well-optimized as per your requirements now, we just have to make the right changes in the product detail pages. After all, it's where the customer lands when he is interested in a product.
You've got a plethora of options when using Emporos – the best e-commerce WordPress theme! All these – on a single page.
Here is what you can do: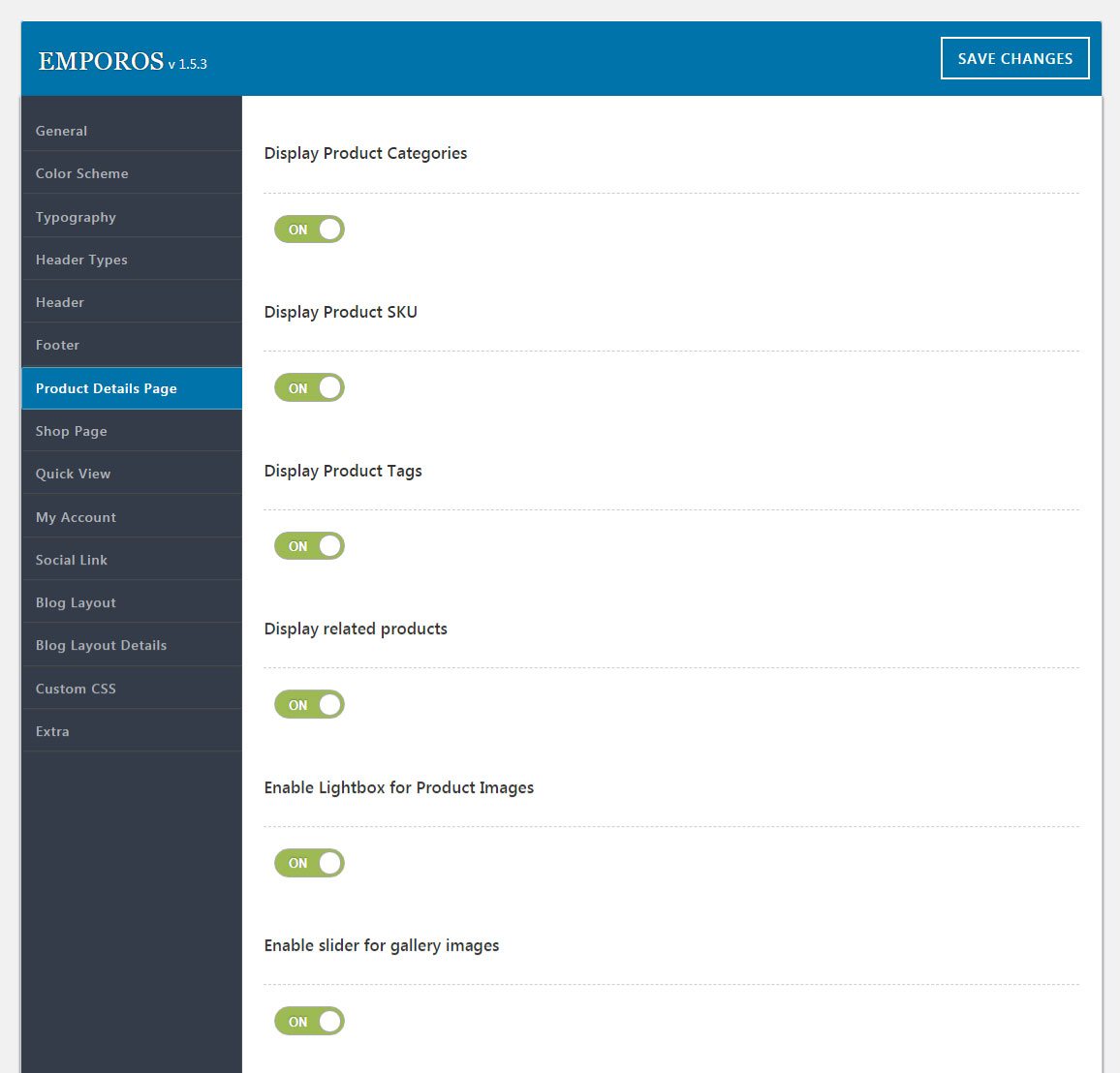 Here is what you can do:
Display Product Categories
Depending on whether you want to showcase the product category list of the product details page or not, you can 'On' or 'Off' this switch.
Display Product SKU.If you are not interested in showing the product SKU on the product details page, you are allowed to hide or show it. Just change the setting using this option.
Display Product Tags
Product tags can help you in search optimization of your product detail page while helping the buyer in understanding what type of product he or she is picking. To display the tags, you just have to turn this feature 'on'. And if you want to keep minimal elements on this page, keep it off; no tags will appear.
Display Related Products
As customers might find it useful to see similar products as alternate choices, Emporos theme has an easy option to display the related products on the product details page. With it, you can stay ensured that your buyers remain satisfied and sales remain high.
Enable Lightbox for Product Images
With Lightbox plugin, online shop owners get a chance to showcase multiple product images for one product. You can add images as slider or list. It keeps the page light-weight too. With one click, you can enable this option in Emporos theme.
Enable Slider for Gallery Images
If you want to enable the slider and multiple images in and out effects, this option comes in handy.
Slider Position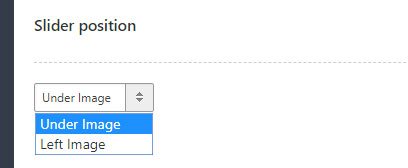 With the help of this option, you can choose what will be the position of the slider.
Zoom Effect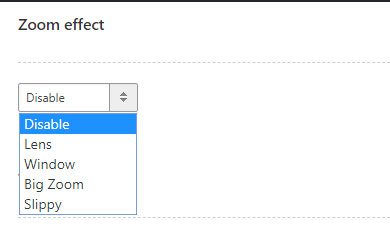 By selection any of the zooming option, you decide how the product zoom feature will work when a customer puts focus on a product image.
Tabs Type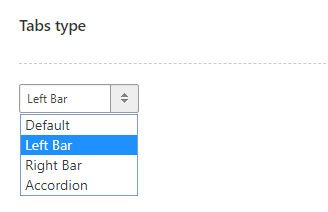 Tabs are the content snippets, shown on the product details page alongside product image and main details. It may have long description about a product, reviews or additional detail. By selecting any of the options for these tabs, you are selecting how these sections will appear on the product page.
ALSO READ:
Adding New Custom Flat Rates With Zones in WooCommerce 2.6
Reviews Position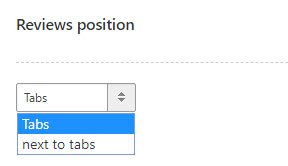 You can either add the reviews as a part of tabs or next to the tabs, depending on how you want to render them on page. If you want to put extra attention to them, choose 'Next to Tabs'.
Variation Display Type

If a product is available in multiple colors and you want to add multiple images for each specific color, this option can help you out. Just choose the option 'Variation Color and Image' and make it work.
Variation View Type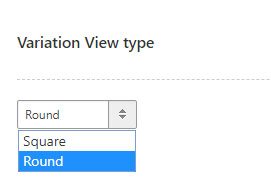 The color, size, configuration or other various options are present in most of the shops. It is to let a user pick his/her favorite variant. In Emporos, you can show these variants in two ways – round (on the right side) and square (on the left side).

Variation Size

To change the size of variation images, you have to fill this box only.
Custom Tab Title
If you want to add more details about your product – other than in description section – you have an additional tab to do so. With Emporos, you need using coding to add a new tab. Just fill the title and text in custom tab section and it will show up in the product details page.
Building an E-Commerce Website from Scratch using Emporos
WooCommerce Shop Customization Tutorial
Shop customization is vital to building a website that stands out from the rest. E-commerce industry has turned fiercely competitive, to take a lead you need an edge above others and customization gives you space to attain that uniqueness for your shop.
Emporos theme allows you customize woocommerce shop page via "Customize Your Shop" button. Let us dive deep and understand what it beholds for you.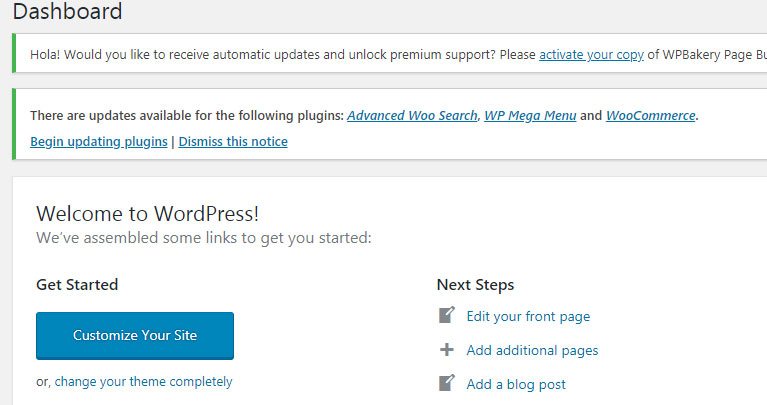 Once you tread the Customize your Site territory, you see a list of customization options on the left bar. Let us indulge into them one by one.
1. Site Identity
First and the foremost – upload the logo of your brand. Check the display box and edit the site title and Tagline if you wish to update them.
The changes need to be published before they reflect on the website link.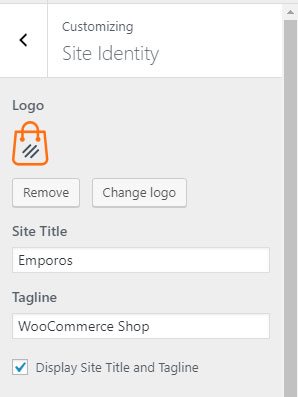 2. Colors
Select the Header text and background color from the color palette. The Background color change to reflect the theme displays the color change before publishing so that you can make your mind instantly.

For all color changes to reflect, you must click "Publish" before these changes are reflected in the real shop.
3. Header Image
Upload the header image of optimized size 1000 * 250 pixels for the Emporos theme. Any change in the header image is reflected only after you click the Publish. Make sure you add an optimized Title, a meaning full caption, Alt Text and description of the image for better SEO.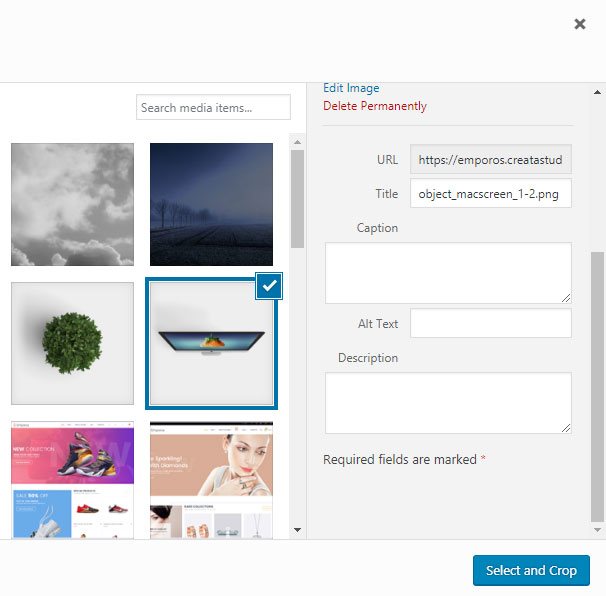 4. Background Image
Have to run a Christmas Sale? Update the background image whenever you desire to highlight the Sale. You can select the image to be repeated in the background, placed in multiple positions or scroll with the page.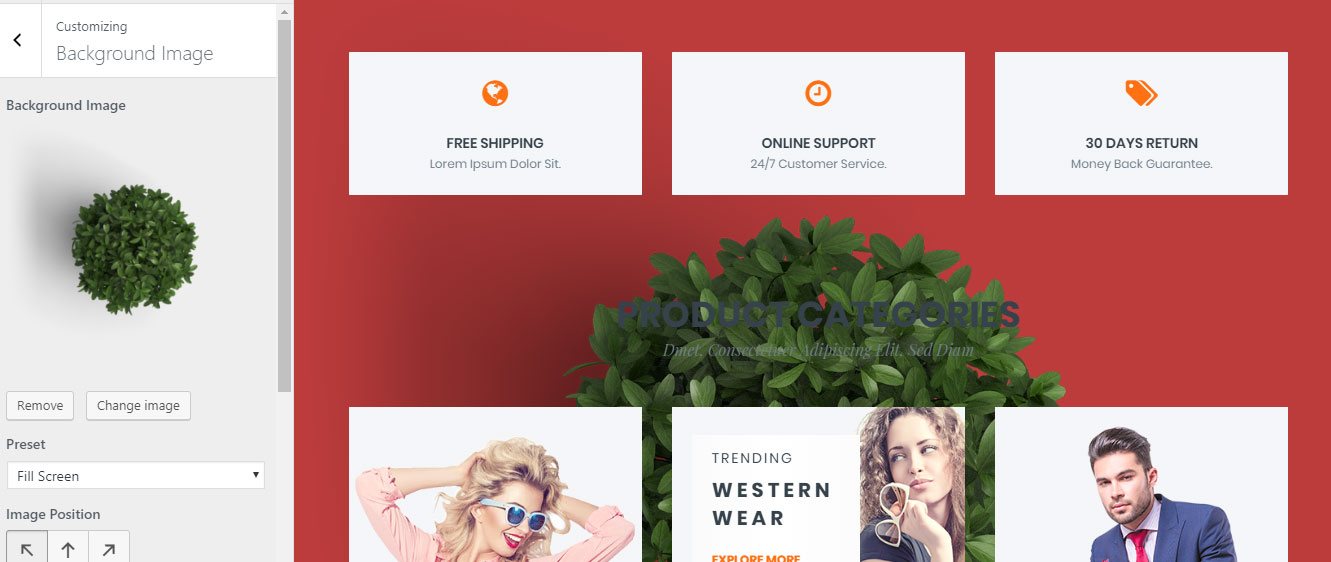 5. Menus
Want to go beyond the regular Menus you see on every other website, you are free to do so. You can either remove or Change the Menu name from the customization bar.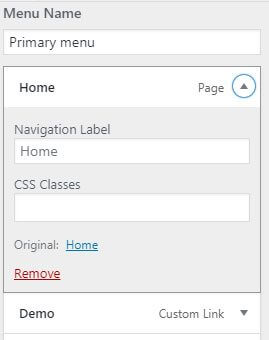 Click the drop button and change the Navigation Label name or Remove the Menu button as per your visualization.
You can Reorder the existing menu or Add to the existing list of the tabs available. For the footer menu, you can either use a Primary Header Menu or customize an entirely new list.

Changes made are reflected only after you Publish.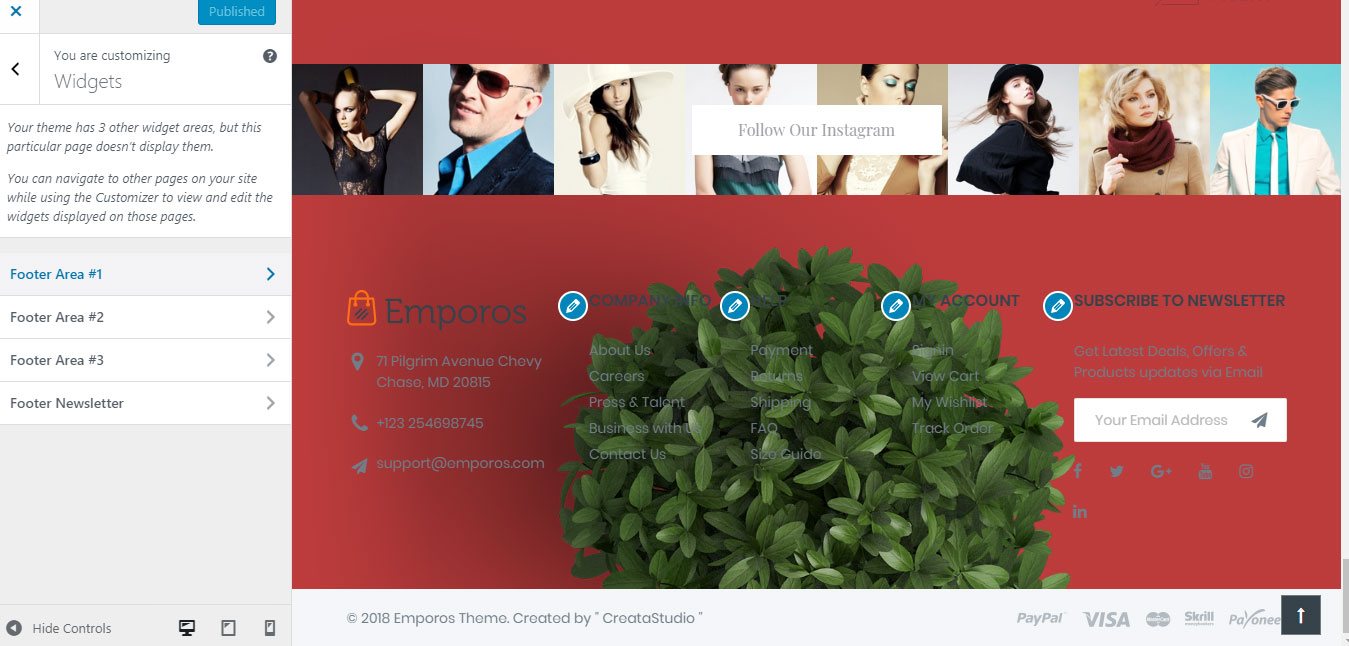 Manage your Shop
With all the customization an eye-catching designed Theme, your website is sure going be buzzing with orders. Want to know more about managing your shop easily with Emporos features? Check out the list below:
1. Order
It's the first thing customer uses once he or she has ordered the product. So, it is essential learning it while you customize woocommerce shop page.
Order tracking was never easy but Emporos offers an extremely intuitive interface to do so that allows you take bulk action, sort by dates, check the status, the payable amount, find the web browser that if getting you more traffic and sales, payment methods and more.

2. Coupons
Never miss offering da discount to your customers in the competitive world. Easily set up Coupon codes with a simple "Add Coupon" Button. It takes you to Coupon description Page, mention the Coupon Code and its description and Publish the changes.

Post the sale is over you can either Remove or update the same coupon on the same page

3. Reports
As you have almost learned to customize woocommerce product page, it is the time to understand the aftermath.
No business can be streamlined towards growth without reports. Emporos follows the same but it saves your time as the reports are automatically generated from the Woocommerce>Report section. The report section is designed with all the details for per week, per month and per year Sale Report generation. You can get a clear idea of Gross Sales, Net Sales, refunds, items sold, orders placed and more. All this data once ready can be downloaded in  single click to a CSV format.
Tutorial on How to Customize Woocommerce Product Page of Emporos Theme
What is a WooCommerce website without products? We understand your need for maintaining the product images, new products and products details to your shop. That is why we dedicated an extensive section to customize woocommerce product page Tutorial. Access your product page on the main dashboard just above Appearance.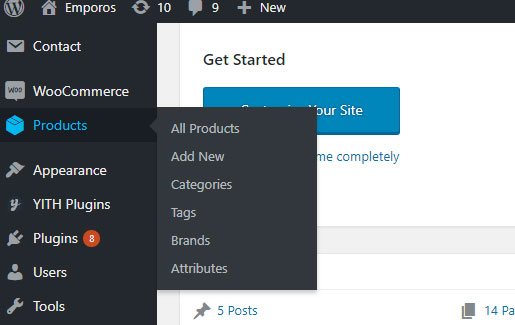 1. All products
Inventory management is no more a headache if you are using Emporos Theme. Manage all your products and relevant details via a single dashboard. It allows you to name the product, add its SKU, Price, Stock presence, Category, Tag and Date.
This is just for display at once. If you wish to make changes move to other sections.

2. Add new products
Make sure you fill in every detail Emporos asks for every Product in your Shop. Click add products start with the name, description, Image upload and Category selection before you publish.

For further customization you can develop a Product Gallery that had multiple images of product from different angles. Add details like Shipping, Inventory, link other products, update Price, Brand name and many more attributes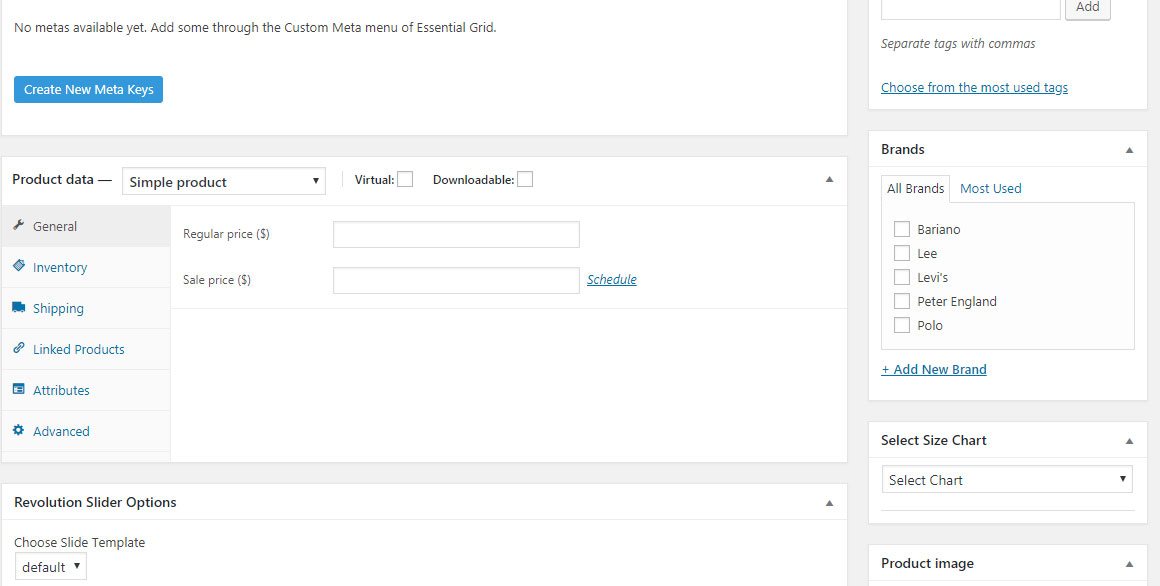 3. Categories
If you are launching a new product and the Category does not exist, it is simple. Add a new category, relate it to a parent Category and add a description. If you wish to update the category you can do it for existing products also with a Bulk action.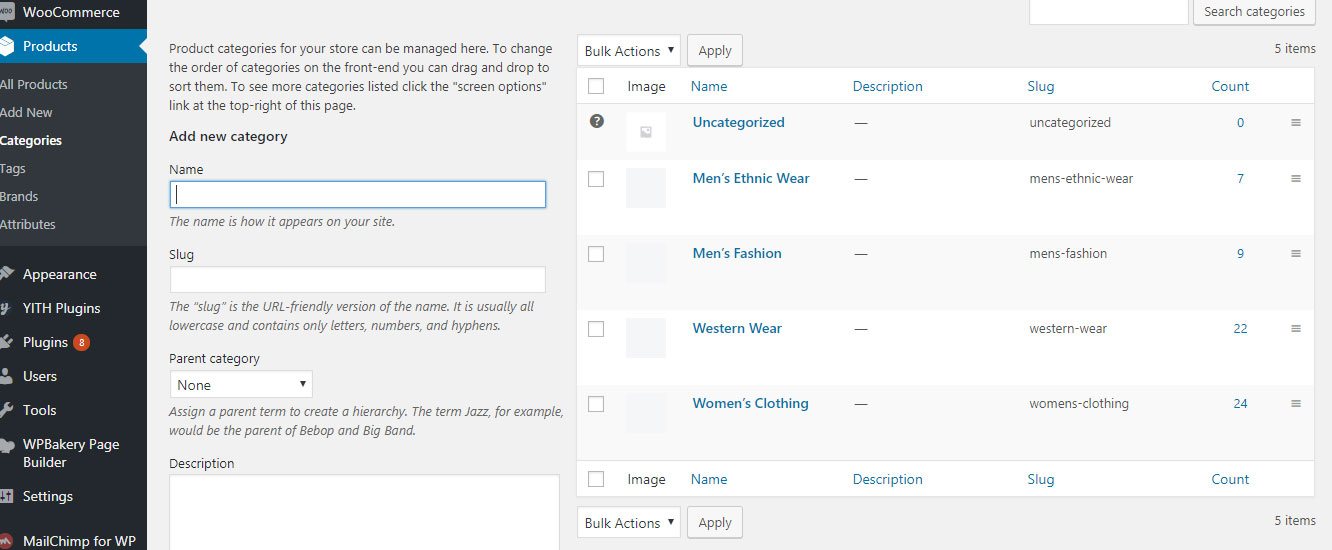 4. Tags
Adding Tags make on planned keywords makes sure your product becomes visible in the Google Search for the relevant search. Never ignore this aspect of Emporos if you want your Shop to be inherently optimized.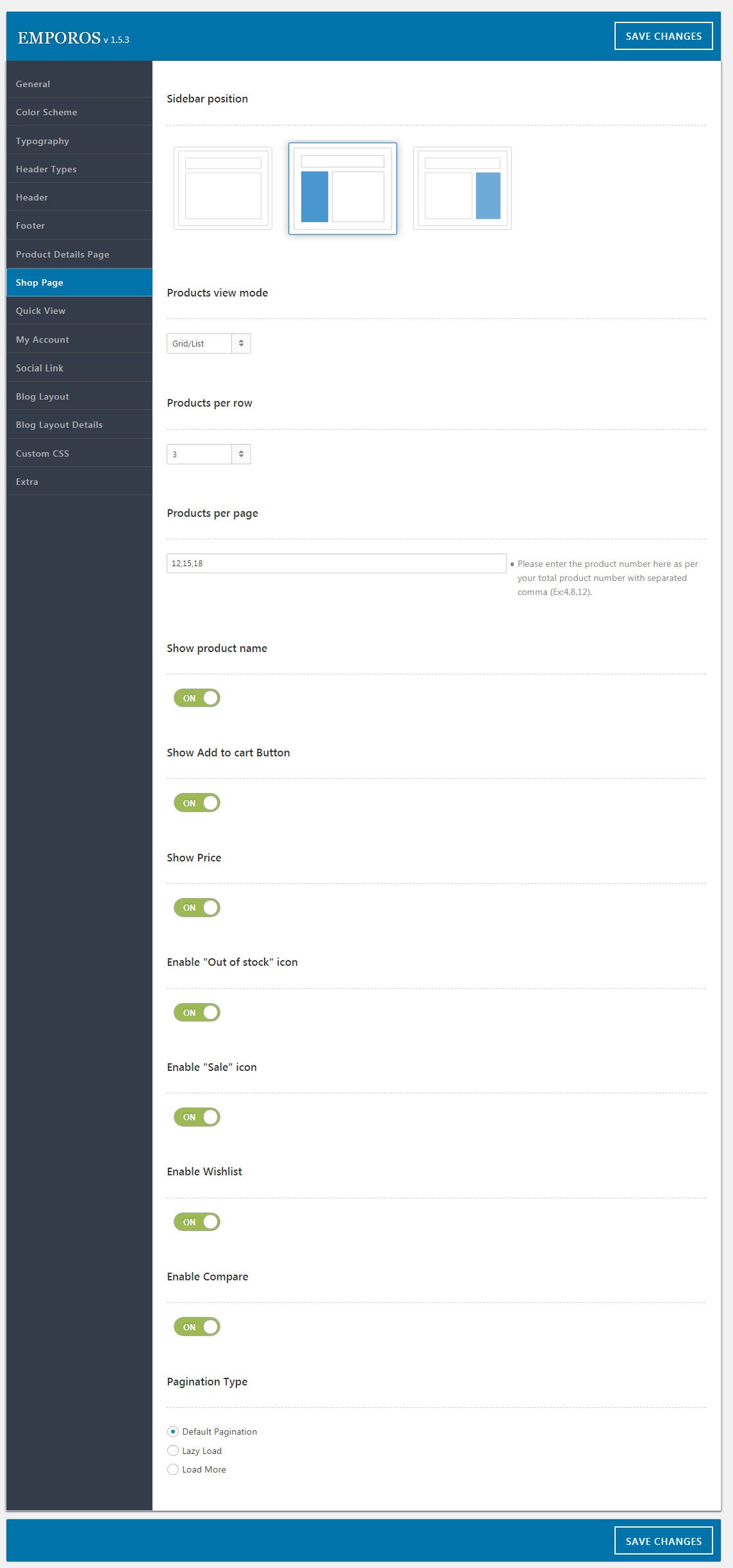 You could go on and on with customization of Brands and other attributes to set up an exceptional Shop that is beautiful, navigable and efficient for you to manage too.
About Emporos Theme
It beholds a perfect set of features to develop an engaging WooCommerce Shop. Loaded with ready-to-use store layouts, your shop will be up and running within minutes. As a responsive and highly customizable theme, Emporos Shops are easy to build and maintain. Create a unique brand presence in the online sales while the powerful theme works to increase the revenues.
Emporos empowers you with the customization of your Shop in a phenomenal way. It is up to you how you wish your business to grow. If you are facing any issues in using the theme or confused about how to customize the woocommerce product page, just ask us and we'll help.