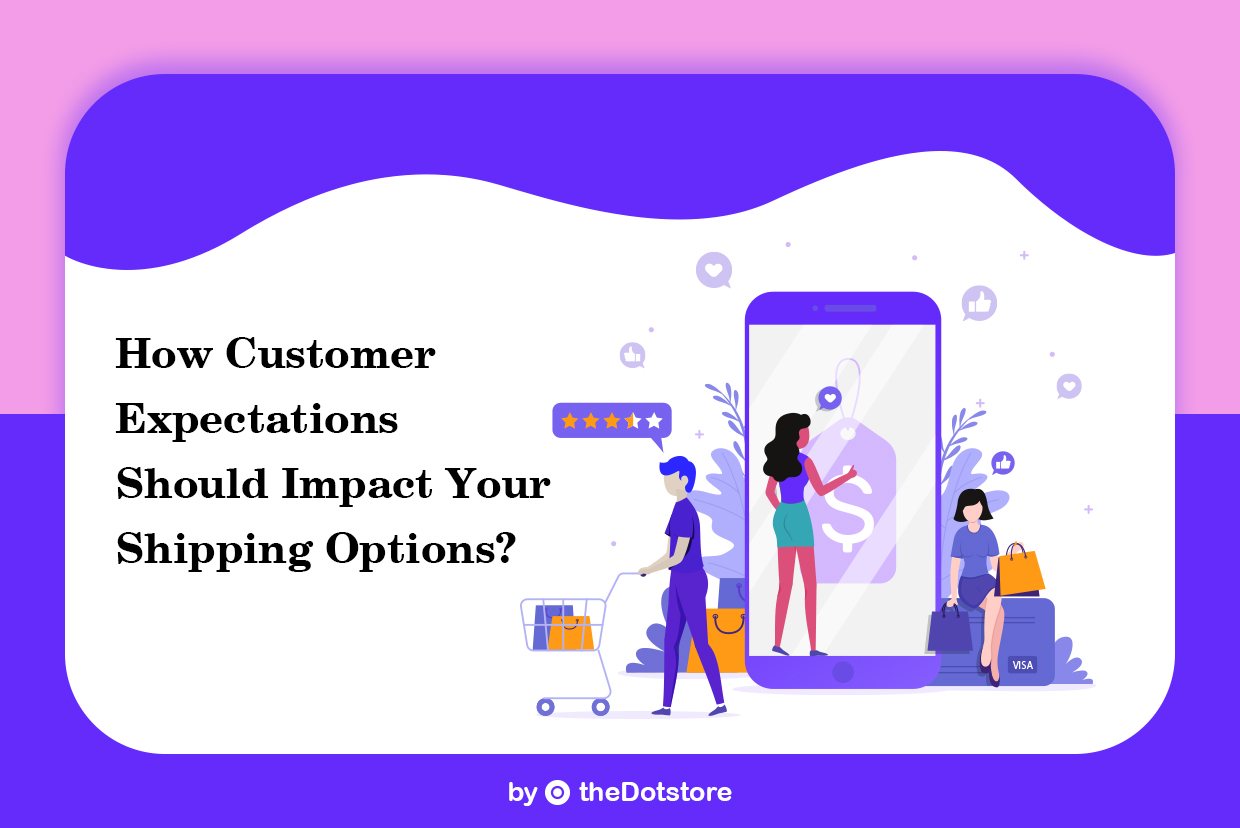 How Customer Expectations Should Impact your Shipping Options?
Online sellers need to align their services as per the likes and capabilities of their buyers.
Shipping is one of such services.
Sometimes, store owners add a new type of products or product range to their shop, but forget to modify their store's shipping capabilities according to the product. Also, some e-commerce stores do not consider thinking from the customers' point of view. In the end, it results in monetary losses or less revenue.
Read the article to understand why and how your shipping options need to be designed according to the expectations of customers.
Why is it Important to Consider Customers' Expectations during Online Shipping?
As the shipping process is the final step towards product sell, e-commerce stores generally analyze the mindset of customers and add shipping options according to them. It is a good strategy because it could make or break things for the business.
Why is it important, you say?
Well, see this –
One of your customers decided to buy office furniture from your store. He wants it to be delivered during office hours only. However, your e-commerce store does not allow the buyers to select the delivery hours.
Now, there are chances that your buyer, out of confusion, will abandon the purchase.
In short, shipping options and the process has to be designed as per customers' expectations. If not done, your customers may abandon orders often i.e. sales will decrease.
Points to Ponder: What to consider while Deciding shipping Options?
When we talk about shipping options, there are many things to consider. Shipping methods, duration, payment options, packaging or accessories, shipping cost, etc. are a few focal points to design your shipping options around.
Let's talk about how to make decisions related to each of these.
1. The Shipping Cost
Deciding shipping cost is an important part of the shipping process. It plays a very important role in product purchase and may cause abandoning of order if it's not as per customer's expectation.
The question remains, how will you fulfill their expectations?
To answer this, the first answer yourself if you could give free shipping facility to the buyers. If it looks feasible and practical, go for the free shipping option. There is no buyer who could deny from the fact that they love free shipping. In fact, 94% of peoples in a survey (PDF) said that they may take a few extra steps to avail free shipping (e.g. subscribing to your offers, etc.) facility.
You may use this plugin to enable free shipping for your e-commerce shop.
However, it cannot be done always.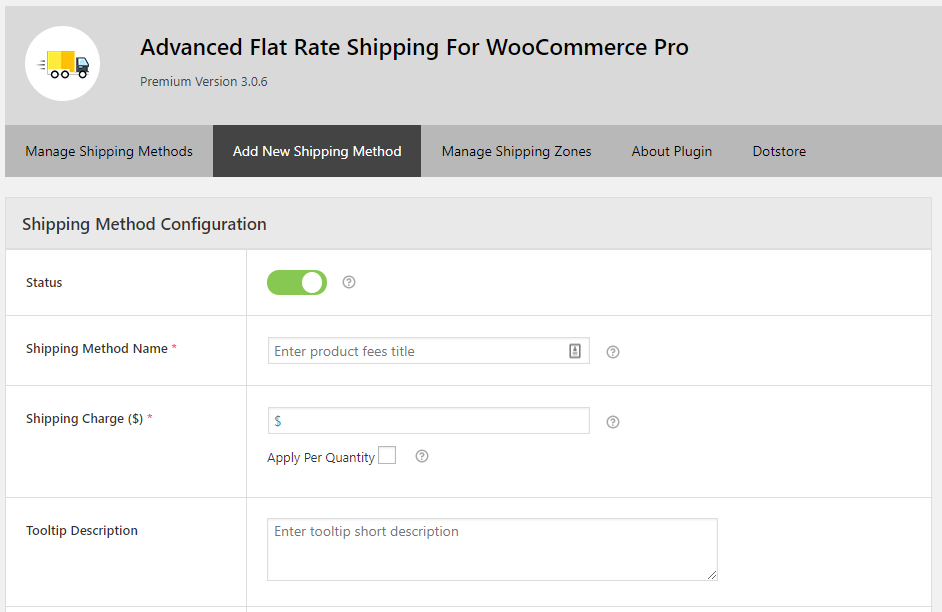 Here, you just have to set the shipping charge to 0.
Sometimes, your online business needs to charge customers for shipping.
Location, distance, product, quantity, etc. are the main factors to decide the shipping charges in this case. Another important aspect which can help you take shipping price related decision is – Look for what your competitors are charging, to ship in the buyer's region.
If you will keep all these things in mind, while deciding shipping cost, your chosen price will match your buyers' expectations for sure.
2. Important 'Extras'
Many products have additional shipping requirements to be considered.
For example –
If you are running an online store which sells gift accessories, it will be a good idea to package gift wrapping material with gifts.
If you are shipping fresh dairy or meat products, your customer would like to receive it within a day from the delivery time. So, you should take all measures to keep your delivery process fast.
Pizza delivery businesses would like to deliver it hot.
If you have promised to deliver a cake for a particular day, you cannot deliver it a day later. Delivery will be of no use after the time is passed.
All these examples tell that your product may need extra care or extra timeliness as per the type of order or nature of the order. These 'extras' are counted because they affect the quality of product or delivery service or both.
Understand the fact that customer expectations, related to these extras, are quite high. This type of personalization of shipping services is expected by 84% of people in a Salesforce Survey. So, never overlook these tiny important things.
3. Payment Methods
Any e-commerce store, selling online, has to consider the nature of their products and expectations of their customers while selecting payments modes for their store. See Flipkart's payment methods, for example –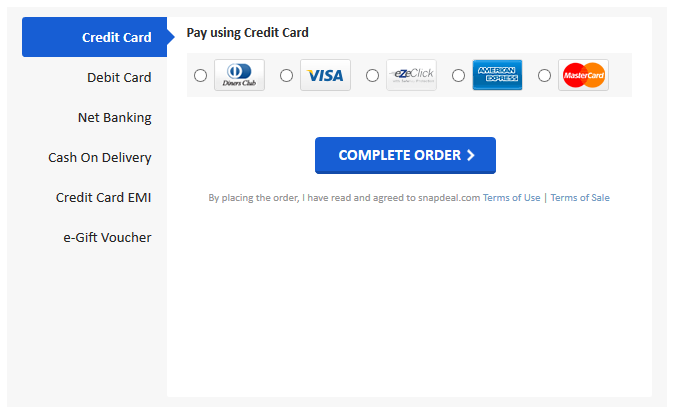 It is suggested that you integrate popular payment methods to the cart. At the same time, allow users to pay through cash on delivery method, if it's not risky. In case, customer's order is big and cancellation may cause a huge loss for your business, it is better not to allow cash on delivery payments, but advanced payments only.
If you are selling in more than one country, don't forget to add international payment modes, like PayPal, Skrill, etc.
As you will need to charge additional fee as per your payment gateway, here is a plugin through which you could do so.
4. The Duration
38% of buyers abandon their order with your e-commerce store, if your cart estimates the delivery time to be more than a week. In short – Estimated delivery time or the duration to deliver the order at customers' doorstep, matters.
See how Amazon allows its buyer's to choose delivery date –

Such options can also help.
Make sure that you deliver the order within the mentioned duration. If you repeatedly failed to do so, your customer retention rate will suffer. The service quality and trustworthiness will degrade too. Hence, consider your customers' expectations and deliver within the specified time.
5. The Shipping Partners
If you are shipping in multiple regions, you might want to partner shipping carriers instead of handling deliveries on your own. Choose the fastest and cost-convenience option. Sometimes, local carriers provide better services than international providers in a particular region. So, don't shy away from exploring all options before finalizing one.
Conclusion
Shipping and customers, both are important parts of an online business. So, never forget to consider your customers' expectations while shipping orders. Doing so may degrade customer satisfaction rate and increase abandoned orders.