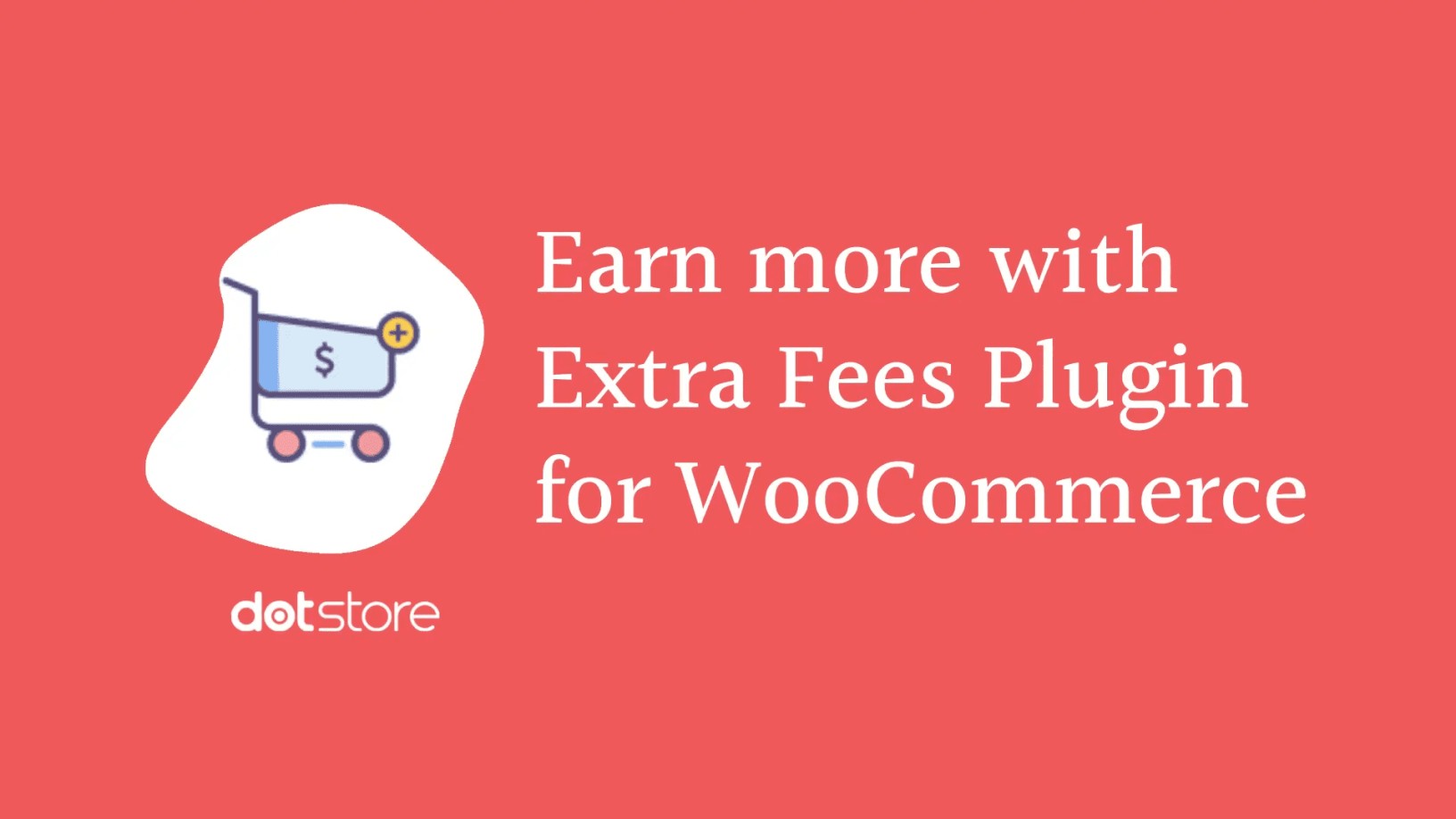 6 Ways to Earn Extra from WooCommerce Store without much effort
Do you want to enhance online sales via strategic upselling, bundling, and discounts?
It's a no-brainer that you must maximize revenue from the existing client base and potential without charging them super-high or providing them a bad store experience.
However, we understand that operating and executing a facilitating pricing criterion could be a troublesome thing to handle for the eCommerce business owners. Therefore, you may often need to charge extra fees based on numerous factors, for example, delivery challenges, cart status, and purchase quantity.
But, have you ever thought of how you earn extra from your WooCommerce store without much hard work?
The answer is by using the Extra Fees Plugin for WooCommerce.
If you are an eCommerce store owner, look at the points below for earning extra:
Top 6 methods to earn extra from in your Online Store
The key to seamlessly optimizing eCommerce sales via upselling is to add countless values to your customers' shopping experience. Without any delay, let's find out the top 6 ways to earn extra from your WooCommerce store.
1. Provide gift wrapping services when your customer needs
Gift wrapping is an extraordinary way to save a plethora of customer's time. Your customers need not buy wrapping paper, message cards, and more to present to their loved ones. That's why your WooCommerce store should provide seamless gift-wrapping services to cater to their customer's needs and also to earn extra bucks with this strategy.
The proposed way of providing gift-wrapping services as per your customer needs with gift-wrapping options during checkout. There could be several or a single gift-wrapping options available.
Here, on the page of choosing a gift option, you must craft the page in such a manner, which should carefully possess the "To" and "From" option and a "write a message" option. On WooCommerce, you can add a gift-wrap option during check out. It gives your customers sheer delight!
2. Product/Gift Customization services
Product or gift customization helps you create a robust relationship with your customers and makes your eCommerce business seem trustworthy and genuine. Being a WooCommerce business owner, you can earn irresistible revenue by creating engagement and a satisfactory shopping experience for your customers.
Therefore, gift or product personalization services offering to your customers will:
Enhance your profit margin
Keep you ahead of the competition
Provide you cost-efficient solutions
Make deluxe gift items more enticing
Superior online presence
Greater customized experience
Gain effective customer's insights
For the WooCommerce owners, offering gift personalization services requires them to allow their customers to upload the images during the order placement. So, utilizing the Extra Fees Plugin for WooCommerce, the owners can add files with adequate information in the form of images and pdf.
The traditional product personalization process is mainly time-consuming as it involves collecting samples, fathoming customer requirements, and sending them to the manufacturing team. This is how WooCommerce can cut down the worries of hectic processes by configuring a customized product online and previewing it on-spot.
3. Express Delivery on Demand
Express Delivery is the key weapon in the eCommerce industry. Therefore, this express or urgent delivery model has revolutionized the eCommerce industry drastically in several ways. WooCommerce, being the biggest online global retailer, can provide express delivery of the items within 24 hours of order placing.
You can also charge extra fees for delivering to specific locations.
The eCommerce industry is a highly competitive space where firms sell totally different things, and they are still competing for a similar audience. Therefore, implementing an express delivery system in your retail business, it is possible to:
The Extra Fees Plugin for WooCommerce helps you earn extra by boosting your sales and saving your customers to move onto other retailers. They get delighted when they receive their parcels be delivered to their doorstep within 24 hours. Therefore, it also adds to customer fidelity.
Get more positive reviews from the customers
By receiving their orders within a few hours or on the next day, customers won't forget to leave a positive review about the delivery. It improves retailer's reputations.
4. Create Content for e-Books / Guides related to your Products & Sell
Another effective way of attracting customers and earn extra cash is by providing guides for your products. If you are a kitchen appliance seller and want to provide the hassle-free guidance of using an appliance, this Extra Fees Plugin for WooCommerce will help!
More precisely, you can create a cookbook for your buyer, who will be benefitted from this provided cookbook as this helps them make various delicious recipes on that particular kitchen appliance. This is how you can apply several extra fees on a single product and set up product fees on a subtotal, minimum or maximum, weight, and category basis.
5. Provide Priority Product Installation/Deployment/Support Services at a small cost
If you are an electronic appliance seller, you may earn extra cash using the Extra Fees Plugin for WooCommerce. Nowadays, eCommerce sellers or marketplaces are trying to woo more customers by providing installation, deployment, and support services at a meager cost.
These appliance sellers should create a supply chain, installation, and delivery abilities to sell huge online appliances. Moreover, this quick installation and discounts on the deployment boost online sales.
As per the recent report, online sales of bigger electronics appliances have boomed in the past two years as e-retailers have identified consumer's installation and delivery concerns. That's why by providing significant discounts and support services to the consumers, their sales can automatically improve.
6. By Bundling Similar Products & Offering little discount
Product bundling is a top-notch marketing strategy broadly used by several eCommerce business owners to make customers purchase more things than they have planned. It usually involves offering a wide variety of services or products and selling them at a discounted rate. However, the product bundling works by creating two leading perceptions for the consumers, such as amazing value for money and convenience.
Therefore, as per the customer's standpoint, product bundling offers an elevated shopping experience to the shoppers.
Next, bundling usually cuts down the "pain point" of paying money. In brief, with the help of the Extra Fees Plugin for WooCommerce, you can provide your customers a complete convenience. Hence, it means greater optimization for the sales revenue!
How to charge extra fees in your WooCommerce store?
With default WooCommerce, there are no such various options available to charge additional fees for products dynamically. That's why you should use the "Extra Fees Plugin for WooCommerce" to earn additionally. It can be downloaded from the WordPress plugin repository or its DotStore link.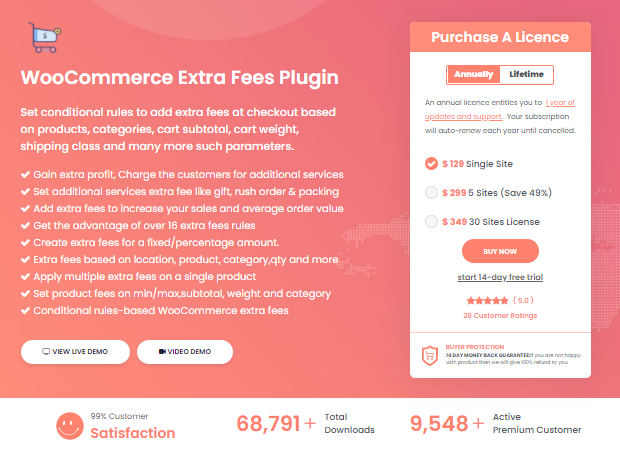 This "Extra Fees for WooCommerce" plugin helps you optimize the average order value in your eCommerce store. This is how your store revenue will be increased gradually. Therefore, you may encourage your customers to spend more bucks to avoid any extra shipping charges in terms of cart subtotals. Besides, it is a useful plugin to motivate customers to harness particular payment gateways by charging additional fees.
Hence, it also ensures the extra expense that you have established will be visible on the product, the cart page, and the checkout section. You may also use fixed prices or % fees and also obstruct them to particular categories or products.
WooCommerce Extra Fees Plugin
This top-notch plugin for WooCommerce lets you charge an additional amount of money, whether fixed or percentage, for various conditions. You can prepare a list of conditions for charging extra as per your store strategy and create product fees using this plugin accordingly.
With this fantastic plugin, you may effectively set conditional rules on different categories, cart subtotal, products, shipping class, and many more.
Start Your Free Trial of WooCommerce Extra Fees
Gain extra profit, Charge the customers for additional services
or learn more
Features of WooCommerce Extra Fees Plugin
Several Conditional Rules-based Fees
You can easily set a conditional shipping and payment system in your WooCommerce store by providing handling fees per product.
Location-based Conditional Fees
You can set additional fees during checkout for the WooCommerce distance rate shipping criterion regarding the delivery location. Hence, delivery charges can be optimized.
WooCommerce Checkout Fees
Incorporate additional fees in terms of conditional logic to the WooCommerce cart during checkout to enhance revenue generation from everbuying.
User role-based fees during the checkout
You may set WooCommerce top-notch conditional product charges for the purpose of checkout based on a particular user role. These are for vendors, customers, premium customers, and so on.
Conclusion
You will gain additional profit and charge your customers extra per additional service with this amazing plugin's features. It provides irresistible deals during the purchase. Hence, using WooCommerce Extra Fees Plugin is a trusted way to boost sales.
These 6 ways to earn extra from your WooCommerce Store become hassle-free due to its outstanding features. This is how you can offer your customers a top-notch shopping experience that boosts customer's fidelity.