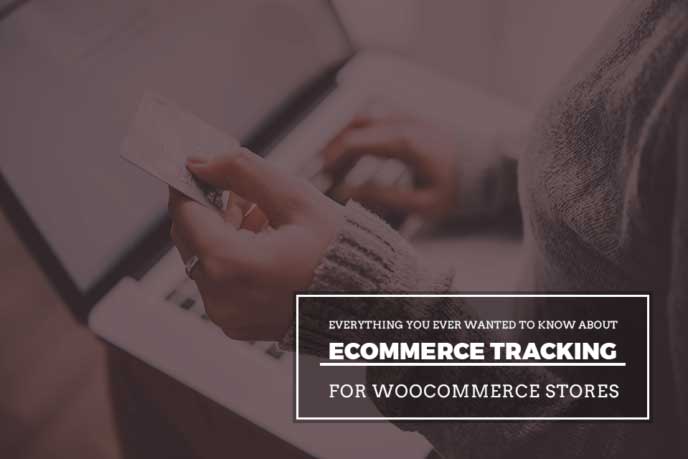 Here is why ecommerce analytics is critical for your business
In this ever-changing e-commerce landscape, it is becoming increasingly critical to understand how your business is generating revenue, as well as gain deep insights into customer behavior and ultimately make better business decisions. You have your WooCommerce store up and running, but without analyzing various data points from your store, you are missing out on opportunities to grow your business to the next level. This post will explore why e-commerce analytics is critical for your business.
Google Analytics is the most widely used web-based analytics tool. Google Analytics gives you detailed analysis of your search traffic (web & mobile). It even offers amazing details regarding SEO, referral sources and which sources are earning more for you.
If you have integrated third-party tools with your WooCommerce Online Store, you need to have data across these channels too. Without having comprehensive information about users' behavior across multiple channels, you can't carve the path to maximum ROI for your store.
Moreover, Ecommerce Tracking is a must-do thing for online store owners. Without it, you are bound to make ignorant business decisions. You must have information on the following to make the right business decisions.
How many online transactions you are doing
Product wise sales and revenues
Your average orders
Shopping trend across multiple channels
Sessions, bounce rate
Conversion ratio for diverse platforms
Date wise performance
Transaction volume
Date wise visits & performance
Unique purchases
And much more…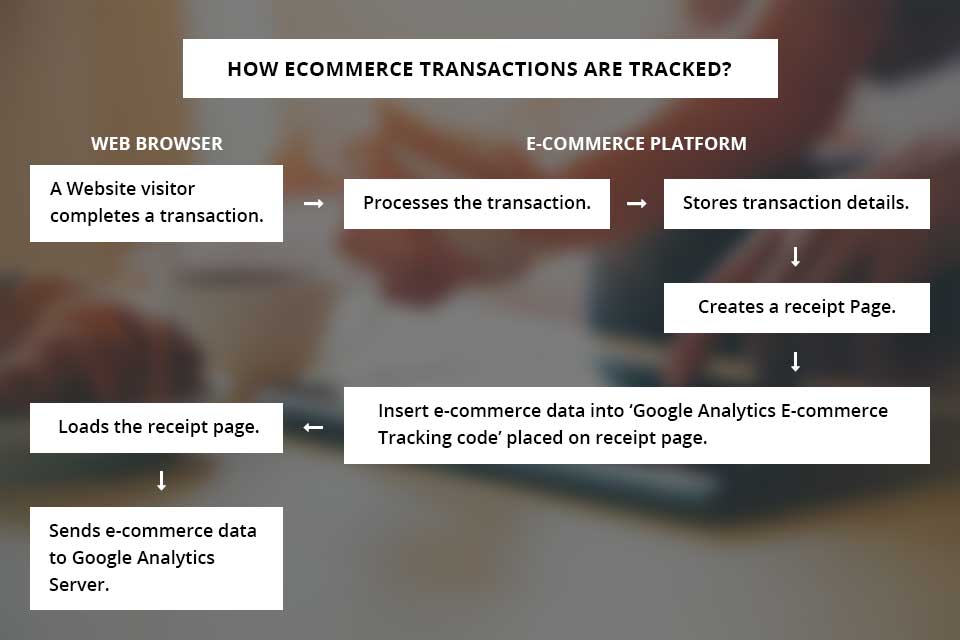 You can read more about how online transactions are tracked here.
Benefits of Enhanced Ecommerce Tracking
To drive maximum ROI out of your marketing campaigns, it makes sense to have the detailed understanding about how your audience is behaving.
For instance, with e-commerce tracking, you can come to know the sales and revenue product wise across audience type. If you see product performing well, you can accordingly, introducing promotional offers or run similar such activities to boost revenues.
Moreover, by looking at metrics across channels also gives insights into what type of communication you must be using to convert visitors into customers. You can understand when they are shopping and what purchase triggers are. This helps you make crucial decisions at the right time.
Ecommerce Tracking is indispensible when you are running campaigns during holiday seasons. Real-time data insights help you tweak changes into your store, thus, delivering a better customer experience and earning their trust.
Shopping behavior& analysis
Right from the moment visitors arrive on your site to the final checkout process and making payment, the entire journey tells a lot about their behavior.
Each of the following metrics is important indicators of visitor behavior.
All sessions
Sessions with product views
Sessions with add to carts
Sessions with checkout
Sessions with transaction
No shopping activity
No cart addition
Cart abandonment
Checkout abandonment
Product & sales performance
As a store owner, you need to know how well your marketing campaigns are performing. Further, you have to do user segmentation and see how many visitors are returning. This helps you deciding on the how to remarket your products and promotional offers. Plus, from where visitors are coming including landing pages and targeted keywords gives you insights on what is triggering product sales and driving revenues.
ALSO READ:
How do you know its time to move to another eCommerce Platform? This post will help you decide
You need to see past the conversion volumes. Ecommerce Tracking offers ground-breaking details on the number of products people are purchasing, product category, SKU data, average number of products purchased per transaction and lot more.
For instance, if you see that the average order value is low for specific products, you could offer free shipping or a free gift to increase the same.
Metrics will also reveal which products sell best from paid campaigns vis-à-vis organic sources. The time of the day during most sales happen could help you determine when customers are looking for support. You can even track the success of email marketing too.
Checkout behavior analysis
Understanding where your users are exiting in the checkout process is essential to fix glitches. Whether it is the shipping option that is driving them away or lack of payment options, it is super-important to analyze the checkout page behavior. Next, it's equally essential to know about metrics across desktop, mobile and tablet.
Enhanced ecommerce tracking helps you understand a visitor's journey i.e. whether these have arrived from referral sites, landing pages or some free resources and what's their behavior is like at the checkout. People might even have problems applying promotional offers at the checkout page and this might be a hindrance.
How to implement Ecommerce Tracking for your WooCommerce Store from Multiple Sources
You, no longer, need to manually insert codes and do programming to track user data and other important metrics from important sources like Google Analytics.
The WooCommerce Enhanced Ecommerce Analytics Integration with Conversion Tracking Plugin will do the job for you.
It allows you to easily integrate the following services:
Google Analytics Ecommerce Analytics
Google Adwords Conversion Tracking
Facebook Ecommerce Conversion Tracking
Twitter Ecommerce Conversion Tracking
Woopra Ecommerce Conversion Tracking
GoSquared Ecommerce Conversion Tracking
The plugin easily integrates with these platforms giving you insightful data required to run better marketing campaigns and boost a store's ROI.
You can track how many users across these platforms have placed orders, used discount coupons, the number of transactions, user registrations, total order revenues etc.
In the next blog post, we will explain how these platforms differ from each other and how you can use this plugin to harness the power of analytics using these platforms.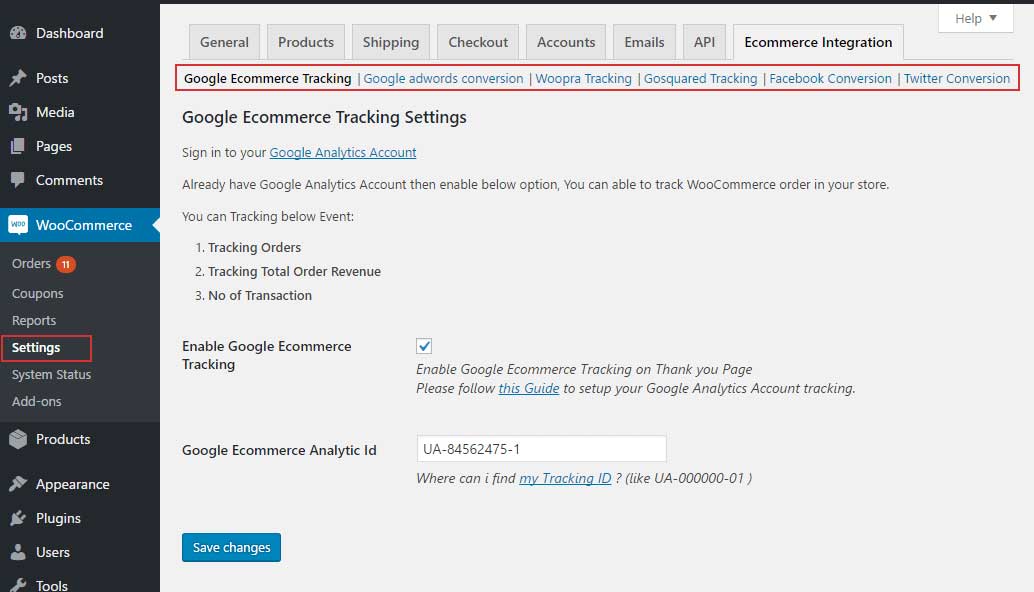 The Case for WooCommerce Enhanced Ecommerce Analytics Integration with Conversion Tracking Plugin
Many times, store owners, are baffled by the fact that why customers can't get past the browsing stage or complete the checkout process. Many even, without having access to insights, implement costly changes and still don't see results pouring in.
The WooCommerce Enhanced Ecommerce Tracking Plugin provides important reports that offer insights on
Product Performance
Checkout Stage Behavior
Cart Abandonment Rates
Shopping Behavior
Sales Trends
Any many more…
Such reports are essential to help you improvise the buying funnel and accordingly improve the overall buying experience.