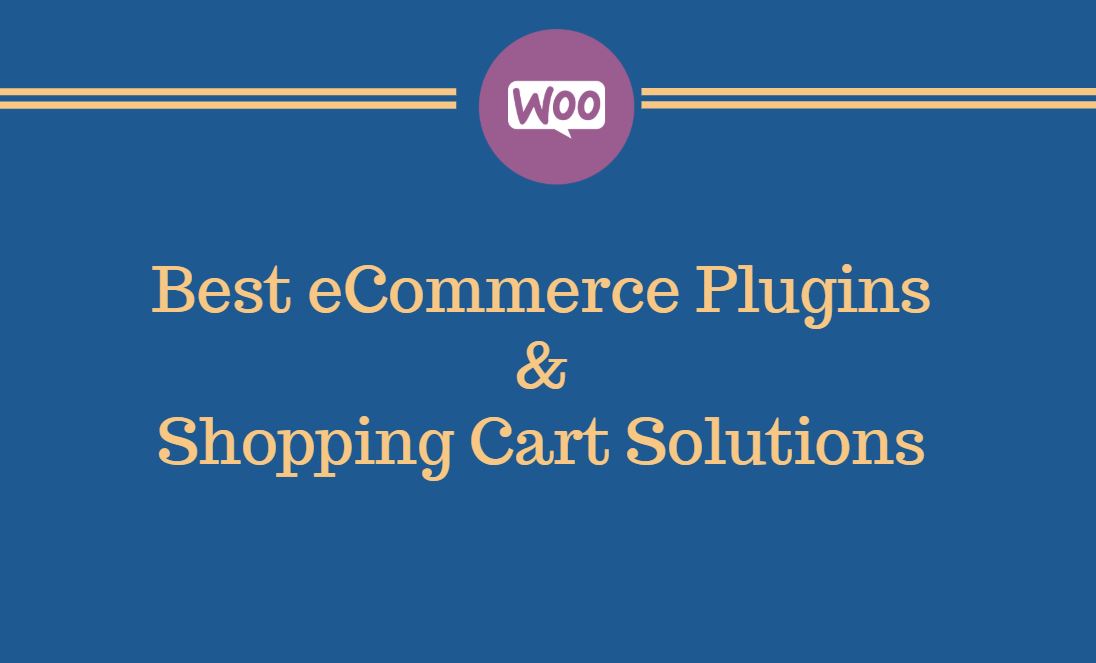 The Best WordPress eCommerce Plugins & Shopping Cart Solutions

You have had spent months figuring out a business idea, the plan, the management, and all the execution strategies. So, what's next? How to pitch products? Or how do you initiate sales?
Given that there are plenty of options, the best way is to have an eCommerce store. The online ecosystem is the most successful form of business promotion and selling.
Agree?
Now that you have stamped on the idea of setting up an eCommerce store for your business, the first and the most important thing you need to focus on is, rendering a smooth customer experience. This might at first appear cumbersome but with the presence of different CMS websites, WordPress to be specific, getting along the task of launching an eCommerce website is as easy as tapping buttons.
All you need to have your first eCommerce store is using WordPress as the website and to engage features, add different plugins as available from the pool of shopping cart solutions.
Well, if you are a newbie and don't have much idea on what are the different plugins and which would be better for your business, we have outlined the top 12 e-commerce plugins and shopping cart solutions for your reference.
Top e-commerce Plugins & Shopping Cart Solutions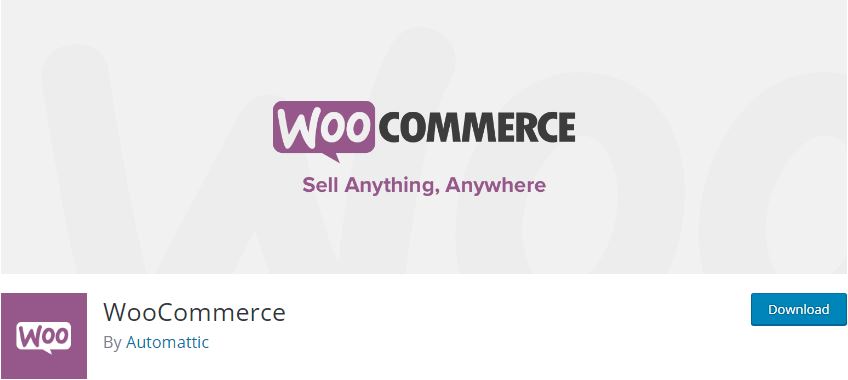 WooCommerce is one of the best free e-commerce plugins tailored to render top shopping cart solutions which are best sellers. Few consider it to be the king of WordPress plugins, WooCommerce, as the name suggests, has the propensity to transform your basic WordPress site into a feature-packed e-commerce store. WooCommerce is acquired by Automattic, the agency operating WordPress functionality. This acquisition leads to exponential growth in the popularity of WooCommerce being used as the top e-commerce plugin.
In case you are looking to build your site from scratch and then see it expand, WooCommerce is the best choice. No matter how many products you add in the store, you never have to pay a penny. However, if you are planning to integrate WordPress themes, you would then need to invest.
Pros
Highly economical – an average small store can run their business using the basic version of the plugin with attractive designs and added themes.
Huge support of community given its acquisition by Automattic
Pro Membership allows the addition of paid extensions
Enable the sale of products, subscriptions, and discounts
Easy to use interface
Cons
Crashes in a complex scenario
Pricing: free/$165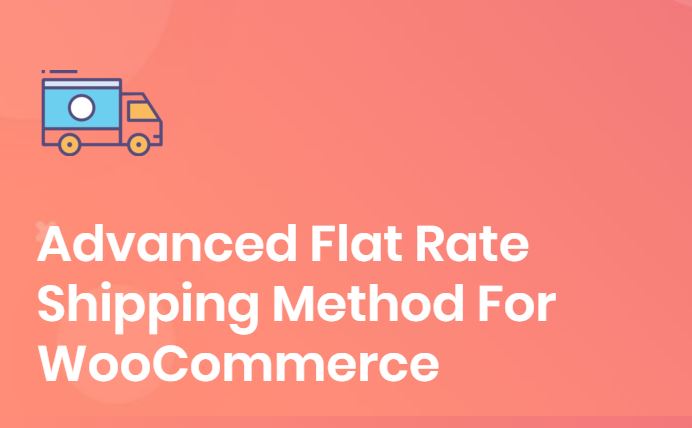 Another choice for e-commerce plugin and shopping cart solution is the advanced flat rate shipping methods for WooCommerce. This plugin allows the store owners to draft multiple shipping methods having flat rate along with features of easy & flawless customization, varied options of free shipping, adding specific Category, Product, weight, and quantity. Additionally, you can create complex table rules for rate shipping for an array of products worldwide.
Pros
Help set Precise charges of shipping for any order
Aid Managing Multiple Shipping Methods
Compatible with a different version
Cons
Pricing: $99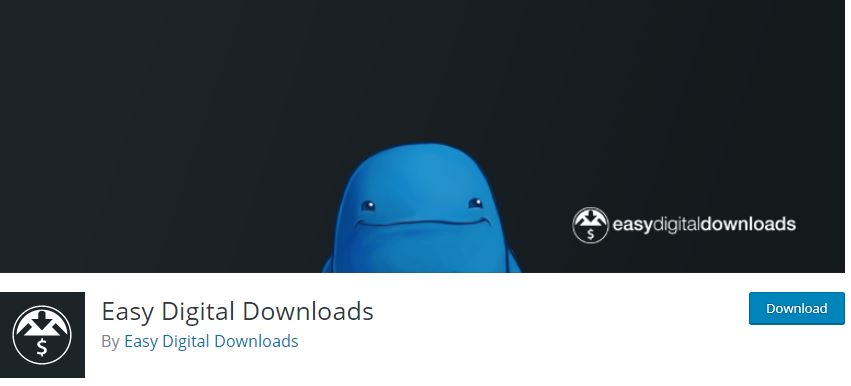 Also referred to as EDD, this e-commerce plugin is both a simple and intuitive plugin that enables both purchasing and selling products on WordPress. Though the WooCommerce plugin seems to be better when it comes to having an elegant interface and sleeky designs, Easy Digital Download emerges to be the preferred one.
The plugin is packed with features and ideal for the ones when you need to promote the sale of ebooks, pdfs, or audio clips. A major reason that promotes the success of an Easy Digital Download Plugin is the fact that the basic version is free. All you need to do is set up the website, install the plugin and there you go, add as many features as you wish to keep your business running smoothly.
Once you activate, you can choose themes, pick up galleries, track activities, add a payment process and much more
For the ones that plan to purchase the pro version, a payment of $ 199. This plan would include updates, site licenses, and customer support.
Pros
Efficient for selling digital downloads
Multiple add-ons with an extended library
Total customization with Restful APIs
Consists of In-depth features including shopping cart, discount codes, customer management, along with data reporting.
Presence of tools for an affiliate system, refund tracking, mailing lists, and more.
Easy payment portals
Cons
Entails bundle of responsibility
Does not include benefits of pre-made audience
Pricing: $30 for a single site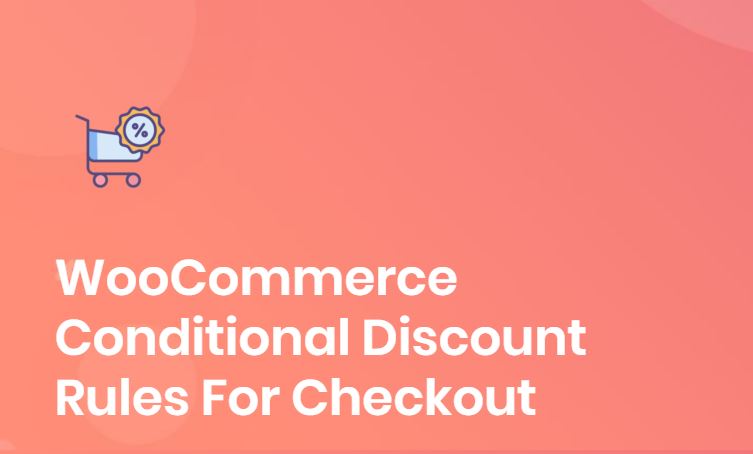 The plugin allows you to create different variants of WooCommerce conditional discounts like the Cart discounts, Bulk discounts, special offers, country-based discount, user role-based discounts, and many more.
Pros
Advanced Discount Conditions
Precise Discount for any order
Fixed cost discounts
Bulk discounts
Percentage of Discounts
Cons
May not be good for small stores or single-product shops
Pricing: $89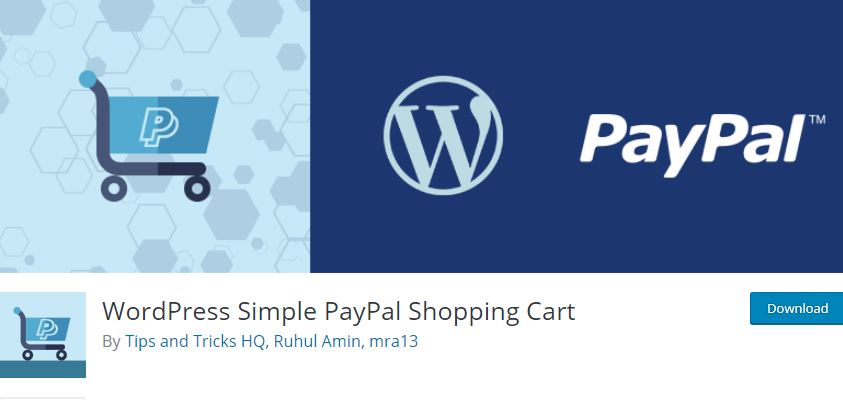 One tap solution for converting your simple WordPress website into one that is far more sophisticated and simplistic e-commerce solution, WordPress simple PayPal shopping cart is lightweight by nature.
Using this plugin, you can add a button of buy now within your existing web page or site. The prime advantage of using the WordPress simple PayPal shopping cart is giving your users access to the shopping cart. Meaning that users can effectively add items in the 'to buy' list.
Additionally, the plugin provides greater access when it comes to integrating the sale and purchase of goods. Once you install the plugin within the website, you have total say vote the control panel in order to create newer products and further, attain the shortcode for every created product. Now, you can add these shortcodes and integrate them within the posts, pages, or the digitized areas.
Pros
Compatible with multiple devices
Standard responsive designs
Live product testing
Sell products in a secluded environment
Cons
Does not allow adding multiple customizations
A restricted amount of features
Pricing: Free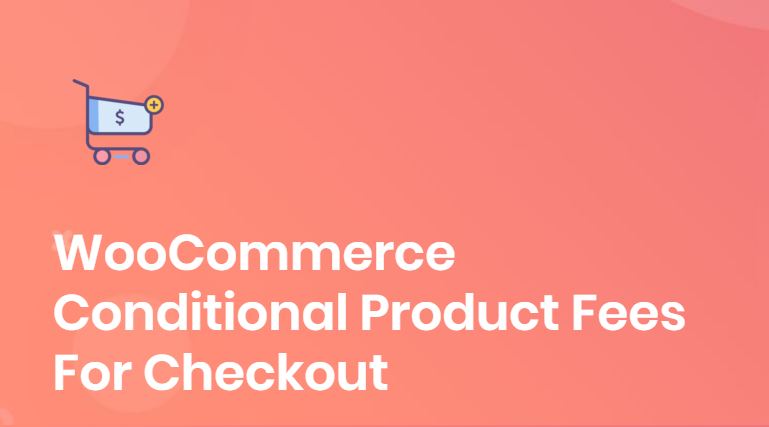 With simple and easy to use features, WooCommerce conditional product fees for checkout enables the store owners to apply coupons based on conditional rules. Regarded as an ideal e-commerce plugin for the store owners who wish to add different rules and additional fees on the basis of several parameters like weight, quantity, products, cart total, etc).
Owners can also have control over the methods of shipping and here to conditional rules can be made based on the above-mentioned features. The addition of fees for a specified time period is also possible using the WooCommerce conditional product fees for checkout. In a nutshell, the WooCommerce conditional product fees for checkout give you the total freedom to customize and build a user-specific, feature-rich e-commerce website.
Pros
More Than 16 Condition fees Rules
Schedule Fees for Particular Time Period
Charge Fees by Fixed Amount OR Percentage
Set Multiple Conditions for Extra Fees
100% Compatible with WPML
Set Discount on Specific Condition
Cons
Pricing: Free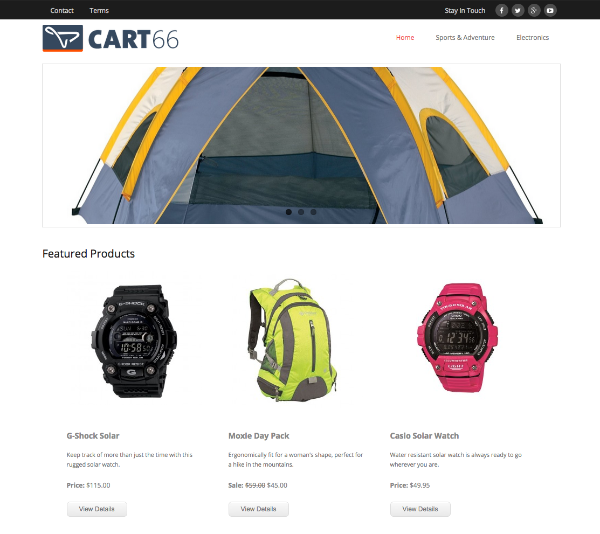 An excellent platform for small enterprises, cart66 cloud has a built-in plugin that aims to reduce the total number of add-ons required for the seamless functioning of the plugin. As a newbie, it might be tough to manage your website given the number of plugins and extension but with the Cart66 cloud, everything seems pretty easy. The plugin has a solid niche with easy to integrate configurations that promote the implementation of its inbuilt features.
Pros
Freedom to use between free and premium version
Wide community support
Inbuilt features
Tools for drip campaigns, list segmentation, and timed follow-up emails
Additional features of content restrictions and recurring payments
Cons
Does not allow third-party integrations
Pricing: $49/month (14-day free trial)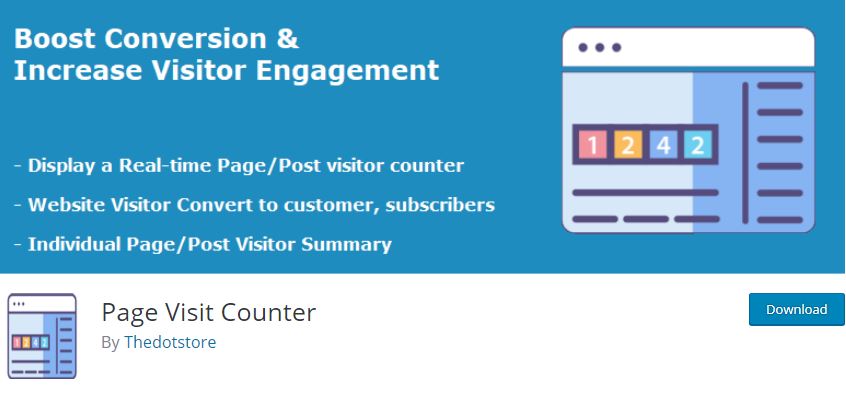 E-commerce plugins are not just about adding products to the cart, customizing products, adding discounts, etc. There is more to it and this time, it is not for the customer side but for the product owner side. Running an online business, you would definitely want to know what the total visitor count to your website and what the conversion rate of the same is. Page visit counter plugin is one you need to look up for. This plugin helps owners fuel their rate of conversion and further enhance visitor engagement.
The plugin help display the real-time page along with post visitor counter on either specific or all pages. Alongside, the page visit counter enhances the rate of conversion via transferring the visitor to customers, and the subscribers and in a way lower the rate of bouncing.
Pros
The plugin can be used on the front side of the post along with the pages visit counter.
Owners can display the individual count of the page at the front-end side, added with the total website count at the page bottom on your WordPress website.
The page visit counter can be displayed on page and post
Enable or Disable the Page Visit Count for all posts or pages
Cons
The free version has restricted facilities
Pricing: $16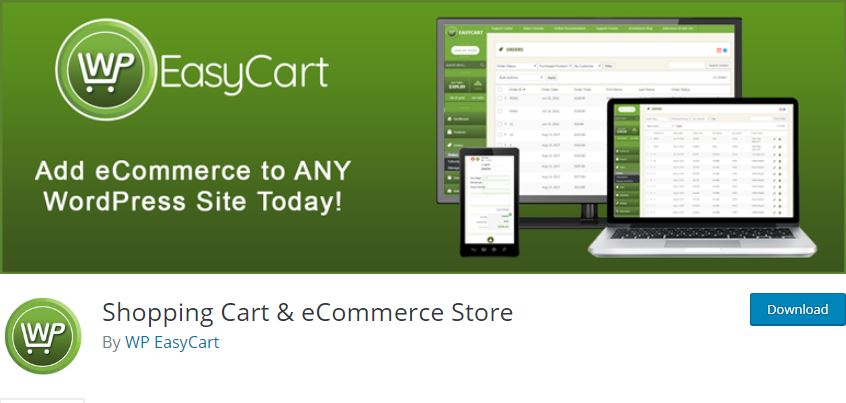 For users that are looking for a total e-commerce solution of their WordPress website, WP EasyCart: e-Commerce Shopping Cart is the best choice. One step solution to convert your basic WordPress website into a highly economical e-commerce website, this plugin is meant for selling digital products, content, and downloadable software for inventory management. Cross-device compatibility along with features of integrated payment accounts for the greater popularity of the same.
Pros
Google Analytics enables tracking sale activities
Integration of shipping features
Social media sharing widget
Cons
The free version does not work well for high-class professional websites
Pricing: Free/$69 per year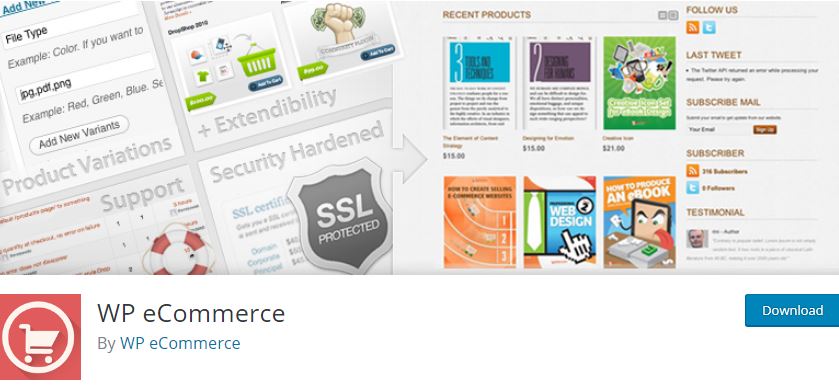 An alternative to WooCommerce, WP E-commerce is the choice of owners who are looking to have an ideal storefront built for their e-commerce website. From the dashboard to the pricing, interface, and features, all are similar to WooCommerce. The only thing that seems different is that WP E-commerce has a feature of selling Gold Cart that has an additional set of functionalities as premium payment, live search, etc. Another thing that demarcates the two is free packaging in WP E-commerce and free product review on WooCommerce.
Pros
Greater support team
Pool of features
Cons
Need you to pay for product reviews
Pricing: $49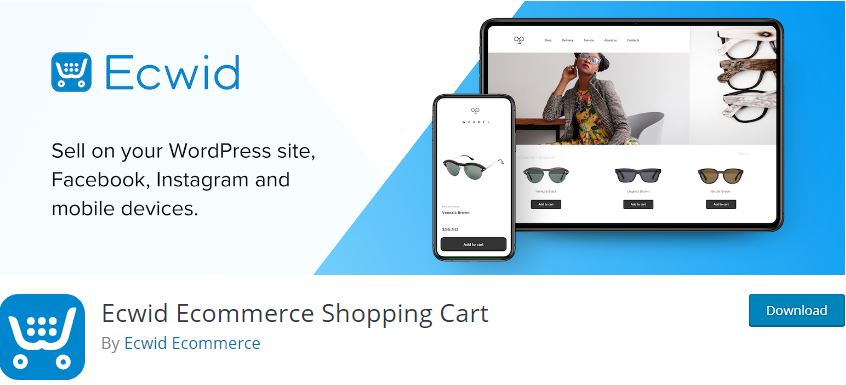 The Ecwid plugin has been found to grab excel ratings and the setup might appear the same as that of WooCommerce but in reality, it's pretty different. A major difference is that Ecwid has added flexibility which enables you to use the same on any of the websites.
Whether you opt for WordPress, Drupal, Tumblr or Facebook, the Ecwid E-commerce Shopping Cary would work for all. This is something that distinguishes it feels WooCommerce as it deals only with CMS.
Also, it appears that the penny paid from Ecwid is less than the amount needed to get along WooCommerce. Its monthly payment plan attributes for the above. To top it all, it has a free core plugin that provides built-in features along with a library of add-ons.
Pros
Built-in features with higher flexibility
Multi-platform support
Seamless upgrades and multilevel storage.
Cons
Pricing: $15/month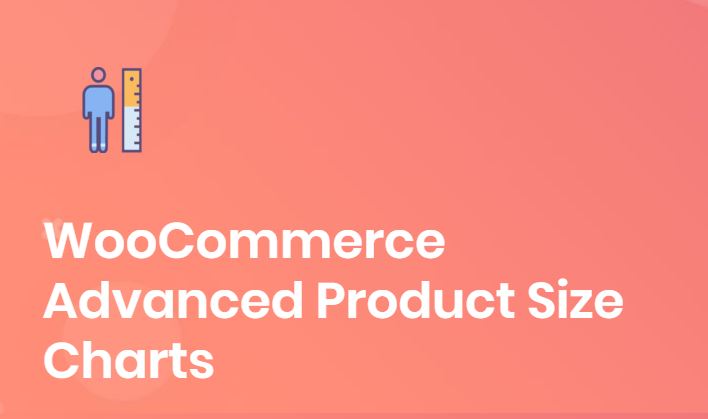 The given plugin allows you to segment ready-to-use templates of default size chart to the category of the product, and further, create customized size chart for any or all of the products of your WooCommerce store.
Pros
Has an array of default size chart Template
Includes templates of multiple size chart styles
Prompt assigning of the size chart
Add size charts to one or more categories.
Quick customization of the size chart
Clone default size chart
Cons
Pricing: $49
Conclusion
So, now that you have gone through the top 12 e-commerce plugin and shopping cart solutions, you can analyze and assess each of them and then decide on which plugins would work well with your e-commerce store and should be installed in order to make the most of the shopping cart solutions.
WooCommerce and WordPress plugins – available for free and premium membership – are the best way of improving and enhancing your online shop. It is better than custom development due to the full-proof solutions, their trustworthiness, and comprehensibility. Therefore, you can always go for them if a plugin suits your business's needs. However, make sure that you download or buy a product only after assessing the features of all. Move ahead carefully while deciding on the must-have plugin for your e-commerce website.