WooCommerce has made it easy for small and big businesses to set up online stores with ease. With its basic features, you can run a small single-location store. The problem arrives when your store grows, starts giving back good revenue and you decide to expand it to multiple cities or countries. At this time, you need more features and capabilities in your e-commerce website than usual.

WooCommerce has got you covered in this scenario too, but you will need to put some efforts in finding the right solution for your problem. There are plenty of free and premium WooCommerce plugins for all the general issues online store owners face. And if there is not, you can always choose to hire Custom WooCommerce Development experts to build a plugin.
For example, sometimes you want to charge extra fees based on products in your WooCommerce store. Now, this cannot be done directly.

To do so, you need a good Plugin.

Want this functionality in your WooCommerce store?

Download WooCommerce Conditional Product Fees for Checkout Plugin.

Firstly, understand why you need this plugin and how to Charge Extra Fee Based on Product in WooCommerce Store. Later, we will justify why we suggested this plugin to you.

When do you need to Charge Product-Based Extra Fee?

What do you sell?

Let's say, you are starting to sell LCD TVs.

Unlike other products, you want to charge 1% extra fee for its shipping. You obviously need to use this amount for additional safety aids.

How will you do that?

By charging product-based extra fees, right?

Similarly, e-commerce store owners need to apply the same condition to other products too. Hence, this functionality is required.

Check the next section to understand how to do it on your own. No, it's not tough.
How to Charge Extra Fee Based On Product in WooCommerce Store?

We hope you have installed the suggested plugin already. If not, you have to install it now, as we are going to use it. So, use the link (given above) and install it on your website.

For trying it once, you can use this live demo link too.

Your plugin dashboard should look like this –


From the dashboard, select 'Add Product Fees' option.


This option will redirect you to another page, from where you will be able to create extra fee related additional fees.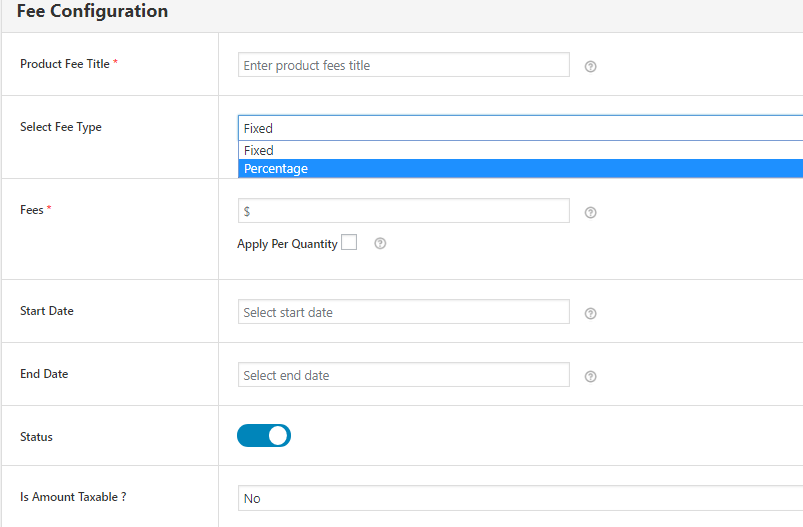 In this form, you need to fill 'Product Fee Title'. Choose a title which represents your purpose of creating this method so that you could recognize this method later too.

Choose the Fee type now. If you are going to charge variable fees (percentage based), then select 'Percentage'. For a flat rate amount, choose 'Fixed'.

Fill the fees and other details.

See the next form on the same page now, e.g. Conditional Fee Rule.


Select 'Product' option from the product specific section in the drop-down list.

In the blank field, in front of the drop down list, fill the name of the product.

Save the settings to confirm details.

Your method is implemented to the e-commerce now.

To stop it from affecting the sales in the future, you can disable the method whenever you want. Alternatively, you can set the start and end date of the method if you want to run it for a certain time period.

For different products, you can create multiple methods. There is no limit on the number of methods.
Why WooCommerce Conditional Product Fees for Checkout Plugin for Charging Product-based Extra Fees?

Requirements for WooCommerce stores change very fast these days. Today, you want to charge product-based extra fees, tomorrow you may need to charge category-based extra fees. What will you do then? Will you add another plugin just to add this feature?

If you will move forward this way, you will ruin your online store for sure. It will become a brooch of plugins, while its speed slowing down with every next plugin. To prevent this situation, it is better to choose a plugin which solves a comprehensive set of problems which are related to your current issue.

That's why we suggested you to use WooCommerce Conditional Product Fees for Checkout Plugin.

It not only solves your major issue related to charging product-based additional fees through the WooCommerce store, but enables you to charge additional fees based on other multiple parameters.

Using the free version of this plugin, you can charge additional fees for products, certain time period and countries. You can decide whether or not this extra fee will be taxable. Flat rate or percentage-based, store owners can charge both types of extra fee using this plugin.

If you feel the need to charge extra fees for other parameters like state, shipping zone, user, user role, zip code, category, quantity, weight, coupon, shipping class, shipping method, payment method, tag, cart subtotal, etc., you will have to the upgrade to the paid version of WooCommerce Conditional Product Fees for Checkout Plugin.

Now you know why we suggested you to use this plugin?

Your e-commerce store is growing and will definitely need to charge extra fees for these extra parameters. At that time, you will not need to look for a new solution.

Understood how to Use WooCommerce Conditional Product Fees for Checkout Plugin or need help? Drop a comment or send an email to us, if the latter is the case.