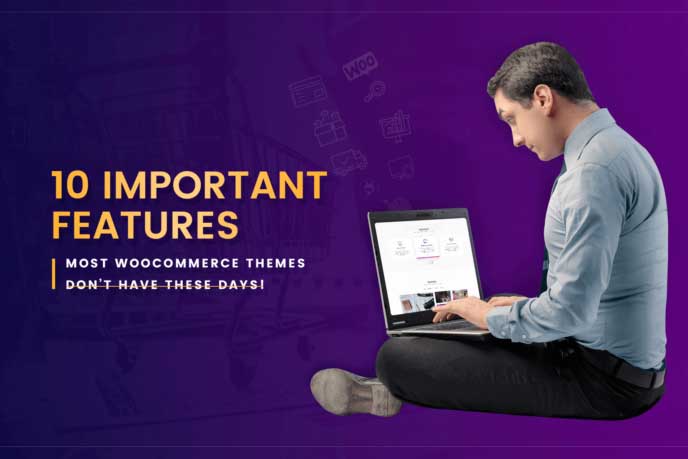 10 Important Features Most Woocommerce Themes don't have these days!
In the world of e-commerce solutions, Woo Commerce themes are quite known names to the owners of the e-commerce stores. There are many themes and plugins of Woo Commerce which has been launched since it is introduced to the market. Majority of WooCommerce products have millions of downloads round the year.
From these available choices, it is very tough to choose the best and efficient one for your e-commerce store. If you have decided to use this popular framework for your e-commerce store, you need to know the inside out of Woo Commerce themes.
Why your e-Commerce store needs a Good Theme?
WooCommerce is actually free. All you have to do is, just download it, create your online store and start selling. It is that easy. The starting fee is minimal and there is nothing like monthly subscription charges. But if you want to extend your e-commerce store to have latest advanced features, you have to search for different plugins and themes.
Without good appearance and excellence of features, it is nearly impossible to attract the visitors. Till the time you are not unique, the conversion rate will be as low as zero. So, a good theme is as important for your online store as a good outlet while you are selling offline.
The must-possess Qualities that are NOT THERE in WooCommerce Themes Today:
Good WooCommerce themes should be multipurpose, that means it should resolve all of your e-commerce store purposes. But that is not the case today. Most popular themes in the market are lacking some important features which would help a store owner to resolve all his purposes, without running to look for different plugins for different store functionalities.
Let us check out some features that most of the Woo Commerce theme lacks today:
A theme should be scalable: A store gets started with an intention to grow. So, WooCommerce theme should be actually scalable to accommodate your growing number of customers or products to sell. This feature is not there in majority of the Woo Commerce themes. Stores have to replace the whole theme or contact the customer care to ask them for code changes. This wastes the time of a growing business. Lack of optimization is the basic problem which haunts here.
An extension is a key: WooCommerce themes, which are available in the market, are not extensible fully. An extension is needed as it empowers to with freedom to add the feature you want. These themes are not flexible enough to accommodate all type extensions or plugins available in the market to resolve different purposes.
Woo Commerce theme should include automatic template and styling for the non-coding users. The hassle of setup a template and style through code changes can be buggy and time consuming if you don't know it. So, the theme should allow you to choose and template and style and setup that automatically. The templates should include shopping cart, payment checkout, account details and logout option.At present, most of the WooCommerce themes either do not include automatic template and styling or are too a complex to set up for a layman user.
Responsive design is not an optional feature anymore for any e-commerce theme and your woocommerce theme should be responsive by design. It should be all device friendly so that your e-store is accessible and readable in all the devices smoothly. Comparatively older themes or even some newer themes are not responsive to be used in the device of any shape, size or technology.
Offers are important business deals to grow a store and your e-commerce store should be able to accommodate the offers you give your consumers time to time.In the generic themes, you'll not get a separate offer bar to keep your offers without disturbing the other sections of the store. This is a small but important feature for the success of an e-commerce store.
A good WooCommerce theme should include a good space for a header and the navigation bar which is not the case with most of the themes available. Thus, your customer is not able to roam around freely with a nicely designed navigation bar.
The header space should be able to accommodate the logo and navigation bar in such a manner that it shrinks along with these when a user is opening your store in a small mobile device. Header space is very important here.
A simple but good design makes user happy and gives them a wonderful shopping experience. An optimized menu that saves page space and yet manages and well organizes every single thing in your store is much needed too. In the themes like which do not include with optimized design, it creates frustration for the users.
7. When a user visits a store for purchasing a specific product, they do not want to linger around the complete store. They want to search the product, find it quickly and buy. It should be that simple. For this, your theme should have a search functionality with a simple but great search algorithm.
It creates a huge frustration among users if they can't search matching products in the store they want while searching and most of the WooCommerce theme so not have a good search functionality.
8. When you talk about the design of a theme, first thing comes to the mind are the checkout buttons. The problem with WooCommerce theme design today is, the size and proportion of the buttons are not correct. Yes, it is important.
The proportion of the buttons should be correct to attract a user to purchase something from your store. The buttons like "Buy Now", should be nicely visible, responsive and should be functioning as expected.
9. According to Business Insider, 74% of the consumers come to e stores, choose products and then leave the stores without buying anything from there. This can be dangerous for your business. Therefore, the shopping cart and checkout option is a very important feature of a WooCommerce theme. Available themes lack well-built checkout options with support for major payment gateways available and simple, easy-to-use cart that helps your user complete the transactions.
10. Here comes another 'not-to-overlook' feature of a WooCommerce theme is Security. After all, everyone wants to be sure about the security of their money and payment information before buying anything from an e-store. For this feature, there are plugins which provide security to a WooCommerce site. It involves cost. WooCommerce themes do not include this feature in them.
11. Additional Features: With the changing lifestyle and shopping behavior of the consumers, WooCommerce themes should include some additional features, that'll help a business to manage and grow. Features are like:
Create multiple flat rate shipping methods
Free shipping for WooCommerce sites
Different flat rate shipping methods based on different geolocations.
Different flat rate shipping methods based on different products or category
Integration with different analytics tools and more…
However, most of the e-commerce themes lack features like security, ease of payment check out and additional important features. You have to buy many different plugins to get them which can be a major concern and time-consuming.
Basic features are provided free with WooCommerce store plugins. Features include:
Different currency options
Customizable checkout process
Geolocation support
In built support for five different gateways
Tax calculations based on different geolocations
Administration of the shopping cart
Shipment methods
Inventory management
But to get features like flat rate shipping methods based on geolocations, products, quantity or zip code, Integration with Google AdWords, different analytics tools to get business insights, social media conversion tracking, enhanced e-commerce tracking, conditional product fee for checkout, essential grid, multi-step checkout wizard, save option for later enhancements, WOOF product filter or good payment security – you need to buy different additional plugins which may cost from $19 to $65 or more each.
Not to mention, it is a huge hassle to buy these many plugins to get the features which can't be count as optional or additional in this era of growing digital consumers.
Reasons the above features needed to have in the e-commerce sites today are:
If you do not have flat rate shipping methods for different Geo locations, products or quantity, you have to charge a good amount for shipping from your customer for some locations or products and a minimal amount for some. This creates frustration among the consumers.
Different types of analytics integration platforms are needed to get quick and continuous business insights, growth rates, sales conversions and customer visits.
Complete security is required for the trust of your customers as the payment information is needed to be secured.
Multistep checkout wizard is needed for the ease of the checkout process.
Advanced product size charts and greed is needed to help the customers select the right product.
Plugins you require to integrate the above features in your theme (and which are generally not included in the e-commerce themes) are:
You need to buy all the above plugins with some other may be to make a theme complete for your e-store.
The purpose of opening a WooCommerce store is to grow a business online. Using WooCommerce themes today that lacks all these modern and must-have features can slow the growth process and so the profit indicator. The time, you could invest in selling your product, is invested in making these themes work out for you, which will not do any good for your endeavor.
Make sure you are not just picking up just any theme and starting your online business. Do not go for the themes, which are not fulfilling your business requirements. Pick the 'complete e-commerce solution' providing a theme, which, in actual, can make you rock your target marketplace.
These were the general features, which your theme, may lack. However, there are many features which are plugin-wise and much-needed. But for that, you'll have to wait for our next blog. It will tell you which plugins make your theme a complete WooCommerce Solution. And also, that your theme is imperfect without those. This link will turn blue very soon, once we have completed our research and posted the next blog in the series. So, bookmark it and keep checking…