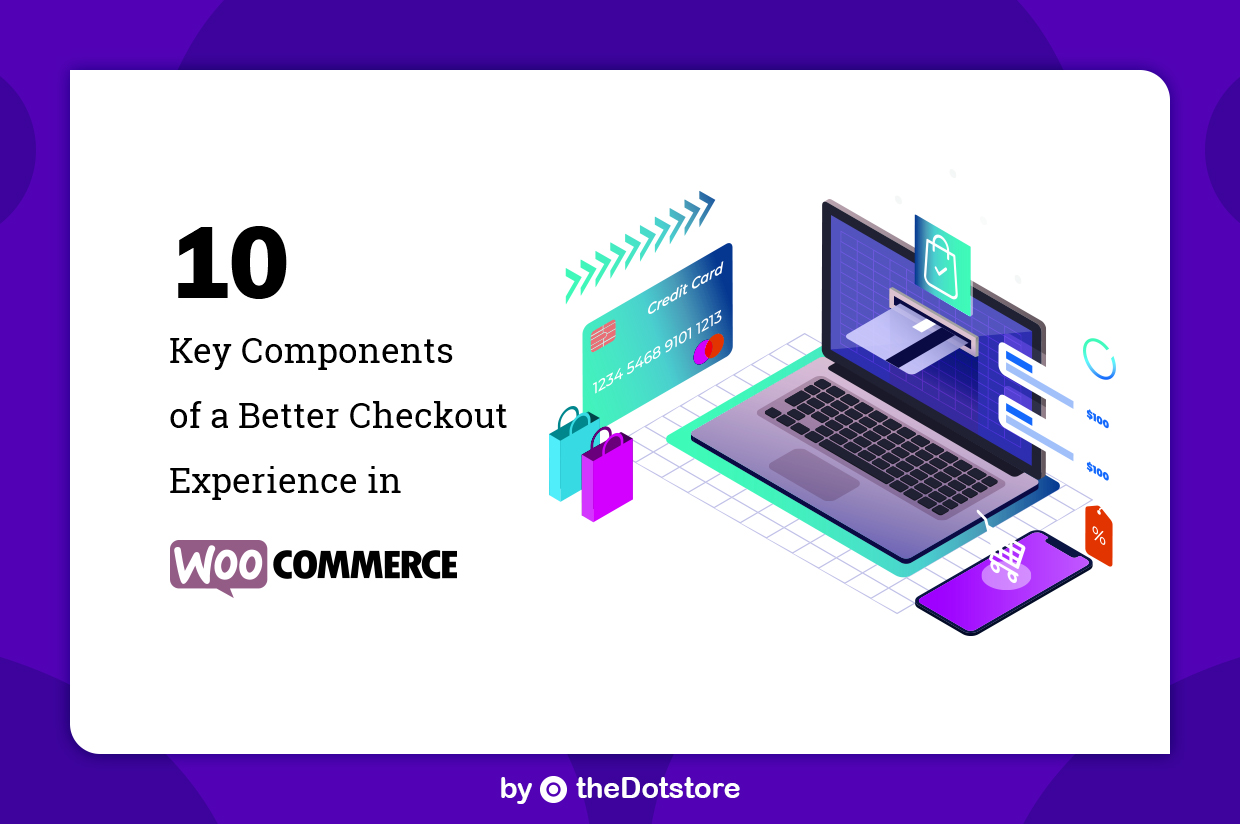 10 Key Components of a Better Checkout Experience in WooCommerce
E-commerce businesses may have a Shopping Cart Abandonment Rate as high as 60% – 80% and as low as 20% – 30%. It all depends upon your checkout page, as most of the customers abandon their purchases on the checkout page.
Before we move forward, please answer these questions to self (especially if you are an online shop owner or e-commerce developer):
Are your customers going back from the checkout page too?
Are you going to design your checkout process soon?
Does your checkout page have a high bounce rate?
Do you want to convert most of the prospects reaching the checkout page?
If you have replied to one or more questions with 'yes', it definitely is the time to optimize your checkout process. Take these 10 Key Components of a Better Checkout Experience in WooCommerce into consideration:
1. Needed Fields for capturing buyers' data
While ordering an online product, it is important to ask for all the needed details from your buyer. Without sufficient details, you won't be able to complete orders, so this aspect is more critical than it looks. Carefully add the fields to be filled by your buyer.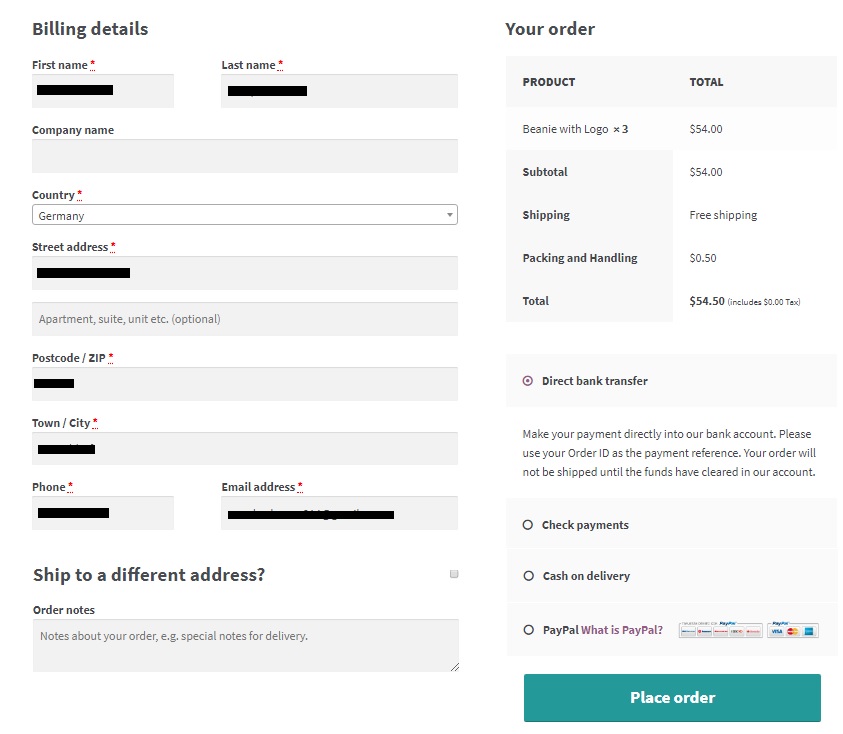 Email address, name, physical address, address for delivery, payment method delivery date & time preferences (from businesses which sell gifts, groceries, etc.), shipping method preferences, etc. are a few details you might need for successfully delivering the purchased goods.
2. The Security
Payment security and information privacy is the main concern of buyers in the online world. If your buyers do not trust your checkout process, he or she will decide to exit without buying. So, there is no way you could overlook it at all.
Ensure to have the followings, integrated in the checkout module:
SSL-enabled checkout page
Secured payment gateway
Fraudulent detection mechanism
Chargeback facility
3. An Advanced Shipping Rate Calculation Aid
It is a no-brainer that the checkout process will be followed by shipping of the order. So, it is important to calculate and display shipping rates properly.
Advanced Flat Rate Shipping Plugin is probably the best WooCommerce plugin for this purpose. The plugin allows you to enable free shipping, charge flat rates on shipping as per different aspects like product type, quantity, weight, delivery location, etc.
Wait, there are many more conditions, on the basis of which, you could charge shipping rates in your eCommerce store using this plugin. Here's the list: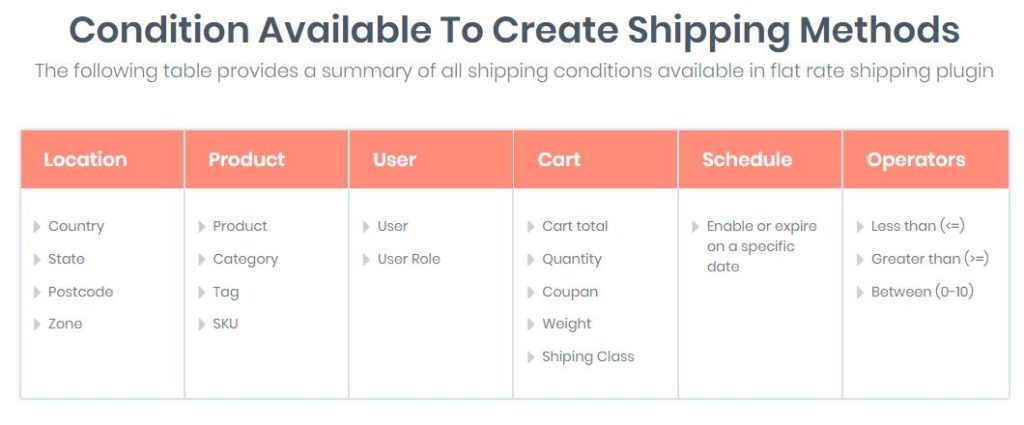 4. The Simplicity
A checkout page may have single or multiple steps, but its goal should be to simplify the checkout process for your customers. However, some e-commerce businesses think that this page is where you can promote more and more products or get feedback for previously-provided services.
If you are doing so, you are going it wrong so far.
Remember 3 golden rules while designing your checkout page:
Never frustrate buyers by asking for irrelevant or repeated details. It reduces your credibility and increases the chances of purchases.
Add the least number of UI elements on this page. Keep it minimal and clean.
Any distractions or unnecessary links may redirect your buyer to another page, abandoning the purchase.
5. Coupons and Discounts
As customers love discounts, your checkout page should definitely have space for applying coupons.
For example, if you have showcased a coupon on your e-commerce, like this:

Then, your checkout page should also have a slot for filling in the coupon code.
See this:

6. Compliance with Taxation Need of the business
Online e-commerce businesses function very much similar to physical stores. Here too, sellers have to charge taxes and fees as per country's taxation laws. Henceforth, it becomes mandatory for you to apply this additional cost on orders.
Apply all the taxation-related conditions on your online shop, in order to make it law-complaint. You may use plugins like WooCommerce Conditional Product Fees for checkout for this.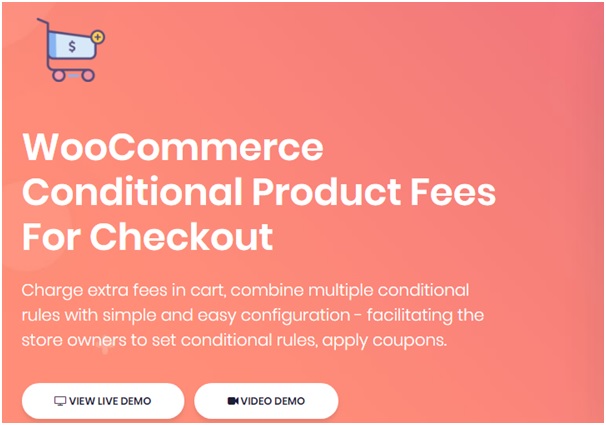 This plugin will let you charge an extra fee on a different basis.
7. Good User Experience across all devices and platforms
Within the US, around 24% of e-commerce purchases happen through mobile phones.
Did you understand this?
The eCommerce sector, nowadays, attracts buyers from all locales, who use different devices, browsers, and operating systems.
The takeaway from these statistics is – Always optimize your e-commerce website and checkout process to work fine on all devices and browsers. Test its different capabilities and make sure that all features work well uniformly. If not so, the user experience will suffer. Conclusively, your sales and orders will reduce too.
8. Secure and Trustworthy Payment Methods
Though this point should have been added at the top of our list, we thought that you might know it already. So, we've added it at 8th number.
Let us explain it to you with an example –
A buyer came to your shop and he didn't find any payment method, through which, he could make payment for his purchase. The immediate result of this event will be the abandonment of order.
To avoid such situations, always integrate popular and secured payment methods to your e-commerce cart. It'll increase the chances of sell and improve user experience for your buyers.
9. Accurate details
If you are charging 100 bucks for a product in beginning and at the last step of checkout and product cost becomes 160 bucks, your buyer will definitely abandon the checkout process.
Do you know why?
It is because they were expecting to pay a certain amount for their purchase, but now the cost is way more than what they'd expected. It might have exceeded the budget of the customer, probably. Therefore, it is always better to give a complete and detailed list of charges.
Here is an example: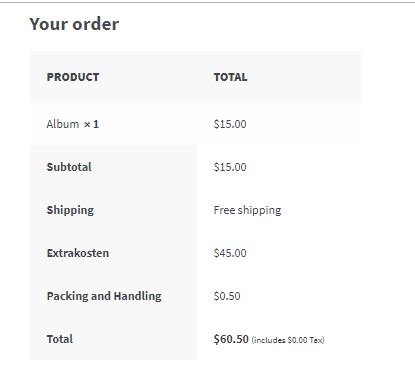 You may:
Add the list of ordered products and their characteristics (if selling variable products).
Provide details about all the taxes and additional fees, as you are charging. Classify all fees properly.
10. Method to Charge Additional Fee
Let's say that your debit card payment carrier is charging 1% fee on each transaction and you want to charge this money from your buyers, how will you do so?
WooCommerce Conditional Product Fees for checkout Plugin will come in handy here too. Without much effort, this WooCommerce plugin will help you charge additional fees in different conditions.
Conclusion
A well-designed Checkout process is critical for every e-commerce business to grow. It can reduce your cart abandonment rate significantly.
Doing so is not very tough.
Using the right plugins, adding needed functionality and designing a perfect user interface can make it happen for you. Moreover, to improve your e-commerce store on each of these fronts, it is necessary to focus on the 10 aspects we've mentioned above.
Note: You may also purchase a bundle of best WooCommerce plugins to add essential functionalities to your WooCommerce store.