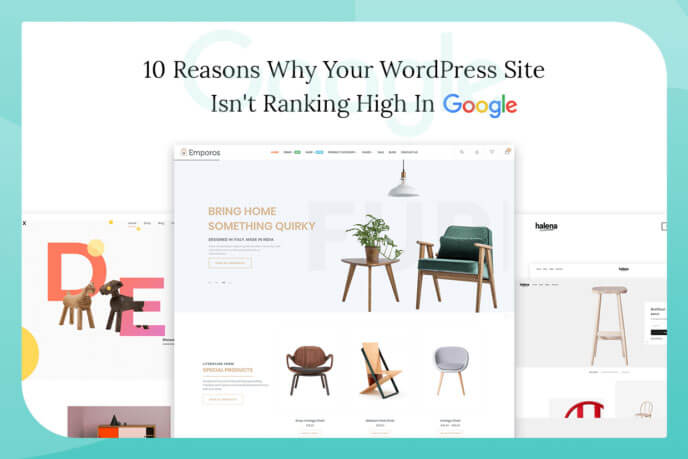 Improve WordPress Site Ranking by Overcome 10 Below Reasons
Creating an effective WordPress website, populating it with high-quality content, and then publishing is simply not enough, because if people don't know about it, nobody is going to see it. Now, in order to get your website in front of as many eyes as possible, you need to make sure that it has a good (preferably Page 1) ranking inside the results of Google Search. What makes this really difficult to achieve is the fact that Google looks at 200 major and about 10,000 ranking factors in order to determine how to rank your website.
Now, of course, you can't analyze each of these, not just because it would take you an entire lifetime, but because a lot of these can only be interpreted by Google's algorithms. But, there is a handful of major ranking signals which you can single out and improve. With that mind, here is our list of 10 reasons why your WordPress website isn't getting the ranking you think it deserves, along with tips on how you can remedy that issue.
10 reasons why your WordPress website isn't getting the ranking you think it deserves
1. You are Publishing Subpar Content
One of the three most important ranking signals is the quality of your content. Just seven or eight years ago, what you could have done to improve your ranking was to stuff your content with your target keywords, and produce as much of it by simply spinning it. Fortunately, Google has gotten smarter when it comes to analyzing and spotting high-quality content.
So what makes for good content? According to Daniel Norton, who works as a content manager for BestEssayTips, high-quality content should fulfill the following criteria:
"High-quality content should always be informative so that readers leave your website knowing more about the topic than they did before. Of course, it goes without saying that it should be free of any grammar, spelling, and punctuation errors".
Also, your content should be relevant and of sufficient length, which brings us to our next point.
2. Your Content is Too Short
Generally speaking, every piece of content you produce and publish should be at least 400 words long, but if you want your website and its pages to rank higher, you are probably going to have an aim for at least 1,000 words. For instance, long and detailed pillar posts which are over 2,000 words long usually rank pretty well. When your content is longer, you simply have much more room to get your point across, and to back your content up with some useful data, research, and case studies.
Longer content also earns more backlinks. Of course, all of this is true if your long-form content is not full of filler. And if you are worried about your readers not having the patience to read longer articles, since most have a habit of skimming the content first, well, let them. Simply create a table of contents for each of these epic posts to pull them it.
3. Content High-Volume Keywords
Let's say you are looking to buy an exercise bike. Your first step would probably be to use that exact phrase, "exercise bike". If you try to create your content so that it targets that particular keyword, you are probably not going to rank very highly inside the search results. Why? Well, there is simply too much competition for that particular phrase. In order to assign a ranking for each website targeting that particular phrase, Google will take a look at other factors, such as traffic, bounce rate, number and quality of backlinks, and so on.
If your website is relatively new, it's not going to have sufficient authority and popularity to warrant a high ranking if you are trying to rank for short keywords and phrases. What you should do instead is target long-tail keywords, which are more specific and have less competition. On top of that, they often resemble phrases and sentences we use every day, so it will be easier for you to work them into your content.
4. Not Enough High-Quality Backlinks
Backlinks are, along with relevant keywords and good content, the most important ranking signal. However, backlinks help your ranking only if they are coming from authority websites which themselves have a high ranking and generate plenty of traffic. Avoid shady practices, such as buying links, by all means. Not only will they not affect your ranking, but they will put you at risk of getting penalized by Google.
ALSO READ:
WooCommerce Shipping Zones Decoded
So, what can you do to create high-quality backlinks? The answer is: write guest posts. While some backlinks will definitely be a result of other websites linking back to your content simply because they value it, you can speed things up by reaching out to an authoritative source and offering to write a guest post for them. They get to receive great content for free, and you get to link back to your website, and drive more traffic your way, all of which will help your ranking.
5. Your Website is Relatively New
Not only should you not expect to be immediately ranked by Google, but you may also have to wait for your website to get indexed. It can take anywhere between a couple of days, but it can sometimes take weeks. Usually, Google will index your website as soon as there is a single link leading to it or if there is a mention about it on social media, so there is usually no need for you to submit it manually. The best thing you can do is to simply wait.
6. Slow Loading Speed
Google is really adamant about providing the best possible user experience, and slow-loading websites and pages do the exact opposite, and therefore affect your ranking negatively. What can you do to fix this? First of all, start using a CDN (Content Delivery Network). This will enable users to access your website on a server that is geographically closest to them. Compress your images and other multimedia files, so that they take less time to load. Also, you can choose a fast web host and ask them to enable caching. All of these should be enough to make loading speed a non-issue.
7. Your Website is Overoptimized
All this signal and ranking talk makes it seem like SEO is the most important thing ever and it is, to an extent, but even that can produce an adverse effect. A great example of this is keywords stuffing. Also, we have already mentioned having too many low-quality backlinks leading to your website. But, what also constitutes as overoptimization is having your keyword inside every title tag, subheading, alt text, and URL on your website. Google will penalize you for this, so it's best to use some common sense when doing SEO.
8. Lackluster Social Media Activity
Although Google never actually said that they are using social media activity as a direct ranking factor, it does help your ranking in numerous indirect ways. As we have pointed out before, social media can help your website get indexed faster. Also, social media activity can drive more traffic your way, and your content will get shared by many people, which will inevitably result in some backlinks. But, apart from exposure, you can also benefit from keeping an eye on various social media trends and using them to your advantage.
9. High Bounce Rate and Short Average Time on Site
If users are opening your website, sticking around only for a few moments, and never coming back again, it signals Google that your website is lacking in some way. It may be because your content is poorly written or formatted, backlinks are of low quality or non-existent, or even because of your web design. Google, as well as users, is especially harsh on websites which don't feature responsive design, which brings us to our next and last point.
10. Your Website isn't Mobile Friendly
Mobile devices have taken over as the dominant platform for content consumption, and Google has introduced mobile-first indexing, which means it is an absolute must for your website to feature responsive design, so that provides a great user experience regardless of screen size. Otherwise, Google will take it down in terms of ranking, regardless of how great your content is.
Summary
As you can see, to help your website rank higher, you need to make sure that it provides a great user experience, both in terms of content quality and the overall design and feel. But, even if you do everything do everything by the book, you may still have to wait about 2 weeks before Google indexes your website and updates its ranking. Good luck!