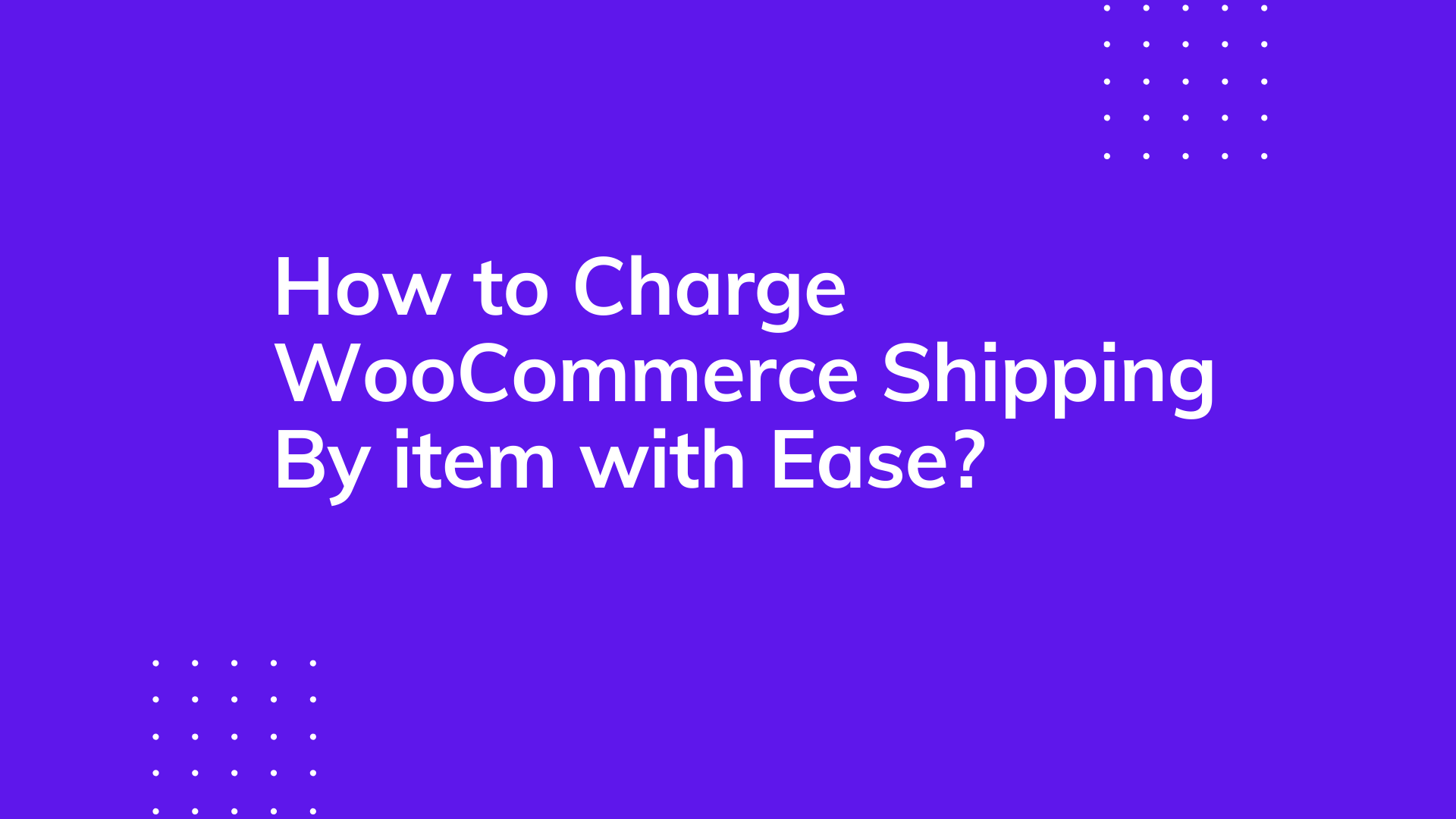 How to charge WooCommerce shipping by item with Ease?
Without a doubt, WooCommerce is one of the tending and highly fascinating WordPress plugin that gives you the ease to set up an online store in a matter of minutes. Simply log in to a WordPress page, download the plugin, and get started!
Sounds good, but is this enough?
WooCommerce offers a bundle of features and facilities to its owners for the creation of compelling online stores, however, it has its limitations too. Apart from the look and feel or the designing aspect of the plugin, the shipping options provided are not sufficient.
For the uninitiated, WooCommerce comes with a flat rate woocommerce shipping method. Meaning that irrespective of the product, type, category, the shipment fee remains the same. Though this would suffice if you have limited products and a small store with lesser reach. On the contrary, for e-commerce channels that expands beyond boundaries and offer dearth of products, having a standard shipping rate is not enough.
In order to gain more traction and attract users, having a variable shipping rate becomes a necessity. This is where we recommend looking for alternative plugins that offer exactly the above. In this article, our focus will be on explaining you the perfect solution for your problem and how to use it for your shop, including:
Why Do You Need Variable Shipping Rates?
Solution: Advanced Flat Rate Shipping Plugin!
How to use the Plugin?
Example Use Cases to explain how to Charge WooCommerce Shipping by item
Why Do You Need Variable Shipping Rates?
Before getting into the depth of the why let us walk through a situation. Once done, you can yourself determine if you should opt for the advanced flat rate shipping plugin for WooCommerce.
Sara is looking to purchase 25 video cassettes from an online store. She browses the internet and luckily, it is your store that pops up and attracts her the most. Looking through the products, she adds the cassettes. One videocassette is for $20, so the total must sum up to $500.
But is this the case?
As soon as the cart page opens, the final value blows off her mind. Considering that your store has a flat shipping rate and of $5, her cart would end up summing to $625.
That's something huge!
Not only does this sound weird but also impractical. You are bound to lose a potential customer, not to mention a bulk-buyer. This will spread a negative word about your store in the industry, disrupting your brand value.
So, what do you think now? Is having a standard rate for all shipping ideal? Or, do you need to customize the store to adapt itself to variable rates?
Definitely, it's the second option that seems best. When customers buy goods in bulk or purchase a large number of products, they expect lesser shipping rates, if not free shipping. The fact that the entire lot is to be shipped to the same place, the price incurred in shipment and logistics is less and so, slashing down the shipping fee gives an incentive to the buyer, luring them for long term engagement.
And how can you do that?
Solution: Advanced Flat Rate Shipping Plugin!
The all-in-one solution to customizing the store shipping rates, this plugin is feature-packed and has an array of customization options. Using this, you can easily add custom-fit shipping rules for all the products in your store.
In order to beat the ever-growing competition and outstand your competitors in the industry, you need to have a super flexible store with exciting features. In case you are wondering how to get started, don't worry, this article will take you through the detailed steps of installing the plugin, followed by a set of examples to get started with the same. In case, you still have doubts, you can check the Live Demo and see how things work.
How to use the Plugin?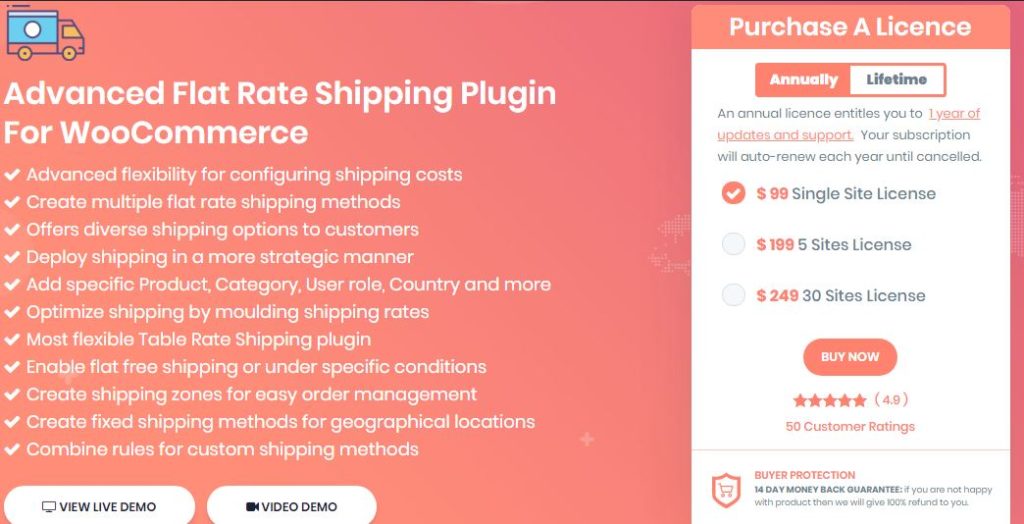 Installing the flat rate shipping plugin for WooCommerce is one of the simplest ways to add an array of features within the store. The plugin is simple, easy to use, and is a powerhouse of rules and conditions, each of which aims at enhancing the store value.
To begin with,
Step One: You would need to download the plugin, install, and activate it. This won't take much longer and since you have already set up your WooCommerce store, you would be well versed in the process of plugin activation.
Step Two: Once done, we now need to configure the plugin to add details or simply add a shipping rule. Hover around and move to the plugin dashboard. Click on the name of the plugin and a new page would open. Scroll down and click on the 'add shipping method' button.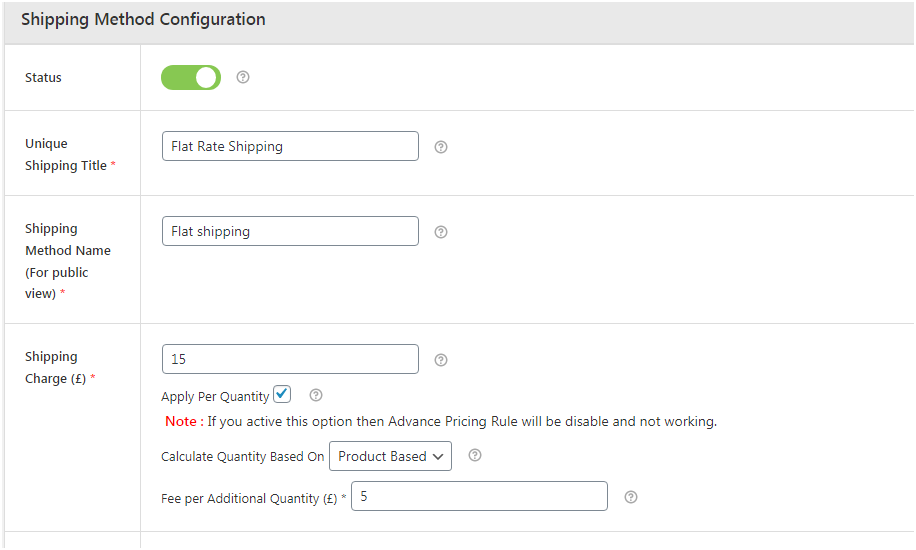 Step Three: Start with filling in the details, each tab after tab.
Add a unique shipping title.
Next, add a method name. This would be something your buyers will be able to go see.
Move down and set a shipping fee, based on the method. You can select per product shipping fee (details covered in the use cases below)
Choose whether the value-added is taxable or not.
Set up a time, date, and days of the week for which you wish the method to stand valid. You can keep the default if there isn't any particular value.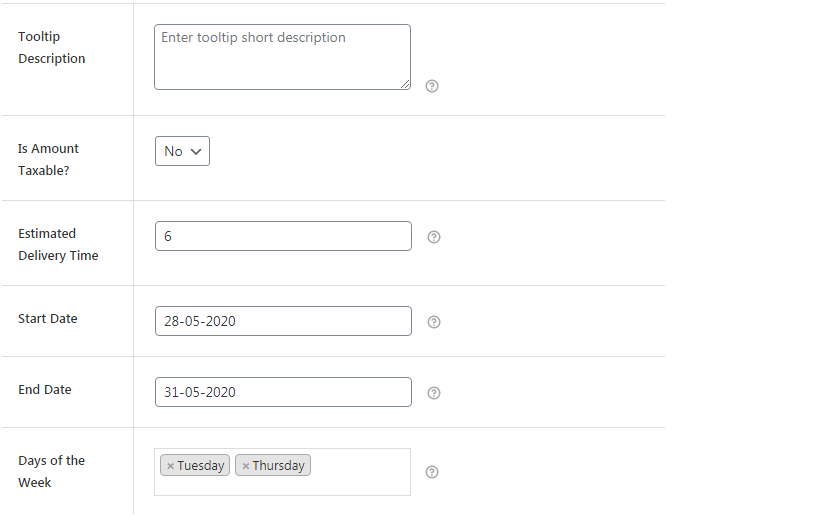 Step Four: Now, move down to the Add Shipping rule section. Here, click ok Add Rule and then select one of the parameters for setting up the rule. Select the Equal to or Not Equal To and then add the products for which the rule needs to be applied.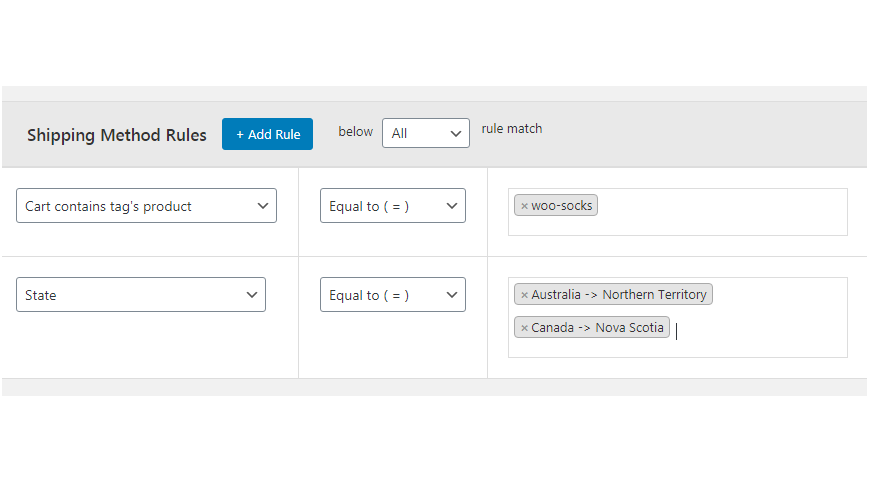 (Here, we have created a shipping rule based on tags and the state of delivery)
Step 5: Save the changes and the shipping rule has been set.
Example Use Cases
USE CASE ONE: Set Shipping Rate Per Item
Let's have an imaginary situation. You have a flat rate of $25 for shipping products irrespective of their type/quantity/cost/weight/etc.
Now, suppose you find this rate pretty high and decide that you will keep a shipping fee of $5 for items that include: t-shirts and hoodie. To do this, you need to revisit the plugin page and then click on the add shipping method. Fill in the details in the form, starting from name to the fee and date/time, etc.
Below, under the shipping rule section, click on Add a new rule. Then select, Cart contains products and in the final field, select t-shirt and hoodie.
Save the changes made and exit. Once done, now every time a t-shirt or hoodie is added to the cart, the shipping fee charged is $5.
Pro Tip: you can add more than one rule. For example, the above fee applies only when the cart value exceeds $30 or when the country is Australia.
USE CASE TWO: Set Shipping Rate For Bulk Orders
Let's stick to the example cited in the above use case. We know that your store has a shipping rate of $5 for every t-shirt and will increase as the quantity increases. Meaning that if a customer has to order 20 t-shirts, his shipping fee would total to $100.
That's pretty huge. And a bit rational too. For bulk orders, the shipping fee charged is always expected to be less, at least not five times more than the cost of the product itself. This is where you need to add a shipping rule, different from the standard rate. This rule would be applicable for bulk orders.
And how to go with this?
Start with following the basic steps, as adding a new shipping method, putting up a name, etc
Once you have added all, move to the section that says: shipping charge.
Once you add value here, you will see a checkbox below that says: Apply per Quantity. This option allows you to set a base price for the first product and then a variable value that adds up every time the quantity is increased. (For instance, say we keep $5 as the base price and 0.2 the flexible rate. So, if a customer orders 10, t-shirt, the sum would be $5+ (0.2*9)).
Below click on the drop-down that reads Calculate Quantity Based On. Select product based since we are adding shipping rates per item.
Now, enter the value (say, $0.2) and then move down to the shipping method rule section.
Here, you need to create a rule where the cart has a product: a t-shirt.
Save and exit the settings.
This way we can calculate shipping methods for bulk orders.
USE CASE THREE: Set up Shipping Rate Based on Product Category
Following a similar method, we can now calculate shipping rates based on the product category. Consider, for example, you want to calculate the rate based on a category, say $5 for accessories.
We follow the method the same as the above two cases. Move to the plugin settings, add the details and below, under the shipping rule section, select Cart contains product category. Choose the category that you want to have $5 as their shipping fee. Save and done.
Here again, you can add multiple rules based on the country, the cart value, etc. Suppose you wish to have a zero shipping rate for your premium users when they purchase t-shirts. All you need to do is:
Set the shipping fee as $0
Under the shipping rule section, add a rule that says: Cart contains product category '=' t-shirts.
Add another rule based on user roles and select your premium users.
Click on save and exit.
Conclusion
Wondering if this plugin is right for you? The answer lies in your store itself. If you have a big venture with multiple products shipped to different nations, cities and in variable quantities, a flat shipping rate doesn't serve the purpose right. It is always better to keep your options open and store flexible. What's best about the plugin is that it is economical and won't cost you much in your pockets. So, why not leverage the same and optimize your store?