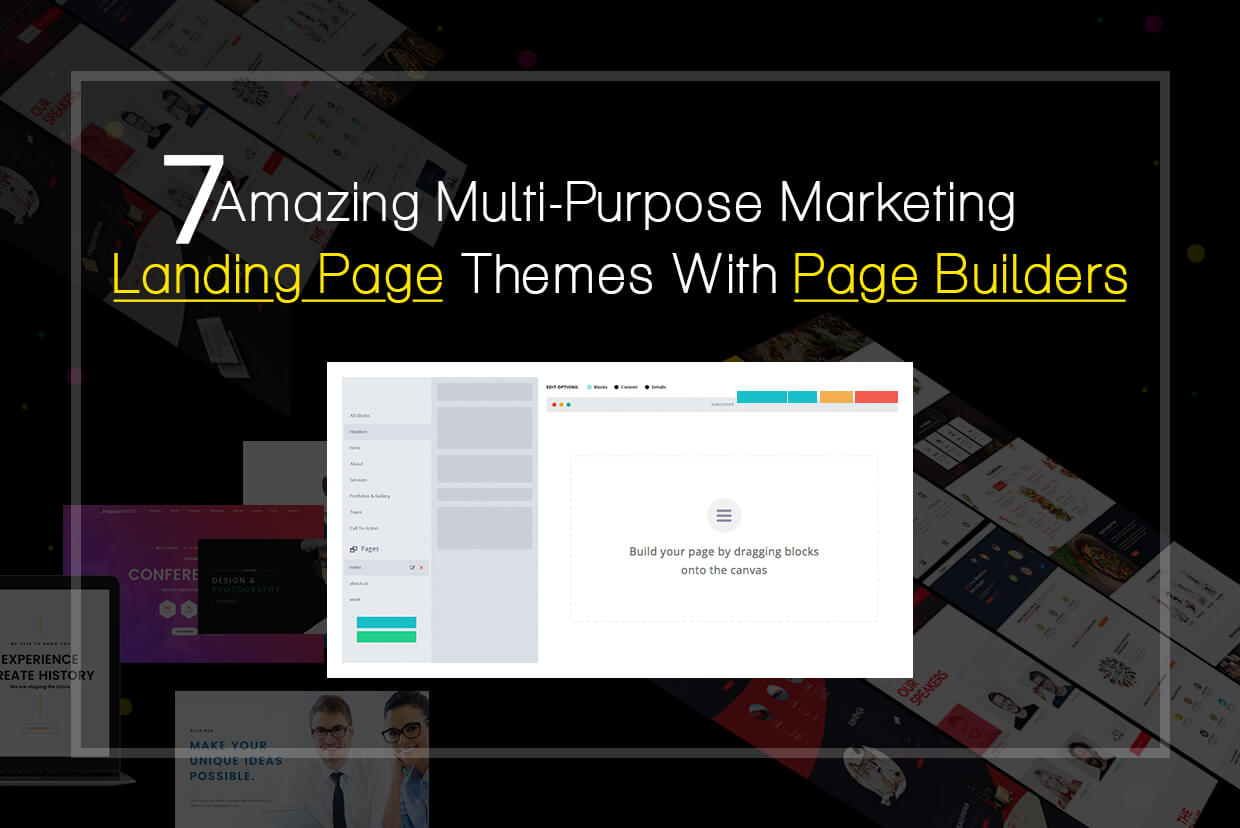 7 Amazing Multi-purpose Marketing Landing Page themes with Page Builders
A question that always drives you crazy – Why are some landing pages engagingly scores potential clients, while your website's landing page is not getting the desired response?
Also, you just can't figure the critical element that:
Your page takes time to build.

The theme is not multipurpose.
Well, the answer could be something as simple as you should build the multipurpose landing page with page builder. Before you uncover the potential of a page builder based landing pages, you should know what a page builder actually is:
What is a Page Builder?
If you want to create mesmerizing landing pages quick, an effective Page Builder can help you in that. It enables you with the superpower to edit pages with simple drag and drop functionality. Marketers are head over heels in love with the acceleration it brings to the landing page development.
But wait – there's more, why not pick a multipurpose theme of a landing page that uses page builder to save you the task of building pages from scratch. Perfect! Imagine what it would be like to have an interactive and engaging Landing page up and running in minutes.
Let us get rolling and compare the best Multipurpose Landing Page themes that offer a page builder framework alongside:
1)    OnePage Studio
 –

 

To help you 'Convert' more!

Surprisingly enough, this extensively customizable multipurpose theme landing page saves you a lot of time and resources. Built on latest and most robust technology HTML5 and CSS3 the template is inherently SEO optimized.

Keep your entire focus on adding functionalities from 21 core elements while the optimization and flexibility come with the package. The drag and drop feature empowers the developers with creating standardized and easily editable codes. Whether you want one page or multiple pages, the OnePage studio is extremely capable of handling it.

What you will be able to create with OnePage studio is a unique page or website that is fully-functional and is flawlessly ready within minutes.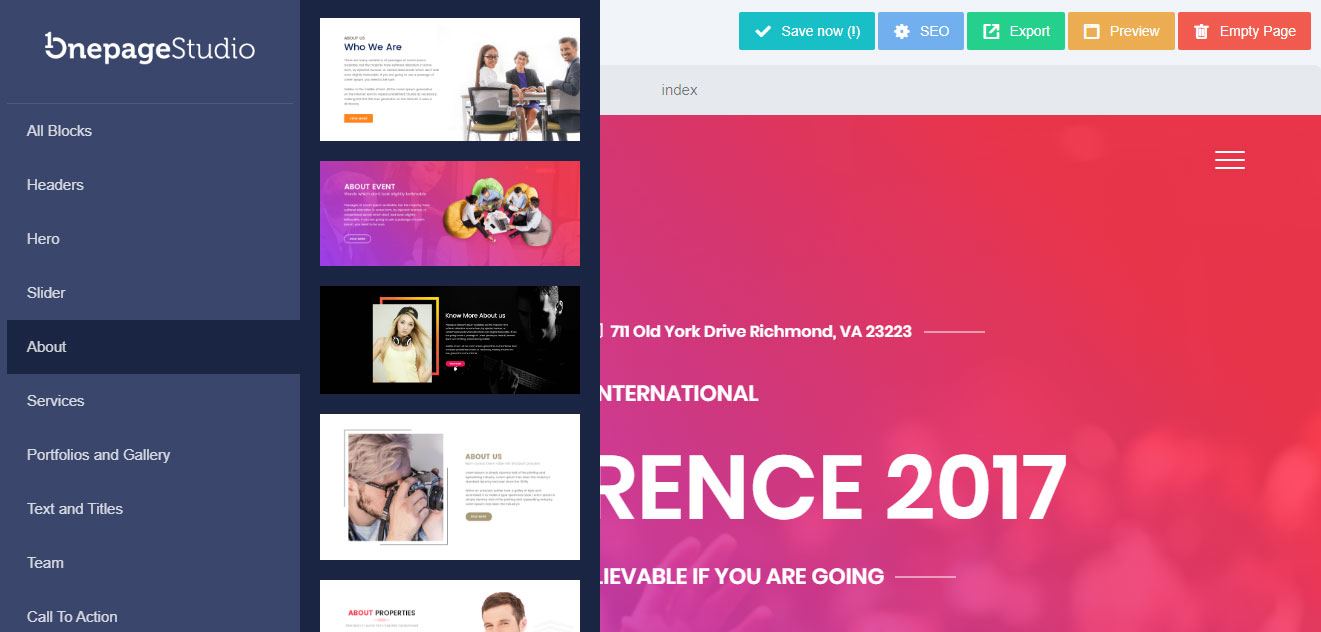 Cost: Optimally priced at $16.
Assistance: A well-guided introduction is available with the package.
Customer support: Very responsive.
Templates: Available in 10 different responsive demos + 5 layout each element (and you can build countless pages apart from it!)
Browser compatibility: IE9- IE11, Safari, Chrome, and Firefox.
Skills Required: Basic.
2)    Landing – For Perfect Pages
Build a Fully-featured landing page with the multi-purpose landing page that is powered by Bootstrap 3.3 framework. Easy to build Landing Page template is developed on HTML5 and helps you create feature rich pages in minutes. Versatile and flexible landing page designs have 70+ ready to use components to build landing pages with minimum resource usage.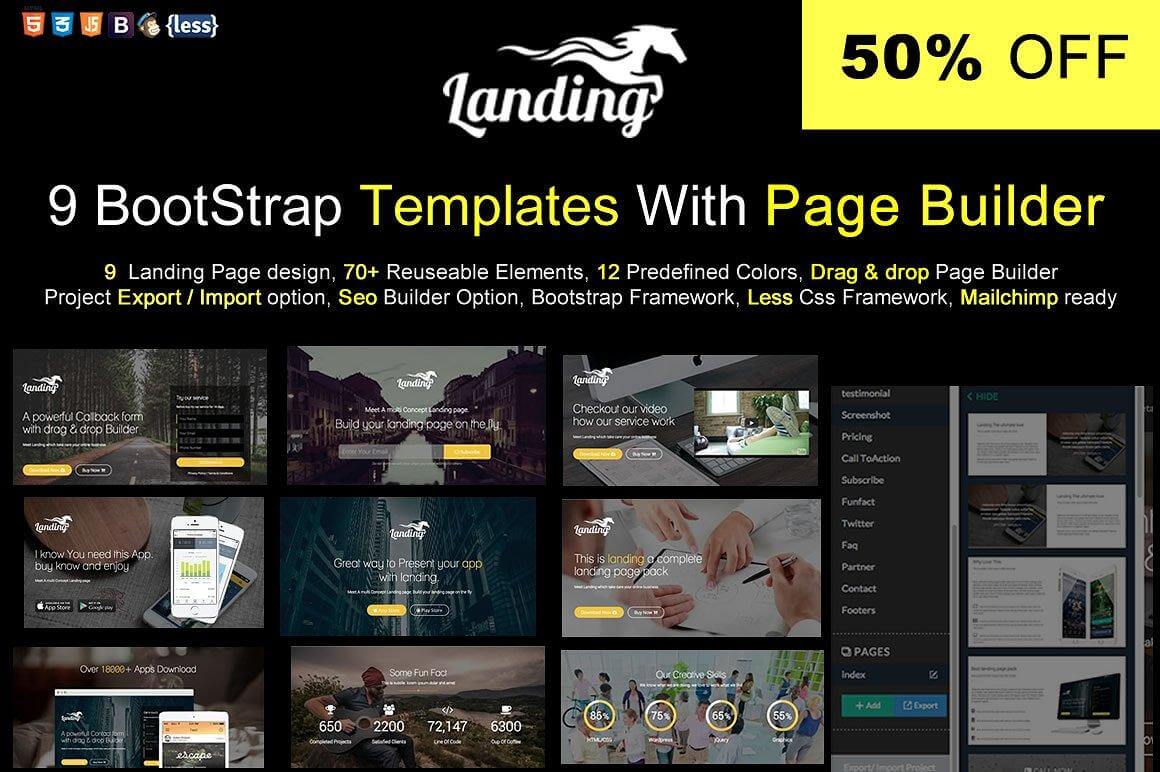 Create a stunning marketing landing page with simple to use drag and drop features. Creativity and innovation are limitless for even the naïve developers with Landing. Professional, high-end and minimal landing pages have advanced SEO options and can be exported to save.
Appropriate for a Startup to a fully professional organization, the template is perfect to use
Cost: Optimally priced at $14.
Assistance: Documentation included.
Customer support: Top notch
Templates: 9 landing page designs in 12 different color schemes.
Bowser compatibility: IE9- IE11, Safari, Chrome, and Firefox.
Skills Required: Basic
3)    Create the best with – 'Select' Page Builder
It Known in the development world for its massive count of multi-purpose landing pages, artists love the template. It offers you a very lightweight landing page that looks professional and creative. It enables the developers the ease of editing source code inherently in a separate Window; it makes the coding changes easy to be done.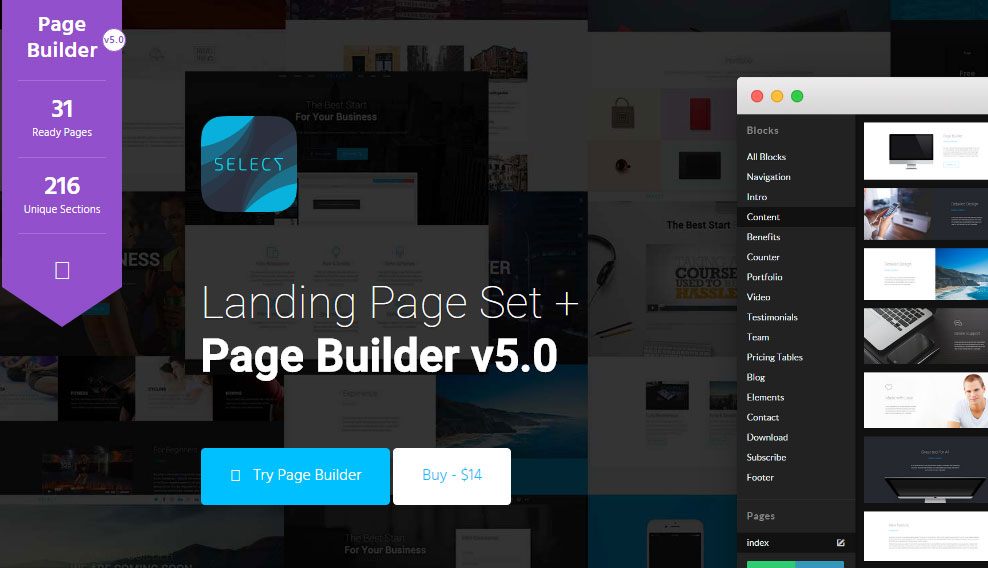 Quick to deliver enchanting Landing pages with Page Builder, all you need to do is drag and drop the elements from the Select extensive library.
Think about it; you can add videos, audios, customized images and much more with simple drag and drop.
Cost: Optimally priced at $14.
Assistance: A good documentation support
Customer support: Helpful and knowledgeable.
Templates: 31 ready landing pages
Browser compatibility: IE9- IE11, Safari, Chrome, and Firefox.
Skills Required: Advanced
4)    Best pack – The Flatpack
Built upon the most advanced HTML, the integrated functionalities of Flatpack make it extremely extensive to use. Developers love it for the clean UI that makes the tasks easy and uncluttered. Dive into the CSS customization directly from the PixBuilder.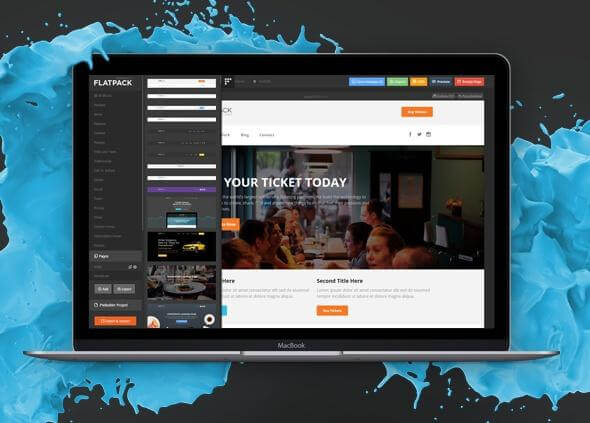 The Flatpack landing pages not only expedite your page development task but offer you publishing services with FTP integration and 7+ Email services integration. Best to be used for surveys for its Enhanced Form builder while you can animate the landing page from 100+ types of animation effects.
Promising to develop a landing page without writing a single line of code the Flatpack brings a new revolution to building landing pages
Cost: Pricy at $19(after 30% off).
Assistance: Documentation is available but needs customer care support.
Customer support: Responsive.
Templates: 6 different layouts with lots to integrate
Browser compatibility: IE9- IE11, Safari, Chrome, and Firefox.
Skills Required: Advanced.
5)    Design with flexibility – Gum
Gum is a market leader in creative marketing landing pages. It integrates the newsletter service and modal popups like maps, forms, and subscription. Although the template is powered by Page builder, in case you need extensive customization, you can use the HTML and CSS code editors to change any element. You can use the builder even when you are offline.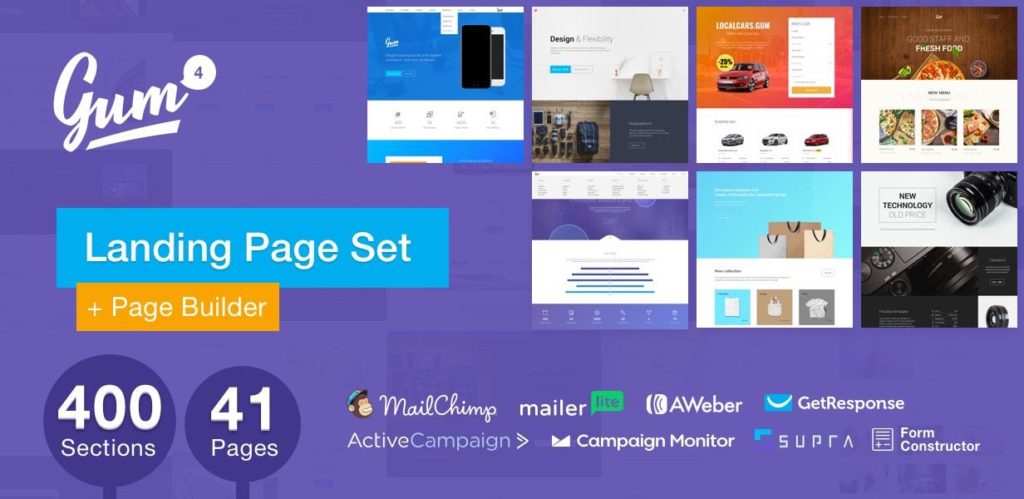 Gum has an added uniqueness to its pre-loaded features; it comprises 7 types of Google Map formats. The background of the landing page developed on Gum are extensively featured with parallax background, 1400+ font icons, Video backgrounds and retina ready high definition layouts.
Cost: Good buy at $18.
Assistance: Documentation is okay.
Customer support: Good support
Templates: 41 layouts and 400 ready to use sections.
Browser compatibility: IE9- IE11, Safari, Chrome, and Firefox.
Skills Required: Advanced
6)    App and Web landing pages with – RGen
It's a powerful yet time and resource saving landing page template designer. Integrated with an advanced header builder, you can set header for all pages in a click. You can manage the header elements and menu items extensively. The Bootstrap frameworks make all the pages responsive and while the HTML5 and CSS technology makes them feature-rich.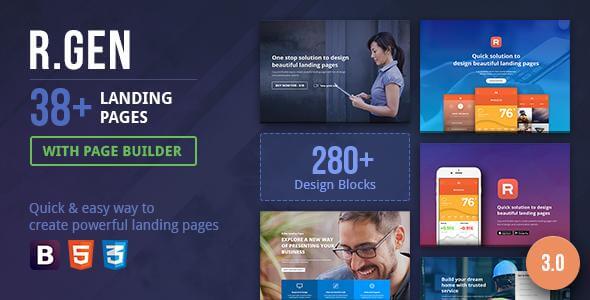 The extensive list of design blocks can be easily dropped into the landing page giving quick turn-around for a full-featured landing page that is the perfect marketing tool.
Cost: Pocket-friendly at $17.
Assistance: Well documented guidelines.
Customer support: Very responsive.
Templates: Available in 5 different layouts and all are responsive
Browser compatibility: IE11, Safari, Chrome, Firefox Opera.
Skills: Advanced.
7)    Ultimate theme with Page builder – Divi
It is one platform that will change the way developers have been working. Highly customizable templates that get converted into a dedicated landing page almost instantly are a developer's delight. Loved for its instant updates in front of your eyes to any element, the platform is really quick.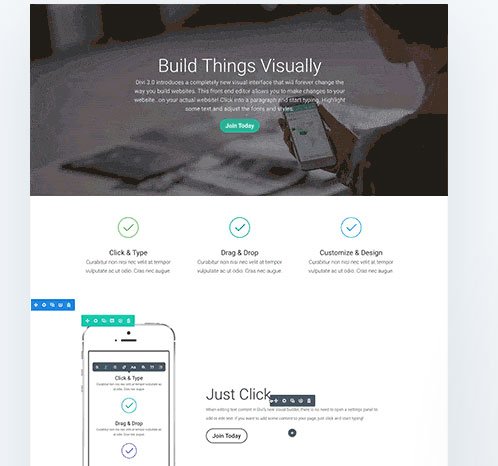 Add text, change colors and style the page your way very quickly. The responsiveness offered by the templates is quite upscale, and you can even design your own layouts and integrate them whenever required. Versatile, quick and easy to use theme provider is the next level of landing page development.
Cost: Try it for free but pay a whopping price of $89.
Introduction: Extensively documented as has lots of options.
Customer support: Equally Responsive over Mobiles and tablets
Templates: Unlimited layouts and all are responsive
Browser compatibility: IE11, Safari, Chrome, and Firefox.
Skills: Too Advanced.
Moreover, why do you need a theme with page builder?
We've suggested many WordPress themes to you yet and every of these were with a page builder, do you know why? Reasons are many:
With each new service and campaign, you can launch new and differently-designed landing pages which are designed to bring conversion.

You don't want your visitors to get bored of same elements and layout.

So that you never stop experimenting and refining.

We want your website to look, just as you wish (and not as how theme want your website to look like)

To make the page designing process easy and super-fast.
The Verdict
For your multipurpose landing page theme, the ideal choice is one that has extensive features and pocket-friendly too. Some of the Landing Pages templates mentioned above are best in quality and price to make impressions that last longer. The best part about a few of them like OnePage Studio Multipurpose Landing Page with Page Builder is they are very futuristic at the minimal price.
Bold and beautiful, subtle or monochrome the list of landing page templates above helps you with a quick turnaround. Powered by Page builder, all the above templates need a little dragging and dropping to come up with a beautiful in appearance and feature-packed landing page to impress your client.
Lots and lots to select from, the integration libraries are overflowing with ready to used features. Page creation and customization are intuitive, and with these templates, you would not need to have coding expertise.