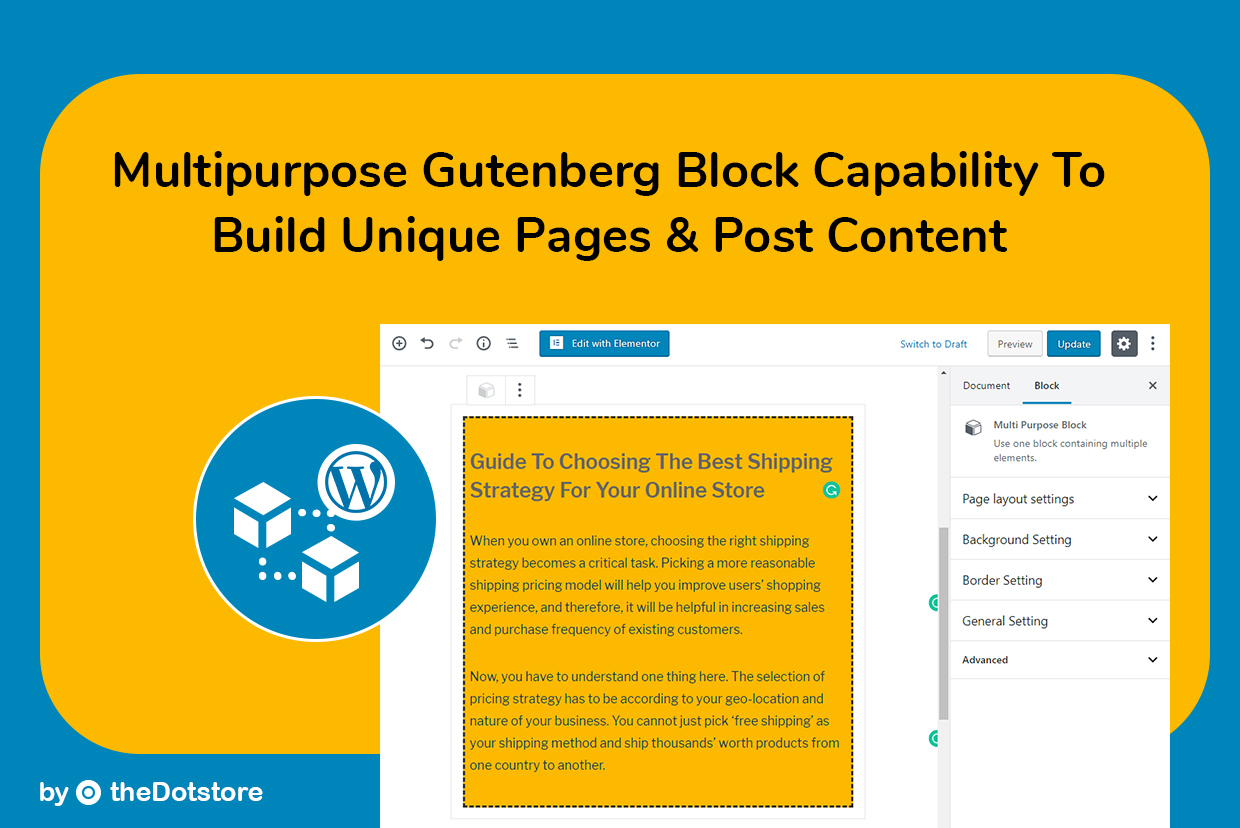 Multipurpose Gutenberg Block capability to build unique Pages Content
Gutenberg is the new WordPress Editor, which is way more advanced & convenient than WYSIWYG Editor. It has simplified things for publishers who use WordPress and developers who build websites. With multiple features and rich media publishing capabilities, Gutenberg has become the talk of WordPress town.
Though Gutenberg has everything which a blogger or publisher need, it still has limited capabilities when it comes to business websites.

Business generally wants advanced editing features for their web pages and blog posts. That's where you need to extend Gutenberg and install the Multipurpose Gutenberg Block plugin to your WordPress website. This plugin enables you to build unique pages and post content in an advanced layout.

Read this post to learn what it is, why do you need it and how will it help you.

Capabilities of Gutenberg WordPress Editor


Gutenberg is way more efficient than WYSIWYG Editor. It lets you format your posts using blocks. You can add text in the form of paragraphs, lists, different types of headings & sub headings, tables, text columns, buttons and classic blocks using this editor.

Gutenberg has made it easy and quick to upload rich media, like images, cover images, audios, videos, shortcodes, and embeds. Additionally, Gutenberg lets you add quotes, verses, pullquotes, codes, preformatted code snippets, embedded code, code shortcodes, etc. to your post content.

Yeah, it looks good enough but it is not.

Gutenberg blocks are not very much capable of creating unique pages and advanced posts, in terms of design.

What is lacks then?

Well, you will get to know the answer to this question in the very next section.

Capabilities of Multipurpose Gutenberg Block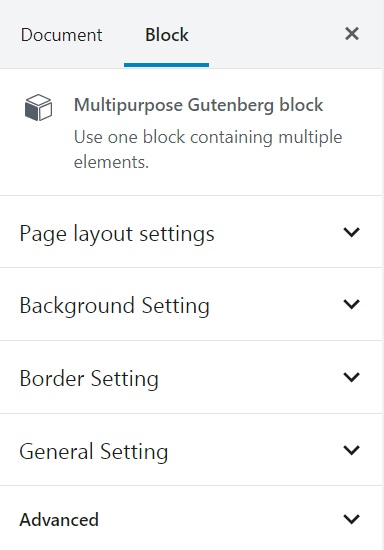 Gutenberg has reduced the need for posts' design-related plugins to a good extent and has made it easy to create modern multimedia-rich pages which are responsive. 10.6 million Active installations and 7.4 million posts – Yes, these are Gutenberg's current stats.

Fascinating, right?

We can't doubt the capabilities of amazing WordPress Extension too. However, it is not helpful when you want to achieve a unique layout.

Multipurpose Gutenberg Block is built to extend the efficacy of Gutenberg. This plugin works with WordPress version 5.0 and above only.

Unlike Gutenberg Editor's default setting which allows adding one element per block, Multipurpose Gutenberg Block Plugin lets you add multiple elements to blocks. For example, you can add text over images, or put quotes/pullquotes in a different manner on your web page.

Not just that, it lets you set border, color, border type, background, overlay, gradient, opacity, padding, height, and width of your blocks too.

With this WordPress Plugin, you will be able to launch any type of web pages for your website as you want. Removing the design limitations, it helps the publishers leverage more from the Gutenberg Editor for their business website. Multi-purpose Gutenberg Block plugin is inherently easy to use and fast too.
Key Features of this Gutenberg-specific Plugin are:

Page Layout

Once you have installed this plugin, you will be able to set fixed or semi layouts for your pages. A fixed layout will set your page's width to 1200px while Semi will set it to 85% of the screen.
Background Setting

The Plugin has numerous background properties, available for use. Using this plugin, you can set background cover, custom image, a background for a block, gradient background, background color, background element's position, overlays, background opacity, and more.
Gradient
For the background/fill of a post or page, you can add a gradient style using Multipurpose Gutenberg Block. Radial, linear, angle, etc. are the main types of gradients you may use for your pages with this Plugin.
Border Setting

Borders can make your pages and blocks more readable, making it easy for readers to distinguish blocks easily. With this plugin, you can all borders to your pages without any trouble. It lets you –

Add borders to all sides or any on the sides of your pages and elements.
Set border color, radius, width, etc.
General Setting

Other than above features, you can also set padding, width, and height for your page's elements. You can apply this setting to all blocks separately. By letting you do so, this plugin increases the customization capabilities of your website.
Advanced Features

Though the plugin comes up with a lot of customization options, it still supports custom CSS classes. So, whenever you find it necessary to use custom CSS code, don't hesitate to add it in the provided box.

Thinking how this plugin exactly works?

Don't worry.

We're adding a few examples of the blocks, designed using the Multipurpose Gutenberg Block plugin:
1. A Text Block with Color Gradient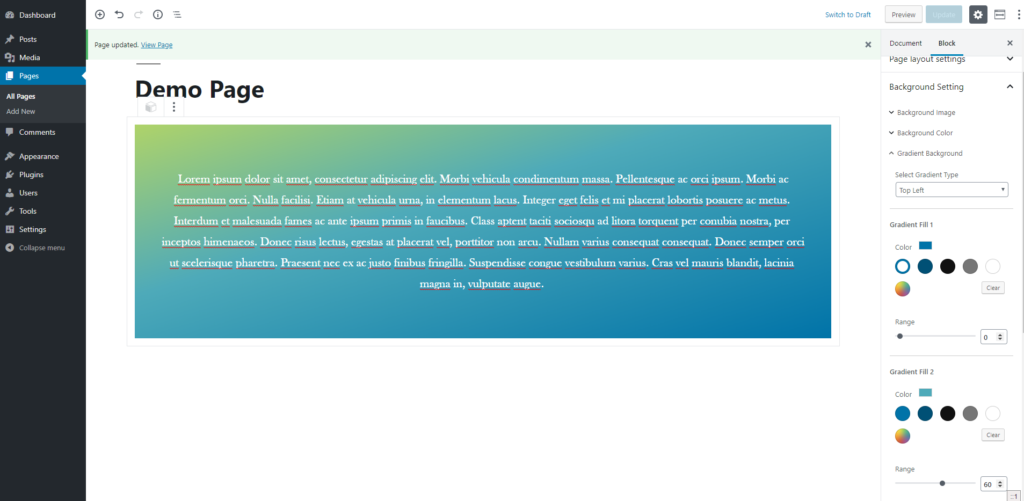 You can add color to the foreground and background of paragraphs using Gutenberg editor. But, it is not possible to add gradients to a Paragraph block yet. Using Multi-purpose Gutenberg Block, you can easily choose gradient colors and styles, in order to make your text sections look more enticing.
2. Background Image, Overlay, and Text in one Block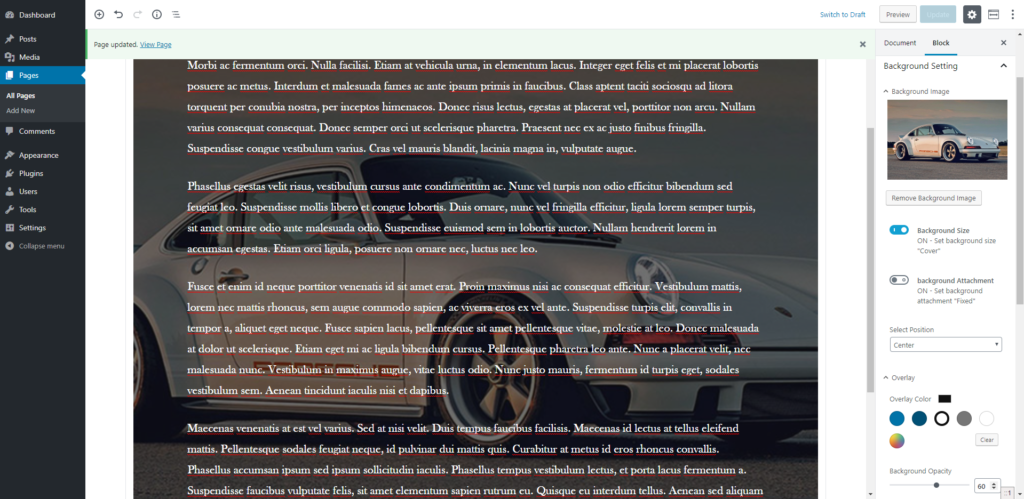 Gutenberg lets you add text to pictures for the Cover images only, and that too, in a fixed manner. However, adding picture backgrounds and overlays is not possible with Gutenberg. This limitation does not restrict you when you use Multi-purpose Gutenberg Block plugin. With this plugin, adding images' background to paragraphs is possible for Paragraph blocks too.
3. A Custom Text Box with multiple Elements and Setting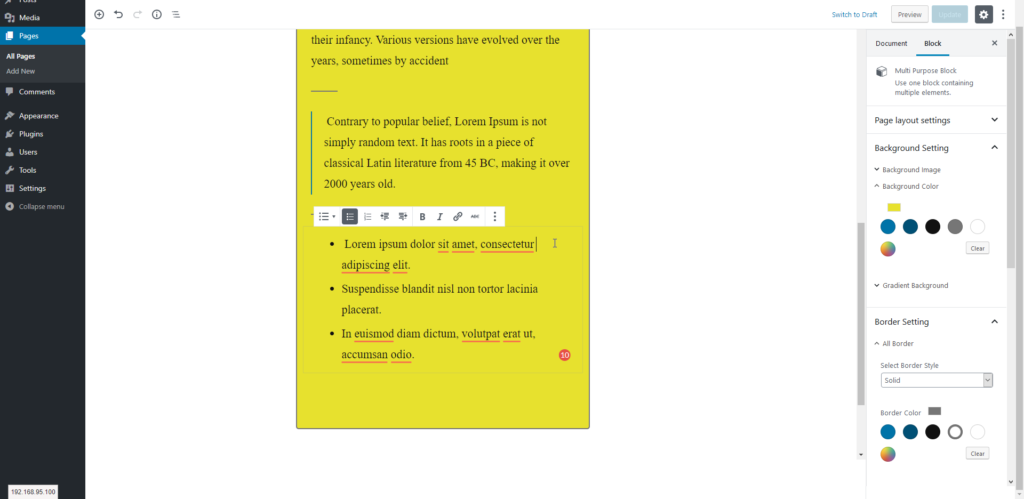 If you have installed the Multipurpose Gutenberg Block plugin, you can decide the padding, border, height, width and other such properties of your blocks. Additionally, you can add bullets, quotes, and paragraphs in one block too. This feature will be very helpful for crafting beautiful pages for your website, isn't it?

To install the plugin, just visit this link. Download the plugin from here and install to your WordPress website. Alternatively, you can search for the plugin's name from your website's dashboard and add it to your website directly.

For any queries, you can reach out to plugin's support team or comment here.