Are you a movie fan and like fast cars? A damn fan? Then, chances are 'knowing what happens in just sixty seconds' will excite you.
$3.9 million spent online across the globe, Amazon ships 2292 boxes, $160,000 is spent on eBay, 67 new shops are launched on WooCommerce, and 7 on Shopify, but $7.61 million worth of goods is abandoned in shopping carts – JUST IN 60 SECONDS. So only an online store which "make purchasing as easy as possible" for their shoppers will be the champion in this ruthlessly competitive world, without a doubt.
Why WooCommerce Save For Later is Your Only Bait to Make Purchasing Easy?
To tap the chances of selling and to make the purchasing handy in shortest timeframe, you may want to provide those exact items which consumers have sorted before with the intention of purchasing. Because 32% of online shoppers often visit multiple sites to compare products and pricing and because 63% of shoppers would like to use a feature from where they can continue their shopping without repeating entire browsing procedure when they come back to their cart.
With DotStore's amazing WooCommerce Save For Later Cart Enhancement plugin, you can allow your customers to save their desired products for a later purchase. Therefore, next time your visitors land on the Cart page, be it the next day or after months; their favorite products are displayed to them without wasting the next second because we don't want you to lose your potential visitor. As a result, this encourages visitors to go ahead and place an order. Now convinced, the Cart page is the most strategic page to close the deal. In all, reminding visitors of previously saved products through wishlist on the cart page will increase your chances of converting them right away.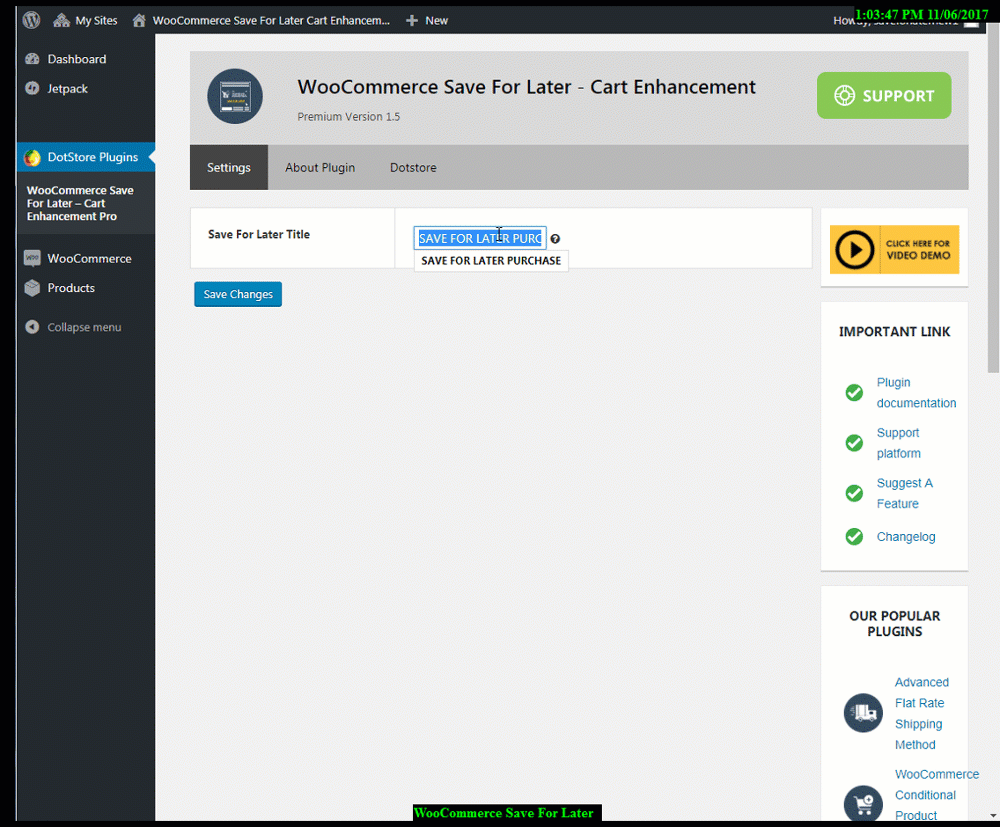 Excellent Benefits of WooCommerce Save For Later Cart Enhancement
Be it the next day or after months. 

Your customers can buy their favorite products anytime

Not only the logged-in users but the guests as well can 

Save Unlimited Products
Instantly enabled

 on your WooCommerce store, you don't need any settings

Add/Remove products

 from Save for Later list
Oh yes, after receiving the reviews and with in-depth analysis of how more WooCommerce store owners can enhance the conversion, we now have implemented the facility of "showing the saved products in the same cart page" – a crucial consideration in conversion as you are reducing the clicks to purchase. No doubt, this facility comes in the Pro version of DotStore's WooCommerce Save For Later Cart Enhancement plugin with all the benefits provided in the free version.
Not Convinced Yet? Try Our Live Demo!
Want to try out WooCommerce Save For Later Cart Enhancement in action before buying?
We've set up an online demo of WooCommerce Save For Later Cart Enhancement.
You can explore different features to understand how it may help you.