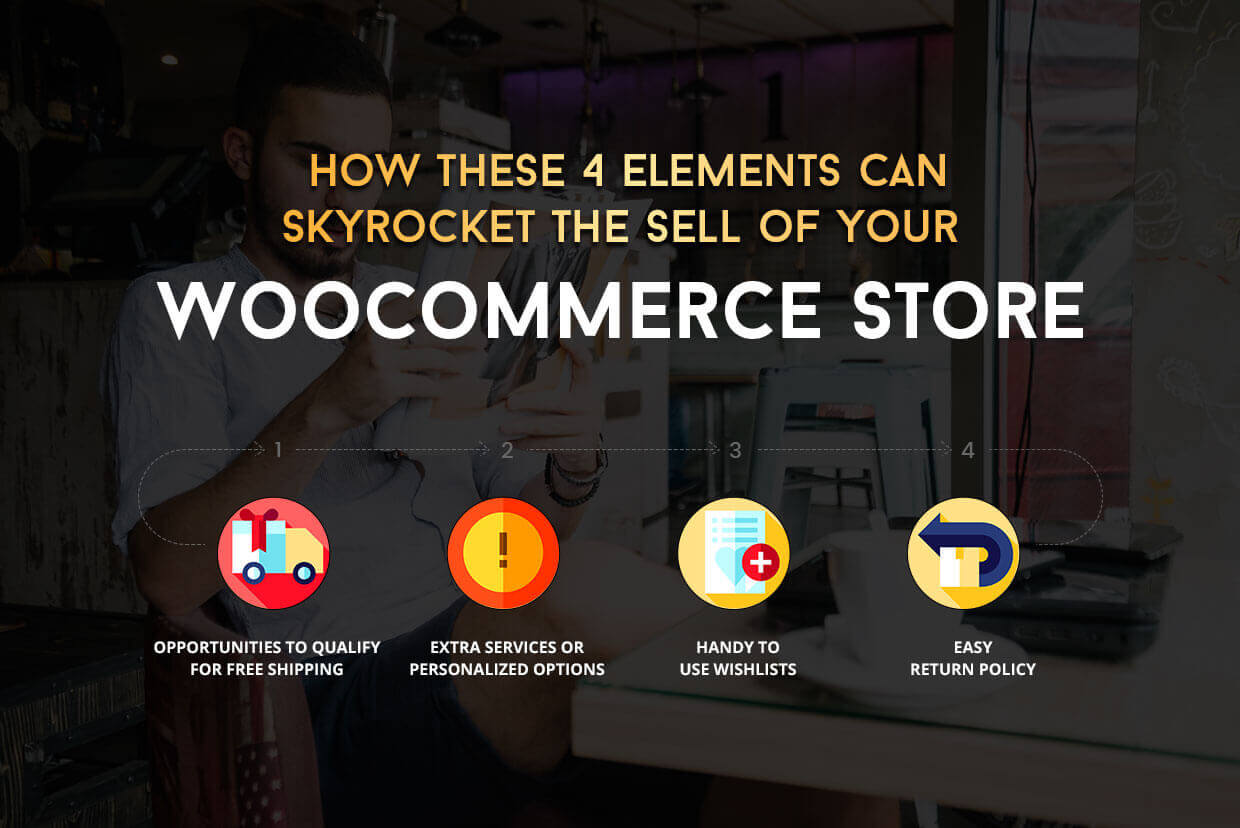 4 Elements Customers Want in a WooCommerce Store
4 Elements Customers Want in a WooCommerce Store. The Cheering News is You Can Implement All of them in 5 Minutes.
Of the approximately 130 trillion web pages (according to Google Inside Search) and 4.58 billion indexed web pagescompeting for our attention. But 12 million eCommerce websites, particularly, are pushing hard. Because in the throat-cutting competition of selling, just about 3% of them (i.e. 650,000) generate more than $1,000 of annual sales.
However, the encouraging news is, in 2021, global retail eCommerce sales are estimated to reach around $4.5 trillion(almost doubling in worldwide eCommerce sales, from $2.3 trillion in 2017). So to emerge and get noticed through this situation, you need improved conversions for getting benefits of ever-escalating eCommerce sales. Improving it on an online store is not brain surgery, but it is indeed required to be learned.
Some of the fantastic sure-fire ways to skyrocket your eCommerce conversion rates.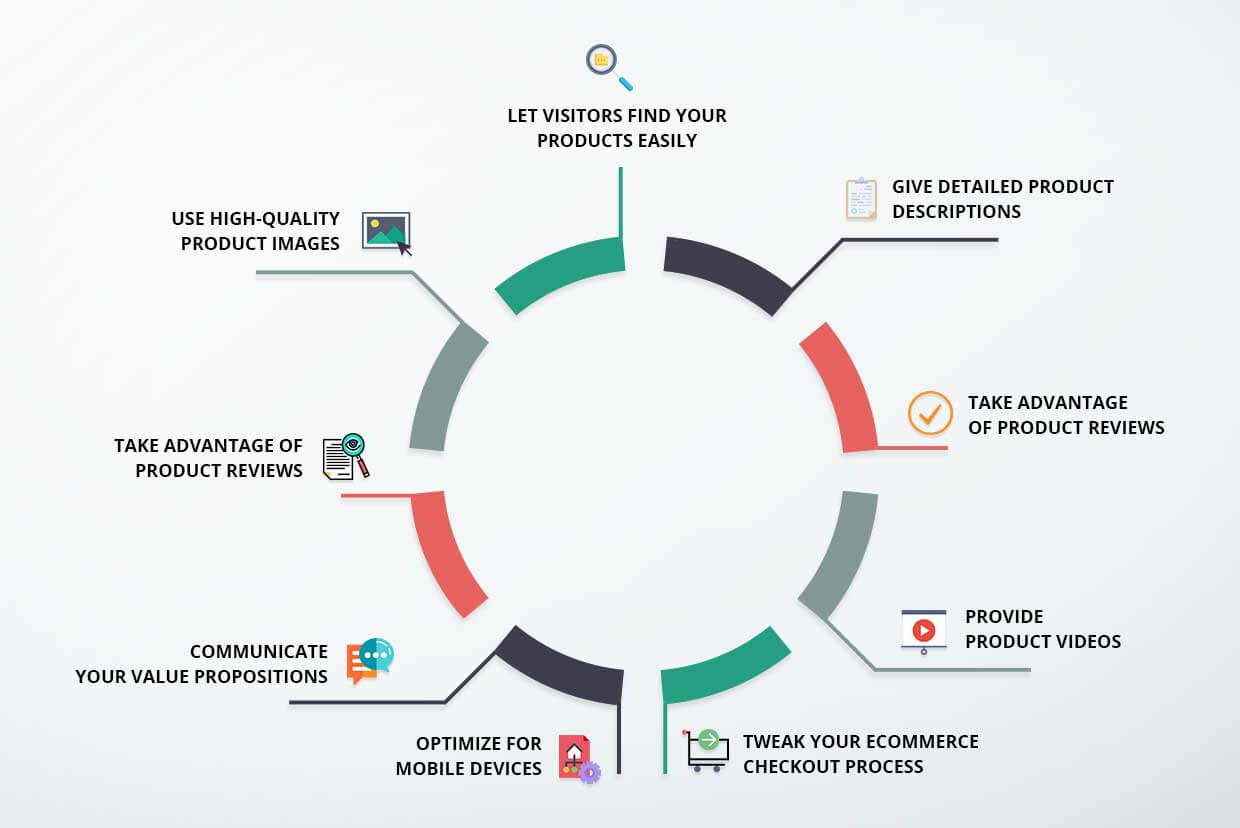 What Are Experts Saying?
Experts like Brian Dean (Backlinko), Neil Patel (Crazy Egg and KISSmetrics), Peep Laja (ConversionXL), Kunle Campbell (2X eCommerce), Valentin Radu (Omniconvert), and Brian Massey (Conversion Sciences) have provided profoundly thoughtful tips to increase eCommerce traffic and conversion rates, respectively:
Find the best keywords, add modifiers to your product page title tags, and have 1000 words of content with 4% keyword density on your most important product pages

to drive targeted traffic to your eCommerce sites.
Make buyers feel secure, employ social proof strategies, minimize friction as much as possible in the checkout process, create urgency, understanding the buyer's point of view may be by using analytics tools such as Qualaroo

to optimize your checkout flow.
Have bigger thumbnails and lesser products in a row, communicate three critical reasons in bullet points to buy from you on important pages where people land, put an emphasis on photos like put quality and bigger photos (the bigger, the better) because most people don't read the copy, the product description. These are the essentials of choosing a

profit based approach for optimizing conversion rates

while focusing on few things.
Focus on website user experience, customer service returns, and build out a retention engine with personalized recommendations and email marketing

to maximize customer lifetime value.
Over-deliver on customer experience

to become a growing eCommerce brand to watch.
Improve your mobile checkout, optimizing your search function, bundle related or complementary products

to increase the average revenue per visitor and to reduce eCommerce customer acquisition costs.
But apart from the mentioned above pieces what customers are looking for are specified in the following 4 elements which customers want. And the cheering news is you can implement all of them in 5 minutes maximum. So let's get through them:
1. Opportunities to Qualify for Free Shipping
Reports say:
Free shipping is the topmost incentive for 9 out of 10 consumers to shop online more.
If free shipping options are available, 96% of online buyers are encouraged to buy more.
To qualify for free shipping 58% of online shoppers add an item to cart.
For whatever reason, a free shipping offer that saves consumers $6.99 is more appealing to many than a discount that cuts the purchase price by $10
In fact, Amazon and J. C. Penney offer free shipping with conditions like "buy for at least $25 or $50, respectively." Now, who wouldn't buy? Surprisingly, as aforementioned, 58% of online shoppers add an item to cart to qualify for free shipping.
Nordstrom offers free shipping on all purchases.
In all, now people have used to the idea of free shipping.
Is your eCommerce store is WooCommerce based? Then here's the Free Shipping Plugin for WooCommerce (installed by 515+) (It has much more than that. For details you may go through this blog page).
ALSO READ:
WooCommerce Category Banners: Everything you need to know
2. Extra Services or Personalized Options
Everybody lives a busy life. So:
What if anybody wants their B'day gifts to reach tomorrow morning to their loved ones?
What if a boy/a girl, a son/a daughter, or a relative/ a friend wants something to reach from one country to another to their fiancé, parents, or a person in need?
What if anybody prefers to use payment method and gateway?
Many times, eCommerce stores are seeing as incapable of fulfilling the mentioned above requirements. But it is slowly becoming a trend that eCommerce stores are gradually adopting. So never be a store where you can't fulfill your shoppers' requirements if you want to be the brand that is interesting enough to be the subject of discussion at a dinner party. Customers' pay happily the extra fees such urgent or personalized services take.
With DotStore's WooCommerce Conditional Product Fees For Checkout plugin, be a complete store.
3. Handy to Use Wishlists.
32% of online shoppers often visit multiple sites to compare products and pricing.

63% of shoppers are interested in using a feature from where they can continue their shopping when they come back to their cart without repeating entire browsing procedure.
With DotStore's amazing WooCommerce Save For Later Cart Enhancement plugin, you can allow your customers to save their desired products for a later purchase. Therefore, next time your visitors land on the Cart page, be it the next day or after months; their favorite products are displayed to them without wasting the next second because we don't want you to lose your potential visitor. As a result, this encourages visitors to go ahead and place an order. In fact, the Cart page is the most strategic page to close the deal. In all, reminding visitors of previously saved products through wishlist on the cart page will increase your chances of converting them right away.
Be it the next day or after months.

Your customers can buy their favorite products anytime.

Not only the logged-in users but the guests as well can

Save Unlimited Products.
Instantly enabled

on your WooCommerce store, you don't need any settings.

Add/Remove products

from Save for Later list.
BONUS: You want all three plugins. In total, all three sums up at $157. However, having grasped the demand, DotStore is offering all three plugins for $99 as a WooCommerce Best Selling Plugins Bundle.BONUS: You want all three plugins. In total, all three sums up at $157. However, having grasped the demand, DotStore is offering all three plugins for $99 as a WooCommerce Best Selling Plugins Bundle.
4. Easy Return Policy
Why is return policy even important?
| | |
| --- | --- |
| Reason | Age(%) |
| Received the wrong item | 23% |
| Received damaged product | 20% |
| Product received looks different | 22% |
Haven't that happened to you or your friends?
Now have a look at its demand:
A 2016 infographic and survey by Invesp shows:
At least 30% of all products ordered online are returned.
92% of consumers will buy again if product return process is easy.
67% of shoppers check the returns page before making a purchase
In all, an easy return policy is a must-have feature of any eCommerce website. With clear-cut return policies, buyers get reassured that if they are unhappy or need a different size, the brand is there for them.
As an online store owner, we would like to accompany you in your goal: I want to create amazing shopping experiences, and I am ready to use well-tested features blended with innovative new elements.
Good Luck.
DotStore is with you.