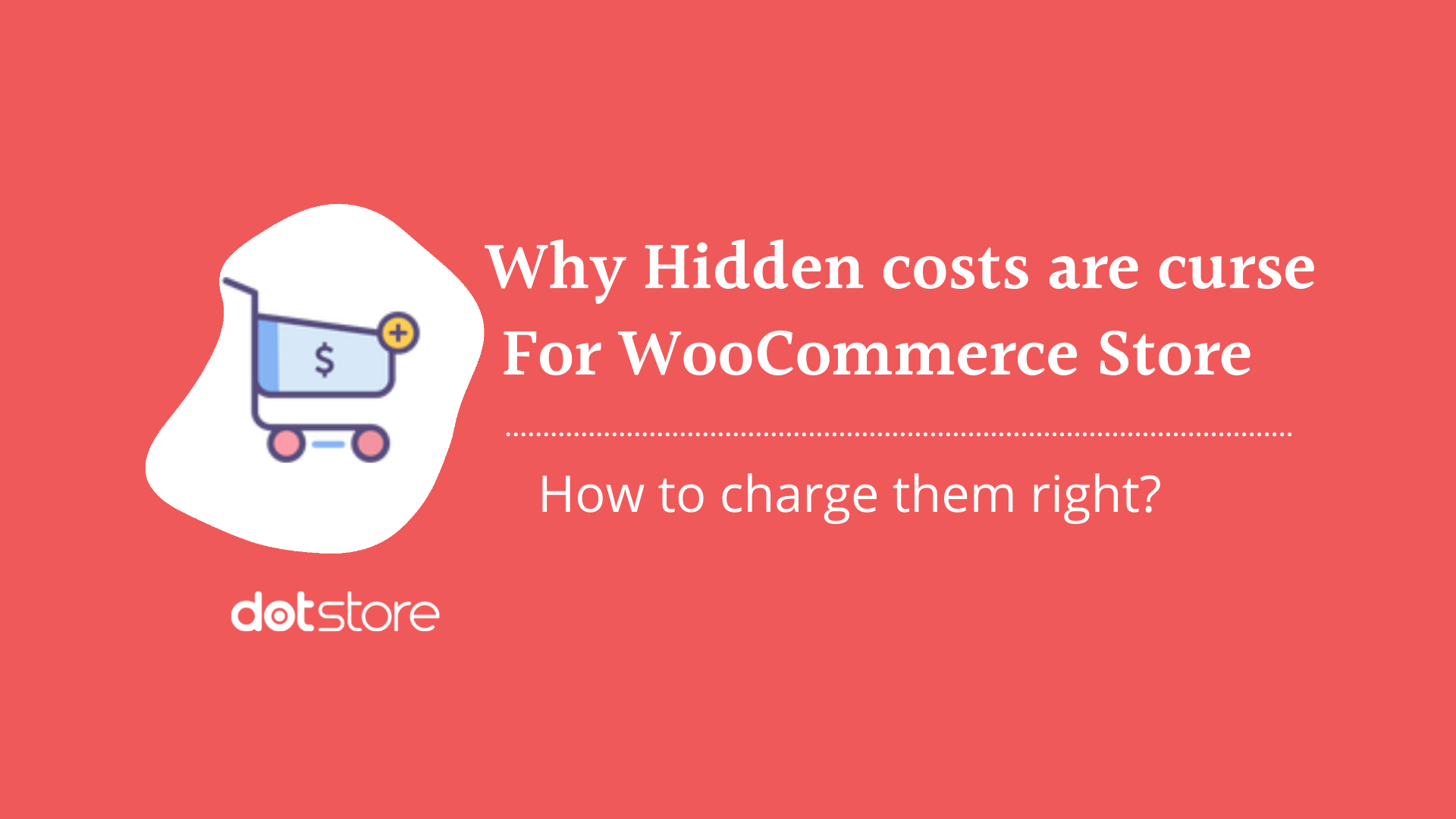 Why Hidden Costs are Curse for stores and how to Charge them right?
It is seen that online stores sometimes load the final screen of the checkout with surprising data. For example, a person buying products worth $100 suddenly sees $150 as the final cost on checkout. And above all, there is no information provided about these extra fees.
Result?
Cart abandonment. What else do you expect?!
We call such costs hidden costs and they are absolutely blunderous for an online store.
Now the thing here is, WooCommerce stores probably don't always want to hide the costs from their customers. But sometimes, they don't have a good way to display them properly in the checkout process.
If you are among them, this article is a must-read for you. We have explained how problematic it is to let the hidden costs appear suddenly for your eCommerce store and how you can channel the process right.
First of all, it is a big deal for customers to make a purchase for the first time from an online store. People avoid buying if they feel anything is suspicious about your store. So, make a prospect sign up for your eCommerce store. However, there is still a long way to go when it comes to placing the final order.
Customers generally spend a lot of time finalizing the items they buy. Around 33.6% of buyers prefer running a price comparison check before making the payment or confirming an order. Adding products one by one to the cart, seeing the cost of each product, reading the product reviews, and completing the checkout process takes a lot of time.
Now suppose, after all this, your buyer will suddenly see a significant increase in the price of the cart all of sudden, will they continue? Obviously not.
It will increase the number of prospects leaving your WooCommerce store from the checkout page.
Until and unless it is an absolute emergency, the customer will avoid shopping from your site. Even if he does, the user experience will be bad and it will surely fetch a negative review for you.
The Solution: Transparency
If your store has extra fees related to its products, shipping, or additional services, specify them clearly and early. This will not let customers set false expectations from you.
For example, if you run an online gift shop and there is a fee for wrapping, add that fee on the customer's order but make sure to add a label on this cost for the buyer to read.
This way, your extra fees will look more reasonable and less like you are cheating the buyer.
Similarly, if there is a fee for shipping, make sure that the cart in your WooCommerce store calculates it genuinely and specifies it clearly.
These little things can save multiple card abandonments and improve your sales.
Here, you must understand that the customer is not unwilling to pay the cost for their purchase or for the services they are taking. It's just that you are unable to convey the details to them properly.
How to Transparently Add Extra Fees in WooCommerce?
WooCommerce is extraordinarily flexible. For the online stores willing to optimize their checkout process and charge extra fees systematically, Extra Fees Plugin for WooCommerce is the best and simplest way out.
This plugin lets WooCommerce store owners apply extra fees as per various conditions in their online store. For each fee, you can add a fee name and a description that appears on hover on the fee name. Therefore, customers won't feel cheated when they checkout.
You may charge extra fees on the basis of product, category, cart weight, payment method, shipping class, shipping method, location of buyer, and various other factors.
Step by Step Guide – How to Add Extra Fees in WooCommerce?
In a WooCommerce store, once the extra fees plugin is installed, you just need to follow the below-mentioned steps to enable additional charges:
Click on the plugin's name in the side menu of your WordPress admin dashboard.
Click on the Add Product Fees button.
In the Fee Configuration form that just got opened, add details like product fee title, fee type (fixed or percentage), fees, and the tooltip description.
Make sure that you have enabled the status toggle for your product fee.
Now, if you want to apply this extra fee for your whole online store unconditionally, you may save changes right away.
If not, you can specify the fees' start date and end date. Also, specify whether or not this fee is taxable and if the customer can opt-out of this fee.
Besides the above, you can add multiple (or a combination of multiple) types of basic and advanced conditions to your extra fees. For example, to add an extra fee for a country, choose the country as your parameter and select the country, to which, this cost will work.
In a similar way, you can add one or multiple basic fees, or even advanced extra fees using this shipping plugin. Use this link to see detailed instructions on adding extra fees dynamically in the WooCommerce store.
Save changes.
In your online store for buyers, extra fees will be displayed like this:
As you can see the Quantity Fee is an extra fee here. This cost applies to the WooCommerce store with a full description and doesn't just add to the total without any clarification. So, it is not a hidden fee but a transparently specified cost that your customers might be willing to pay.
How to Charge Extra Fee for Services like Gift Wrapping and Product Customization?
Though there is no direct provision to enable fees for services using the extra fees plugin, you can create product variants to apply service fees using it. For example, for a coffee mug, you can create a variant product that is customizable.
So, for this product variant, you can apply product-variant-based extra fees easily.
Got queries regarding the extra fees in WooCommerce and WooCommerce Extra Fees Plugin? Leave a comment for us below. We shall help you out.