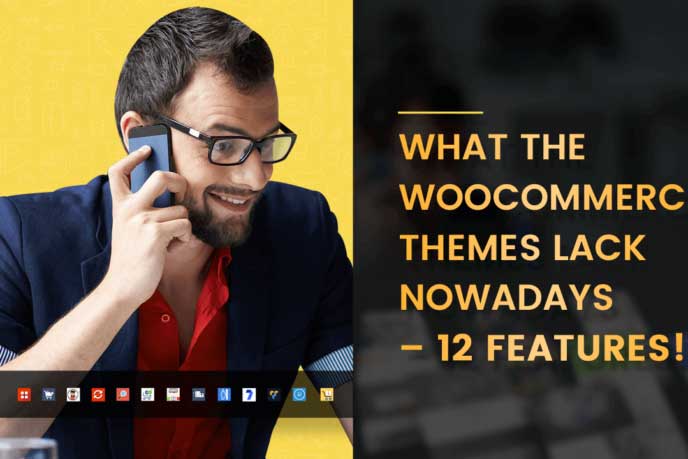 What the WooCommerce Themes Lack Nowadays – 12 Features!
Weren't you waiting for us to come up with this blog?
After the first blog of this series, it is the time to tell you about the plugin-based capabilities which your WooCommerce themes may not have. Also, if you want those capabilities to be in theme, we have suggested one plugin for each of the 12 features. So if you are reading this blog after buying an incomplete theme, then also it will help you a lot (along with inducing some regrets). No more chit-chat, just read on now:
WordPress and e-commerce – both these revolutionary concepts have shaped most of the online businesses of today. WooCommerce is what they can be called when combined. If we talk of WooCommerce, you will find plenty of good themes whether paid or unpaid. However, the actual efficiency can be reached when your theme comprises all the required features. For that, you generally need to install multiple plugins.
Obviously, the chosen theme is not optimized for the plugins you have installed. And for the same cause, website's performance suffers. If your online store is facing the same issue or you don't want to expose your future store to this situation, you must know what's needed.
Here are some very important-to-have features for WooCommerce themes (and themes generally lack them). So before buying a WooCommerce theme, just check if the issue is same with them or not
1. Developers forget to Empower you with the Visual Customization Facilities
Not everyone, who is handling an e-commerce theme's back-end, is a WordPress expert. For most of the online store owners, it is tough to handle the HTML tags, shortcodes, and other coding-oriented elements. But, the WooCommerce themes generally come with no method available for the visual composition. In this scenario, people are either bound to hire the professionals to manage the content or to buy effective plugins like Visual Composer. This plugin, alone, will you cost as much as your theme's price.
Believe us – you will also prefer working with drag-and-drop features over the 'write-it-all' themes. So, it is better to buy a theme, which comes with visual composition features, isn't it?
2. Sliders and Rendering of WooCommerce Products isn't efficient
Do you know that Slider Revolution is one of the favorite slider plugins of almost every shop owner?
The cause is simple – Its enormous capabilities of showcasing the products and their multiple details are just fabulous. The optimal loading time, ability to carry multiple images at once, powerful features for WooCommerce and utter-decent layouts (which it creates) make it a compulsion for a WooCommerce theme. Again, buying it separately will be an overhead for you.
If your theme has this plugin pre-installed, you will be easily able to create product galleries, show off with the parallax, and design awesome slider showcases for your products. So, if your theme misses it, you are missing one main thing there.
3. Filtering is important and they forget!
How many times do your customers do not need to use the search filters in order to find the desired products?
Zero, most of the time!
But, the problem with most of the WooCommerce themes is – they are only using the default filtering capabilities of WooCommerce.
You obviously don't want this super-tool (search filter) to be less efficient. In order to increase the searching efficiency of the website, shop owners generally use plugins like WOOF Products Filter. This is necessary because searching should always be customer-oriented, flexible and robust. It should allow the exploring facilities, based on following attributes –
Product Name

Product Categories

Custom Taxonomies

Tags

Price Range

Attributes
If your theme is not providing this, the effect is directly on user experience and you don't want that at least.
4. Grid – Essential for keeping your layout Organized
An organized online store sells better due to the content being rendered in a neat way. For this, Grid system is followed in many themes, while many of them lack it. However, the themes utilize grid system for many parts but not all.
If you want any of the elements like portfolios, galleries, products, blogs, services, tables, pricing blocks, social media streams, and testimonials to be presented decently in grid format – you simply will not be able to. To expand the capabilities, a plugin such as Essential Grid comes to your rescue. But wait, you have to here also. So, better will be to get a theme which comes with any of such plugin or feature.
5. Checkout System – Reliable and Multi-step
To harness a reliable selling ecosystem, it is mandatory to have a good and multi-step check out system. The default checkout method of WooCommerce is undoubtedly complex and will surely diminish your selling capabilities.
As you don't want the buyer to change the mind at the purchase stage, do not go for a theme will has bad checkout page – functionally as well as in appearance. For beautifying the whole check-out process, increasing the conversions, allowing multiple styles, and ensure validations – MultiStep Checkout Wizard is a must. Your theme isn't built for selling if it lacks this plugin (or any similar one). Will you still put your money in it?
6. Aids for Converting the Leads – Shouldn't these be your theme's part?
Purpose of any WooCommerce-built website is getting more customers and making more sales happen. Without right lead generation strategy, you will be quickly falling short of the new customers. Retaining the old customers will become tougher if your strategy remained bad and distributed. And at the end, you will need better tools to convert buyers, attract new subscribers and grow your revenue.
Many online businesses fail due to the lack of conversions and you should not buy a theme which pushes you for that. You can, though, get a theme with right plugins such as ConvertPlug to overcome this inefficiency. The plugin allows you to add pop-ups, customize them for conversion, design them nicely and track it all at the end. There should be at least one good conversion functionalities in your theme, or else it's just another WooCommerce theme (which cannot separate you from the crowd).
7. Tracking Efficiencies for Sales
Sales funnels – overwhelming, complex, confusing, tough to analyze and what not!
Is your WooCommerce theme giving you that feeling?The reason is that it lacks the right method of sales tracking, analyzing, and updating you about how your business is going. Some good features, Woocommerce themes lacks these days are:
The reason is that it lacks the right method of sales tracking, analyzing, and updating you about how your business is going. Some good features, Woocommerce themes lacks these days are:
Google Analytics for WooCommerce

Facebook Conversion Tracking

Easy Integration with Multiple Woopra and Gosquared analytics tools

Twitter and eCommerce tracking
Themes, coming up with good tracking plugins e.g. WooCommerce Enhanced Ecommerce Tracking, may help in such case. But if your theme is not having powerful analytics features, it is anything but not a complete WooCommerce solution.
8. Price Customization, the way you want!
In realistic scenarios, we have to deal with discounts, taxes, extra charges, and fees. All these price components can change anytime. In the WooCommerce themes, price customization features are therefore necessary. But how many themes have it today?
When you plan to apply conditional rules on product pricing, you have to buy plugins such as Conditional Product Fees for Checkout or others. As that theme is already having multiple plugins installed for different purposes (and that without optimization), achieving good performance becomes tough.
9. Practical Shipping Charge Features
Shipping charges may vary according to the features of your product and the destination. For instance, the weight of product, the quantity of product and the distance may be required in your case. But do you think it is always possible to customize and automatically calculate the shipping charges?
Not at all!
Most of the themes do not use good Advanced Flat Rate Shipping Method and instead relies on the fixed rate shipping. At the end, you will be searching for flexible ways to implement variable shipping charge. Better is – do not buy a theme which is not allowing you to apply the shipping for practical circumstances.
10. Advanced Product Size Charts
If you are dealing with clothing or any such business, which has multiple variants for the same product, then the size chart capability should be in your theme. For example, if you are selling t-shirts, then the size charts should be there to tell the users about what's available for them.
Most of the current WooCommerce themes are bad at it. They will not have any advanced Product Size Charts. If these size charts are essential for your products, we will advise you to not go for such themes.
11. Wishlist Abilities
To keep the users bound to your online store, wishlists must be your favourite. So, it becomes a norm for all the so-called WooCommerce 'Complete solutions' to come packed with the plugins like Save for Later Cart Enhancement. The reality is not same though. Most of these themes will not allow your customers to save an unlimited number of products for later. It is more like limiting you from making sells. Don't go for them.
12. The Swatches
Color or orientation swatches, which are deployed through WooSwatches, are considered very important for every WooCommerce theme. Dropdown capabilities for choosing colors, hover features, orientation displays and many other things depend on these swatches. In the online scenario, where a user cannot touch your product, the swatch facility is provided for letting him judge the item correctly. And if a theme doesn't have swatches to showcase, just ignore it and search for a better one.
There may be more features, which your e-commerce theme may lack. However, those features will probably depend on the industry and clientele you are serving.
We have jotted down the most important (but unfortunately ignored) features which a complete e-commerce solution may lack today. Which features else do you think your theme is missing? Comment below to tell us the same.