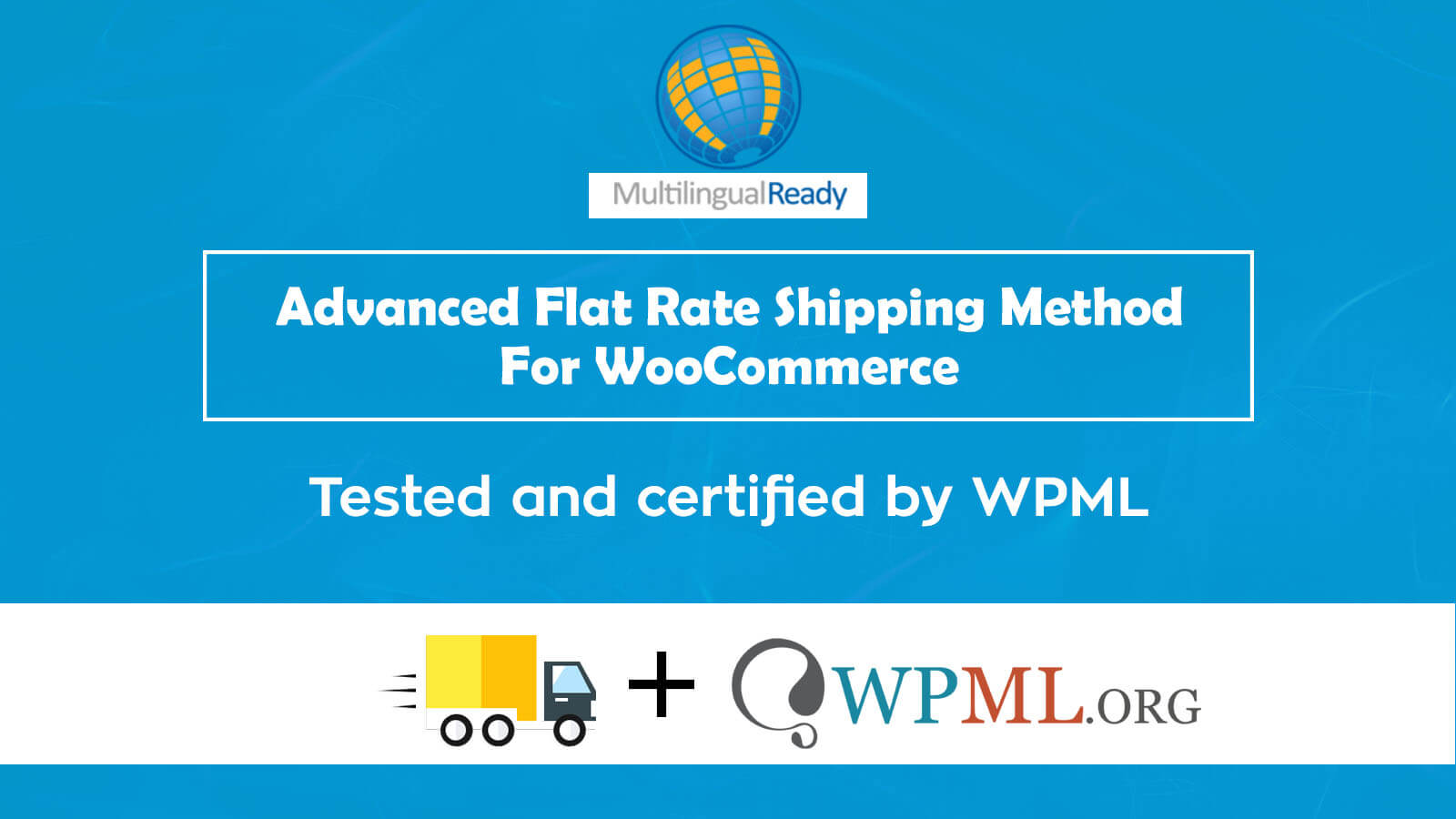 It's Official! The Advanced Flat Rate Shipping Method For WooCommerce Plugin is now WPML Compatible
We are happy to announce that our Advanced Flat Rate Shipping Plugin for WooCommerce has been updated to meet WPML compatibility. For those who are clueless about what WPML is, it the de-facto standard for making your website/store multi-lingual to reach out to more customers across geographies.
Our WooCommerce Plugin works seamlessly with the WPML plugin to ensure store owners can easily translate their online store in local languages irrespective of the demographics they are targeting.
Understanding the WordPress Multilingual Compatibility
With WordPress powering a substantial number of sites on the web, the need to have sites translated in local languages is only increasing. And, this is especially necessary for WooCommerce Store Owners who want to tap new markets and reach new audiences.
When you want to have a digital presence that addresses native needs, one way to do this is to install WP in subdomains for every language of the target group you want to cater. Now, this can lead to a nightmare as you will have to deal with managing updates, data backup and multiple installations.
The WPML Plugin was built to address this problem. You can have your website content translated in as many languages as you want within one single WP installation. Its sleek user interface allows for easy management of translations. You can switch translations within clicks.
Another useful feature offer by WPML is that it offers a default support for WooCommerce Multilingual. This essentially means you can accept payments in multiple currencies irrespective of the language. Your customers can switch currencies similar to languages.
Why We Chose WPML Plugin for integration with Advanced Flat Rate Shipping Method For WooCommerce?
Its intuitive interface lets you manage translations like a breeze. All it takes is a few minutes to make your store compatible with local languages.
Since 2007, WPML plugin has been used in 500,000+ sites globally. That makes it a reliable solution for ensuring your multilingual presence.
Seamlessly integrates with both WordPress & WooCommerce.
Perhaps its biggest benefit lies in multilingual SEO. What this essentially means is that you can easily search engine optimize content for local languages to ensure higher rankings. Besides, being compatible with popular SEO plugins like Yoast SEO, WPML also offers a set of features to optimize home page, internal pages, and even product categories.
You can save time because the plugin automates tasks like translating URLs, establishing multilingual database structure for websites etc. Since all pages are stored in the same database in the same WP installation as against multiple installs, you save a lot of headaches for your time as well. Manage all your content/translations from one place.
ALSO READ:
Announcing the WPML Compatibility for WooCommerce Conditional Product Fees For Checkout plugin
What does the WPML Compatibility Update for Advanced Flat Rate Shipping Method For WooCommerce plugin imply for you as a Store Owner?
Right from support for over 40 languages to its ease of use, WPML Plugin is a perfect choice if you want a multilingual WooCommerce Store today. Here's why we selected this plugin
Reach out to a new audience
Whether you want to reach out to the French or Spanish at the same time, WPML integration with our plugin will allow you to display shipping options (like labels and fees) to people from these countries in their native language. And, you can do the translations in more than 40 languages with a few simple clicks. Across demographics, you need not worry about complex translations about your content. WPML compatibility update will allow you to do complex customizations like customizing names and labels for creating custom shipping options within minutes. All this makes it possible to expand your business in less time and at minimal cost.
Improve conversions
When you have a presence in a native language, it makes it simpler & easier for people of that particular country to understand what you are selling. This definitely increases your chances of improving overall conversions.
Multi-currency support
You can have multiple currencies displayed on your site irrespective of the language. All you need to do is set pricing with the configurable exchange rates map or per product. Your visitors will be able to switch languages for the different currencies they see on the front-end. What's more, you can even display specific currencies with specific languages. There is also a way to set default currencies for specific languages you want. Why is this helpful? Because there might be situations when you have to get certain products in specific languages to be ordered in a specific currency. All this is possible because WooCommerce Multilingual is a default part of WPML Plugin.
How to translate shipping method label in multiple languages with WPML
To translate the label of the shipping method you have created: Go to WPML–> String Translation screen and search for the label which you have entered in your base language while creating the shipping method. It will show the screen like below, where you can enter translation in each language which you have configured for your store.