Conditional Payments For WooCommerce
Transform Checkout Experience with Dynamic Payment Methods
Our plugin intelligently showcases payment methods based on customer data to encourage checkout completion and reduce cart abandonment. Deliver a personalized shopping journey effortlessly.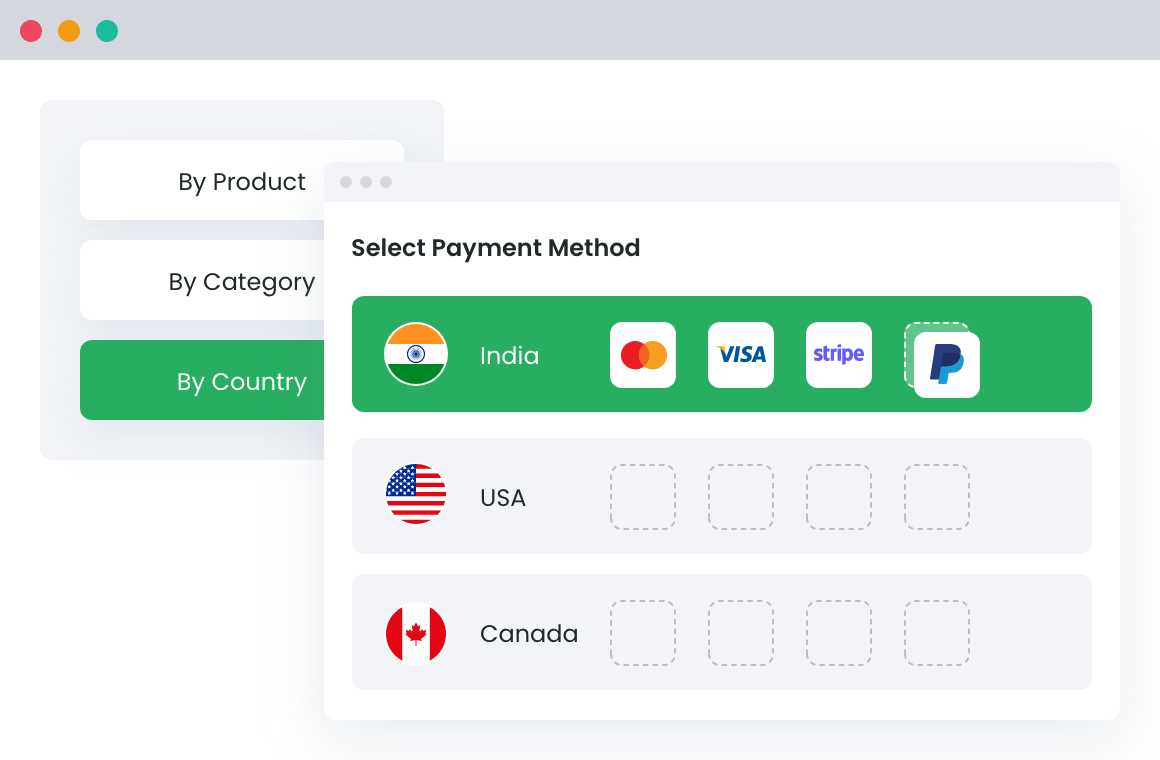 "Had this working within a half hour to charge a credit card processing fee."
– Tonipogue
5/5 Stars
Based on 2 Reviews
Improve Customer Experience By Implementing
Relevant Payment Shipping Options.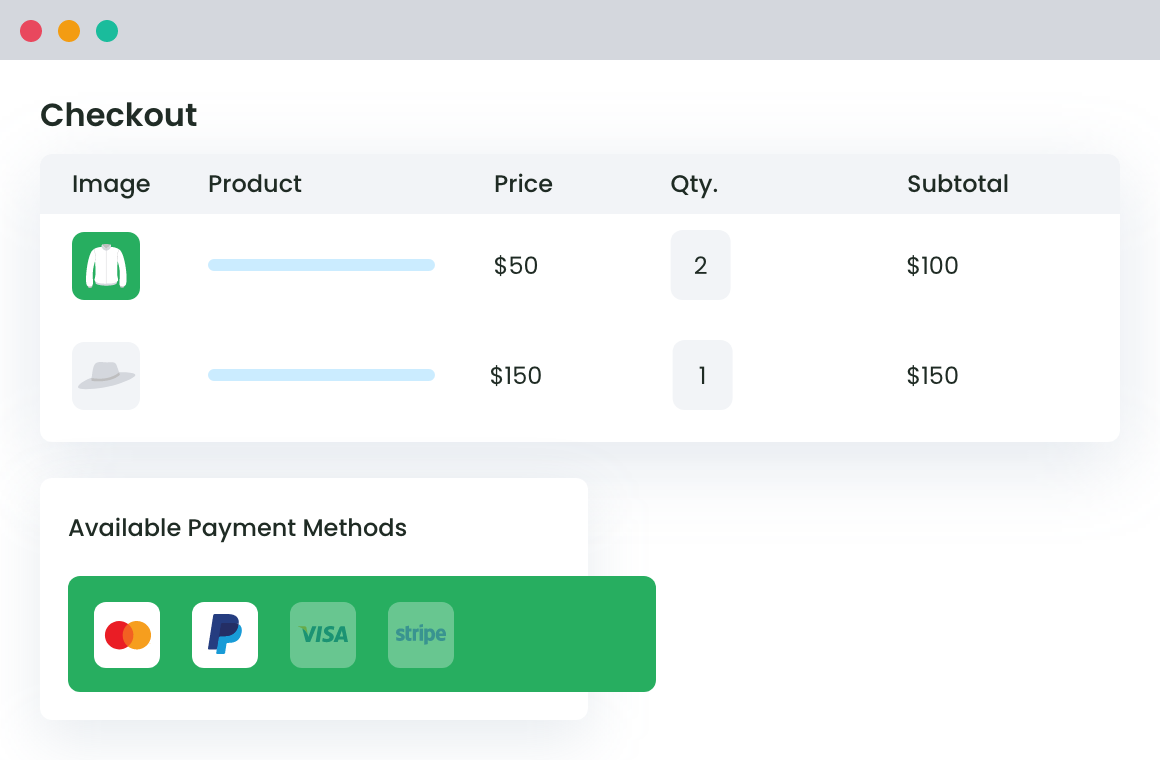 Restrict payment methods for specific products
Select the cart containing the product from the conditions dropdown and select the desired product.
Select 'Disable payment methods' from the action dropdown, then select 'Payment method' to restrict.
Restrict payment methods if the cart total exceeds/less a certain amount
Set the condition as cart subtotal and select an amount beyond which to enable/disable the specific payment method.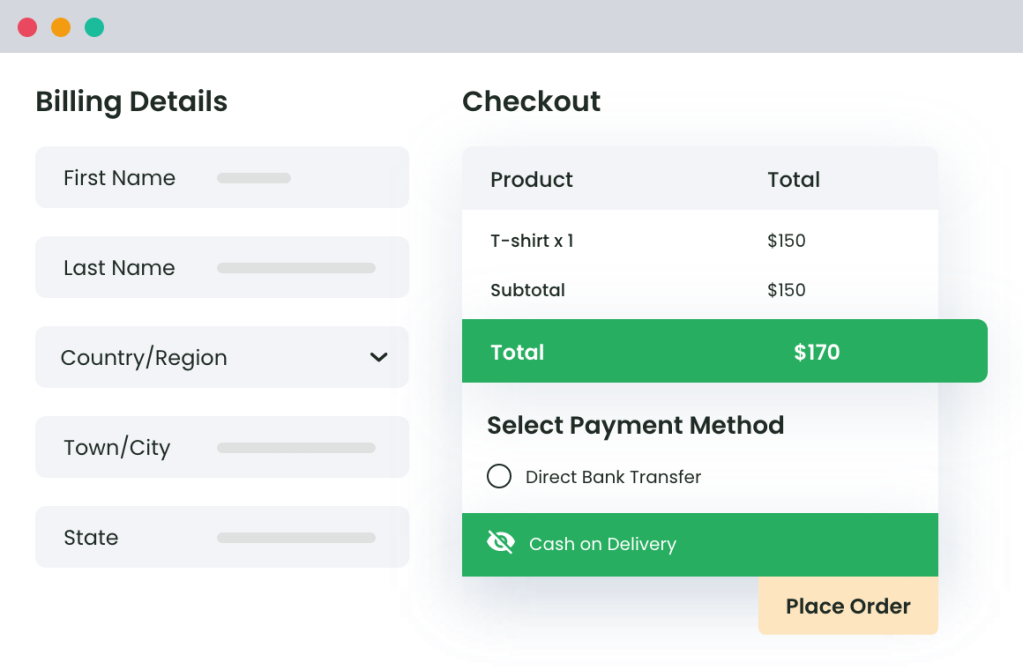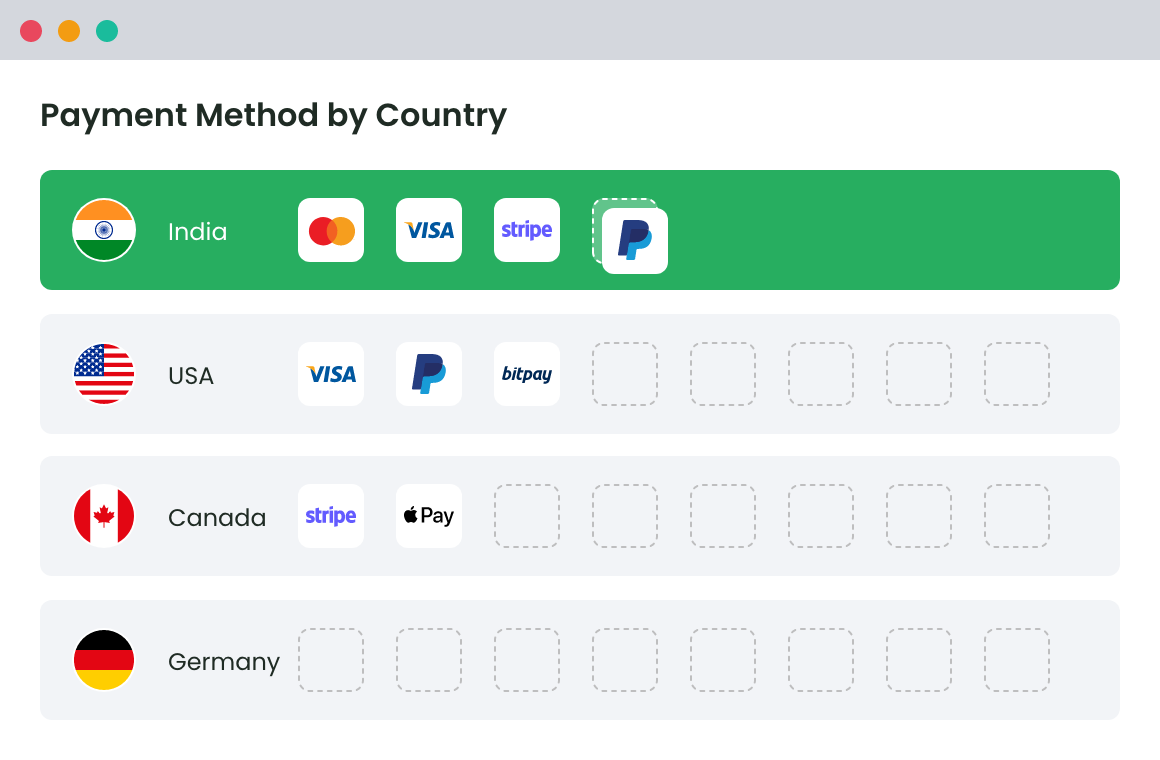 Restrict payment methods for a specific country
Enable/disable a specific payment method for a given country.
An In-depth look at all our features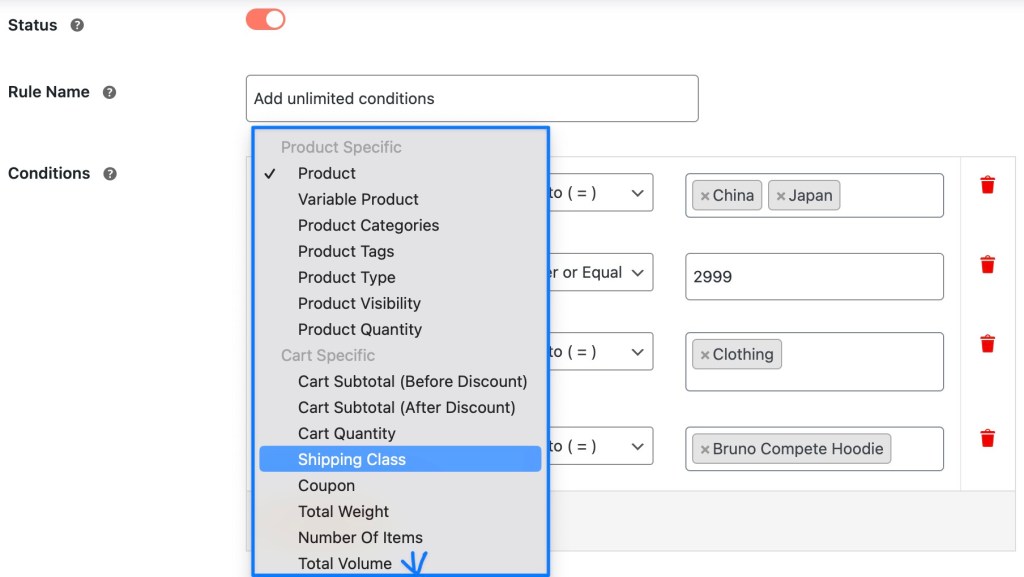 Limit payment methods based on different advanced conditions.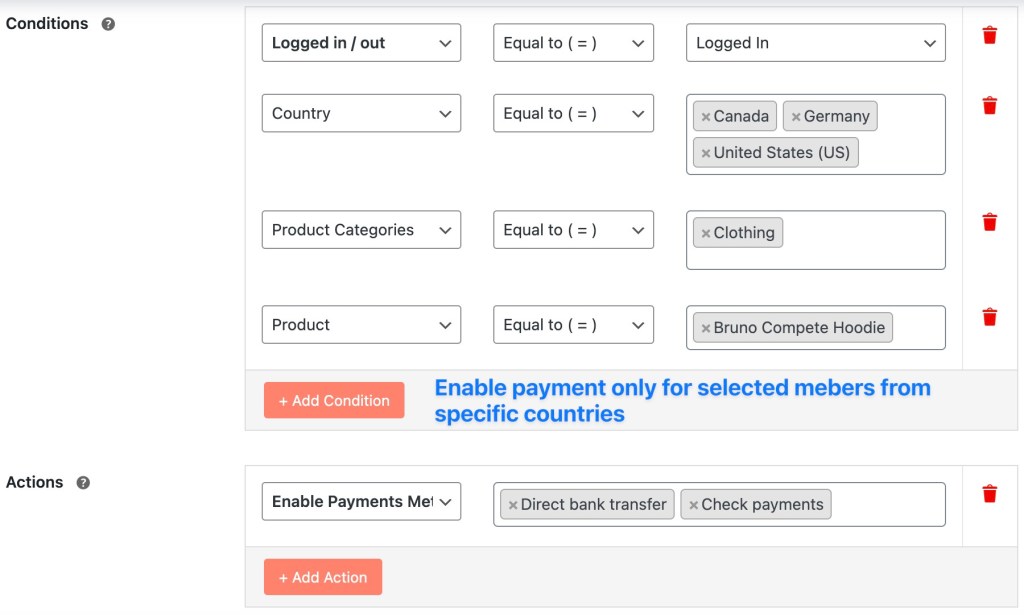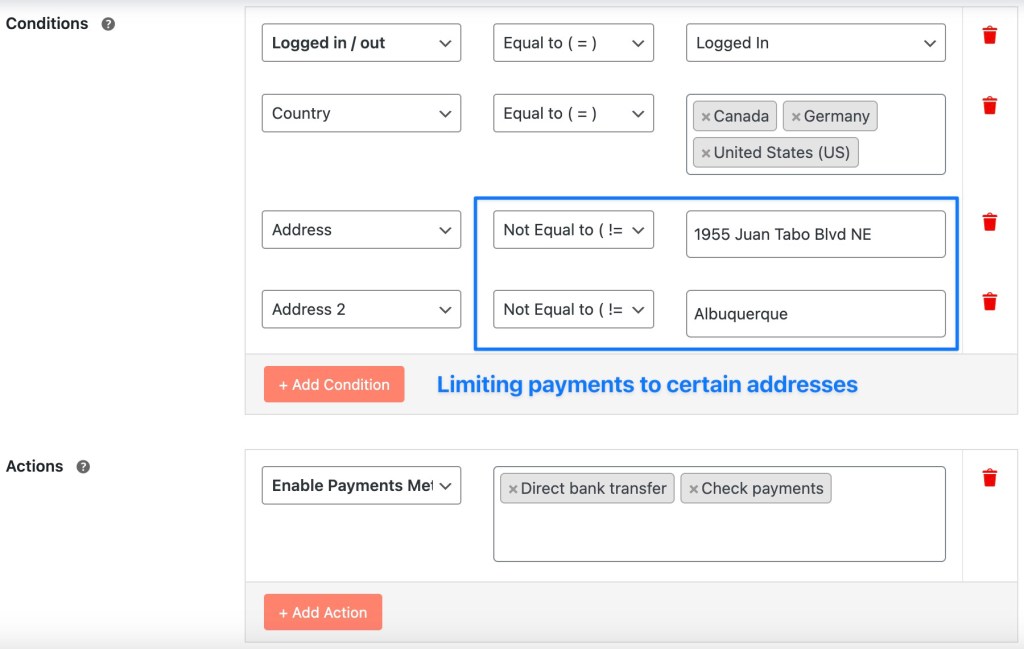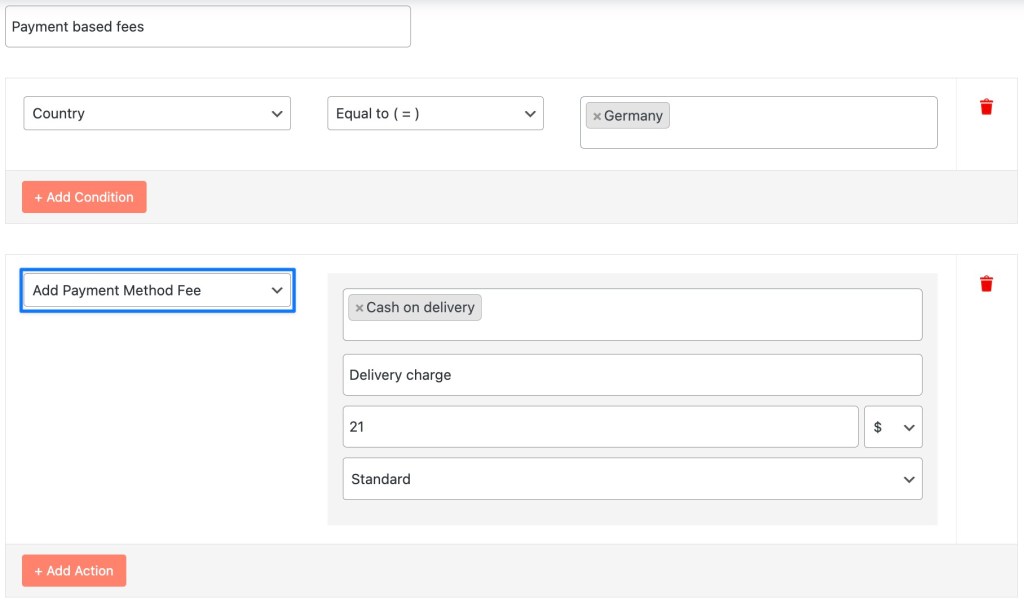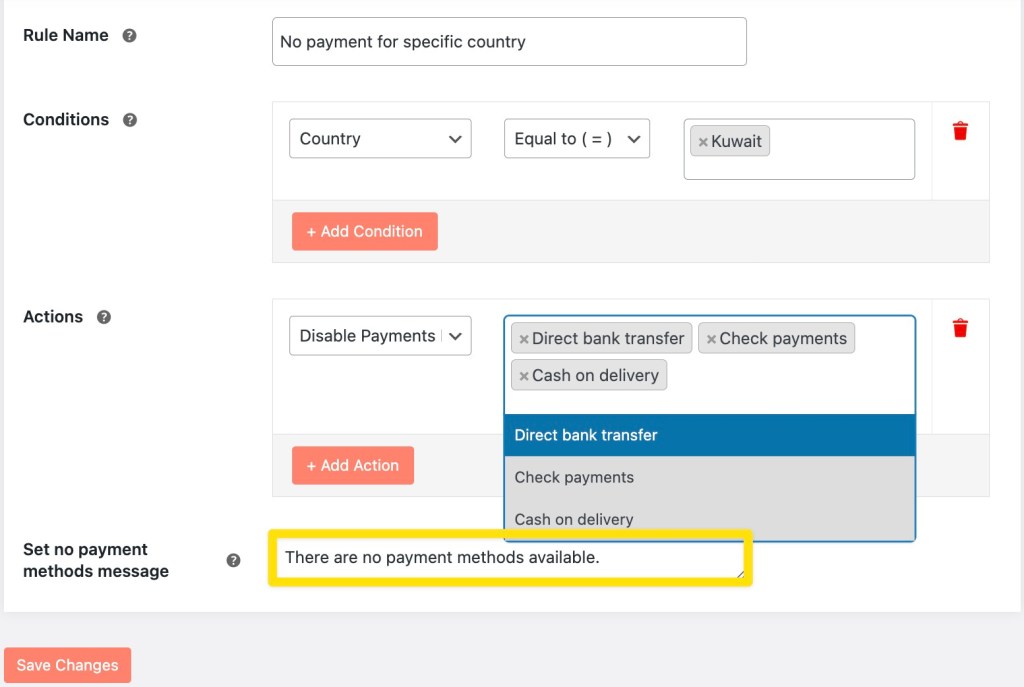 Extraordinary Features at
an Affordable Price
1 Year of updates & support
All licenses billed annually
PERSONAL
Great for Website Owners with a single WooCommerce Store
BUSINESS
Great for businesses with multi-site installations or multiple stores
AGENCY
Great for agencies or WooCommerce website developers
Frequently Asked Questions
Yes, it's fully compatible with some popular payment gateways such as WooCommerce Stripe, WooCommerce PayPal Checkout, WooCommerce PayFast Gateway, Braintree for WooCommerce Payment Gateway, etc.

Yes, you can add multiple conditions and actions per rule.

Yes, it works just fine with the Flat Rate Shipping plugin.

Yes, you can restrict payment methods by billing or shipping fields such as first name, last name, address, etc.

Yes. All of this is very easy to do with our plugin.
01 Unlimited payment methods restriction rules

02 Limit payment methods based on various conditions

03 Reduce risks and boost your sales

04 Restrict payment methods by billing/shipping fields

05 Add payment method-based addition rules

06 Set a 'No payment methods available' message