Product Attachment Plugin For WooCommerce
Superior Product Clarity with WooCommerce Attachment Plugin
Leverage our WooCommerce Product Attachment Plugin to infuse your store with detailed product insights. Create a comprehensive shopping experience with unlimited attachments in various formats.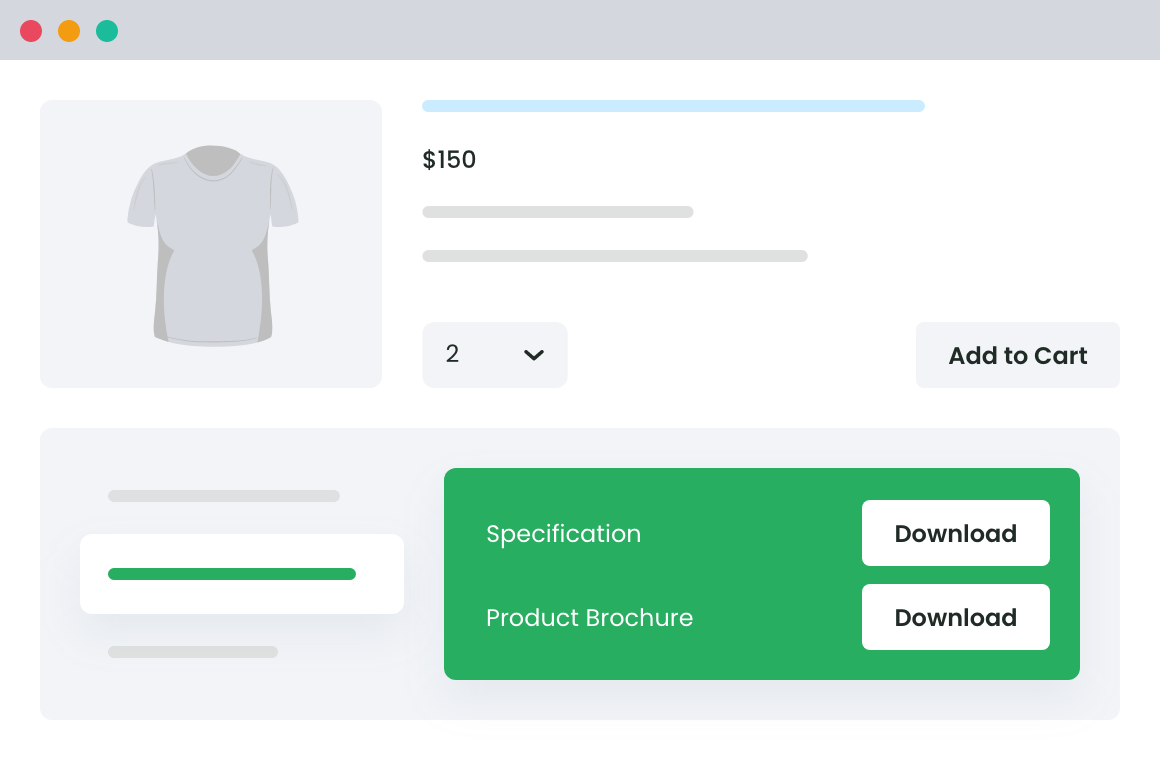 "My store reduced 15% of
product returns due to showing
product attachments."
– Andrea
4.9/5 Stars
Based on 23 Reviews
Simplify Product Management & Reduce Returns With Bulk Product Attachments for Your WooCommerce Products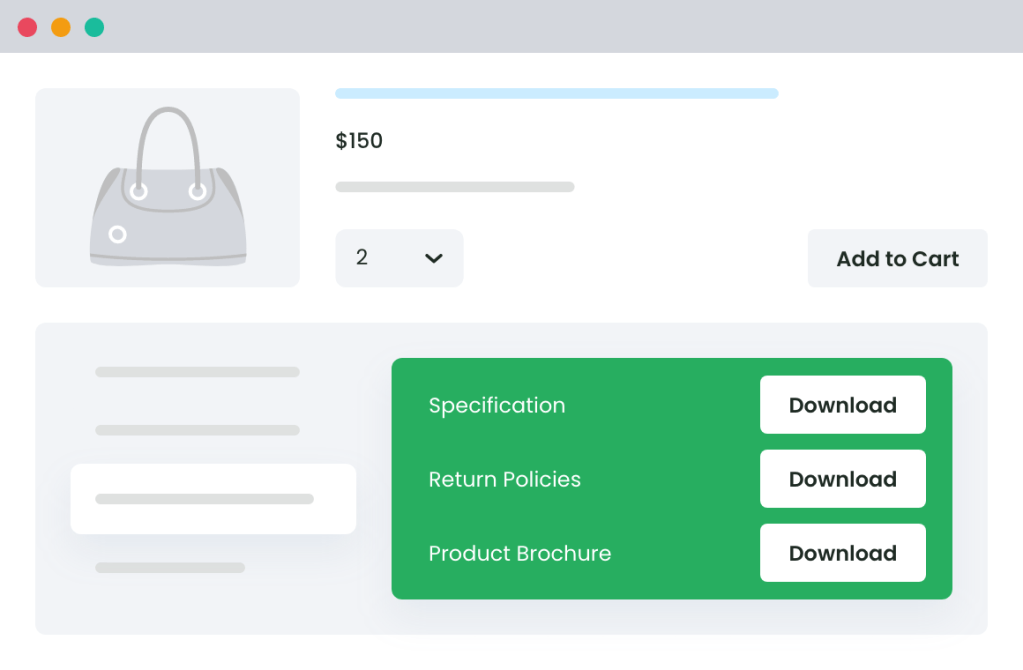 Unlimited Attachments: No More Restrictions
Add an unlimited number of attachments to your products. Provide your customers with all the necessary information they need to make an informed purchase decision. Whether you want to attach user manuals, guides, additional images, or product specifications, the sky's the limit.
Save Time & Improve Efficiency With Bulk Uploads
Experience the much-needed convenience of bulk uploads for a wide range of file formats. Select numerous files at once and upload them all together, rather than doing it individually for each product. Save the time and effort required to attach each file manually to your products.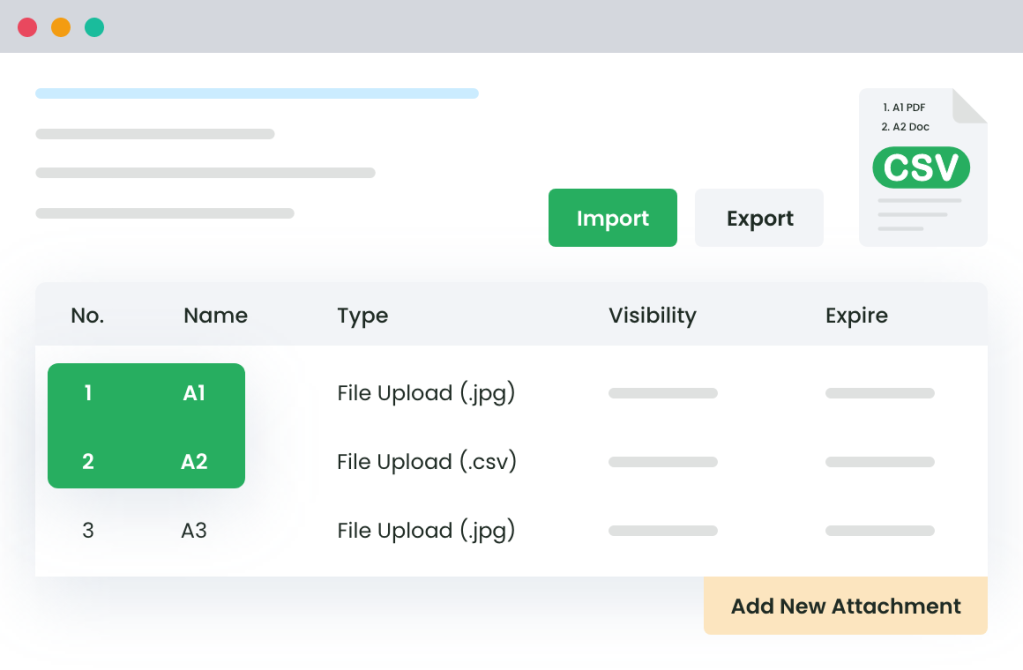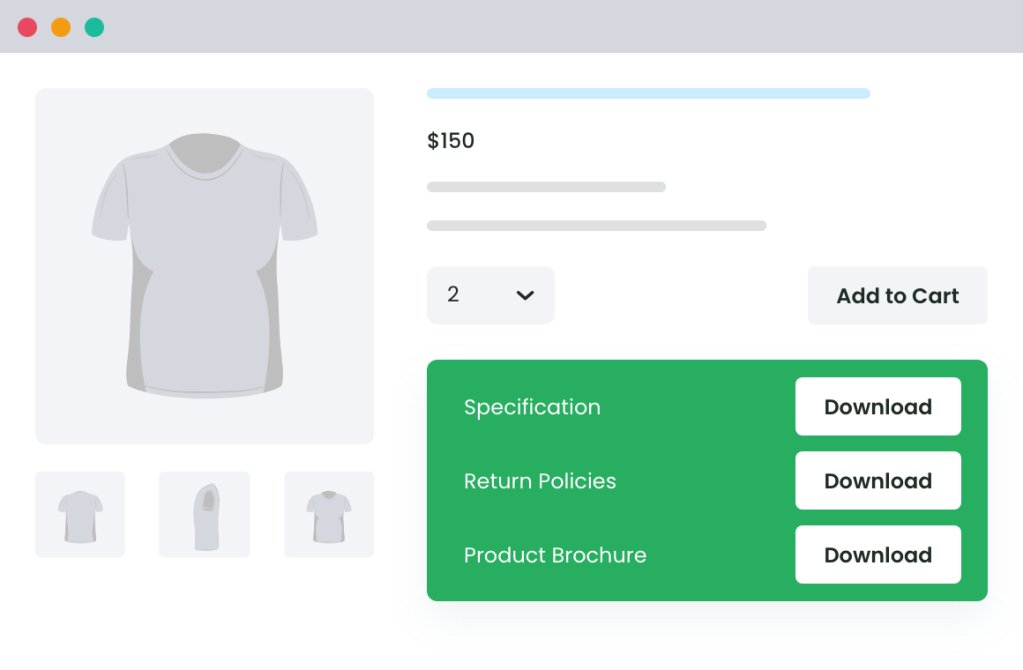 Customizable Display Options & Complete Visibility Control
Choose how and where your attachments will appear on the product page, whether in a separate tab, within the product description, or in a sidebar. Decide who can see each attachment, and under what conditions. Improve your chances of conversion by sharing only relevant materials with the customers, based on their user journey.
An In-Depth Look At All Our Features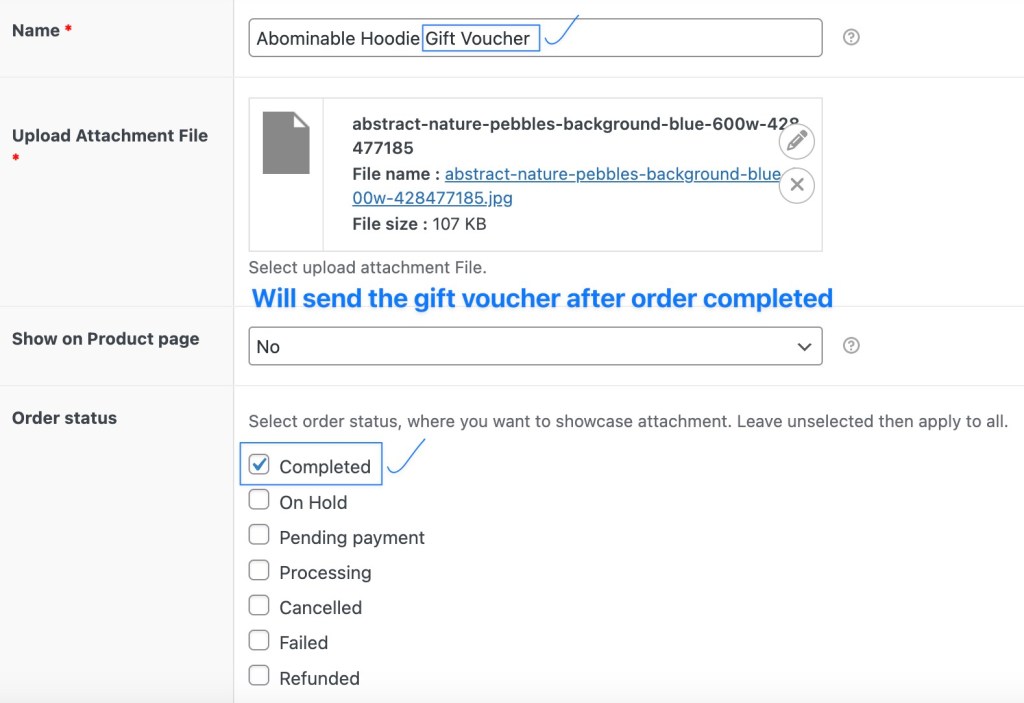 Create, upload, and send files for every stage of the buyer journey. Go to the order edits page and enable product attachment display for specific order statuses, including completed, on-hold, pending payment, processing, canceled, failed, and refunded.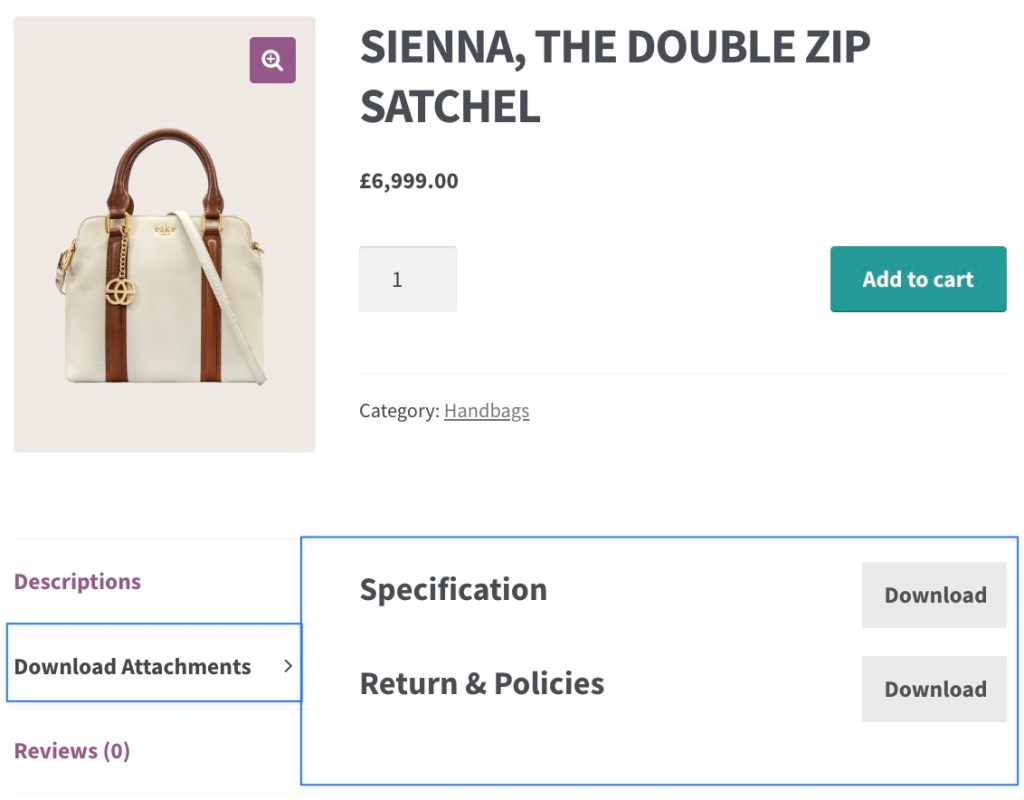 Enhance your product pages with excellent and detailed product information, in a variety of formats. You can add technical descriptions, certificates, licenses, manuals, user guides, and any other information you deem fit.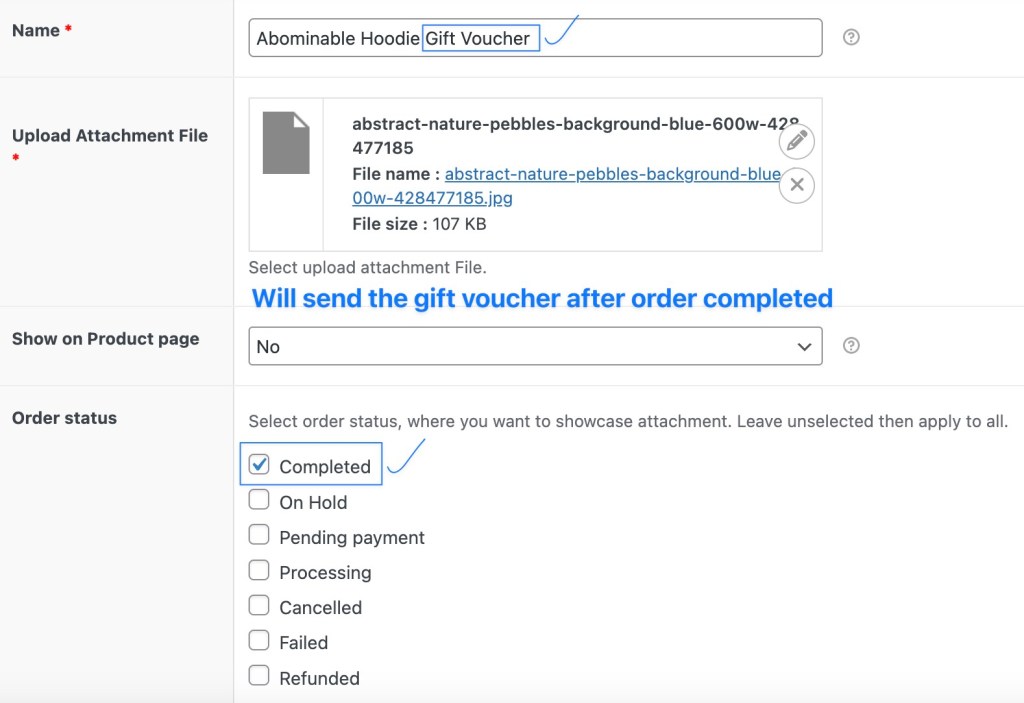 Add downloadables to WooCommerce products irrespective of whether it is a simple product or one with many variations. You can even create independent product documentation for every single variant of your product.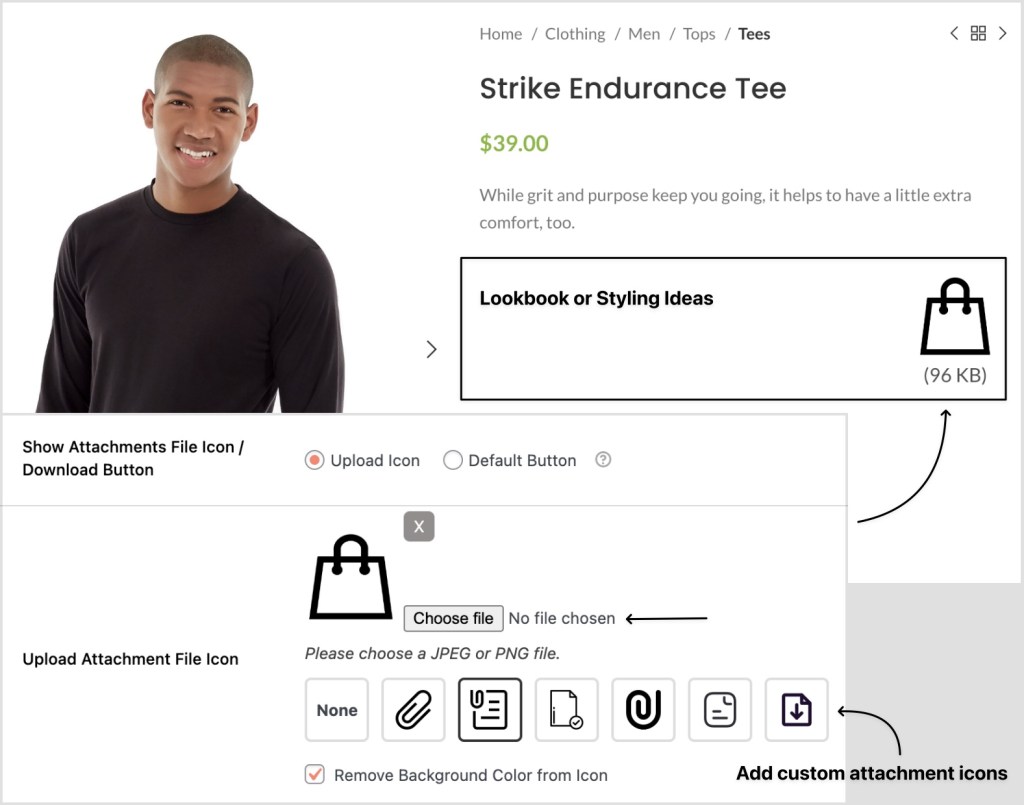 The plugin supports a wide range of files and formats such as MS Word Documents, images in JPG format, spreadsheets in MS Excel, video (MP4), read-only documents in PDF format, audio (MP3), URL, and many others. You can add multiple files in various formats simultaneously as well (like adding a PDF along with a video of the product in action). You also can add custom icons representing each type of file to make it more visually recognizable.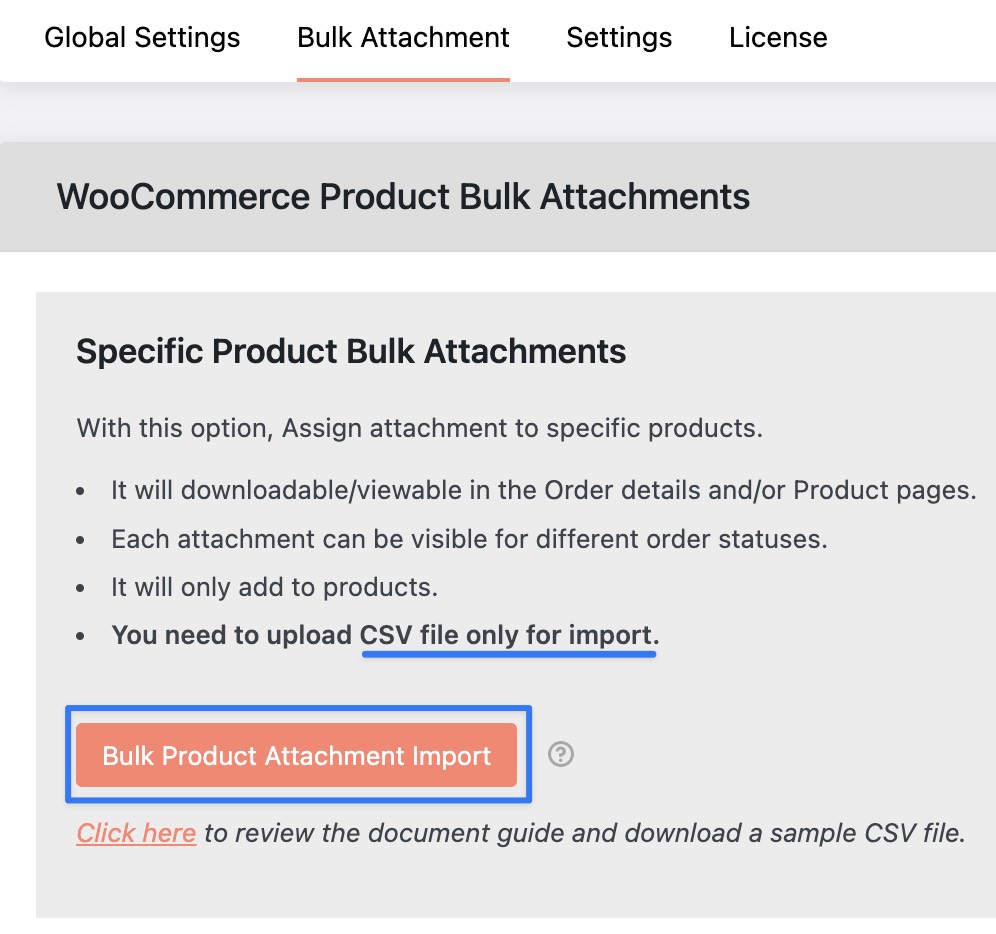 You can upload and make bulk attachments downloadable/viewable on the 'Order Details' and/or 'Product' pages for specific products, product categories, sub-categories, and product tags. You can also define multiple attachments for multiple product tags. This can help save a lot of time if you want to share repetitive information across product categories and sub-categories.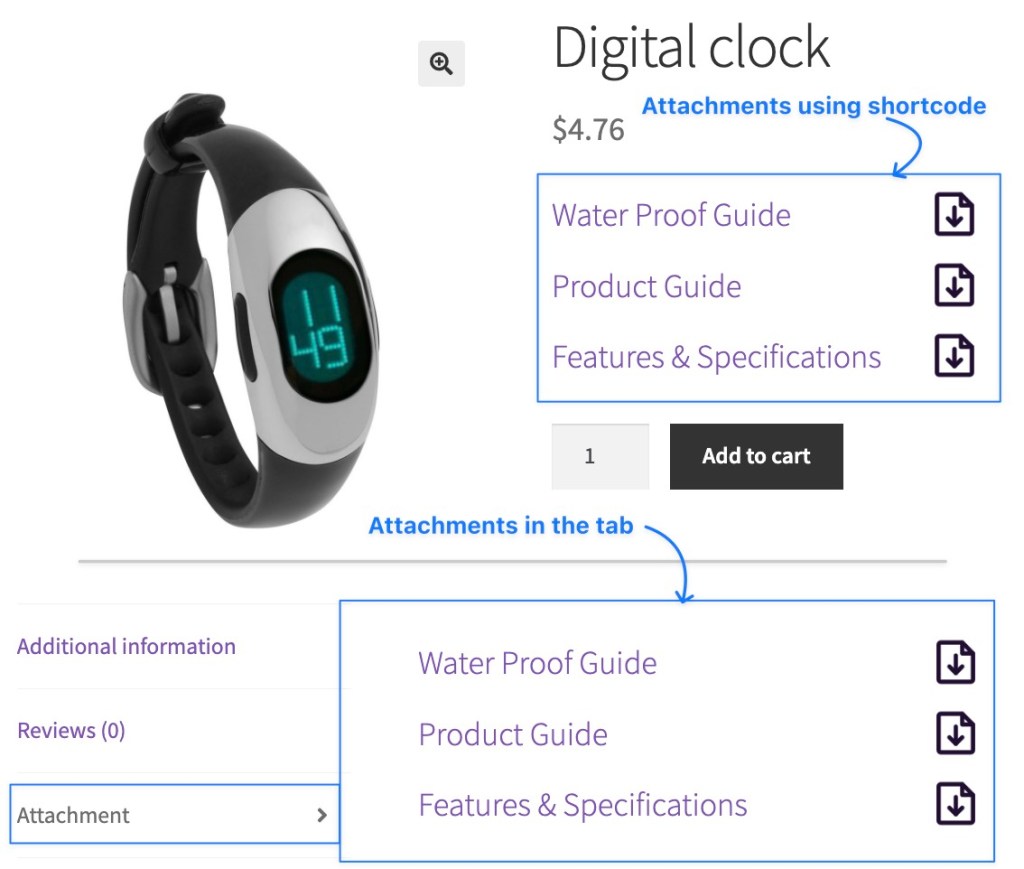 Display attachments on the 'Order Listing' page and enable or disable them as per your requirements. You can also enable attachment visibility on the 'My Account' page and the 'Download' tab of your WooCommerce store.
Extraordinary features at
an affordable price
1 Year of updates and support
All licenses billed annually
PERSONAL
Great for website owners with a single WooCommerce Store
BUSINESS
Great for businesses with multi-site installations or multiple stores
AGENCY
Great for agencies or WooCommerce website developers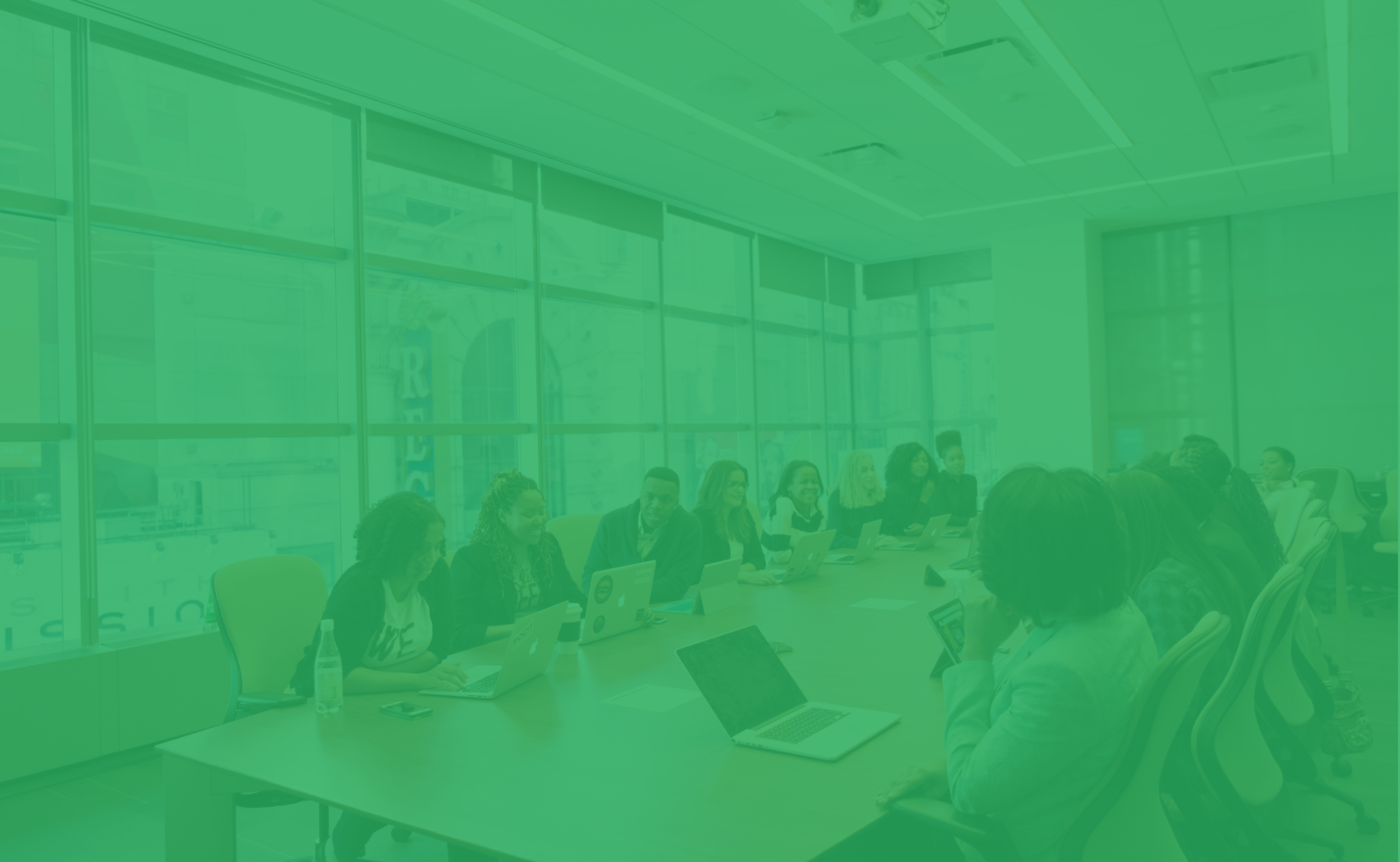 Why our customers love us
Frequently Asked Questions
Go to

WooCommerce Product Attachment > Order Attachment Settings > Select to which status email the attachment as to be attached

 

Here you can enable the attachment for order statuses such as 'pending payment', 'processing', 'on-hold', 'completed ', 'canceled', 'refunded', 'failed' and more. 

If you want to apply all, leave all fields unselected.

This can be done by enabling 'Show on Product Page' option and selecting order status as 'Completed'. This will ensure your attachment will be visible on the product detail and completed order page.

While you can set an expiry date to ensure it is not available after a certain date, it is unfortunately not possible to set a limit on the number of times that an attachment can be downloaded.

No, the plugin does not automatically display icons for uploaded files. If you want to display a relevant icon for your file, go to

Attachment Settings > Click the 'Upload Icon

' option.

Here you can select any default icon from the list of available icons or you can set your own custom icon. If you do not select any option, the plugin will display the default icon associated with the file type.

We have ensured that most of the file formats that WooCommerce store owners typically need have been assigned a default icon, in case you decide to display the same. However, if you have a file type that does not have a default assigned icon, you can upload a custom icon for the new type of file attachment.
Screenshots
See how the Product Attachment Plugin for WooCommerce looks for both customers and admin users.
01 Add product attachments in the tab

02 Personalize your attachment icons

03 Bulk product CSV import settings

04 Attachments on custom templates