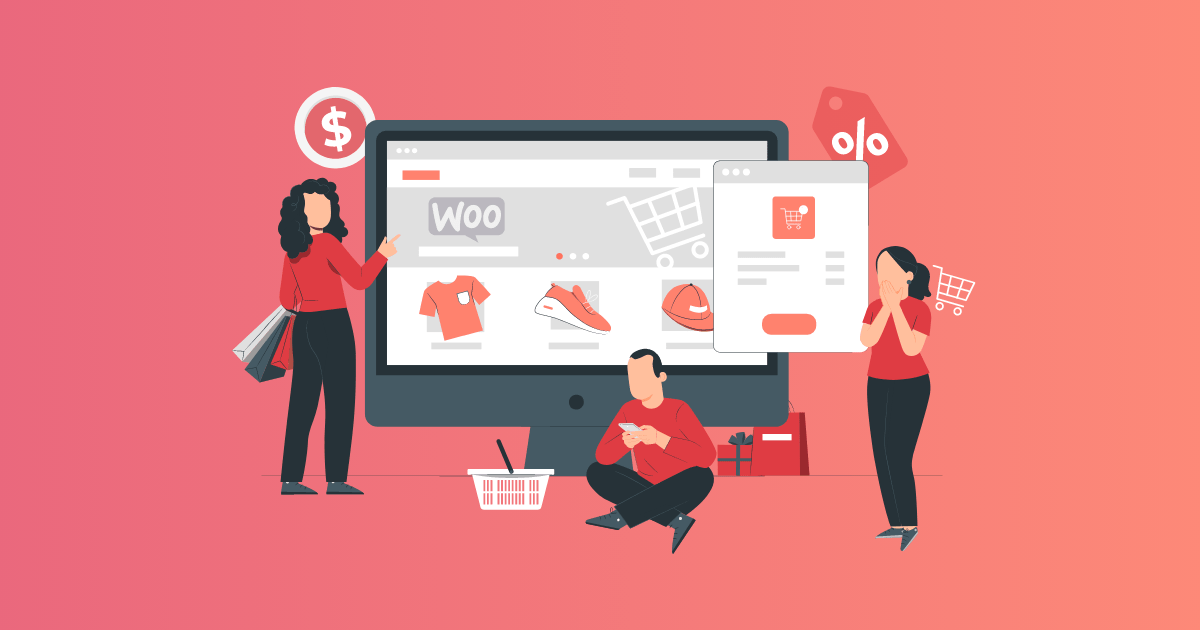 Building a Full-Fledged Powerful WooCommerce Website (That Sells) In 2023
If you're thinking of building a powerful WooCommerce website to power your online store, congratulations, you've made a wise decision!
WooCommerce remains one of the most popular platforms powering over 29% of all eCommerce sites. It is used by businesses of all sizes ranging from startups to large enterprises.
The best part of all? It is a free plugin for WordPress. One of the most widely used Content Management Systems (CMS).
One can easily install WooCommerce to create and manage online stores on their WordPress website.
Are you thinking of using WooCommerce to build your online store? Looking for ways to increase your revenue? Want to create a powerful WooCommerce site that sells?
This is the article for you!
Here we will be learning how to create a powerful WooCommerce site that can help you generate revenue.
We will focus on three of the most important aspects of eCommerce: user experience, trust and security, marketing, and optimization.
Table of Contents
Creating a Compelling WooCommerce Website
Moment of truth: Building a WooCommerce website is easy! Depending upon your needs and requirements, you can build your online store in a day or within a week!
The real challenge can be making your website stand out! Making it successful!
After all, there are various aspects to be considered. From payment gateways and shipping to cart abandonment recovery to cross-sell, upsell, and down-sell.
With WooCommerce, you get lucky!
Let's take a look at why you should consider using it:
Flexibility: Tweak and customize your online store the way you like! Woocommerce allows you to tailor your website according to your specific need!
WordPress Compatibility: Imagine the possibilities of building your online store on the best CMS! WooCommerce seamlessly integrates with the platform, allowing you to manage your website.
Comprehensive Plugin Ecosystem: Want to add specific features to your online site? Many add-ons, extensions, and plugins are available for specific features and functionalities.
Economic: Did we mention that the core WooCommerce plugin is free? Yes, it is, making it an affordable choice for everyone.
Millions of users have used the plugin to create a unique storefront.
It has a growing ecosystem with a wide variety of plugins available. Using them, you can strengthen your online store and build it so it sells!
Let's look at some of the most powerful WooCommerce plugins and how to use them on your online store.
Statistics show that the average cart abandonment rate due to product search issues is 69.57%.
While WooCommerce has a built-in product finder functionality, you might go the extra mile using a separate plugin!
A feature-enriched WooCommerce Product Finder allows you to enhance the user experience of your potential customer.
The plugin makes narrowing down their search process easier for your customer.
They can easily search for the product based on specific categories, attributes, price ranges, custom filters, and criteria.
Not just that, your customer can save time by quickly narrowing down their search instead of browsing numerous pages.
WooCommerce Product Finder is simple to use.
You can name a wizard and select the categories.
Upon creating a wizard, you can select a wide variety of questions ranging from size, color, and brand, or you can specifically create a new one.
Once done, you can copy and paste the shortcode into your product page.
When potential visitors appear on your website, they are asked questions to help them find a suitable product.
Statistics show that the global revenue from digital products is projected to reach over $1.4 trillion by 2025, with buyers often expecting a quick and hassle-free purchasing process.
But, WooCommerce is specifically built for selling physical goods with the option of shipping!
So, regarding digital products, you might consider using a separate WooCommerce Checkout plugin.
A dedicated checkout plugin is specifically designed for digital goods and helps optimize the purchasing process for your potential customers.
This plugin minimizes the additional fields and steps necessary when purchasing a physical product.
This results in increasing the checkout experience.
WooCommerce Checkout plugin for Digital Goods helps customers experience a seamless and instant delivery process. It offers a user-friendly interface for fast purchasing and delivering digital products.
The plugin beautifully integrates with all the payment gateways, making adding multiple payment methods like PayPal, Stripe, Digital Wallets, and more easier.
You can quickly set up the plugin by selecting the fields you want to add to the checkout process for your digital goods and saving them.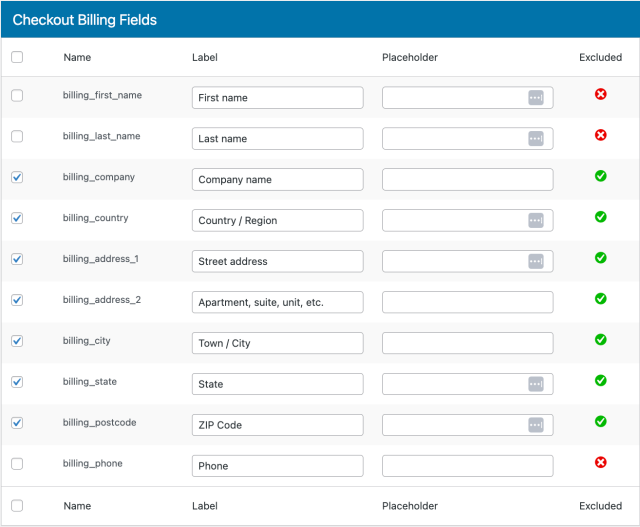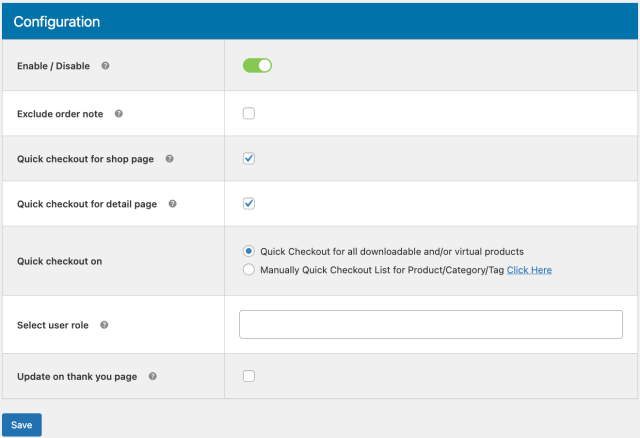 Upon setting up this plugin, customers can purchase digital goods quickly without adding unnecessary billing addresses.
You might want to create a flexible online store that promises true value to your customers.
We have often seen eCommerce businesses making fake promises, breaking the trust of their potential customers!
Imagine them going through your website, selecting goods, and getting ready to pay only to realize that the payment option is invalid.
Conditional Payments for WooCommerce offer your potential customers various payment options based on specific conditions.
It can be based on total purchase price, customer location, product type, and many other criteria.
Enabling the conditional payment, you can easily align your customer preferences, resulting in conversion rates.
It also makes it simple to offer promotions.
For example, you can offer discounts for customers who choose specific payment methods.
This plugin also includes advanced fraud detection and risk management features helping you secure the amount you've made through the selling.
Depending on your preferences, you can offer various conditional payments to your customers.
You can click on the Add New button to add a new condition.
When it comes to digital products, customers usually expect to try a demo or test the feature before making a final purchase.
Offering a product sample increases conversion rate, customer satisfaction, reduced returns, word-of-mouth marketing, upselling, and cross-selling opportunities.
Given the advantage, you would also consider using this plugin for your online store.
Product Sample for WooCommerce allows customers to experience your products first-hand before purchasing them. It functions by streamlining the process of receiving the samples real quick.
The plugin functions by offering free samples for a fixed-percent rate.
Using the plugin, you can implement a successful and impactful marketing strategy like an email subscription, social media following, etc.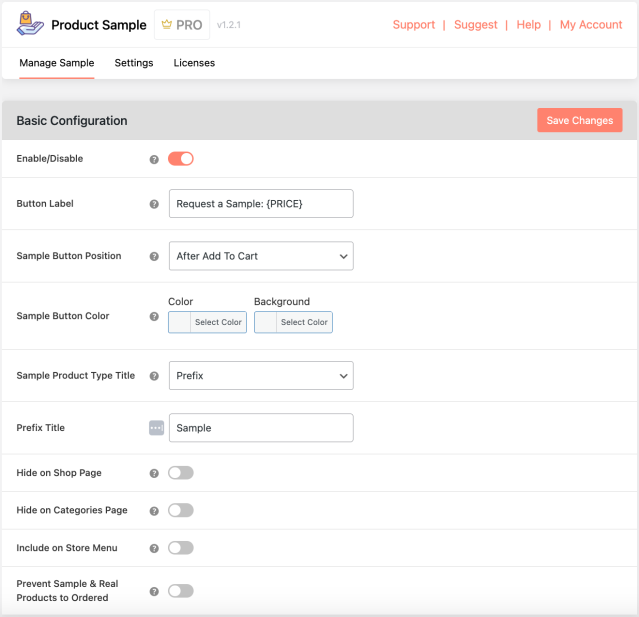 It is quite simple to use and can be set up with a basic configuration where you have to select the title, color, and position of the sample product, along with additional options on whether to showcase them on the shop page, categories page, and store menu.
Further, you can select the price adjustment you want to offer for the sample product and the quantity.
Within a few minutes, you can offer your customers a sample of your products.
The performance of your website is the most important metric to measure success.
How's your WooCommerce website functioning? What's the number of organic traffic you're getting on your website? Which is the most visited page? What keywords are ranking?
All these factors can easily be measured using an Enhanced WooCommerce Google Analytics plugin.
It offers advanced tracking capabilities to provide detailed insight into your customer behavior, conversion rate, eCommerce metrics, and revenue.
Using this plugin, you can understand your customer even better!
They provide valuable information on what works best for your website and what areas you can improve!
You can also track successful purchases, abandoned carts, and product reviews.
Enhanced E-commerce Google Analytics makes it simple for you to track your conversion. The plugin integrates with multiple analytics tools.
Summing Up
Getting started with something of your own, that too online store, can be overwhelming.
From selecting a niche to finding products, creating websites, and shipping the products, there are various aspects to look out for!
Luckily, with these WooCommerce plugins, you can easily power your online store.
As mentioned earlier, all these five plugins focus on eCommerce's three most important aspects: user experience, safety and security, customer, and marketing.
You can quickly install the plugin on your WordPress website and use them preferably.
Each of these plugins offers powerful features that make your website user-friendly and help your potential customer purchase the product!
We hope this suggestion of plugins will be helpful for you to power your WooCommerce website!
Do you own an online store? What are the plugins you use? Got a few recommendations? Do let us know!