E-commerce businesses are very similar to shops and stores. The place of these businesses is online, but most of the offline marketing tactics work here too. One such tactic is giving rewards and discounts. So for bulk shoppers, most of the online stores come up with fascinating deals to impress their buyers.
Now, this discount could be on products, on shipping, or on both.
In such a competitive world, no one wants to stay behind and hence, you must be thinking to add a method to charge WooCommerce Shipping based on cart total too.

If yes, you may use this plugin.

In this tutorial, we have explained why this shipping method is important for all the WordPress e-commerce and how to deploy it with your website/portal. So first install the plugin from the above link and then follow the procedure, explained in this post.

How is Cart-based Shipping Discount Good for E-commerce Business Owners?

Instead of justifying the importance of cart-based shipping method for your cart through words, we are going to give you two examples of when you may need it. See and decide on your own:

Example 1: For Bulk Shopping

When a person is shopping products of worth $1000 from your online store, you may want to give him some discount in order to encourage him/her. For that, you will need to introduce a cart-based shipping method.
Another positive side is – The people who have spent $950 or $970 might end up ordering more, just to avail the benefits.
Additionally, you can allow free shipping for local shoppers when they purchase a lot.

So, in short, it will increase your sales as well as customer retention capacity.
Example 2: On Special Days
Whenever a festival is near, people look for buying more. To attract the crowd, online stores start sales. You might need to do the same too. Now as you are expecting that people will be buying more, why not reward them for fulfilling your expectations?

With the help of cart-based shipping method, it is easy.
Flat Rate Shipping Plugin For WooCommerce
Full-featured and Highly Flexible Shipping plugin for creating different shipping methods with different shipping rules and maximize earnings from the shipping methods on offer
7000+ Active Installations
8200+ Active Premium Customer
How to charge cart total based shipping charges?

Have you downloaded the above-mentioned plugin already?

If not, download the free version or pro version of Advanced Flat Rate Shipping Method Plugin and install it on your WordPress website.

First things first – With the help of this plugin, you will be able to apply different shipping charges on cart total – before as well as after discounts.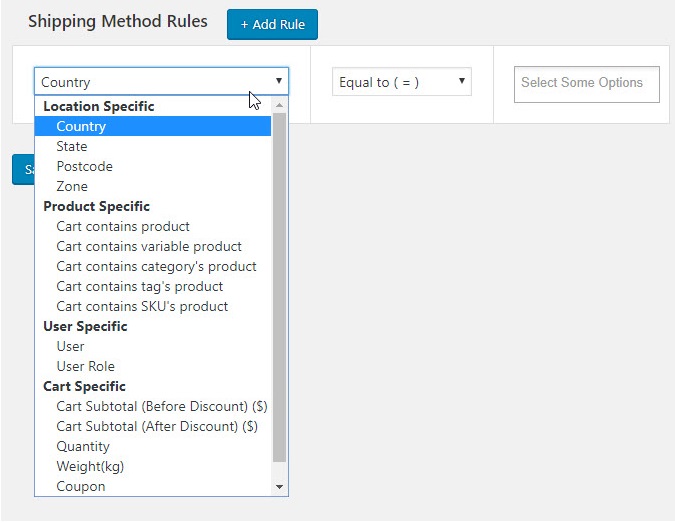 For fixing the shipping charges on final cart total, you should choose 'Cart Subtotal (After Discount) ($)'.

Now, here are some examples of how to apply cart total based WooCommerce Shipping charges:
1. On Bulk Purchase above a certain Amount

Suppose that one of your customers is making a big purchase, buying products worth $2000 or more. Won't you like to give them some discount on shipping? Maybe you would want to charge $15 for shipping, instead of the regular amount i.e. $25.

Of course, you will.

With Advanced Shipping Rate Plugin for WooCommerce, it is easy.
Just open plugin's dashboard, create a shipping method and add this rule:

And for this method, set the flat rate shipping charge to $15.


By saving the details, the desired condition will get deployed to your e-commerce store.
2. On Bulk Purchase above a certain weight

Sometimes, stores want to apply shipping charges as per cart weight. For example, you may waive off 50% shipping charge when products' weight crosses 50 kg. So, if you are charging $100 currently, you will charge $50 only.

For this, create a shipping method using the plugin, like –


Now, set the value of field 'Shipping Charge' to $50 for this method and save the details.
3. On Bulk Purchase above a certain item count

A guy just purchased 1 cap from your store and another ordered 50 caps. The delivery address is the same for those 50 caps, so you won't be investing much money in the delivery of these caps. To woo your customer on this bulk purchase, you have a chance to give him some shipping discount.

Here's how to do so –

Let's say, you decided to charge $15 for 50 caps. In this case, you will have to create a shipping method with 2 rules (One for Quantity and another for the product's name) as shown in this figure:


Afterward, just declare the shipping charge for this shipping method and save the final details.
4. Allowing Free Shipping after a Certain Cart Total

We all want to provide free shipping facilities for the local customers, when they make bulk purchases from our store.

Do you know that it's very simple to do?

For Example – Suppose you are an online store, operating from New South Whales. Now, you want to give free shipping services to the customers who are from the same city and have made a purchase worth $1000. For this, you will need to create two shipping rules. One for the location and another for the cart subtotal. Here's an example:


Now for this shipping method, just set the shipping charge to $0 and it's done.

We have shown you how to do it for cart total amount and for a location, but you can create rules and methods as per the actual needs of your store.
5. Applying Different Shipping Charges for Different Cart Totals

Many e-commerce stores set different shipping discounts or charges for the different types of purchases. It could be based on total shopping cost, the number of products, the weight of products or a combination of these parameters.

With the help of Advanced Flat Rate Shipping Plugin, doing this is not tough at all. You can create multiple shipping methods for setting different levels of shipping charges or multiple shipping rules to define one method (as we did above.)

So, install the plugin and use it as per your exact needs, following the examples we've discussed above. You may also ask us for help whenever you are stuck.