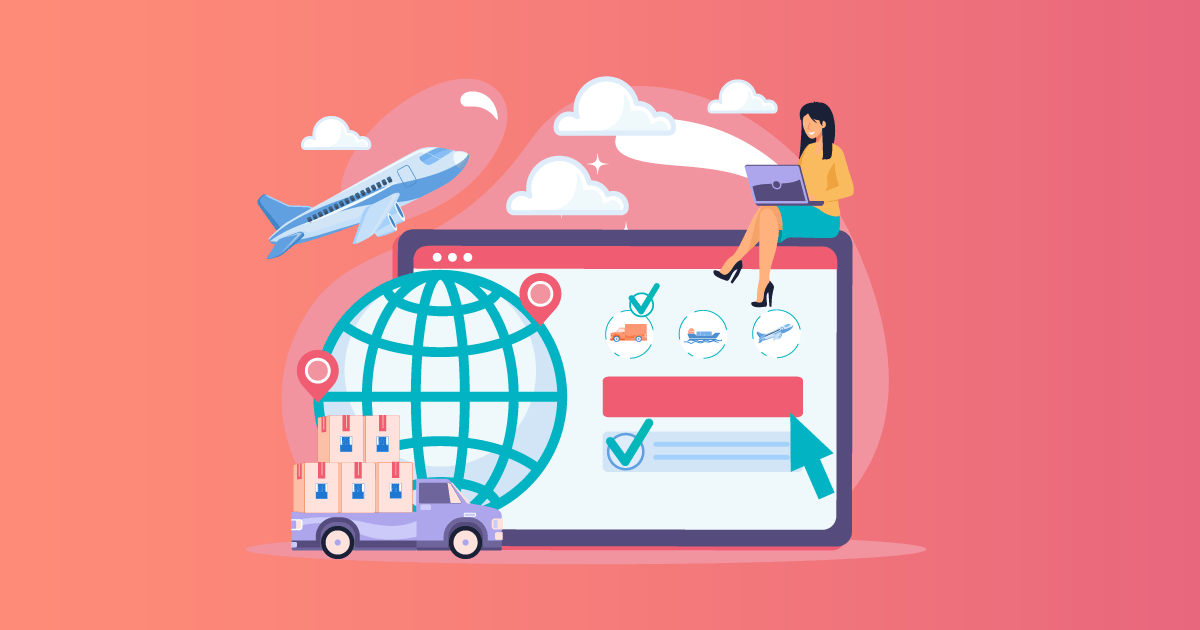 WooCommerce Flat Rate Shipping: How To Setup with Plugins
Do you use WooCommerce Flat Fate Shipping Costs to sell products online? Have you considered displaying shipping costs in your shopping cart?
Showcasing all involved costs as part of the purchase process is a great way to simplify your shipping and make the whole experience easier and more enjoyable for customers. Many merchants also want to show their customers a flat rate but change it according to the product (for example, have one rate for bulkier products or show a different fee depending on location, user roles, or categories).
In this post, we will explore how you can show flat-rate shipping costs in the WooCommerce cart and why this is such a great idea.
Why Should You Showcase Shipping Rates in Your Shopping Cart?
When you show a detail of all shipping rates as part of your WooCommerce cart, you give your customers better clarity about their purchase. This, in turn, can significantly reduce cart abandonment as customers won't suddenly leave when they see unexpected shipping costs added at the checkout page. This feature also enables a smoother checkout process altogether (we will see this in more detail when we get to the specifics of how to display WooCommerce shipping costs on your cart page).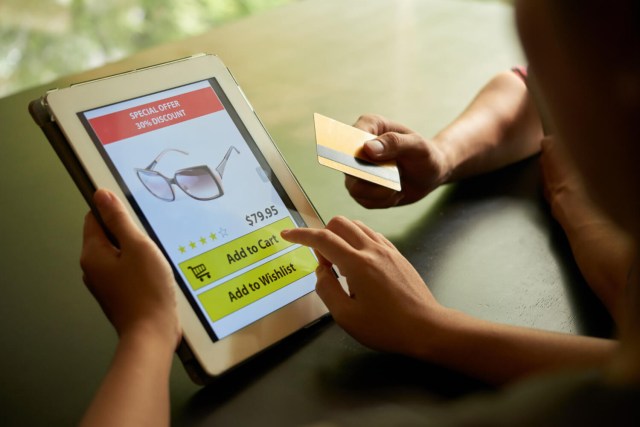 Another significant advantage is that you can display many types of shipping rates, such as free shipping, flat rate, or percentage-based. This means you can use the more advanced functionality to support promotional campaigns and customize shipping according to your logistical factors.
But, before we move on to the actual steps to showcase these, let's quickly go through the most common eCommerce shipping rates you will expect to use in your WooCommerce store.
Flat rate shipping: With flat rate shipping, or linear rate, every parcel you send gets given a fixed value. It doesn't matter what size, weight, or dimensions the product has – it's the same price for all of them. However, here's the caveat: You can offer different flat-rate shipping fees across your website! This is useful for eCommerce store owners who manage product page shipping across multiple different shipping zones (as we will see later), offer different shipping class, or use a variety of different shipping carriers (for example, FedEx, USPS, and DHL).
Shipping based on cart quantity: When a business ships products by bundling them (as many do), you can set your shipping charges to respond to different quantity scenarios (i.e., assign shipping charges based on the number of items). For example, you might want to charge $2 to ship one T-Shirt but free shipping if the customer buys more than five. Or gift a product if the person buys two more of the same.
Shipping based on location: The customer location can have a big impact on the shipping cost – local shipping is in most cases a lot cheaper than sending packages to another country or continent.
Shipping based on user role: If your WordPress site supports different kinds of users, you can also create rules to display different shipping rates depending on their assigned user role.
Free shipping: Many companies offer free shipping for their products. Although there isn't much to calculate here, it's still a value you will definitely want to display in the cart total!
Payment gateway shipping: You can show different shipping costs when a customer selects a specific payment method or gateway. For example, you can show a value for products purchased via bank transfer and another for those bought through PayPal.
If you'd like to learn more about the different shipping rates and how to calculate their cost in WooCommerce, take a look at our detailed shipping costs guide.
How Do You Showcase Shipping Rates in the Shopping Cart?
The most common type of shipping rate that you will apply to orders on your online store is likely to be flat-rate shipping. As we touched on above, this is the most flexible type of shipping and different flat rate costs can be applied across your store depending on variables like shipping carrier, zone, or class.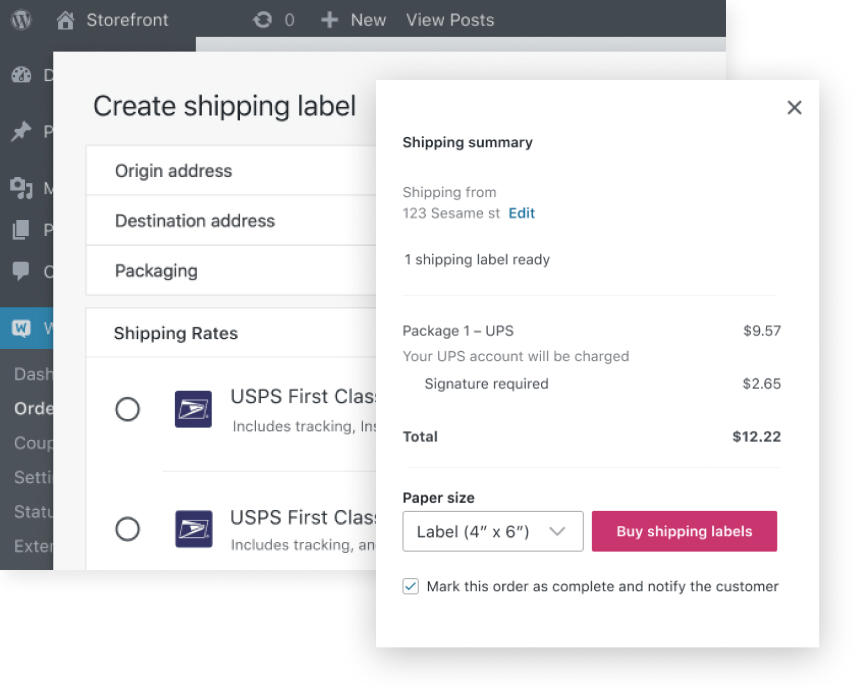 Many businesses choose to work only with flat-rate shipping. The reasons are varied. First of all, flat rates simplify the checkout process for customers and make it faster and easier as a whole. This encourages users to buy from your store again, not to mention it can help you charge a fair price for your products (especially if they are heavy or bulky because a flat rate charge can compensate for the shipping costs you incur and increase your profit margins).
Additionally, using a flat rate method can help you offer free shipping on some products while charging extra for others, which gives you more flexibility when setting up your shipping policies.
WooCommerce allows you to set a flat rate for your products' shipping by default. You can also calculate more advanced costs based on the number of products and additional fees. However, if you want to truly customize your shipping settings and the way they are shown, you're better off using a specialized plugin. So, let's take a look at the best way to show shipping costs directly in your WooCommerce cart.
Using a Plugin to Customize Your Shipping Settings
The easiest way to customize all of your shipping settings, no matter their type, is to use a specialized plugin. While there are many available that are fit for this purpose, we recommend using DotStore's Flat Rate Shipping Plugin for WooCommerce.
This plugin has all the features you need to customize the shipping settings for your online business, including the ability to create multiple conditional rules for your shipping using simple and easy configuration options. For example, you can set up conditional rules, apply coupons, charge extra fees in the cart, and much more.
So, let's go through the steps needed to use DotStore's Flat Rate Shipping Plugin so you can set up shipping rates in your WooCommerce cart.
Activate the Plugin from WP Admin > Plugins
The first thing you will need to do to add shipping costs to your WooCommerce cart is to install and activate the DotStore Flat Rate Shipping Plugin. To do this:
Download and install the plugin from the DotStore website or WordPress plugin repository. Don't forget to activate it by clicking on "Activate" on your Plugins page.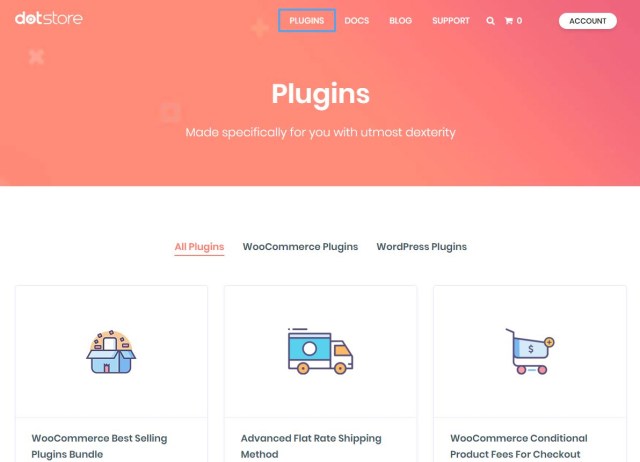 Explore the Different Possible Customizations from Settings
DotStore's Flat Rate Shipping Plugin for WooCommerce includes an incredible range of features you can use to fully customize the available shipping methods in your WooCommerce store. Using the plugin, you can:
Enable and disable multiple different shipping methods, and set default shipping options with ease.
Add shipping methods easily, apply them to specific products, or define them for specific categories or customer states, postcodes, countries, and more.
Set shipping methods for user roles, product SKUs, coupons, order amounts, and quantities.
Configure exactly how you want to display your shipping rates with a wide range of customization options.
Import and export shipping methods and zones.
How to Display Flat Rate Shipping Costs in the Cart
To display shipping cost in the cart is easy using the Flat Rate Shipping Plugin for WooCommerce. If you want to charge a fixed amount of money for your products while applying different conditions, this is what you need to do:
First, you will need to add a new shipping method. To do this, go to the DotStore menu in your WP sidebar, click on "Advanced Flat Rate Shipping For WooCommerce" and then on the "Add New Shipping Method" button. This will open a shipping fee configuration form where you can choose the charge, whether you want to allow free shipping, and weight and quantity rules, among others.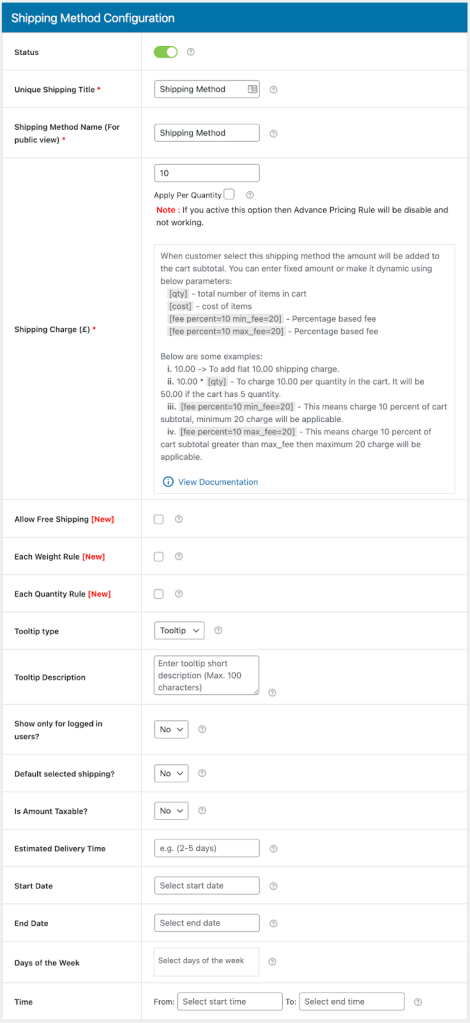 Within this form, you will be able to specify flat rates based on certain conditions. You can also create multiple shipping rules to create flat rates for specific products, users, carts, shipping zones, and many more.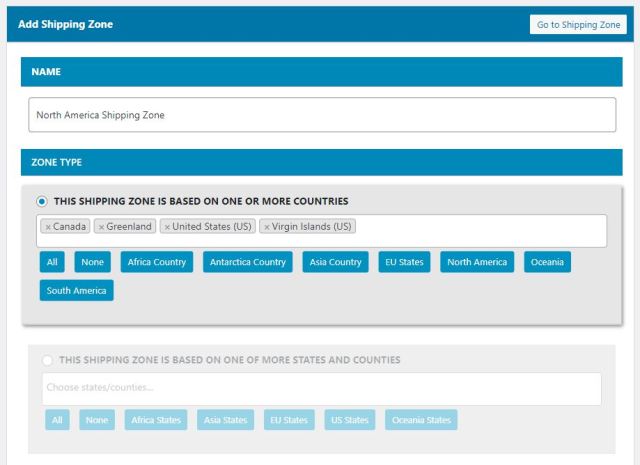 For example, if you create a shipping zone for the United States, a visitor would see a flat rate shipping fee for any US state: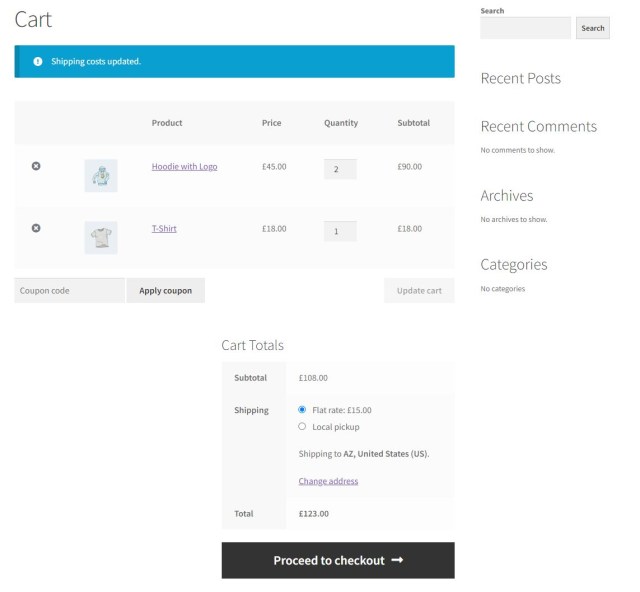 It really is that easy! Once you've set up your flat rate shipping methods, these will appear on the front end of your WooCommerce store immediately.
Improve Your Customer Experience with More Transparent WooCommerce Shipping Costs
Displaying all shipping costs in the cart is a great idea, no matter the size of your business or website. Including these costs early on in the checkout process keeps the order totally transparent and prevents customers from abandoning their carts owing to a nasty surprise when they get to the checkout!
Flat rate shipping is one of the most popular types of shipping rates because it offers WooCommerce store owners the opportunity to keep costs lower. Many merchants want to vary their flat rate shipping costs depending on what their customers buy – for instance because some items are heavier or need special packaging or handling. By using a specialized plugin, you can create multiple flat-rate shipping methods based on conditions such as country, cart subtotal, quantity, product tag or category, user role, and more.
Here are some of the things customers say about DotStore's Flat Rate Shipping Plugin for WooCommerce:
"Great plugin and support! The plugin is very useful and the support is fast and helpful."
"Best flat rate shipping plugin! Thanks for that very easy to use and intuitive plugin. Excellent support!"
"Unbelievably excellent customer support. Thank you so much for your continuous help."
"Perfect Dynamic shipping options for WooCommerce."
Here is a quick reminder of just some of the features that make it one of the best WooCommerce plugins for setting up shipping rates for your online store:
Create shipping methods based on a wide range of criteria – apply them to specific products (including by SKU), categories, or customer locations.
Set conditional shipping rules by user role, order value, quantity, and much more.
Customize your shipping rate display with a wide range of options.
Import and export shipping methods and zones.
Download DotStore's Flat Rate Shipping Plugin for WooCommerce and start showcasing your shipping rates today.
FAQs
How do I show shipping cost in WooCommerce checkout?
In WooCommerce settings, you can enable the option to display shipping costs at checkout. However, to provide advanced customization, particularly with flat rate shipping, you can use plugins like DotStore's Flat Rate Shipping Plugin for WooCommerce. This plugin allows you to set up and showcase various flat-rate shipping methods based on specific conditions.
Does WooCommerce have a shipping calculator?
By default, the WooCommerce Cart page includes a simple shipping cost calculator. However, you can upgrade its functionality with various plugins. For advanced shipping calculations and conditional rules, you can use DotStore's Flat Rate Shipping plugin.
How do I get shipping from order in WooCommerce?
You can get the shipping details from an order in WooCommerce from the Orders menu in the WooCommerce dashboard. Here, you'll find shipping information for each order under the Shipping Address tab.
What is a flat rate shipping fee?
Flat rate shipping is a system where a single fixed fee is charged for shipping, irrespective of the package dimension or weight. This rate can be manipulated based on various factors like shipping zones, user roles, or categories.
Is it cheaper to use a flat rate box or your own box?
The cost-effectiveness of using a flat rate box versus your own box depends on the dimensions and weight of the package, and the specific shipping carrier's charges. It may be cheaper to use a flat rate box for heavier items whereas lighter items might ship for less in your own packaging.
Is USPS flat rate shipping cheaper?
USPS flat-rate shipping can be a cost-effective option for parcels that are small but heavy because the price remains the same regardless of the package weight. However, for larger but lighter packages, other shipping classes may be more economical.
How do I add shipping costs to WooCommerce products?
WooCommerce get shipping cost at a global or product level from the Shipping Settings tab. For a more granular control and to apply conditional rules (like different rates for different user roles or categories), plugins such as DotStore's Flat Rate Shipping Plugin can be used.