Have you ever thought about attach a downloadable PDF to your WooCommerce products? It may surprise you to learn that this simple add-on can increase conversions and give customers even better insights into your products.
Sometimes the products we sell are complex to install, use, or care for. If customers don't have the right product data, they won't understand exactly the requirements for ownership, use, or maintenance, and it can hamper their experience.
Let's say a customer buys a brand-new cast iron pan for the first time. They've never heard about seasoning or caring for the pan, which means the pan burns badly. To make matters worse, they put it straight into the dishwasher. The pan rusts and loses its appearance the next day. Irate, the customer insists on a refund or leaves a bad review, blaming the quality of your product for their bad experience. Adding care instructions to your products can help to avoid these sticky situations.
WooCommerce is one of the most popular eCommerce platforms used by businesses of all sizes across the globe. As great of a tool as it is, WooCommerce doesn't come with any default or simple functionality to attach downloadable files to products. This means that if you want to add a downloadable PDF file to your WooCommerce store products, you'll need to use a plugin.
Why should you attach a downloadable PDF file to your WooCommerce products?
Attaching a downloadable PDF file to your product pages has numerous benefits and several applications. Let's look at just a few of the ways you can embed a PDF on WooCommerce product pages for the benefit of your customers:
1. A downloadable PDF used as a product instruction/usage manual
If you sell complex goods that may require assembly or some sort of setup, you can add a downloadable PDF to help customers understand product features before making purchases. For example, if you sell furniture, customers may need to know what the dimensions are before buying the product and how to care for the furniture once it's been bought.
If you sell photographic equipment, customers need to know whether or not the attachments they are interested in will be compatible with their camera and how to attach them to their devices. By adding all of the information customers may need to know upfront, you'll reduce the number of support requests you'll receive from customers in the future. You'll also potentially reduce your own printing and design costs as customers can download the PDF file instead of receiving physical copies in the mail with their orders. (This also gives customers who prefer reading documents on their computer a favorable option.)
2. A freebie for marketing purposes
PDF documents can become valuable marketing incentives as well. Let's say that you are a personal trainer and nutritional coach. You could add a free weight loss diet plan as a downloadable PDF on your website. The freebie can draw visitors to your site and act as a gateway to showcasing your expertise at the same time. You can also use PDFs to promote other products (e.g., releasing the first chapter of a downloadable ebook), generate more website traffic through in-linking, and get more leads.
3. Other use cases:
Uploading PDF documents to WooCommerce products has other applications, such as:
Adding legal documents such as your terms and conditions or privacy policies or contracts such as payment terms and conditions;
Sharing marketing materials such as brochures or catalogs;
Attaching receipts to help customers keep track of their purchases more easily;
Providing documents in different languages (which is perfect for international businesses).
WooCommerce Product Attachment
Increase conversion rates with detailed information using multiple attachments.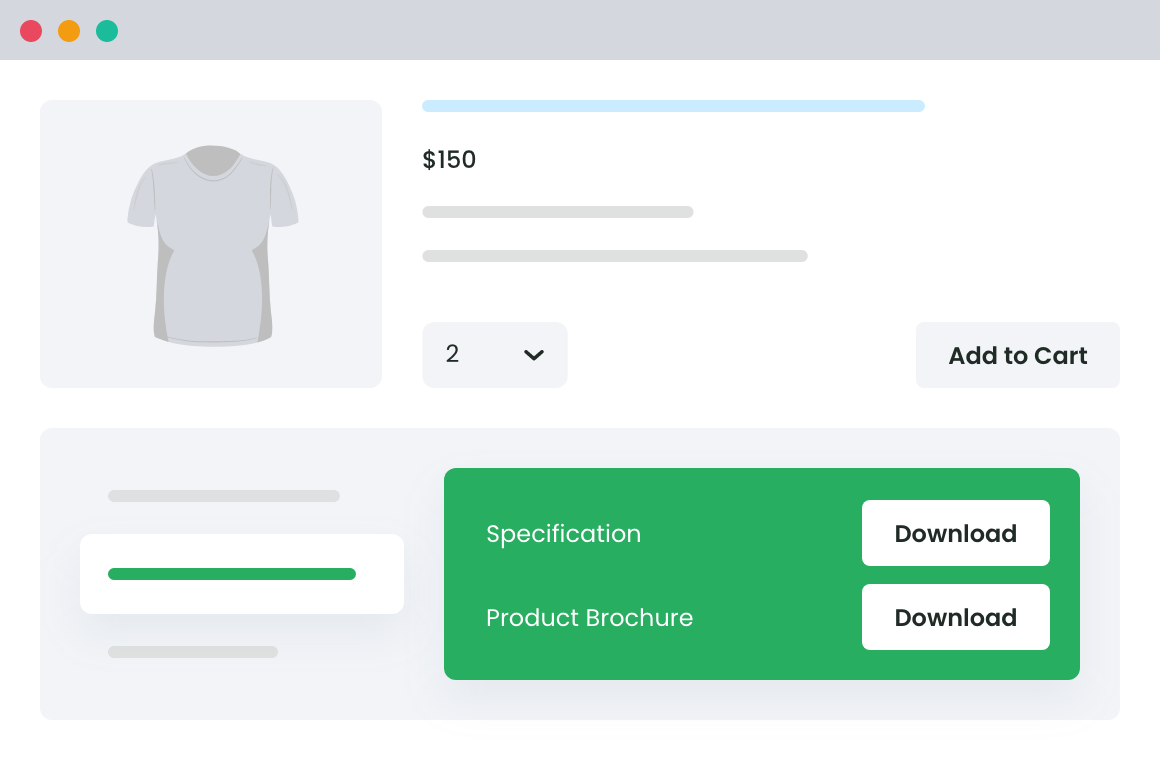 How can you attach a downloadable PDF file to your WooCommerce products?
While WooCommerce is one of the most popular eCommerce platforms in the world, it doesn't come with the default functionality to embed a downloadable PDF file. The easiest and fastest way to do so without coding is to use a plugin from a third-party provider.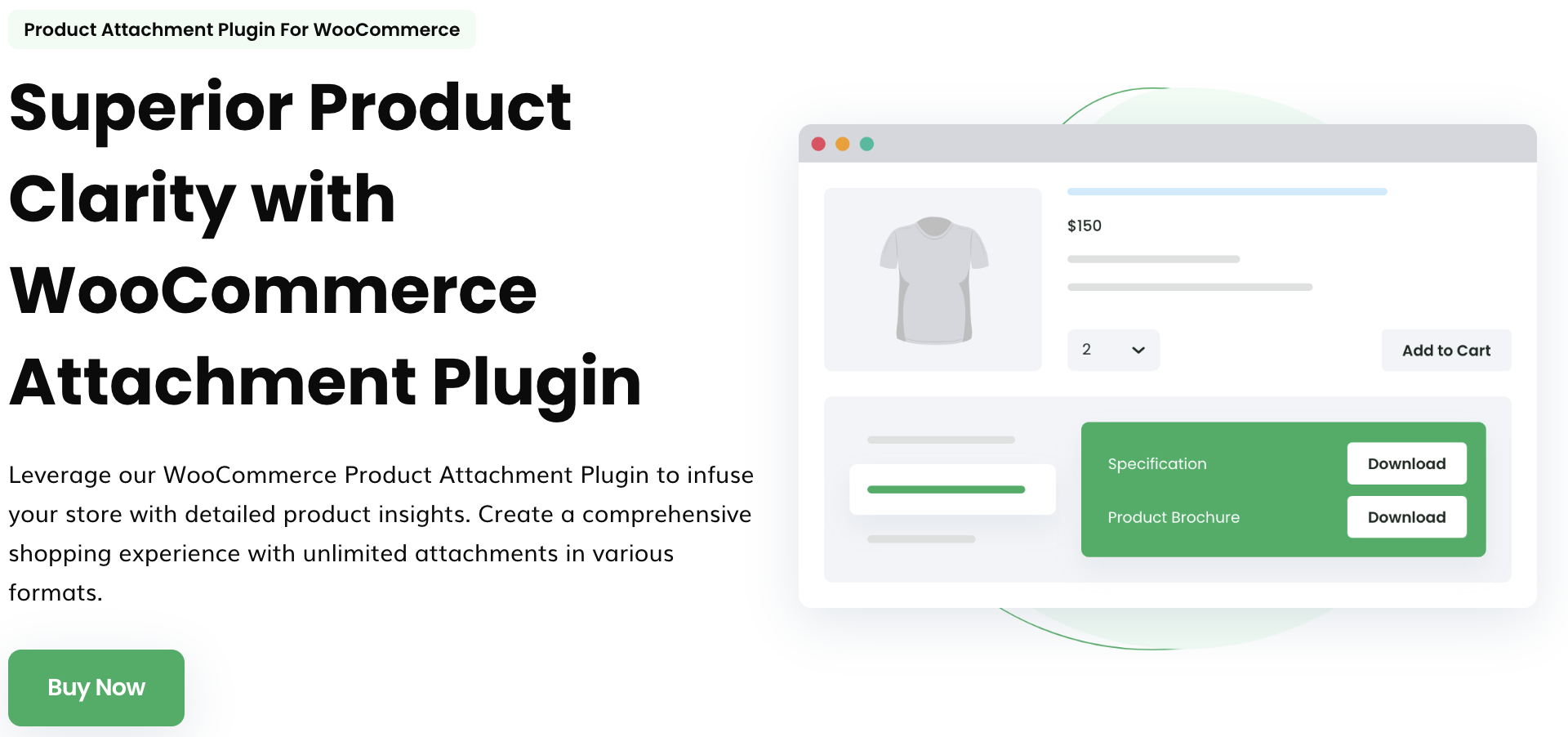 While there are several plugins to choose from, we highly recommend DotStore's Product Attachment for WooCommerce.
There are a few reasons why this plugin is the best on the market. You can use Product Attachment for WooCommerce to enhance your customer experience by adding downloadable files to your product pages, including technical descriptions, certificates, licenses, user guides, and manuals. You can add as many attachments as you'd like in a range of different formats, including jpg, PDF, and docs files. These digital downloads can greatly enhance your product pages because they can provide product information in a more detailed and informative way.
You can use this plugin to create targeted product-specific attachments like a product manual pdf file, pdf download button, or video tutorial. You can even create attachments based on the status of your order, use a URL as an attachment, and upload your attachments in bulk. There's a set of appealing icons to make your attachments stand out and encourage downloads.
Here's how it works!
1. Start by downloading and installing the plugin. You can easily install the plugin by going to your WordPress website's admin page, clicking on Plugins > Add New, and searching for the Product Attachment for WooCommerce plugin (by DotStore).
2. Once it's been installed, click on Activate to enable the plugin or go to Plugins > All Plugins.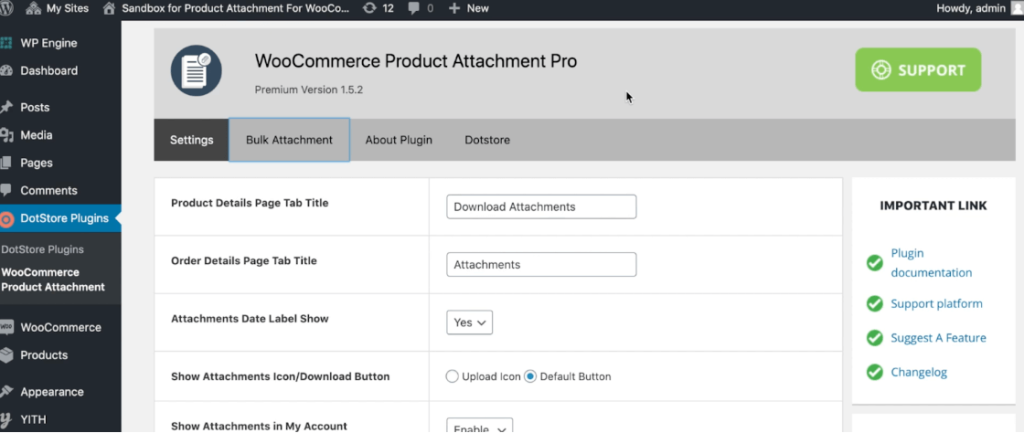 3. You can edit the way your attachments will appear on the front end by going to DotStore Plugins > WooCommerce Product Attachment > Settings. Here, you can give your attachment page a name and decide who will be able to view the attachment, such as customers, subscribers, and authors.

4. To add a document to a product page, click on WooCommerce > Products on the left-hand side, and select your product. Then, hit Edit.

5. Scroll to the bottom of the product page. Click on the Add New Attachment button to add your file.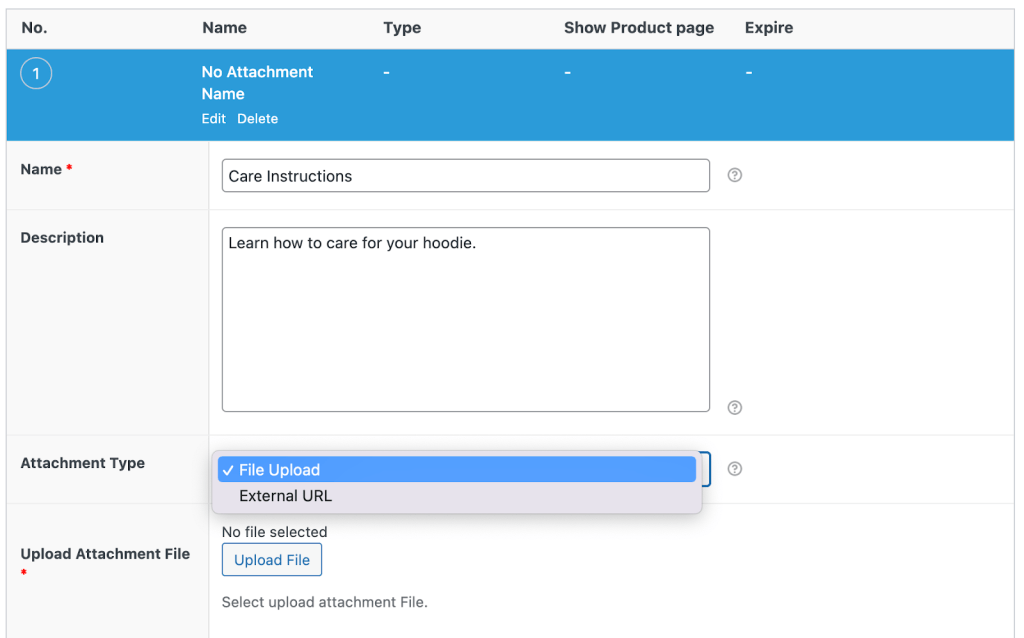 6. Now, you can start adding information about your attachment, including giving it a file name and description. You can choose to attach the file as a file upload or external file URL by selecting the Attachment Type from the Dropdown menu.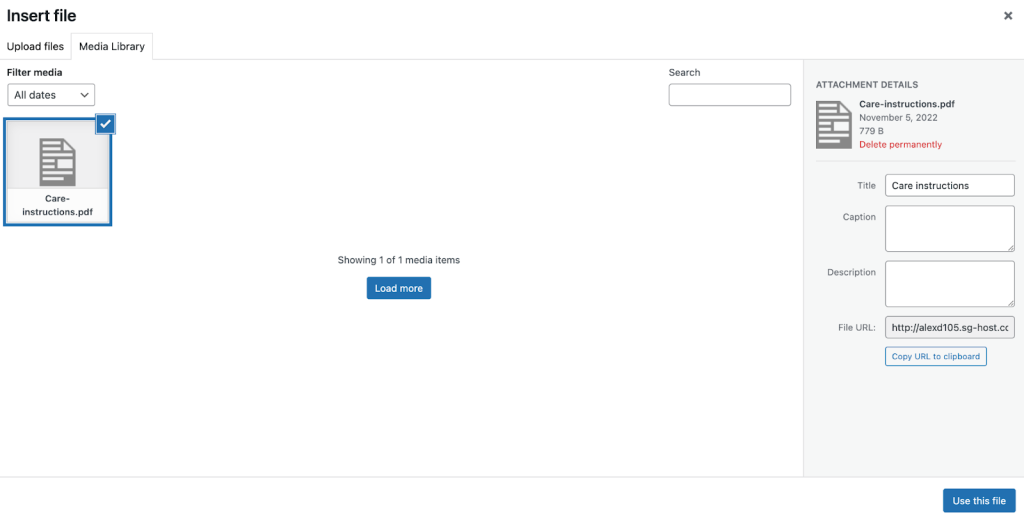 7. Select your file from your WordPress media library or your desktop and upload it. Select Use This File if you are ready to proceed.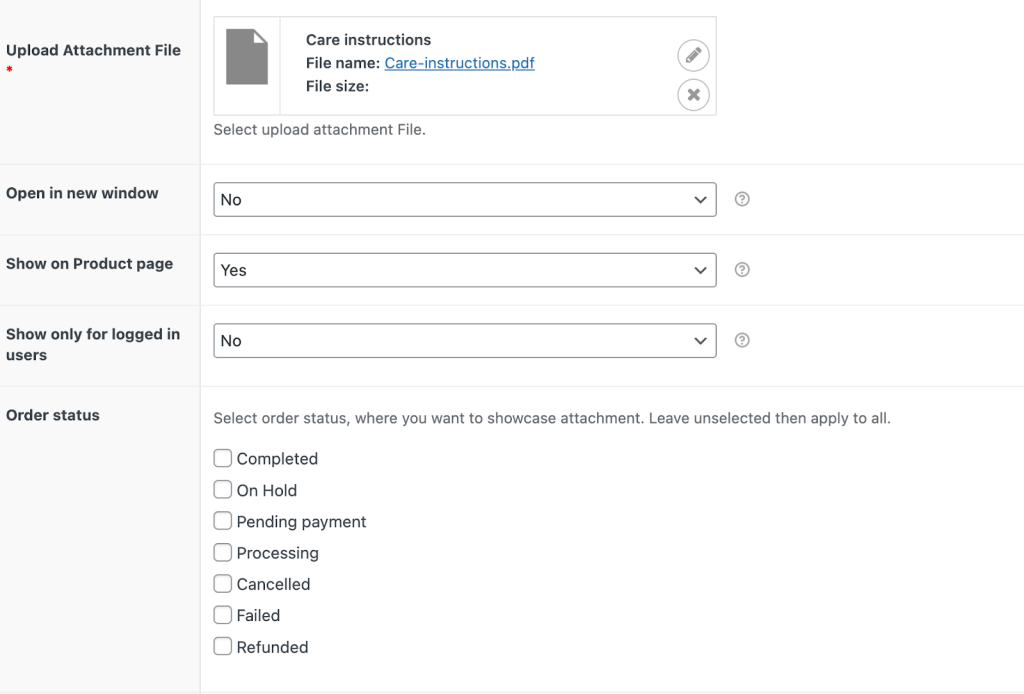 8. This is what your file will look like in the backend. You can make further edits from here onwards. Make sure to select Yes under Show on Product Page to show your file on the product page. You can also display your file based on the order status, e.g., On Hold, Checkout, Completed, Failed, or Refunded. Simply leave the areas unselected where you do not want to show the attachment, and click Apply to All.
9. If you want to showcase different attachments during different stages of the order process, simply click New Attachment and follow the steps above, selecting the steps in the order process that should display the attachment.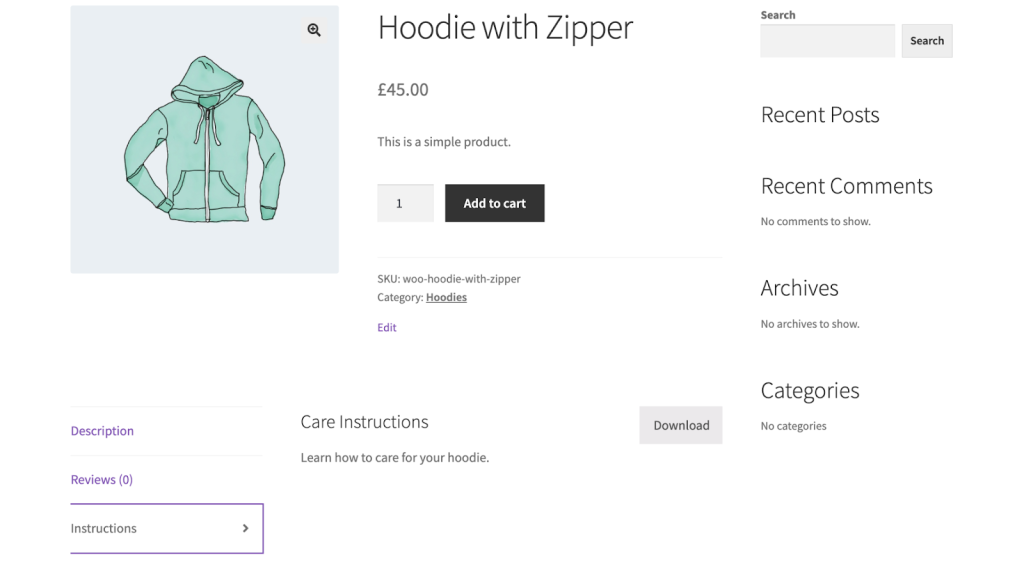 10. Preview changes to see what your document will look like in the store.
That's it! Using Product Attachment for WooCommerce, you can add downloadable product attachments to your WooCommerce products in a matter of minutes.
Improve the Customer Experience with Downloadable Product Attachments
Downloadable files are a vital part of every eCommerce store, from user manuals to product specifications to video tutorials. You can also use these files as marketing tools by offering a free download in exchange for contact details.
If you want to start adding documents to your eCommerce product pages, DotStore's Product Attachment for WooCommerce plugin is the best tool on the market. It's easy to use, accepts a number of different file formats, and even comes with handy features like bulk uploads. You can share your attachments as files or URLs.
Download DotStore's Product Attachment for WooCommerce plugin and start delivering a better experience to your customers today.
WooCommerce Product Attachment
Increase conversion rates with detailed information using multiple attachments.