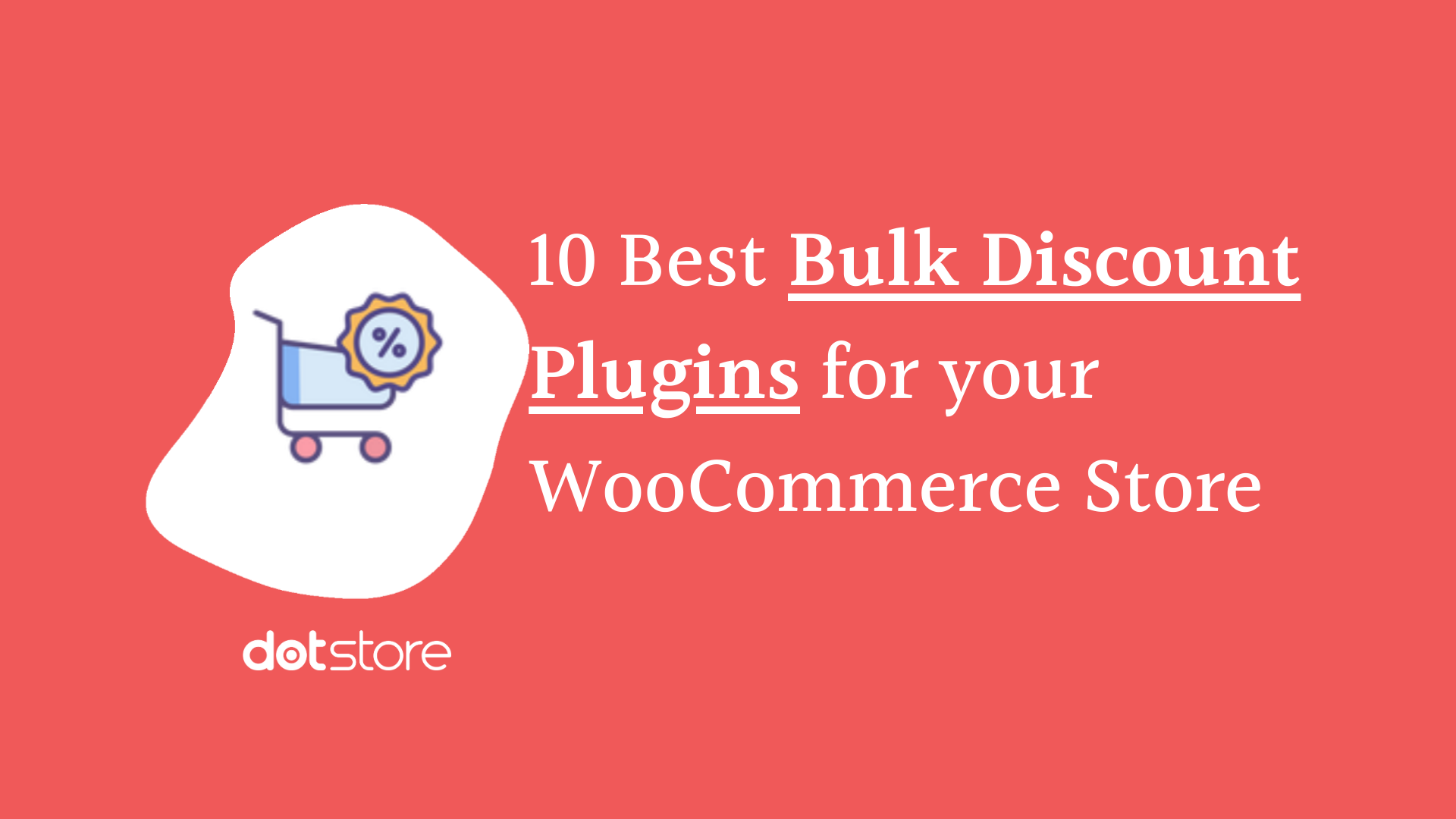 10 Best Bulk Discount Plugins for your WooCommerce Store
Sellers have truly witnessed the graph raising heights with the bulk discount method of selling. The key idea for using these in an online store is to encourage the seller to participate in deals and discounts when they purchase in volume. In many scenarios like the festive sales and other big sales offered by shopping sites, applying bulk discounts is a must. That's where you will need bulk discount plugins for WooCommerce.
The best Bulk discount plugin listing – Top 10 Plugins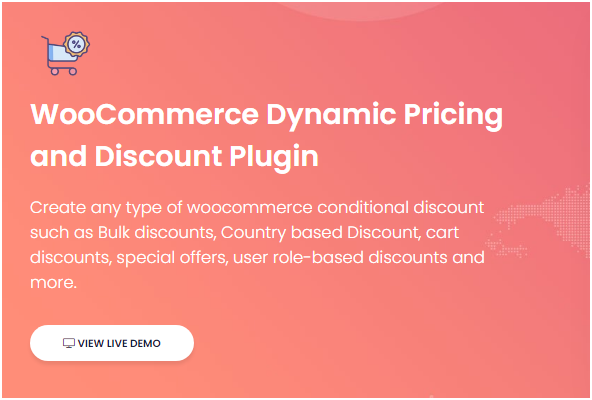 Conditional discount Rules as the name suggests lets you create vibrant discounts and pricing rules for your WooCommerce store. Discounts, such as cart discounts, Bulk discounts, country-based discounts, user role-based discounts, etc. can be easily added to your online store trough it. Not just that, it has some special offers, and many more capabilities.
If you are the one who runs a WooCommerce store then some aimed discounts are perhaps a huge part of your marketing method. Nonetheless, while the core plugin of WooCommerce lets you generate basic coupons, it's not always very nimble when it comes to providing discounts, particularly discounts that are automatically and directly applied to specific users.
Conditional Discount Rules for WooCommerce Checkout first lets you create basic discounts using either a fixed or proportion/ percentage discount. Then you can also use start or end dates to plan the discount you made to run at specific times.
After when all this is done, you can regulate when or where your discount is effective using various conditions and that is what makes the plugin so nimble. Here are the parameters for which you can apply bulk or store-wide discount using this plugin:

Pros
The configuration is simple and quick
Best for Category or other parameter based Discounts
User-friendly UI
Cons
Has a lot of features but when you need to use just one or two features in a small shop
WooCommerce Dynamic Pricing and Discount Plugin
Create any type of woocommerce conditional discounts such as Bulk discounts, Country based discounts, cart discounts, special offers, user role-based discounts, and more.
7000+ Active Installations
8200+ Active Premium Customer

Easy WooCommerce discount is a great plugin if you want to set dynamic prices over your products. It lets you create manageable quantity-based discounts on bulk. It works extra-smoothly and has a very basic setup that even a beginner can easily grab. Besides that, it has some advanced capabilities for professional users such as developers also. This plugin is great in case you want to implement category based or cart-based percentage discounts. It gives you full control over your product's prices so that sales can fetch the best benefit.
Pros
The plugin is Easy to Use and Manage.
You can set up diverse discount types.
It lets you implement boundaries on your discount fluctuation so that it doesn't affect the profitability.
Cons
The free version has nothing much to offer.
This plugin also has a wonderful interface to let the user interact and set dynamic pricing nicely. You have the option to choose either from a fixed pricing or the set percentage-based pricing or flat off. You can also use this plugin for category-based discounts, can set a different price for an entire set of products.
Moreover, you can apply an additional charge on a particular cart value or offer free products for a certain cart value keeping the profit still on your side. Apart from all that, you can set role-based offers or bulk discounts also.
Pros
The plugin's interface is easy to use.
You have the option to display sales badges.
There is also an option to hide the price.
You can offer a free product on a bulk cart value.
Cons
Crashes sometimes (very rarely)

Creating a bulk discount will be a breeze if you have this plugin pinned in your WooCommerce. Absolutely no worries if you are a beginner in WordPress, Thanks to its simple and smooth user interface. Adding a new rule is just a matter of click once you have this plugin installed in your WordPress.
Apart from an initiative UI, this plugin features options for cart-based, product-based, category-based, and even apply discounts separately on specific products. There is also an option to set a discount on a custom date range. Powered with another great configuration to customize the pricing table on the product page, it is a completely nice package, that also restricts discount rules to a certain customer behavior such as canceling orders multiple times.
Pros
Easy configuration of prices
Excellent support
Option to schedule a discount on a specific date
Eyes customer behavior
Cons
Not compatible with many plugins

Formerly known with the name 'WooCommerce All Discounts', the Conditional Discounts for WooCommerce is a convenient plugin to use if you want to set dynamic pricing or want to implement discount rules on your listings. It is a simple yet advanced solution for the WooCommerce store. It is ideal for all types of deals.
Whether you want to have a product discount like 10% off on a certain product or want to have a variable product discount such as 20% off on T-Shirts of blue color and S size, or category/tag discount rules such as subscribers will have a discount of 10% with tag large, this plugin compiles a set of nice options for you.
Apart from all that, you can set a certain additional discount of the cart value or cart item value reaches a certain count. Even you can set discounts for certain specific people like 10% off for xray@yahoo.com. A countless number of other rules like first-time order discount, nth order discount, payment method-based discount, gifts, buy one get one/get two/ or get three free, all can be implemented with the assurance of no losses.
Pros
Easy to Use
Great Support and Service
Option to schedule discount
No bloat in the Paid version
Cons
Bloatware and unremovable ads in the free version.
The free version may slow your website a little down.
This is one of the most popular plugins that let you customize discounts on your products. You can make use of this plugin for many purposes. Let it be setting up dynamic pricing or waving the amount off on wholesale rates. It has been tested with the latest WordPress versions 5.6+ and WooCommerce 4.8+.
The features include many discount types as well as Bogo deal. Here, you get to implement a percentage discount, fixed amount discount, discounts on the Whole store, Variations, brands, groups, members, and even for special customers. There are options for bulk purchase discounts and catalog pricing.
You can also expand its features by upgrading it to the pro version which includes product-level deal participation selection, wholesale tax-free purchasing, and messages adding to catalog discounts.
It's a really deal-breaking WooCommerce plugin if you want to manipulate with dynamic pricing on your product.
Pros
Works smoothly
Tech support is amazingly excellent
Reliable for a long-term purpose
Cons
Very limited in free version

Developed by Flycart technology, Discount rules for WooCommerce helps you create dynamic pricing, percentage discount, bulk product pricing, and minimum cart value discount pricing. Although this plugin offers a hundred varieties of other pricing rules, that can improve your sales. You also get to implement store wise discount, BOGO and other tiered pricing, order total-based discount, items count based discount, date-based discount, and discounts like spent 100$ or more and get 10% off. Such deals are amazing for customers.
Upgrading to the Pro version boosts the performance as well as offers more pro discount rules to add to existing. Features like a dependent product-based discount, buy one get 5 free, bundle and package deals, offering a free product, option to choose discount for each product variant and many other Attribute specific discount rules makes the premium version look really excellent. Moreover, when you have the option to add banners like, "Hurray! You saved $32 today" places like main-page, cart value page, and payment page are catching enough for customers.
That everything whines the comfort of your money bag with the assurance of no losses. This plugin works trickly and offers the cheapest things from the store free of cost as well as offers a BOGO deal for max retail on major cases.
Pros
Customer support is praiseworthy
Premium version is worth purchase
Super compatible, fast and accurate
Cons
Free version offers very less

It is an amazing discount plugin for all types the WooCommerce stores. It is a comprehensive plugin. It is very simple to install, easy to comprehend, and use in the backend of the online shopping websites. This plugin also comes with pricing and a discount tool kit that enables you to execute different ways of discount-based rates on any kind of product or category.
The installation process includes the following steps – first, you need to create the rules or laws before applying settings various discount rules. You may set these for products, categories for store-wise. Later on, as per your need, you may choose to enable or disable the plugin.
Dynamic Pricing & Discounts of WooCommerce, with a vast range of amusing features, help to add various discounts to fetch attention of buyers to your online store, and thereby, for increasing the sales.
Pros
Easy to use UI
Saves a lot of time while setting rules
Don't mess up with the load time of the website
Cons
Pro version on a heavier side

Bulk Discounts for WooCommerce plugin is one of the most effective ways of marketing because it helps encourage customers to purchase the items in large quantities from your store. People will always shop more with large discounts and special offers in the product be it your WooCommerce store or any retail outlet.
With this plugin, you have to set discount rules such as wholesale and large percentage discounts on WooCommerce cart items based on their amount.
Moreover, recently, new features are added to these discount plugins like discounts can be put against both the category and the product itself but the plugin will first give priority to product-wise and then to category-wise discounts.
The plugin allows you to put the discount in percentage and flat to Products and Category wise, allows setting data range for their discount laws. It also allows store owners add or remove this discount if the default coupon code is applied.
Some new features are added to this kind of discount process like discounts can be put against both the category and the product itself but the plugin will first give priority to product-wise discounts and then look out for category-wise discounts.
Pros
Works great with WordPress 5.4
Simple and Effective
Bug fixed after the recent updates
Basic functions are excellently integrated
Cons
Still some bugs that need to be fixed
No support for an older version of WordPress
This plugin allows you to improve the interest for your online shop. With the help of this plugin, users or customers can purchase products at very favorable prices.
Simply and very naturally, you can configure discount rules and laws for your customers and create useful offers that will increase the sales of your products keeping the profit factor by improving conversions through dynamic pricing rules and discounts and build influential and targeted offers.
One can put a store-wide discount very easily, create product/category quantity-based discounts, cart total based discounts as well as order value based discounts. With it, you may create discounts and promotions that will start and end automatically so that you could run campaigns on festivals.
YITH plugin also lets you give your products as a gift or free shipping facility when customers spend a minimum amount.
Pros
Plugins support is great
All discount type in one plugin
BOGO discount is easily configurable
Cons
Not much in the free version
Conclusion
We know that you've got your website build on WordPress and you are looking for the plugin that could help you set dynamic pricing over your products when customer grabs in bulk. These were our top 10 listings of the best Bulk discount plugin for your WooCommerce store. You may download the Conditional Discount Rules for WooCommerce Checkout plugin, the best among these, using the given link.