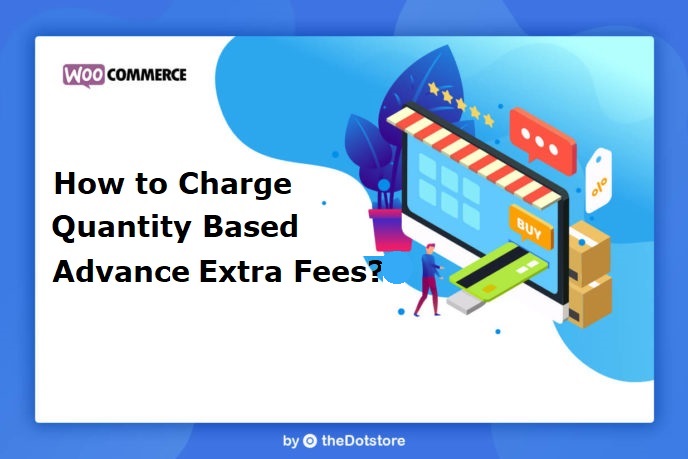 How to Charge Quantity Based Advance Extra Fees?
There are numerous e-commerce sellers who want to charge advance extra fees and change it as the number of purchased items changes. This commonly happens, because the purchased quantity changes many things, for example – expectations of buyers from business owners, the contribution of cost in the overall revenue, profit, expenditure by seller, and so on.
Are you selling products through a WooCommerce shop and willing to charge quantity-based extra fees?
WooCommerce Conditional Product Fees For Checkout could be the best aid then.
This plugin has advanced and basic features for the WooCommerce sellers when it comes to quantity-based extra fees. Doubtful about why we are praising this plugin?
Well, let's give you a short introduction to it before describing how to charge quantity based advanced extra fees.
Note: Refer to this documentation first, if you aren't sure about how to use this plugin.
What type quantity-based Extra Fee can you charge using WooCommerce Conditional Product Fees for Checkout Plugin?
This plugin is a comprehensive solution for applying quantity-based extra fees in your WooCommerce store. It lets you charge fixed as well as variable (percentage) extra fee. So, you may charge a flat rate extra fee, as well as, dynamic fee based on the cart/product amount.
Let us give you a few examples of how it works for the item quantity. Look at these examples –
Example 1
Charge Extra Fee when Certain Item Count Related Condition is fulfilled
Let's say that you, as a WooCommerce seller, want to apply en extra charge of €10 for those, who've purchased 10 or fewer items (of the same or different type) through your cart.
Using the WooCommerce Conditional Product Fees For Checkout, it is an easy-to-do task.
You just have to create a product fee method and add a rule, stating when the 'quantity' in the cart will be less than or equals to 10, the extra fee will be €10.
Check this image to understand how it will be done through your product fee method –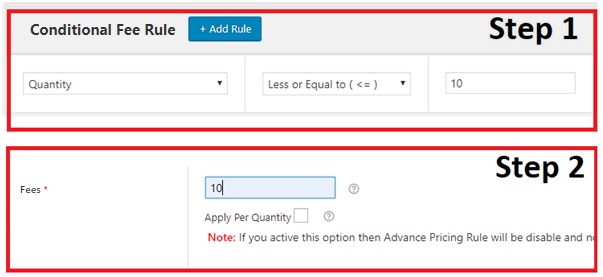 Within the same method, or through another method, you may state other conditions, such as: For more than 10 items, extra fee will be €5.
This is how you can implement it –
Similarly, you may nullify the extra fee and provide extra monetary benefits to your bulk buyers, purchasing more than 25 items. In this case, your product fee method rule and fee field will appear like this –
Example 2
Charge Extra Fees when Certain Item Count related and some more conditions are fulfilled.
Generally, sellers do not want to apply the quantity-based conditions on the whole cart. They either want to apply it for one or multiple products, categories, locations, users, SKUs, tags, etc. While using the WooCommerce Conditional Product Fees For Checkout Plugin, you can do it all without hassles.
Now, consider that you want to apply a quantity-based extra fee for a state. You will have to create two conditional fee rules – One for the quantity-based condition and another, for the state-related condition.
After that, assign an extra fee to that method and save settings.
For a better understanding, look at this setup –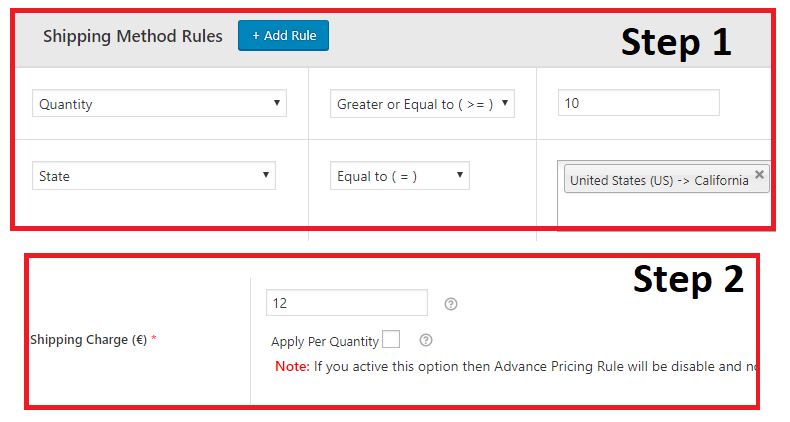 Similar to the previous scenario, you can apply various types of conditions and create multiple rules for your extra-fee-related method. Here's a list of parameters, for which, conditional extra fee rules could be created –
Example 3
Charge Gradually-Increasing Extra Fees for Bulk Purchases
What if your Product Fee method lets you apply extra fee per product and a customer buys 20 items of same type?
Well, if per product extra fee for the state of California is $0.5, that person will end up paying $10 as the extra fee.
For some cases, such as gift wrapping, etc, this looks fine. However, in most of cases, it leads to excessive extra burden on the buyer. In those cases, you might want to apply one base extra fee as minimal charge and increase it by a small amount per new item. Using the Conditional Product Fees for checkout plugin, it is possible.
This is how you can achieve the above-stated deployment in your store –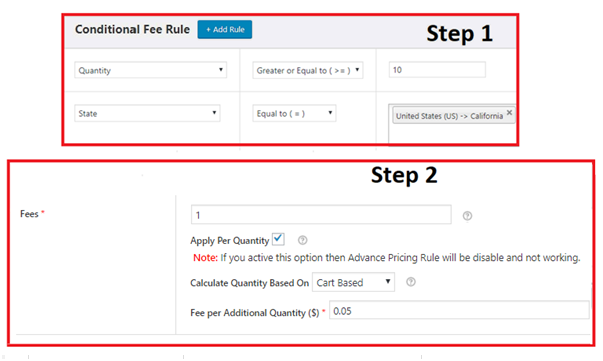 What is Quantity Based Advanced Extra Fees?
The plugin WooCommerce Conditional Product Fees for Checkout Plugin has advanced pricing rules facility for the WooCommerce store owners so that they could create extra fee rules with more ease.

This feature facilitates the sellers to add quantity based advanced extra fees for their product fee methods. Through it, cart quantity based advanced rules, stating minimum & maximum quantity alongside the extra fees fixed for that quantity range.
Special Note – You can apply percentage-based and flat rate extra fee – positive or negative – through this plugin.
How to Charge Quantity Based Advanced Extra Fees in WooCommerce?
It's actually an easy task and starts with switching the Advanced Pricing Rules toggle to ON.

Now, find out the Cost on Total Cart Qty tab in the newly-appeared section and click on it. If everything is done correctly, you must be able to view the section, which we showed in the previous section while explaining what Quantity Based Advanced Extra Fees means.
In this section, you can add as many rules as you want.
Click on Add Rule.
Let's say that you want to charge 1% of the total cart value as the extra fee if a customer has purchased 5-10 items. So, you will have to fill min quantity as 5, max quality as 10 and Fee amount as 1%. Here's how –

Similarly, if you think you will have to reduce $6 for the buyers, making purchases of 20-30 items, this plugin will come in handy. Your Advanced Pricing Rules section will look like this in such scenario –

To download the plugin and use it for your WooCommerce online store, use this link. You may also utilize its free version which has limited capabilities.