Less is more. Not just in fashion as coined by Coco Chanel but also in the check-out pages for WooCommerce sites. Multiple shipping options that display suboptimal and irrelevant suggestions, retard a shopping experience and often result in an abandoned cart.
Present set of WooCommerce plugins may be great for your current business needs. But as your customer base grows it will include different geographies, product types and delivery preferences. You will then need an in-built tool that can offer your customers the highest degree of individualized shipping methods that will give them satisfaction and offer you greater control over your shipping expenses.
Hide Shipping Method for WooCommerce is the latest plugin by Dotstore. Its basic version is free to download and is complete in itself. The combination of 40+available woocommerce hide shipping method if free options are so simple and intuitive that scaling up small businesses for a nationwide presence while charting complicated product lines is no longer a baffling process.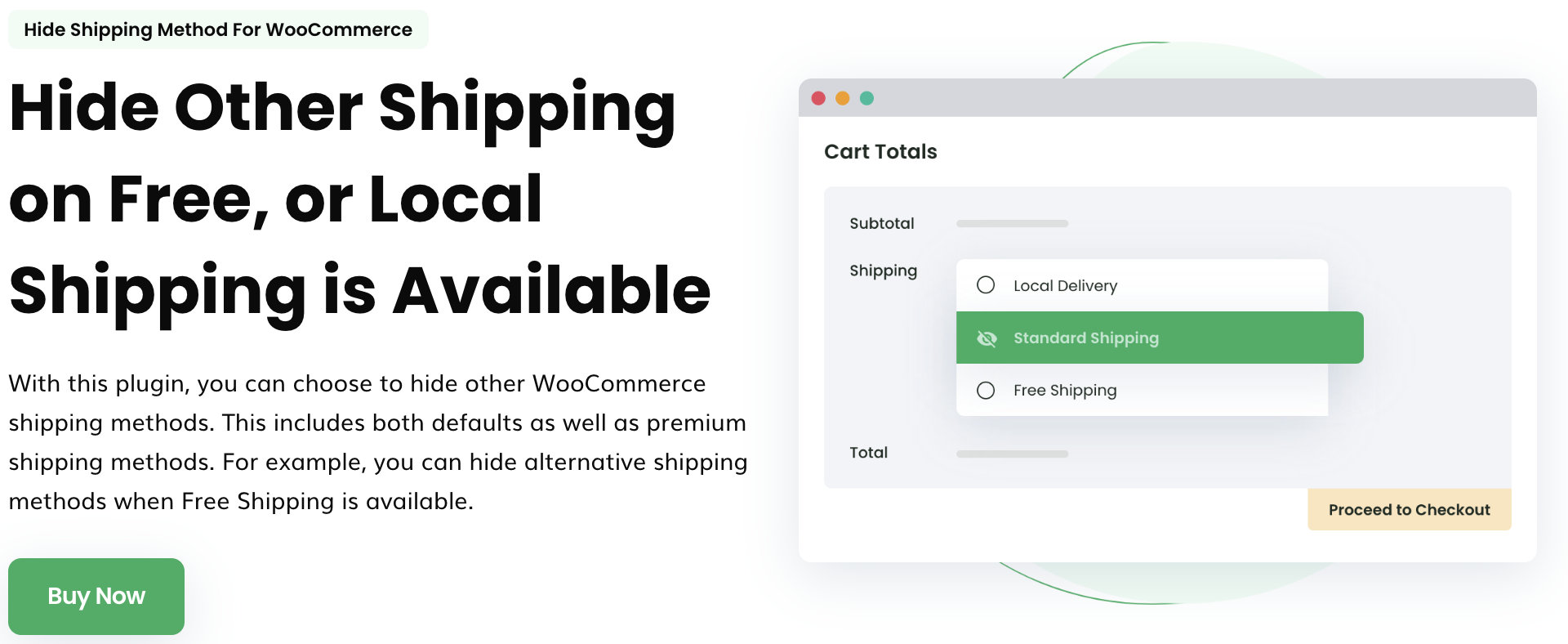 The main objective of this plugin is to display as few options as possible for an easy check-out process. Two popular shipping options it provides are-
Hide all other shipping methods when Free Shipping is available
93% of online buyers are encouraged to buy more products if free shipping options are available. The same source quotes that 58% of consumers add more items to cart to qualify for free shipping.
With the importance of this woocommerce plugin hide all but free shipping established, thus, you can get yours with just one click on 'disable all shipping methods when free shipping is available'. This will hide all other shipment suggestions from the cart and check-out pages. Generally, businesses with local presence can afford this option.
But what if your customer can't wait for his shipment to arrive and is happy to pick it up himself? Do you want to give him this option of pick-up? This brings us to our next popular hide shipping method on cart page woocommerce–
Hide all other shipping methods when Free Shipping and Local Pickup are available
Display 'Pick-Up' alongside the 'Free Shipping' option and automatically hide all other shipping methods. This is a great way to save on your delivery expenses and earn a happy customer.
Basic Hide Shipping Method options
For larger businesses, this plugin comes with basic and advanced options. Basic options help in keeping unsustainable shipment options in check. They broadly define the shipment conditions for an order to qualify. For instance- location of delivery (by country, state, zip code or custom area), product detail (name, category, SKU, variable product, tag, color, size), user membership/ nature of purchase, cart detail (subtotal before and after discount, quantity and weight of items, shipping class or coupon).
Advanced Hide Shipping Method options
They lend you granular control over your logistics by setting the range, feeding minimum and maximum values, for the items in cart or the cart itself. This is done in the form of equal to (=), not equal to (≠), less or equal to (< =), less than (<), greater or equal to (> =) and greater than (>) equations. Just select 'Apply Extra Rule' from the menu.
The usefulness of this hide shipping method plugin feature is that you can micromanage every aspect of the cart, upto the product level. You can define any parameter of an item with this method.
Some of the main differences between Basic and Advanced options are given below-
| Basic Shipping Method | Advanced Shipping Method |
| --- | --- |
| Quantity of items in cart | Quantity of a type of product/ items in a category |
| Cart weight | Product weight/ category weight |
| Cart total | Product subtotal / Category subtotal/ cart subtotal (whether it surpasses more than the minimum value threshold) |
A step-by-step guide can be viewed here. Additionally, custom conditions can also be created. This is useful when you have a Black Friday sale or need a different pricing for a niche market.
Managing Multiple Shipping Method options
Multiple selections within both- basic and advanced conditions, can be made to go with each other or be applicable separately (mutually exclusive). This is achieved with the below two practices-.
All Rule Match
Any One Rule Match
However, the selection for these will need to be done twice as the dropdown menus are separate for basic and advanced rule matching.
For the basic and advanced rules to be compatible with each other we have the AND/ OR condition-
AND is where Hiding Shipping Methods rules will be applied if and only if advanced rules, as well as basic rules, are met
OR is where Hiding Shipping Methods rules will be applied if either of the two rules are met
With every permutation and combination of these preset options, including the option to create a custom condition, you come one step closer to simplicity. You can hide all shipping options when free shipping or a local pick-up is available. These options can also be hidden when the cart qualifies for a set of predefined conditions.
Additional settings options
We know there is still a lot more to be desired from one of the best woocommerce plugins. Tick off your needs from the below list of additional settings available-
Status Bar– you can activate/ deactivate a shipping method to test different options
Shipping Method Name– for ease of understanding, a short unique name can be assigned to each method. This name will be displayed on your page
Shipping Source– choose the source of shipping which is to be hidden. You can set this as default or leave blank with the Hide Shipping Method
Shipping Charges as per Rule– introduce differential pricing or a free shipping option for a particular rule
Tooltip Description– make notes about the plugin for easy reference in future
Taxable amount– provide for levying tax separately from the shipping fee
Estimated Delivery Time*- set your own delivery time as per the method
Start Date/ End Date of promotional offers*- define the time period for a method to remain active
Charges as per Days of the Week*- pick the days for which you can arrange a more favorable shipping method
Charges as per Time of Order*- attract business to your site in lean hours with lucrative shipping charges. Conversely, remove free shipping option for peak hours when delivering urgent orders is difficult.
*Please note all day/ time-related fields are optional and can be left blank.
If all this seems overwhelming, don't worry, for a quick guide to the most frequent questions asked, read here. Alternatively, you may want to directly dive into a free demo here (see below).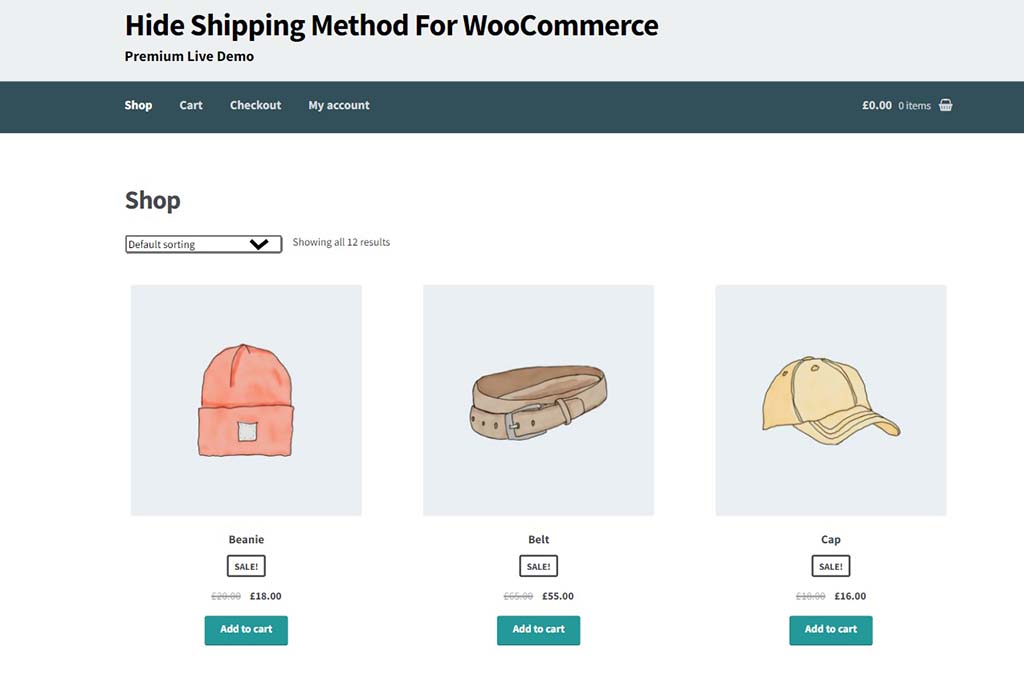 Compatibility
One of the most flexible, this best shipping plugin for woocommerce is compatible with third-party plugins like Table Rate Shipping Method for WooCommerce, Table Rate Shipping, Advanced Flat Rate Shipping Method for WooCommerce, WooCommerce Weight Based Shipping, ELEX WooCommerce USPS Shipping Method and WC Vendors Marketplace.
Its current version is 1.30 which was last updated on Feb 22, 2022. This plugin goes with 5.9.x WordPress and 6.2.x WooCommerce. It is compatible with Multilingual-Ready, WPML and is available in German, French, Polish and Spanish.
Major benefits of this Plugin
With Hiding your Shipment Methods for WooCommerce you can-
Create multiple flat rate shipping methods
Say goodbye to procrastination. You can now apply free shipping to a certain group of cities and a flat rate to a certain set of countries in the same setting.
Offer diverse shipping options to customers
Some like it fast, some like it slow, some like it delivered by date, nine days old.
Optimize your shipping costs
Save on business overheads to gain that competitive edge. Online selling is about survival of the leanest.
Create shipping zones for easy order management
Have full control over your inventory. Avoid back orders and bad ratings.
Create fixed shipping methods for geographical locations
Scale up your local presence with tried and tested shipping methods.
Block orders from unwanted locations
Not ready to serve the Eastern Zone just yet? Better wait than be sorry.
Impact of Hide Shipping Method plugin so far-
20,000+ WooCommerce Store owners served
94,374 Total Downloads
11,845 Active Premium Customers
99% Customer Satisfaction reported
As you must have realized, your hide shipping method on cart page woocommerce is only as important as your product listed. Ideally one must keep it down to one option, if possible. But if not, try to keep these below three.
Also it is a good idea to check your objectives before selecting the shipment method rules. Are you seeking a wider reach? Savings on transportation expenses? Clearance of old stock? Building a loyal base of customers? You can apply these rules to serve your ultimate purpose and test their impact at the click of a button with this latest plugin from DotStore.