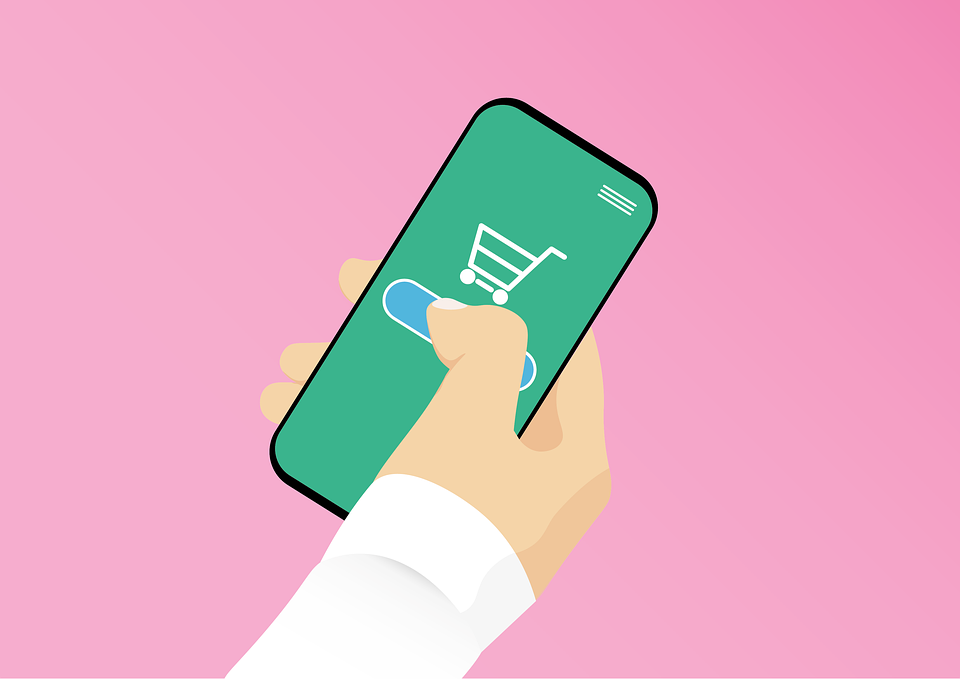 How to Create a First Order Discount in WooCommerce?
If you run an online store, you already know the importance of acquiring a customer and convincing him to make his 'first order' discount from your store. How about offering them a WooCommerce first-time order discount?
Yes, it makes sense.
The first order is the path toward recurring orders if the person likes your products and services. However, as it is the entry point of the buyer in your store, getting someone to place his first order is the hardest part of the process. So, how will you do that?
Let us tell you why WooCommerce first-time order discount is a good idea, and how to enable it for your store.
Table of contents
Why Must you Offer WooCommerce first-time Order Discount?
Discounts or free shipping are a few types of 'indirect freebies'. Through such types of discounts, you do not offer your product for free, but reduce the customer's expenditure to some extent.
Also, discount offers not only are attractive but are also more genuine and trustable in approach.
Ok. You look convinced, but we still would like to back our words with a few statistics, gathered from different Statista reports:
93% of shoppers use coupons or discounts at least once a year. Crux of the matter is that everyone loves discounts.
29% of buyers will make a purchase, if there is a good discount, even if they did not intend to buy initially.
60% of buyers think that discounts are even more crucial in selecting the seller during and post the COVID era. It's because more and more online stores are opening these days, so buyers have more options.
From the above, you can understand the importance of discounts, and how they can be your savior when you wish to earn some customers for your store. Be it a new WooCommerce store or old, a local store or an international brand, using WooCommerce first-time order discount is an effective marketing strategy.
How to Enable WooCommerce first-time order discount in your Store?
We would suggest you use WooCommerce Conditional Discount Rules For Checkout Plugin to enable first-time order discounts for your new customers.
This plugin is super-easy to use and is really a feature-rich pick when it comes to enabling first-order discounts. See a few functionalities of the plugin before we explain how to use it:
Note: You can create any number of first-order discount methods with different settings using the WooCommerce Conditional Discount Rules for Checkout Plugin.
Discount Type
You may apply a fixed discount (e.g., $40, $100) or a percentage discount (e.g. 5% of the product price) using this plugin.
Discount Campaign's Timeline
If you want to run time-specific campaigns, for example, a Halloween membership offer or a Holi sign-up campaign, you can set start and end dates for your discount method. If not, you can skip entering details in these fields, and enable/disable the campaign as per your need.
Time-specific Discount
Let's say you are running a one-day or multi-day campaign from 7:30 PM to 11:30 PM, offering your first-time buyers a discount for this duration of the day. The WooCommerce conditional discount rules for checkout plugin will let you do so.
Day of the Week
Want to run a campaign on a specific day of the week? Or, do you want to run a campaign on a few specific days per week for a selected time duration? The plugin can help you with it.
Conditional Discounts on the first order
For the store owners willing to offer discounts to their buyers on the basis of their details related to location, product, user, cart, payment method, or shipping method, you can add conditions. These non-storewide conditional rules are applicable (alone or in combinations) for:
Location: Countries, states, cities, postcodes, or regions
Product: products, product variants, quantity, count, categories, or tags
User: User roles, user names, or email addresses
Cart: Cart quantity, cart weight, coupon, shipping class, or cart subtotal
Payment method: Payment gateway selected
Shipping method: Total shipping fee or shipping method applied
Advanced Conditional Discounts on the first order
You can apply product-based or category-based discounts by creating multiple quantity ranges using this plugin. For example, if a shopper purchases 1-10 t-shirts – the discount is $20, for 11-20 t-shirts – the discount is $60, and so on.
Guide to Creating First Order Discount in WooCommerce
Before you follow the below-enlisted steps, make sure that the Conditional Discount Rules For Checkout Plugin is installed on your store.
Go to the plugin dashboard by clicking the Conditional Discount Rules for WooCommerce option under the DotStore Plugins menu from the sidebar.
In the Discount Rules for Checkout section, click on the Add New button.
Next, you must provide essential details related to your discount campaign in the Discount Configuration section. While doing so, make sure that you enable the toggle for the Status and select the Enable for First Order option.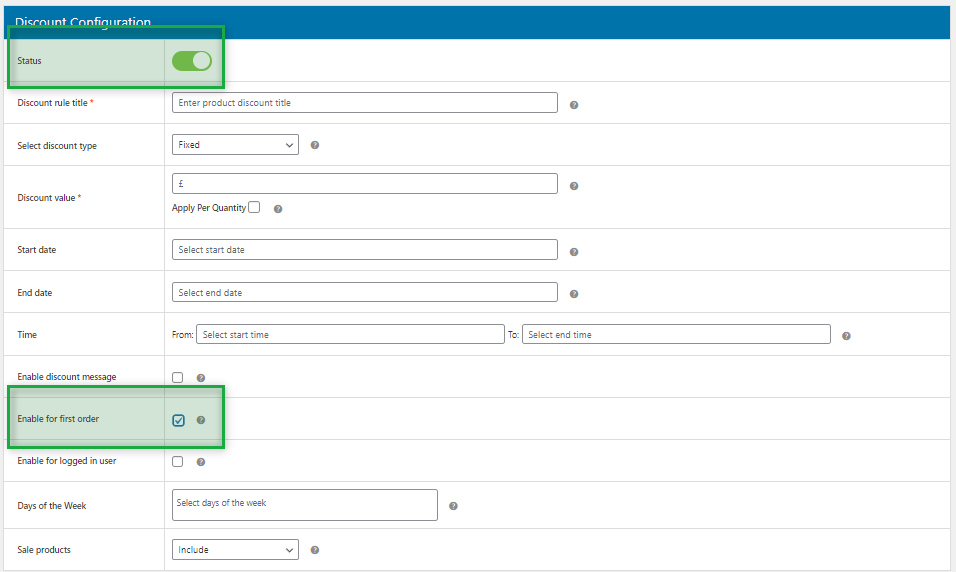 If required, create Discount Rules for Checkout or add Advanced Discount Rules for your campaign for the first-time buyers before you proceed to apply these settings for your store.

Save settings.
Example 1: A Halloween Sale for the first time buyers
Running a Halloween sale and having a special discount for your first-time buyers on Halloween? You can create a method like the one shown below: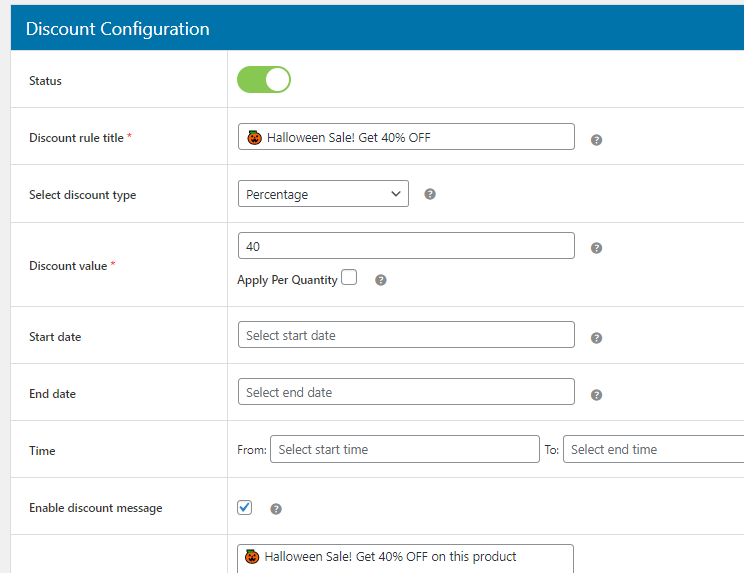 Result:

Example 2: Applying a First Order discount for buyers from a few countries
Once you have selected the Enable for First Order discount for your discount method, you can scroll down and add related rules in the discount rules for checkout section for:
A rule for the country – Add names of countries to enable this method for;
A rule for Cart Subtotal – Add the amount and select the comparison operator.

Save settings.
Example 3: Adding Multiple Discounts for your First-time Buyer Campaign
You can apply as many rules to a discount campaign for first-time buyers. Once this setting is configured, only the buyers complying with these rules will be able to fetch the first-time purchase benefits.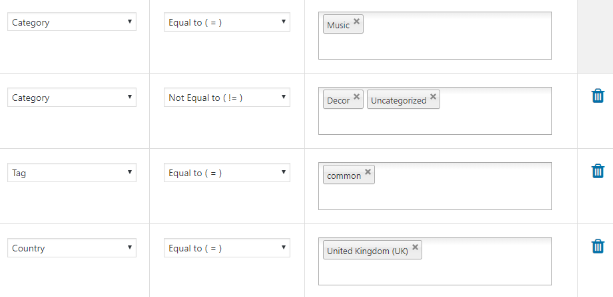 Example 4: Applying Advanced Discount Rules on First-time Purchase Discounts
Being a business person, you must agree to the fact that bulk buying must be encouraged in online stores. Bulk sales can reduce your efforts in selling while multiplying your revenue.
One way to do so is to offer different first-time discounts for different quantity ranges. You can use the Advanced Discount Rules functionality for it.
See this example: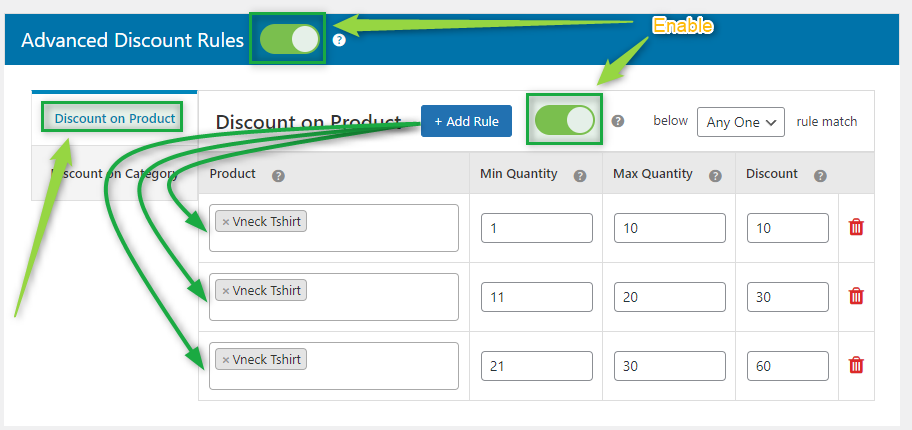 Upon saving settings, the buyers will get $10 OFF on purchasing up to 10 v-neck t-shirts, $30 OFF on purchasing up to 20 v-neck t-shirts, and $60 OFF on purchasing up to 30 v-neck t-shirts.
As the offer is lucrative enough, you can sell 10 to 20 extra pieces in one go without much effort. Agree?
The Final Word
Offering the first order discount in your WooCommerce store can be a great motivator for the users in making a purchase from your store. It makes the best method to market your business when you want to acquire new customers and increase your sales. After all, these new customers will eventually improve your recurring revenue too.
Not just the above, the strategy can also help you speedily promote your business online. So, install the Conditional Discount Rules for Checkout Plugin and enable this feature on your WooCommerce store to reach your customers and sales-related targets faster.