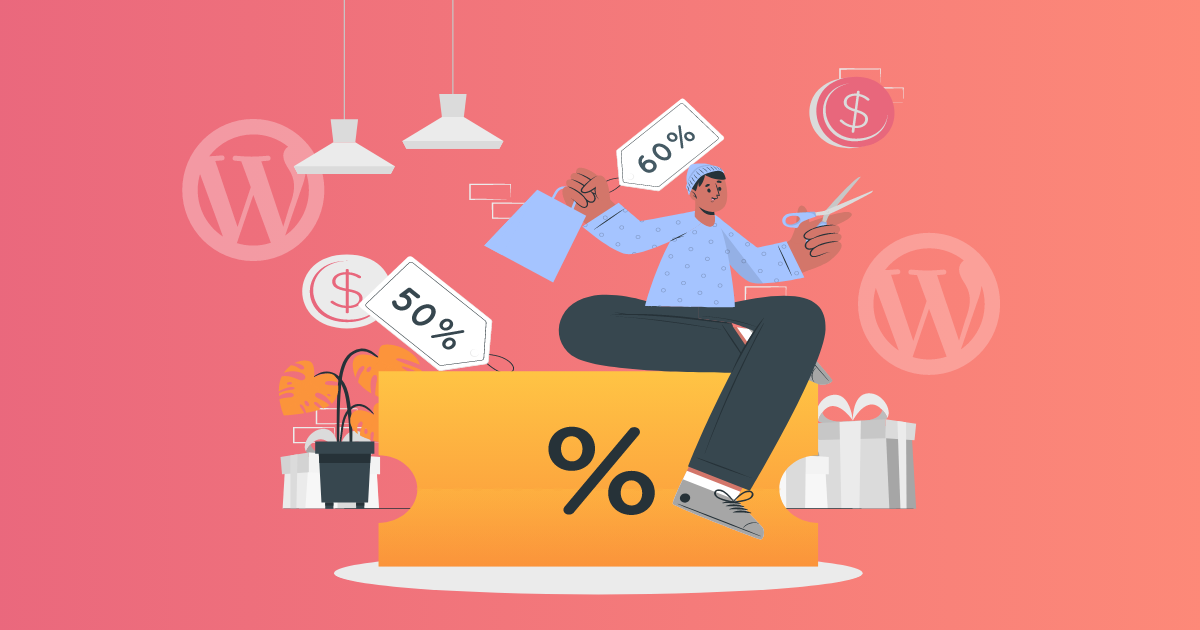 How To Set Up Percentage Discounts in WooCommerce
In the highly competitive world of e-commerce, offering discounts is a tried-and-tested strategy to attract customers and boost sales.
According to a recent survey, nearly 70% of online shoppers are more likely to complete their purchase if a discount code is available at checkout.
One of the most popular discount types is percentage discounts, which allow store owners to offer a percentage reduction on product prices or cart totals. So, let's delve into WooCommerce discount percentages and explore how to set up various percentage discounts using popular WooCommerce plugins, such as DotStore's Dynamic Pricing and Discount Rules plugin.
Table of Contents
Benefits of implementing WooCommerce Discount Percentage
WooCommerce percentage discounts are a way for store owners to provide customers with a percentage reduction in the price of products or the total amount in their shopping cart. For instance, you can set up discounts like:
20% off on all products storewide during a special sale event.
Buy 2 or more items and get 15% off on the entire purchase.
30% discount on specific product categories like electronics or clothing.
Implementing percentage discounts in your WooCommerce store can yield several benefits:
Increased Sales: Attractive discounts encourage customers to purchase, driving higher sales for your store.
Customer Loyalty: Discounts can build customer loyalty, as shoppers are more likely to return to your store for future purchases.
Clear Sales Strategy: Percentage discounts provide a transparent and easy-to-understand sales strategy for store owners and customers.
Types of WooCommerce Percentage Discounts
Based on what best works for the financial upkeep and growth of their WooCommerce stores, businesses can choose to run one or man kinds of WooCommerce discount percentage campaigns. Here are a few examples of the various types they can choose from.
Store-wide Global Discount: Apply a percentage discount across your entire store.
Product Specific Discounts: Set percentage discounts on specific products or product categories.
Cart Total-based Discount: Offer percentage discounts based on the cart total amount.
User Role-based Discounts: Provide varying percentage discounts based on customer user roles.
Taxonomy-based Discounts: Apply percentage discounts based on product attributes or taxonomy.
How To Set Up Percentage Discounts in WooCommerce Using a Plugin?
You can leverage the power of various WooCommerce plugins to set up these versatile percentage discounts. Here are the top 3 plugins that can help you enable auto-apply coupon methods and create discount rules:
The Dynamic Pricing and Discount Rules plugin from the DotStore is a prevalent choice when implementing WooCommerce discount percentage campaigns on your WooCommerce stores. With its advanced features, users can implement customized discounts and pricing – all managed through a highly user-friendly interface.
This full-featured WooCommerce conditional discounts plugin lets users offer a range of discounts to optimize conversions and push global discounts across their stores. The plugin features local discounts, bulk purchasing criteria, advanced discount conditions, category-based discounts, and more.
Trusted by over 70,000 WooCommerce store owners, you should check out the premium version demo for this plugin. The plugin is easy-to-use, translation-ready, and has an impeccable support team.
The free plugin is easy to install. All you need to do is upload the folder "woo-conditional-discount-rules-for-checkout" folder to your site's/wp-content/plugins/ directory. Then, activate the plugin through WordPress's 'Plugins' menu.
The Advanced Dynamic Pricing for WooCommerce plugin lets users set discounts and pricing rules for their WooCommerce store. They can create discount and pricing rules for almost any case, configure any fixed amount adjustments or percentage adjustments, or set a fixed price for the product or group of products.
Multiple product pricing, cart conditions, adjustments, and discounts
Bulk and role discounts
Combine multiple rules and manage the rule's priority and more
Go to the WordPress dashboard, click Plugins / Add New, type 'Advanced Dynamic Pricing for WooCommerce', and hit Enter. To install and activate the plugin, visit WooCommerce > Pricing Rules and get started setting WooCommerce discount percentage campaigns.
This WooCommerce plugin helps create and configure bulk discounts for each product in your store by creating a table of quantities and discount amounts. Users can choose from fixed price adjustments, percentage adjustments, or set a fixed price for their products. The plugin has over 10k+ active installations and a 30-day money-back guarantee.
WooCommerce Dynamic Pricing Add-on provides an efficient system for creating four types of bulk discounts and price adjustments. The add-on has been designed to give store owners flexibility in controlling prices that no other e-commerce solution offers.
In a nutshell
Setting up percentage discounts in WooCommerce is a powerful way to drive sales and attract customers to your online store. Leveraging plugins like WooCommerce Dynamic Pricing and Discount Rules can empower you to create a variety of discount scenarios catering to specific products, cart totals, user roles, and more. By offering enticing discounts, you can boost customer satisfaction and create a loyal customer base, leading to long-term success for your WooCommerce store.
Remember, the key to success is finding the right balance between attractive discounts and maintaining a profitable business model.