Advanced Flat Rate Shipping method WooCommerce Plugin is a great way to make the shipping charges functionality work as per your wants. With it, you can create advanced-level shipping methods so that the practical requirements of your online store could be fulfilled.
In this how-to guide, we are going to tell you that how the shipping methods can be created, based on the postcode, zip code or the postal code of your customers in WooCommerce.
The prerequisite of implementing these steps is that you have Advanced Flat Rate Shipping method WooCommerce Plugin, installed on your WordPress e-commerce store:
Part 1: Adding Method
Click on 'Add New Shipping Method'

The shipping method configuration form will look like this: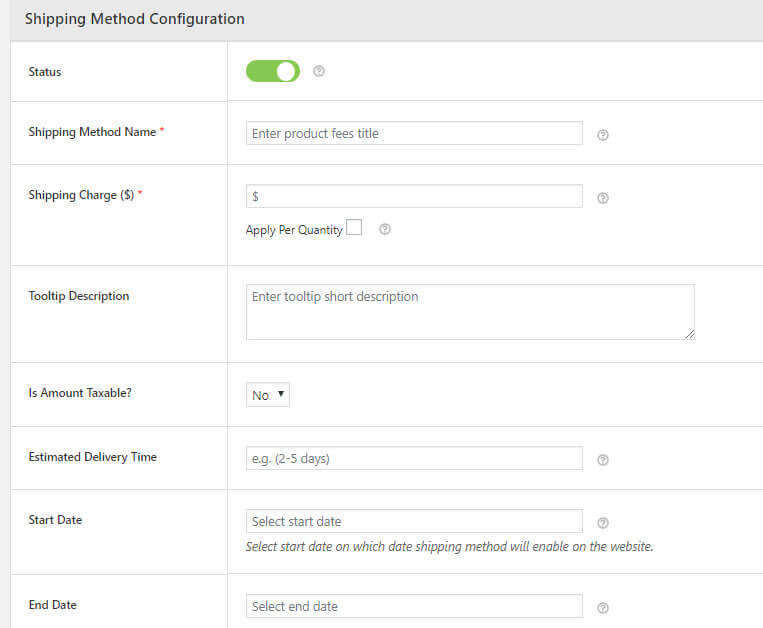 Part 2: Adding Rules to a Method
To add a rule to a method, simply click on Add Rule. It will look like this:

Advanced Flat Rate Shipping methods allow you to add multiple rules by using this window. By using these rules, you can easily manage shipping charges as per the country, state, Postcode, and zone. A simple Woo Commerce method can't manage these rules or have such functionality.
Case 1: Add shipping rules as per the specific country Zip code:
You can fix shipping charges for the deliverable items by using the Postcode for the specific country. The method for the same is very easy to use and highly valuable.
Choose a country and fill a postal code by creating two separate rules in the same method:

Case 2: Add shipping rules as per the multiple countries Zip code:
Sometimes the customer requirements arise in different countries. That's why our advanced shipping method allows you to make rules by using the Zipcode of multiple countries.
By making the rules, you can easily handle shipping charges within the same country as well as in the different one.
Look at the below figure:

Case 3: Add shipping rules as per the multiple states Zip code.
Shipping rules may vary from state to state, within the same country. To meet the requirements of different customers, you must be able to apply rules as per the real-life needs of your store.
Please look at the figure to understand how to do it:
ALSO READ:
How to set up WooCommerce shipping method based on state?
Case 4: Add shipping rules as per a Zone Containing Zipcodes

To do so, you will need to create a shipping Zone, which contains zip codes of different geographical areas. So, let us first tell you, how to make a zone.
Steps to Make a Zone:
1. Select 'Manage Shipping Zones'

2. Now, choose 'Add Shipping Zone', give a meaningful name to your zone and select the option as shown in this figure:

Now select the desired country and enter the postal codes to create a zone.
Once the zone is created, you just have to create a method. In this, while creating the shipping rule, select the 'Zone' option from the drop-down and fill the name of the created Zip code-based zone.
Case 5: Add the shipping charges as per the user's Zip code:
If you want to give a certain user special treatment, applying shipping charges exclusively for that user is not possible using WooCommerce. But with this plugin, you can do so. Just add one shipping rule as per the postcode of the user or user type and another, defining the user role. That's it.

Case 6: Add the shipping charges as per the category of a product Postcode:
To apply a different shipping charge on a particular product, for a region which has a particular postcode, you can utilize the procedure as shown in the figure:

Case 7: Add the shipping charges as per the quantity of the items Postcode:
Advanced Shipping Methods allow storekeepers to fix the shipping charges according to the quantity of the product too. It is helpful in the case of inter-country shipping where airplane services are charged on the basis of product basis. See how it's done:

If you find any difficulty while implementing these rules, you can contact us directly or comment here.
Please note that it is essential to have Advanced Flat Rate Shipping method WooCommerce Plugin installed on your WooCommerce store.
If you need any assistance with Custom WooCommerce Plugin Development, feel free to reach-out Multidots. They are one of the WordPress VIP partners and parent company of DotStore.