Introduction
A product/service trial is the first step towards buying as it gives your customers a chance to have a real-time feel of the service before investing money. This strategy, product sampling, works in every industry. With product sampling and word of mouth, it's easy to take your customers in confidence. Once that's done, the rest of the selling efforts are reduced to half.
If you own a Woo-commerce and are willing to bring this superb strategy into action, this post is for your reference. We have explained what is product sampling in marketing, why to use it, and how to enable it with your WooCommerce store.
Product Sampling – The Most Effective Marketing Tool in eCommerce
Product sampling, as the name suggests, is the process of handing over customers free samples for the offered services/products. For products, generally, a miniature version is offered as a sample.
In the case of software/application services, a trial is provided. In both cases, the prime aim is to introduce a service/product to the customers so that they can have confidence in it and can invest further.
Presently, almost every business is doing this. Statistically speaking, 70 million consumers are offered product sampling every quarter.
The reason being is its effectiveness in crucial aspects such as sales, customer retention, and marketing.
We delve deeper into the findings of the "Product Sampling Study" by Arbitron and Edison Media Research and figured out that:
35% of customers, who tried product samples, ended up buying the service/products the same day
58% of customers confirmed to buy the product in future
64% of customers were glad to accept the product samples
That's not the only study confirming product sampling as a viable approach.
Dynamic sales impacts of online physical product sampling study claimed that online/physical product sampling will improve sales by 41.6%.
All the above data is enough to explain why marketers and businesses are in love with strategy. So, if you're already doing it then congrats as you're on the right track. But, if you've tried it yet, you're missing out on something great.
Types
In case you're ready to bring it into action, you must understand that there are two types of product sampling methods.
The first product sampling method is indirect product sampling which involves no direct involvement/interaction between the business and the clients. Generally, a free sample is offered to the customers when they buy different products.
For instance, a lipstick is offered as a free sample with a foundation or vice-versa. Sometimes, the category could be different. But, it's crucial that the free sample should be offered with the product of the same category as it increases conversion. The next approach is direct product sampling which involves handing over free product sample boxes directly to the customers either by posting or visiting their homes. It's more of a connection-building and customer retention strategy.
Downsides of Not Providing Product Samples for your Product
Product sampling has become a vital step made by businesses/products to win on many fronts. New product samples are especially effective for ventures trying to find a bigger ground to complete and grow. Moving ahead without it is going to be tough as:
You have to do extra hard work and invest heavily to pursue your customers. Customers of today's era have become smarter than before and make data-driven decisions
It leads to the failure of new products as businesses won't be able to learn about customers' acceptance level and product-market fit level
Marketing expenses will be on the higher side
You'll have fewer customer reviews and UGC is crucial for a great online presence
Loyalty programs will be less effective
Understand the Target Audience for your Product Samples
From a business point of view, many opportunities are there to have a result-driven product sampling strategy. With the right kind of target audience, this strategy can create wonders.
The most workable target audiences for the product sampling strategy are –
Distributors
Distributors are what a business needs to make service/product accessible to the general public. From production to retail shops, the journey of a product is covered with the help of a distributor only.
Handing over free samples to distributors allows a business to build positive relationships with the distributors, help a new product to have a better market presence, and reduce distributor commission. Also, free samples can expand the distribution channel as more distributors would like to join hands with businesses offering free samples.
Retailers
Thinking about how to do product sampling without investing a lot of money in influencers and marketers? Retailers are the entities receiving services/products from distributors and selling directly to customers.
Providing product sampling to retailers is a great move as it leads to more sales and deeper market penetration. Also, every sample you will give to your (prospective) retailers will lead to sales. So, in all aspects, it will save you money and drive conversion.
Affiliate Marketers / Influencers / Bloggers
Today's digital market domain is taken over by affiliate marketers, bloggers, and influencers. 80% of marketers consider the influencer market effective and have already adopted this strategy. Affiliate marketers/influencers/bloggers are the professionals, using the online platforms, to spread awareness about a service/product. As they are someone whom your customers already trust, their suggestions or recommendations certainly hold value.
Product Reviewers
Product reviewers provide real-time experiences of a service/product to the public. As people check for online reviews before an actual purchase, the product reviewers could be a great help for your business. Offer product samples to them and ask them to share reviews in the public domain.
If your influencer/reviewer is somehow connected to your niche and has a wide user base related to your product, however with little knowledge, you may share samples of product reviews to guide him/her well.
First-time Users (Potential Customers)
Existing customers are great and should be valued always. But, the growth can only happen when new customers are joining in. Hence, you must provide product samples to new customers. It takes a lot to pull a customer and when you offer a free sample, half of the job is already done.
With product sampling, you offer new customers a chance to try your services/products at zero cost. As they don't have to invest anything, they won't hesitate.
Why Should You Do Product Sampling?
Everyone is talking about product sampling and is swearing by its efficacy. In case you're wondering why here are the reasons.
Utility Testing
It's an easy product testing practice. Before any proper and large-scale product launch, businesses have to test product-market fit, customers' response, the market demand of that product, and many other aspects. By distributing product testing samples, all of this can happen in one go.
Impressive Marketing
For new products, product sampling attracts the desired and expected customer attention. It's more effective than a discount at times as it was figured out that 81% of customers are drawn to the company display because of the free samples while 59% are attracted because of discounts.
Confidence-Building
If your goal is to take customers in confidence as it leads to customer loyalty then nothing can help you as much as product sampling. With a sample, you've got a chance to give a real-time feel of the product to the customers and prove what you're claiming.
Awareness-Building
It increases brand awareness. This is crucial for an entirely new business. It will take a while for customers to rely on a new service/product completely. But when a new business does indirect product sampling with an established brand, it's easy to become a household name.
Demand-boosting
With product sampling, one can enhance the market demand for the products as free samples are loved and tried by everyone.
Advertisement Cost-cutting
It reduces the marketing expenses greatly. When customers/influencers are generating content about the free sample, they are spreading awareness about the product and improving Google ranking. Invested social media marketing efforts and investments become reduced.
Loyalty-Boosting
It's a great way to improve customer loyalty. Customers receiving free samples become more brand-inclined and are likely to build long-lasting relationships.
Leads to Higher Sales
Product sampling done in a brick-and-mortar store will instantly improve the sales at the purchase point.
Reputation-building
Product sampling helps a business to build a positive brand image as it gives an impression of being considerate and professional.
Gets you more Bulk Orders
Product sampling is useful to increase the average order value when done strategically
How to Enable Requesting Product Samples through WooCommerce Store?
Alright. Now, since you are reading this section, you must already understand the cruciality of having a product sampling strategy in place.
Next, you need a way to implement this strategy, i.e. adding the product sampling functionality to your WooCommerce store.
No problem. We have got you covered. Read ahead and learn how to do product sampling:
Use the Product Sample for WooCommerce Plugin
The quickest way to enable samples for all kinds of promoters and sellers is using a WooCommerce product samples plugin. We suggest you use the Advanced Product Sample for WooCommerce Plugin by Dotstore. Big ventures, willing to implement advanced sampling abilities for their products, can go for the advanced version of this plugin.
Using this plugin, it is easy to create free as well as paid product samples. Sample product detail customization, CTA button/label customization, the scope of the sample product in your store, notifications related to it, and a lot more can easily be handled using this plugin.
If you do not want to show your free product sample to all, you may specify the user roles, which should be able to see this product in your store.
Whether you want to set a higher limit on sample orders, take price suggestions from buyers for the samples, or enable different costs for different samples – this user-friendly plugin will let you do everything smoothly.
Step 1: Getting Started: Install the Plugin
Once you have decided to add product samples for free on your shop, or to sell them through your store, installing the Product Sample for WooCommerce Plugin must be your first step.
It's really easy to get and install this plugin. This detailed tutorial will help you throughout the process. If you want to take a demo before configuring the plugin on your store, use this link and click on Launch Admin Demo button.
Step 2: Creating Product Samples
Once the plugin is installed and active on your store, configure it and utilize free sample functionality hassle-freely. Here is what you can do now –
Add an Impressive CTA (button label)
In the Sample Product Settings section > Basic Configuration tab, you have a field named Button Label. Add a text here.
Remember that button CTA is going to decide whether your prospective buyer will click on it or not. So, make sure to be innovative and to the point at this step.

In addition, you may specify a product Title Prefix so that buyers could differentiate between the normal and sample products easily.

Visibility Settings
You can control the visibility of product sample purchase/avail button for shop page, category pages, and store menu by toggling to respective buttons in the Basic Configuration Section itself.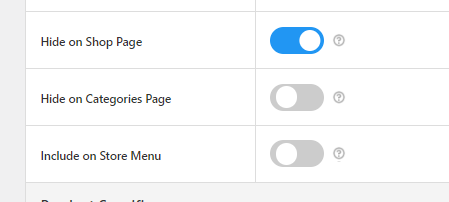 If you want to make the paid or free product samples visible to a few users or a few user roles, you can add the related settings in the User Specific settings.
Select products/Categories
Now, you may enable WooCommerce product Samples per product or by category in your store. Once you have made a choice in the Product Specific section regarding the Type, select the product(s) or category(s) as you prefer.

Let's consider, the product sample is enabled 'Product Wise' and for the product Frankie Sweatshirt in your store.

Next, you will be able to see the Get a Free Sample button in your store when you will see it through the shop frontend.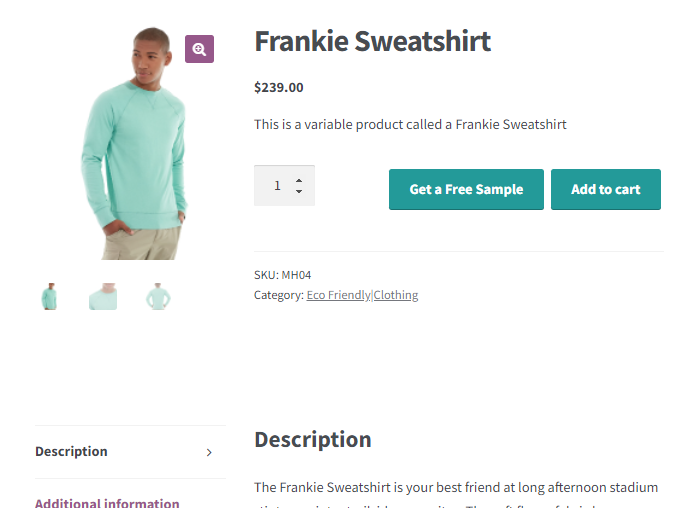 Looks quite good; doesn't it?
Add a Price
If you want to provide free product Samples to the eligible people, you can set the value for the Add Flat Price in the Price Adjustment section as 0 (Zero).
If you want to offer paid samples, you can select the Price Type as Flat or Percentage. Afterward, just add a price/percentage to apply these settings.

You may also apply shipping class and tax class to product samples.

Set the Maximum Sample Count a Person Can Order
Product sampling and word of mouth are good methods of getting your product sold. However, it should not cause losses to you. So, the better is that you set a maximum per sample/order quantity for your WooCommerce store and display a message when the limit is reached. Do it by adding the needed details in the Quantity Adjustment section.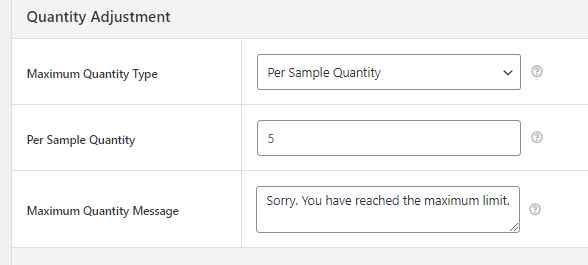 That's it. Just click on the Save Changes button and enjoy sending out product testing samples to boost your sales and popularity.
Usecase
What is product sampling in marketing and how to enable it for your store must be very clear to you now. However, where can you apply this knowledge might still be a confusing part.
To give you a background, a plethora of medicines, health products, beauty products, eatables, clothing products, and accessories get famous due to their product samples. See 5 business use cases where product samples make a profitable way to marketing:
Use Case #1: Samples for your Major Source of Sale
Think of medicine manufacturers. They can reach their end-consumers only when the physicians or respective doctors will recommend them. Similarly, nutrition/health-related products can also find a way to the market through industry professionals only.
So, businesses in similar fields can provide free or low-cost product samples just as IndiaMART is doing.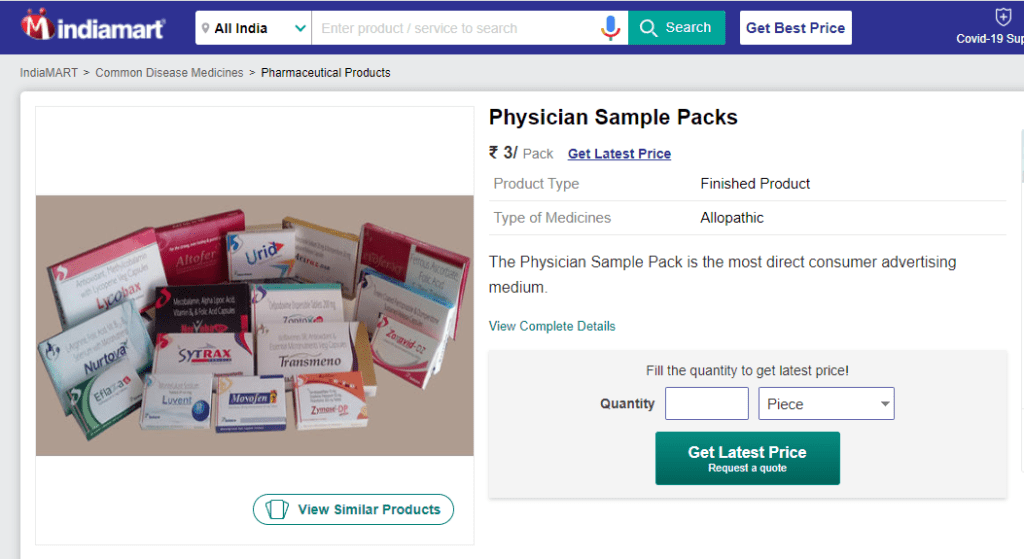 Use Case #2: Promote a New Product
You have launched a new product and want a few people to try it at a discount so that your product's worth could be proved? There is no better way than product sampling!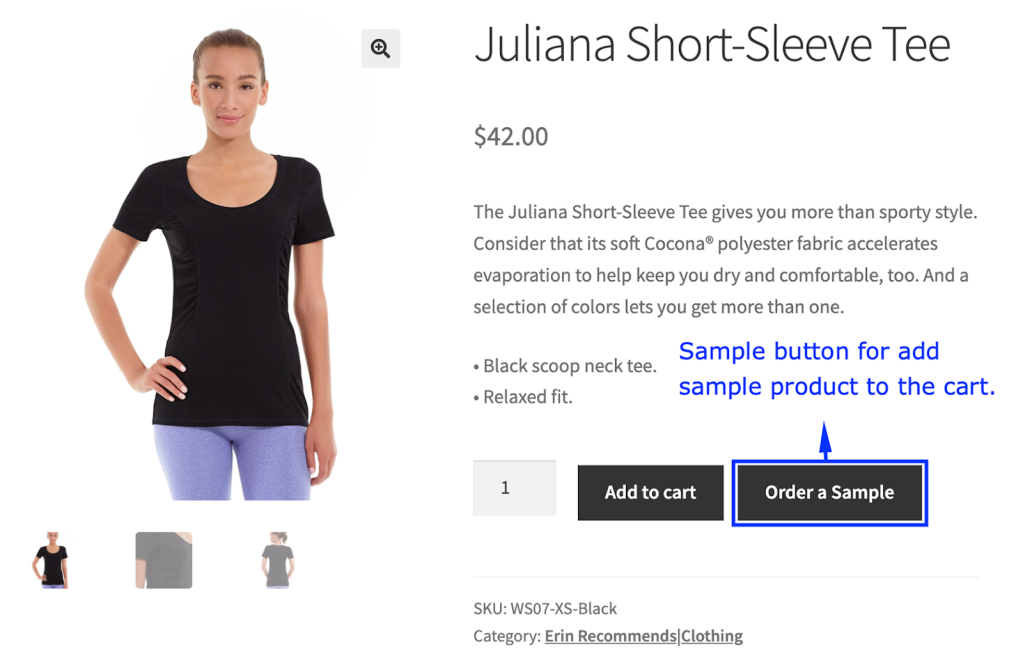 Use Case #3: Free Samples on High Cart Total
How about letting everyone get free product samples, but after they have spent a fairly big amount in your store. Nykaa is doing this, and it looks like a great approach already.
Use Case #4: Create a Free/Paid Samples Website
If you want to build a business model around product samples, you must see what SoPost is doing. This organization has multiple influencers and business connectins. Influencers can get free/paid samples while businesses could get quality reviews about their product/range from them. It's a win-win for both sides.
Using the Product Sample for WooCommerce plugin, you can setup such a website too.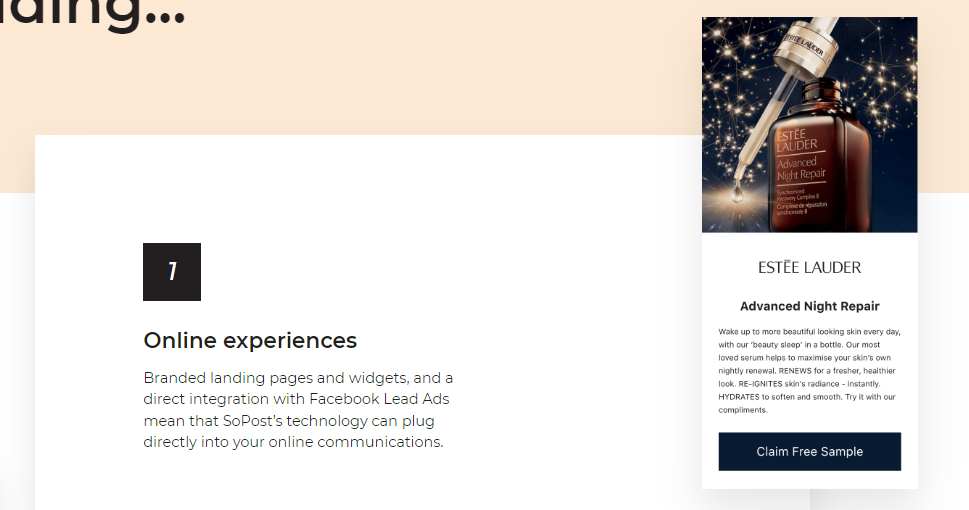 Use Case #5: New Clothing Range
Do you want to send out Product sample boxes for a whole new range of products at some cost? Indeed, it will be a good idea. You may even enable sample ordering for your shop managers, resellers, or other user roles. It can get you franchise-takers faster.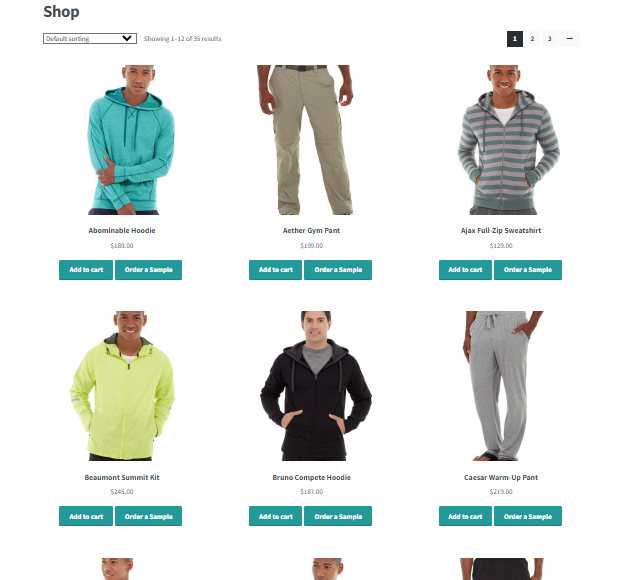 Benefits
Result-driven Product Sampling is worth the efforts invested as it brings lucrative benefits on multiple fronts, such as:
Better Store Experience
Customer experience or CX is the success-driving factor these days. Everything that businesses do today is about improving customer experience. Gladly, product sampling has a great role to play, especially in the case of the in-store experience. With in-store product sampling, repeat purchases, more trials, need-based product delivery, and new buyer fetching as possible.
Higher Purchase Rate
Higher sales and purchase rate is certain with product sampling as it helps customers to make swift buying decisions and expand the average order value. When samples are offered to the customers, they know what they are getting into and what will be the experience with a service/product. If the product/service has managed to live up to customers' expectations, they won't spend a single minute buying the full-size product.
One can understand the importance of product sampling on buying behavior of the customer with the findings of professor Miguel Gomez's research that revealed 93% of customers with free wine samples were ready to pay instantly and $10 extra. A sip of wine for free and a whole bottle or even a crate of wine could be sold in the blink of an eye.
Product sampling is also very effective to speed up the purchase rate in case of products launched in new markets. For instance, Russian products launched in the US. Of course, the customer expectations of both markets are different. But, with product sampling, one can allow new-market customers to have a real-time feel of the product. It certainly pays off well.
Have doubts? Well, we would suggest you believe in the words of Maria Karr, Rumore Beauty. She confirmed that when the store launched the products in the US, free beauty product samples were handed over every day resulting in returning customers and higher purchase of full-size products. It works in almost the same manner for other industries as well.
Spread in the Target Market
When a customer has to spend for a service/product, a lot of things would be taken into account and analyzed. But, when they are getting stuff for free, everyone is ready. You might know that free samples are the biggest motivation for 34% of customers. So, if you want to expand your market reach and have better penetration, try product sampling.
More Published Content from Various Sources
User-published or generated content has higher worth on social media platforms as it holds more worth and trust-factor. People want to hear from real-time customers about a service/product. More than the company's claims, it's the customers' experience that matters the most.
The impact of UGC or user-generated content is so high on sales that 79% of people admit going as per it during a service/product purchase journey. Whether it's coming from a normal customer or an influencer, the impact is noticeable.
However, a business has to offer something lucrative to pursue customers/influencers enough noise about your brand. What could be better than a product sample? You hand them over to the customers/influencers and ask them to share their views. That's it. The job is done. This sort of marketing is way too pocket-friendly and result-driven compared to PPC or other traditional marketing.
More Customer Reviews
In the digital world, it's tough to thrive without positive reviews as 90% of customers look for a review before buying any service. While positive reviews can make any business stand out, gathering them is indeed a tough task to do. Even the most-satisfied customers don't think giving out reviews is necessary.
With product sampling, you can make it happen seamlessly. Reciprocity is one of the three psychological aspects of product sampling that says customers, availing free samples, feel themselves in debt to the business offering it. They find their moral duty to provide a review or feedback. As a business, you don't have to run after your customers to give reviews/feedback if you're offering free samples. They will do it automatically.
This way, you'll have higher reviews and ratings, which will help you strengthen your market positively.
Faster Sales for a Comparatively New Product
Launching a new product is a viable expansion and growth strategy that businesses adopt sooner or later for sure. Launching a new service/product isn't an easy job and all the invested efforts can go in vain if proper awareness is not there.
If the words of Five By Five Global are to be believed, three-fifths of targeted customers remain unaware of the new product launch for 12 months. This is too much time.
To make a new product launch a success, product sampling is a great approach. Businesses hand over product samples with their already-popular services/products and allow their existing customers to experience the new products.
As retained customers don't have trust issues, they will surely try your product. This is actually a dual win. First, you slowly create a market for your new product. The second win is improved customer satisfaction. We all love free stuff and by giving free samples to your existing customer, you win their hearts a little more.
The Last Step: Tell Requesters about Eligibility for Fetching Product Samples
It's true that product sampling is capable of doing unimaginable wonders for businesses. But handing out them to anyone without any strategic thinking will not do what you're expecting out of this. One must set some eligibility criteria for availing of the facility and state them clearly.
For instance, if you're offering samples for an order value above X value then mention it clearly. Keeping others in the dark and creating suspense will not work. Rather, it will create disappointment. Whatever and whichever are the conditions you've for product sampling, promote them well. This way, transparency will be maintained.
Conclusion
Product sampling, when done by experts and a viable tool, can bring a lot to the table. Starting from creating a market for a new product to improving sales of an existing one, this strategy will make things better on various fronts. So, gear up yourself with the right kind of product sampling.
Make sure you're offering samples with the relative category and sending reminders to the customers for receiving the full-size products. These minute details will help bring desired success from the product sampling strategy.
FAQs
What works the best to bring product sampling into action?
Advanced Product Sample for WooCommerce is a highly tech-driven plugin that store owners can get to effectively implement the product sampling strategy. Using the tool for enabling WooCommerce product samples, one can easily gain full control over the product sampling process, enable sampling as per the category and region, easily modify the 'Order Sample', set the maximum sample limit for each product, and do many more things.
Can businesses charge for product samples?
It's not necessary that product samples are offered free to customers. Depending upon the requirements and aim, businesses can offer product samples for free and even charge for them.
Is it wise to offer samples of all the products?
Generally, it's recommended as product sampling helps in increasing sales, market presence, average order value, and many other things.
What is the impact of product sampling on sales?
In the long term, sales are going to improve in the long term. This happens at various levels. For instance, it increases sales at the purchase point, spreads awareness about the new product, and encourages customers to make a speedy purchase. It's so impactful that some even claim to experience sales as high as 2000% when compared to previous sales records.