USPS is an independent mailing agency that handles the biggest proportion of postal operations in the United States. Its fleet of vehicles, authority to deliver good to all Americans alike and dozen other specialties makes it a good choice to be utilized by online businesses that operate in America.
If you are operating your eCommerce shop using WooCommerce, integrating USPS shipping solution and enabling smooth shipping operations won't be a tough task. You can use USPS shipping plugin for WooCommerce to get started towards the same.
In this post, we are going to tell you in detail about:
What is USPS Shipping Method Plugin for WooCommerce?
The key features of this plugin
How USPS Shipping Method Plugin will online businesses?
How to install and use it.
This post covers the USPS Shipping Method Plugin in full detail. So those, who are here for a step-by-step guide to install and use this solution for their WooCommerce store.
A Quick Overview of USPS Shipping Method for WooCommerce
USPS shipping method plugin let online businesses fetch the real-time shipping rates from the USPS shipping network and showcase on their portal. To use it, your store must have USD (US Dollars) as its currency. Be it any recipient country, USPS plugin can calculate shipping cost for all. Even, your buyers can choose to pack items individually, or as a bundle.
The base countries accepted for this plugin are:
United States
Puerto Rico
US Virgin Islands
Note: Do not confuse the base countries with the countries to which you can ship. With USPS, you can ship to 190+ countries. However, the orders must be shipped from the above-listed 3 locations.
The parameters accepted for USPS shipping are:
Measure in inches (in)
Weight in pounds (lbs)
USPS not only makes the shipping operation simple for your business but also automates the order tracking, improving the ease for your customers to check where their order is reached. With this service enabled, the customer support team can be relieved from continuous queries or calls related to order delivery status.
With USPS, you can ship your products in multiple ways through 2 methods:
Domestic Shipping
For shipping your products domestically, you can follow these suggestions:
Drop your items in mailbox or collection box, as per the nature of goods to send.
If the product weighs more than 0.812 lbs, you will have to take it to post office.
For bulk mailing, as generally in the case with online businesses, you can schedule local pickup and relax.
Flat rate shipping, standard post, first-class shipping, priority mail, priority express mail, media mail and library mail are a few methods you can use to send domestic mails.
Large envelopes, packages, letters and postcards can be sent domestically through USPS. However, you need to check the list of restricted items before proceeding, because nail polish, perfumes, dry ice, cigarettes, tobacco, glue, poison, explosives, alcoholic beverages, paint, living animals and multiple items are prohibited to send through USPS.
The delivery duration is 1 day to 8 days, as per the select service & location.
International Shipping
With USPS, any business can ship customer orders to any country in the world. The shipping agency deals with shipping in 190+ countries, including Australia, Canada, India, UK, and whichever country you may think of. Can you ship to this many locations with your own fleet of delivery professionals? Obviously, not!
Cigars, medicines, lithium batteries and medical devices are a few categories of items that you cannot ship internationally with USPS.
The delivery duration is 1 day to 10+ days, as per the shipping service chosen. The cost for these methods differ big time too.
The rules, accepted/banned items, weight limits, types, price estimates, packaging instructions and more such information can be taken from the official USPS website.
Key features of the Plugin
WooCommerce, by default, do not allow businesses to integrate USPS shipping to their stores. You need an extension to utilize the USPS services for your eCommerce website. That's where you need USPS shipping plugin for WooCommerce.
Its key features are:
1. Set Method Name
For the convenience of your buyers, it will be good to give a meaningful name to your USPS shipping method. With the help of this plugin, it can be done easily. That means transparency won't be at risk when you integrate USPS with your WooCommerce shop.
2. Decide Offer Rates to showcase for the buyers
With multiple shipping methods, your shop may return multiple shipping rates for the buyers. In this case, you may choose whether to showcase only the minimal shipping rate, or all the options for your buyers.
3. You can set your rates when API returns nothing
There are times when USPS API returns no value for the shipping operation. So, to handle this fallback situation, the plugin allows you to set a fixed rate, for example – $5, or $10.
4. You can enable Flat Rate Shipping
On enabling this option, you will be able to apply a fixed shipping rate to all your items, once those are packed in the envelope or box. Not just that, you can add an additional fee, for example – fee for gift-wrapping, etc. too.
You can also set titles for Express Flat rate shipping method or priority flat rate shipping method. So, when the customer chooses any of these, they get the clear understanding of the rates applied to their cart for shipping services.
However, it is not possible to create multiple types of flat rate shipping methods through it directly. You will require Advanced Flat Rate Shipping for WooCommerce Plugin to do so. This free plugin allows WooCommerce shop owners to create flat rate shipping as per countries, delivery time, delivery date, zip code, product, and more such parameters.
Note: If you want to create shipping rates for even more properties & functionalities, you can use the advanced version of this plugin.
5. Option to create Boxes or Pack items Individually
It's not always that we want all purchased items to be shipped in one box/envelope. Sometimes, it is required to ship one order in multiple separate boxes.
Let's say, your customer wants to buy a set of books to be wrapped separately for gifting while other items for your own use. For this case, the USPS shipping plugin lets the buyer create product bundles.
6. Shipping Calculator
Because the shipping rates for different locations, products and conditions may vary significantly for big stores, it is near impossible to add manual shipping rates for each use case. With shipping calculator that dynamically calculates rate of shipping as per USPS shipping carriers, things become smooth for eCommerce businesses.
Benefits of Using USPS Shipping Plugin for WooCommerce-based Businesses
Shipping operation, undoubtedly, is the most complex part of selling online. If you decide to handle it on your own for a small business, you will burden yourself with multiple extra costs, time-consuming processes, and hassles of returns or unsatisfied customers. Alongside this, it will limit your potential to sell in terms of boundaries.
Localized and self-operated shipping may work fine for businesses that are into immediately consumable products, such as food items, but cannot be deemed fit for businesses with a broader scope, for example, fashion clothing, gifts, and so on. For such ventures, USPS shipping can simplify things in no time.
Here are a few benefits of using USPS shipping plugin for WooCommerce:
With the USPS plugin enabled for your eCommerce shop, you can ship your products to anywhere in the world from the base locations accepted by this plugin. Not just that, all related operations are not your headache anymore. Be it a small business or an enterprise, shipping doesn't remain a troublesome task for anyone with the USPS shipping plugin.
As USPS is a big network, outsourcing the delivery tasks to them reduces the cost of delivering products to minimal. However, if you choose to hire professionals for multiple locations on your own, buy conveyance vehicles and operate a fleet, it all will cost you a fortune. Agree?
Real-time tracking for the buyers at no extra cost for the businesses
Because the USPS shipping method returns an ID to your customers, deliveries can be tracked in real-time through them. You don't have to set up a whole mechanism for tracking deliveries and answering customers' queries regarding the same.
Similarly, your customers won't worry about their orders anymore. So, it increases your brand's trustworthiness & causes a decrease in complaints or panic queries.
Through this feature of USPS Shipping Method Plugin for WooCommerce, your buyers can create multiple boxes. For these boxes, the dimensions, weight and a few other parameters can be fixed.
Various Types of Shipping
Your eCommerce shop immediately becomes equipped with express delivery, media mail, normal delivery, flat rate and many such types of shipping facilities when USPS Shipping Method for WooCommerce Plugin is enabled.
Let us say your eCommerce shop has collaborated with the local vendors of a country and found out that their services are satisfactory, plus, cheaper than USPS. In such a case, you can exclude that country from USPS shipping without hassles.
It is not that the plugin has a concrete code and cannot be modified for the businesses. USPS plugin can be easily customized if you have a good understanding of how to customize WooCommerce plugins.
Step-by-step Guide – How to Use USPS shipping plugin for WooCommerce?
Installing the Plugin
If you do not have an account on the WooCommerce website already, get started with creating an account, or just sign in with WordPress to the portal.
From your WooCommerce dashboard, you can download the USPS Shipping Method extension easily. Search for it and download.
Now, go to the admin panel of your WordPress website by signing in.
Navigate to Plugins > Add New and upload the plugin file in ZIP format here.
Once the selected file is uploaded, click on Install Now.
Getting Started with USPS shipping plugin for WooCommerce
As the plugin is installed now, let us configure it well, in order to make it work for your WooCommerce shop. Here are the steps:
Get a Used ID: If you just want to use the USPS facilities for your WooCommerce shop, you can directly use the USPS ID, created automatically by the plugin once activated. Alternatively, you can sign up for the USPS web tools through the official website and use the newly-created ID with WooCommerce.
To make things easy and traceable for your developers and users, it is suggested to enable the debug mode. It will render debugging information on your shop's cart or checkout pages. So, when the cart faces any error due to USPS, you will be able to figure it out whether it was due to USPS or not. Further, it will also help in the quick resolution of the problem, if caused by USPS Shipping method.
Now, you are ready to use the plugin. All you need to do is, setting up the things according to your eCommerce shop. Go to your WordPress WooCommerce Shop's dashboard, navigate to Settings > Shipping. Here, you will find shipping zones sections.
In shipping zones, look for the Shipping methods field and click on Add shipping Zone button. From the opened dropdown, choose 'USPS' and then hit the 'Add Shipping Method' button.
Once the method is added, fill in the details, such as –
a. Method title (the name of USPS shipping method as you want to show to your customers.)
b. Offer rate (minimal or all available rates)
c. The fallback value, which will be shown as shipping fee if the USPS API fails to return any value or returns a garbage value. The amount has to be filled in digits and it could be a fractional value. This entered value will be considered as the amount in dollars.
d. Fill the details related to the API rates and Flat rates as suitable for your online store. Through the API, non-flat rate services can also be enabled.
With this your shop becomes able to handle following types of shipping services for the available (and non-prohibited) products domestically –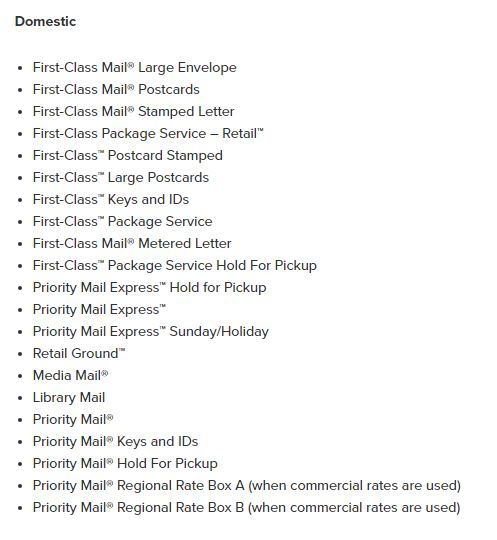 And the following international shipping services can be provided to your customers through USPS Shipping Plugin for WooCommerce –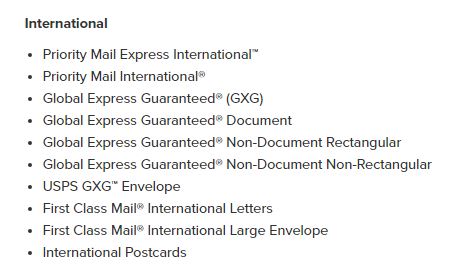 Now when basic settings are done, let us give you the details regarding a few additional settings:
Setting API Rates
There are 2 ways to set shipping rates.
First is enabling the API rates and make adjustments in the prices by a fixed amount or percentage. Just as in the shown figure, tick the checkbox with value 'Retrieve Standard Service rates from the USPS API'. If willing, you can also change the name of this service.

Once you will enable API rates, you can enter the value you want to add or reduce in the price being fetched through the API. This value can be in dollars or percentage. For using the shipping fee as is, fill 0 for any of the parameters.
Parcel Packing Method
For shipping the cart items to the customers, there are 3 Parcel-packing methods:
Per item – All items except digital goods will be packed in one bundle and single shipping cost is charged.
Weight-based – If you chose this method, heavy or large-sized items are packed separately and the shipping cost or these items is quoted separately. At the same time, the small items are grouped and these groups are packed in one or multiple bundles as per the upper limit of allowed weight.
Box Packing – In this case, you can define the box limit (in terms of weight) and this value is sent to the USPS API.
These are the dimensions & values related to the boxes that you can set for your eCommerce business online –

Flat Rate Shipping
This method fetches a single rate for the USPS services and you cannot modify the value if pricing is done through it. Using box packer, the system automatically creates one quote for the order/cart in this case.
To modify the conditions or scope of the flat rate, you will have to use advanced plugin. Here is how.
The Final Word
USPS shipping plugin for WooCommerce is an essential shipping aid for businesses in the United States, Puerto Rico and US Virgin Islands. It is even more important when you are shipping to multiple countries or distant cities. The cost and reliability of your shipping operations can be easily optimized with it.
On one hand, the plugin simplifies the shipping-related work for the shop owners, and on the other hand, it gives customers the facility of order tracking through USPS. Not just that, transparency, shipping facilities and trustworthiness of the shipping process can be improved by enabling this plugin for your shop.
Do you still think you will require a standalone shipping fleet for your business dedicatedly, or USPS shipping will be sufficient? Tell us through your comments.