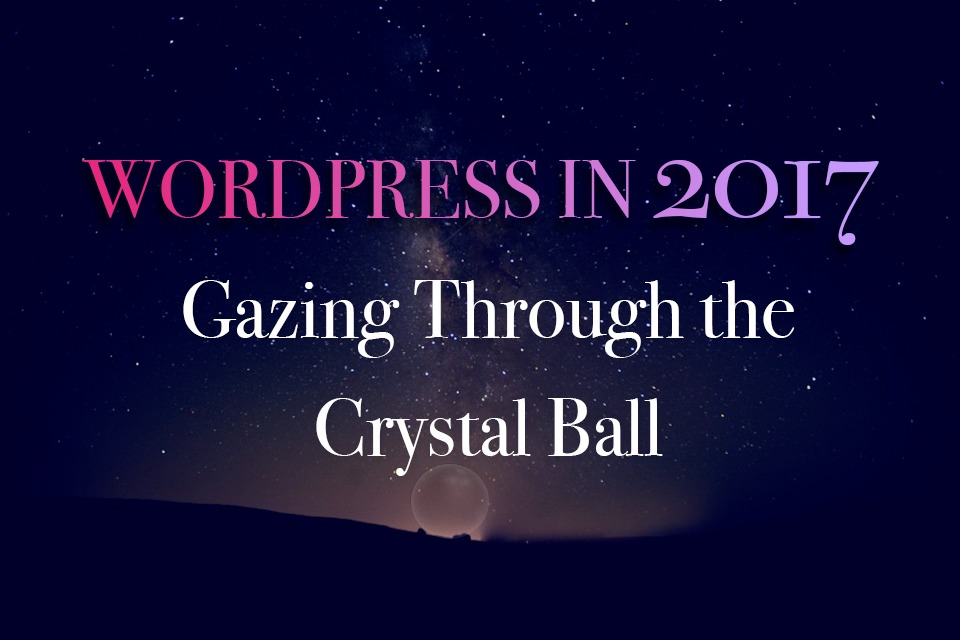 WordPress in 2017: Gazing Through the Crystal Ball
As we bell away from 2016, here's an adieu to the grand WordPress year that 2016 was. With 26 official releases across 2016, the WordPress community has grown thrived and is in complete glow.
There are a lot of predictions around on the internet, about how WordPress in 2017 might be looking for world's most loved CMS platform with more than 21% of the market share, just to its own self. Here's our take on 2017 WordPress predictions.
A back-end, evolved for mobiles
People are more in love with their mobile devices, than ever. It makes working on the go, easier, more fun and a more creative process. Considering that more than 500 sites are created in WordPress every single day, a lot of work can be eased out on the go, with a mobile-suited back end.
This is a huge area of potent improvement for the WordPress community as a whole and we are expecting, it will be taken care of really well this year. Plugins under this category have already started coming up. AppPresser is one such example. We are expecting a lot more of such kind this year.
At peace with REST
2016 witnessed the merging of REST API into the core of WordPress. Wasn't that really good? More flexibility, better scalability, more at peace and reassurance? It has been an amazing adoption of Javascript, although PHP is there to stay as an eternal thing with WordPress, as Matt puts it.
2017 will see a better-utilized REST API. We are also predicting a pleasant flow of the present interface to a new one with Calypso by its side. Install the JetPack plugin, and Calypso starts interacting with your site. Your benefits? Enjoy smoother and quicker publishing and relish a relatively clutter-free user interface.
A more diverse community
And that's because Javascript has made a gala WordPress entry. The community, which was previously ruled by PHP monarchs, will now see a blending in of Javascript experts. Might be a turn-off to a few WordPress legacy lovers, but in the long term, it is the best thing that could have happened.
Longer, simpler, minimalist one pagers
This trend too, is driven by increasing mobile usage. When on mobile devices, users tend to consume content while scrolling (it's easier to scroll using a thumb, rather than a mouse). This is introducing the need of taller, scrollable pages that are simple to surf by. A minimalist touch is taking over. With simplistic standards that Google Material design has set, WordPress designers and developers can expect a gala time making their mark. Larger buttons, clear call to actions, decluttering and minimal text and clean design are taking over completely. WordPress, as a community will be modifying its User Experience trends in tune with the behavior of web citizens.
ALSO READ:
Attention WordPress Developers and WordPress Website Owners: This Plugin Will Save You Hours of Efforts to Manage Your Menu.
Provision for videos and GIFs
We have used a lot of them here, right here. Everybody loves to see a moving live thing here and there. While videos of live people is a great idea in websites, GIFs are a wonderful choice for personal and professional blogs that rate high on humour quotient. Embedding media onto any piece of content increases its readability and hooks page visitors for quite some time. This decreases bounce rates and acts as a boon from the perspective of Search Engine Optimisation too.
WordPress websites will see a rise in the use of media files. This could be indicative of the fact that more interactive web assets will claim prominence in the coming year.
Responsive is on the rise
Talk about the kind of menu or the seamless gridding, WordPress websites plate it all out. The trend is expected to be carried on to the next year too! Parallax scrolling is also supposed to stay. Autoplay for videos will eventually stop, with play controls completely in the hands of users. Use of high quality images showing live people will stay.
Content placement and user flow designs will become more sophisticated.
More accessible
As more people across the globe use CMS tools like WordPress, it also means that there is more need for accessibility. Matt Mullenweg has already hinted that WordPress will be more accessible in 2017. With more wordcamps being held each year and more people coming together in the wordpress community (from more than 53 countries) is a strong case that WordPress is already being translated into more and more languages. For instance, this year wordpress 4.7 has already been translated in Urdu for the first time by a bunch of cool guys.
And, we here, at Multidots also celebrated the WordPress Translation Day for making WordPress accessible in Gujarati. The Ahmedabad WordPress Community got together to contribute Gujarati Translations to WordPress so that the local people here can access WordPress in their local language.
Conclusion
With the new wordpress version already being launched and an ever increasing community of wordpress developers, we expect 2017 to be amazing for WordPress enthusiasts and site owners.
If you think we missed out a trend, please feel free to share your thoughts in the comments below.