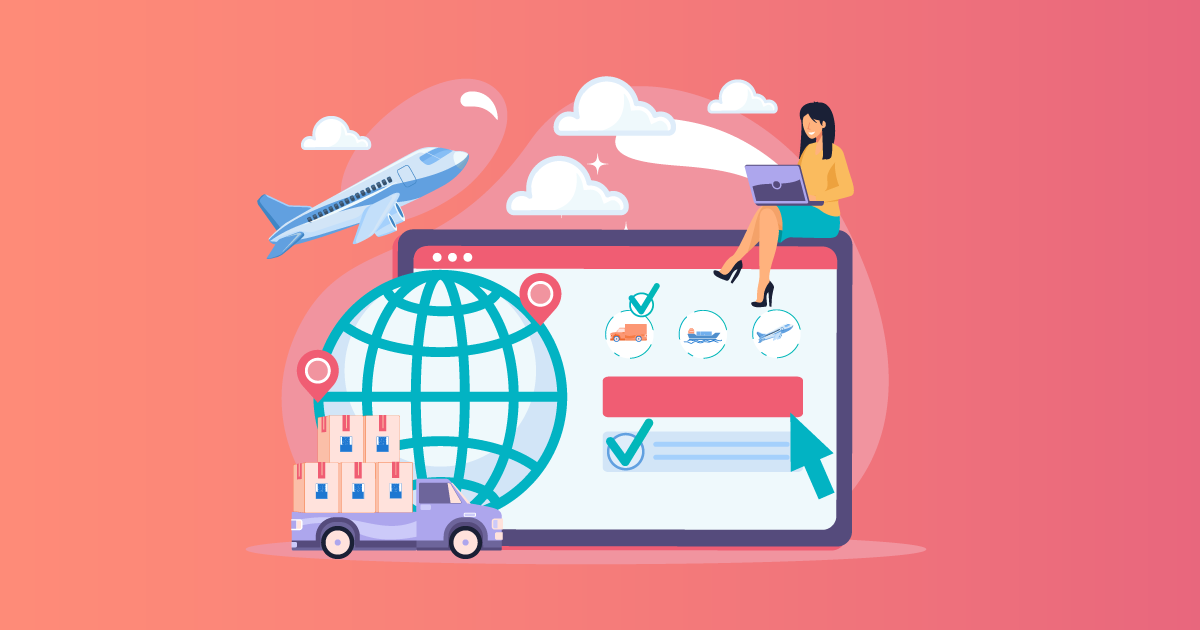 Comparing The Best WooCommerce File Upload Plugins for 2022
Are you looking for a way to let your customers upload their own files during checkout in WooCommerce? Do you want to upload files for your customers to download? You need a file upload plugin.
Accepting and enabling file uploads is the best way to get your hands on attachments like PDFs, spreadsheets, images, and signed documents. WooCommerce doesn't offer this feature as native functionality. The only way to allow your customers to upload files to your WooCommerce store, or to upload files for your customers, is to use a third-party plugin.
In this article, we're going to compare the best WooCommerce File upload plugins for your customers to upload files for WooCommerce. We'll compare various WooCommerce file upload plugins, so you can choose the right one for your eCommerce store. We'll also show you how to enable your customers to upload files themselves in WooCommerce. 
Why allow customers to upload files?
There are several good reasons to enable your customers to upload files to your eCommerce store. Adding a file upload option to your WooCommerce product pages using a WordPress file upload plugin allows you to offer greater customization options for your WooCommerce products. Below are just a few examples of specific products that you'll be able to offer your customers if you add the option to upload images and files to your store:
Custom clothing like T-shirts featuring artwork that customers have uploaded
Personalized engraved jewelry using the customer's own design
Bespoke gift wrap designs
Custom calendars
In a nutshell, by giving your customers a file upload option, you can start designing products based directly on customer specifications, improving the customer experience and increasing your order conversions at the same time.
The best WooCommerce file upload plugins for 2022
Now that we've explained why it's a good idea to enable customers to upload files to WooCommerce, let's take a look at some of the best WooCommerce plugins for adding file upload functionality.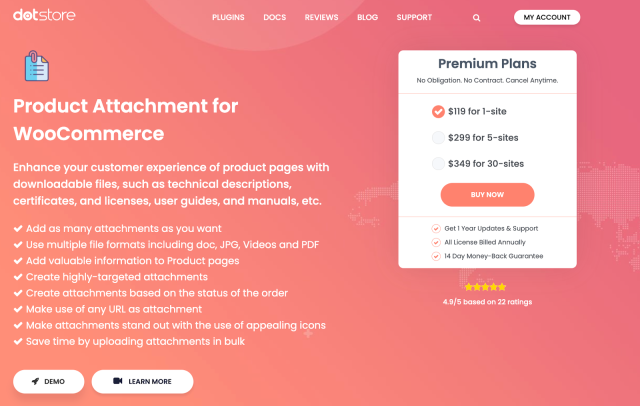 Product Attachment for WooCommerce from DotStore is an all-in-one product attachment solution for WooCommerce. You can use this plugin to enable your users to upload their own customer attachments at checkout. The store admin will be able to view the user's uploaded files and create a custom product or respond to queries accordingly.
There are a host of other features that make this plugin stand out from the others. You can use Product Attachment for WooCommerce to add downloadable product attachments to public-facing product pages, including user manuals, guides, data sheets, licenses, and more. A number of file formats are supported, including doc, docx, pdf, jpg, and several video formats. You can add as many attachments as you like and can display them prominently to make them easier to find.
You can even use the plugin to add attachments to confirmation emails and order view pages, according to WooCommerce order status. You can bulk upload your attachments to save time, as well.
Product Attachment for WooCommerce stands out because files can be uploaded in both directions: the user can upload to the store from the WooCommerce checkout page, and the store admin can add attachments to their product pages for download. It also has full compatibility with WPML for multilingual stores.
The premium version of the plugin enables admins to send individual attachments with every order, which is great for providing proof of work carried out from a custom order. If you are losing sales, Product Attachment for WooCommerce could be the secret to reversing your downward trajectory.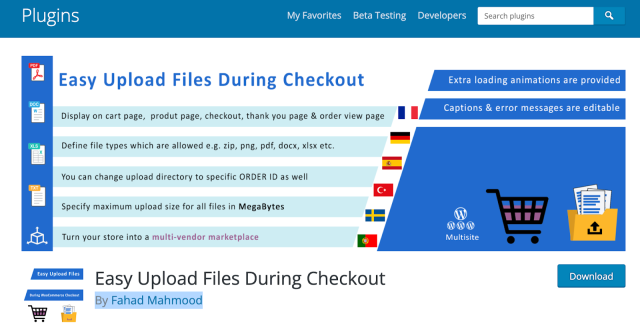 Easy Upload Files During Checkout is a very simple plugin that lets your users attach files during the checkout process. It's a handy feature if you just want a tool that enables customers to add a design or customization request before making a purchase.
The upload button is displayed on the cart or checkout page, giving customers flexibility. If you want to enable uploads to your product pages, you will need to purchase the premium version, so the free version is fairly limited. The premium version does extend the functionality. You can use it to send attachments in email, attach billing or shipping details or enable uploads after login/registration.
Easy Upload Files During Checkout gives you some control over the file types you enable, including doc, txt, jpeg, and png, as well as the maximum file size you'd like to allow.
It's not as impressive as some of the other tools we're looking at, but if you need something simple, Easy Upload Files During Checkout will probably meet most of your needs.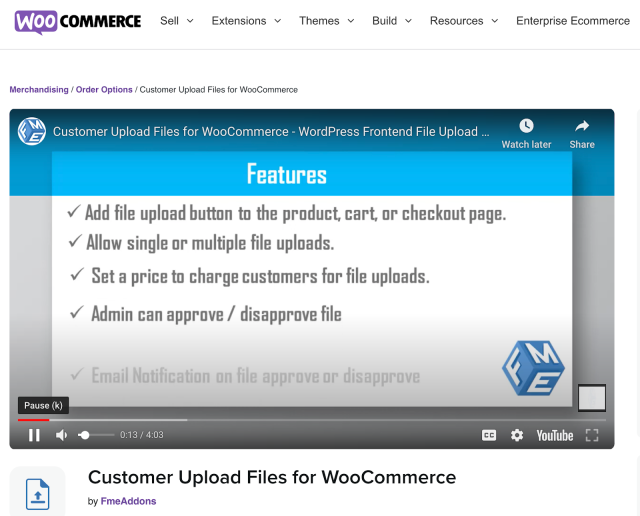 Customer Upload Files for WooCommerce is a paid WooCommerce extension that enables customers to upload photos or other file types to their orders. Customers can upload fields directly from their cart, checkout, or product page, preview their file uploads, and remove them at any point during the checkout process.
Files are customizable with notes, and you can have the option of charging your customers for uploading files. You can also turn email notifications on or off, depending on your preferences.
The plugin doesn't require much work to get started, and you can always toggle specific upload settings according to your requirements. Some of the settings include choosing which pages or products your upload fields are enabled on, setting limits on file types, sizes, and image dimensions, uploading multiple files as an album, and more.
All in all, it's a reliable tool that's good for creating custom products via WooCommerce.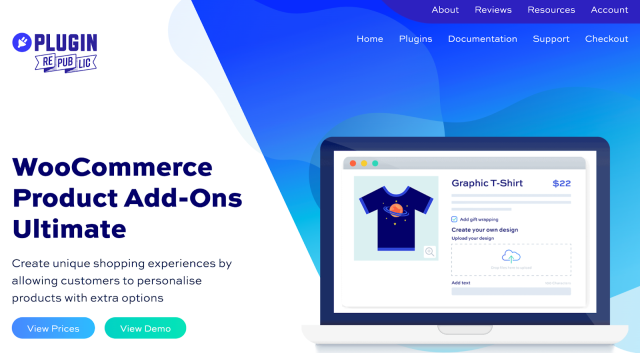 Strictly speaking, WooCommerce Product Add-Ons Ultimate isn't a file upload plugin, but it does feature a file upload feature. In actual fact, it's a full package of add-on options designed for WooCommerce, which can be handy if you need more than just file uploads.
Users can use this plugin to upload files to personalize products, including T-shirts, photos, and gift cards. You can also use it to bulk upload files using the AJAX uploader, so you can see the upload status in real-time.
You also have the option of charging customers per upload, which is great for setting up robust pricing plans on stores with customizable products.
There are 16 add-on field types included in the package, which gives you the ability to add checkboxes, dropdowns, text fields, and conditional logic.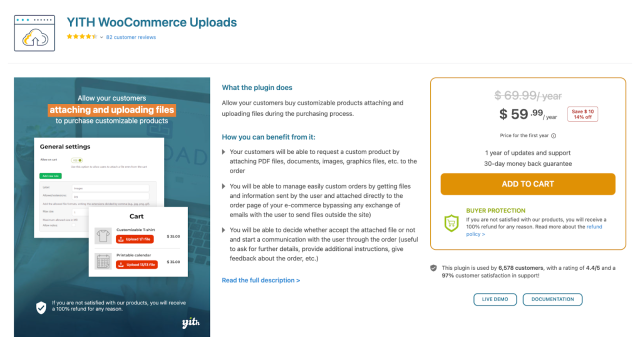 YITH WooCommerce Uploads enables users to supply a wide range of documentation that can help eCommerce stores customize their products. Formats include PDF files, documents, images, graphic files, and more.
The files that users upload will automatically appear on the orders page of the WooCommerce dashboard, which makes it easy to manage. You can decide whether or not to accept the attached file and start communication through the order (e.g., asking for more details, providing additional instructions, or supplying feedback).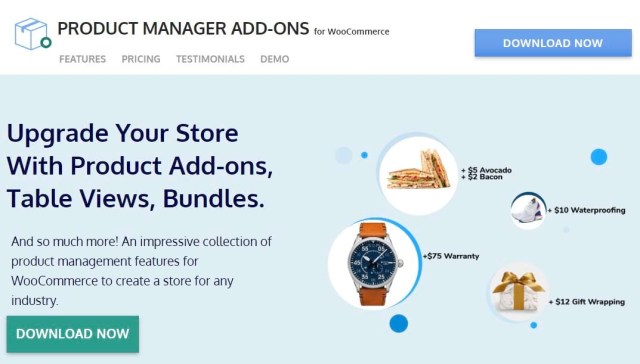 Product Manager Add-ons from BizSwoop provides a suite of options that allow store owners to offer add-on options for their WooCommerce products, ranging from customization options to additional upsell items.
Using Product Manager Add-ons, you can add custom add-on groups to any product on your store, allowing you to create customizable product offerings for your customers. Among these add-ons is the option for customers to upload files directly to the product page, cart page, or checkout.
Product Manager Add-ons offers a versatile array of different add-on options and input fields, and you can scale your pricing plan based on which types of add-ons you wish to offer on your WooCommerce store. All add-ons can be managed directly from your WooCommerce dashboard.
How to let customers upload files for WooCommerce
In the following tutorial, we'll show you how to enable file uploading in WooCommerce using Product Attachment for WooCommerce.
Start by downloading and installing the plugin. Activate the plugin.
Now, the "Add Attachment" button will start appearing at checkout, enabling your users to upload their own custom files.
As we've mentioned, you can change the settings for admin-uploaded files (the files that are available for your customers to download). Go to DotStore Plugins > WooCommerce Product Attachment in the WordPress admin dashboard to make your changes.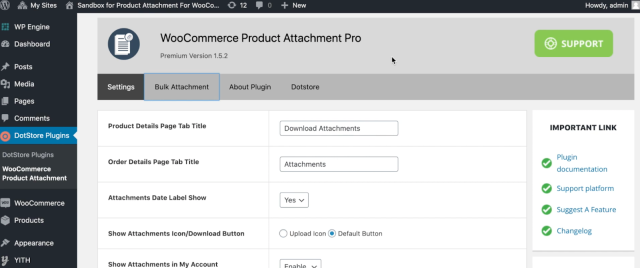 It really is that straightforward! Using Product Attachment for WooCommerce, you can allow your customers to start uploading files to selected product pages within minutes, opening your store up to offering customizable products. Better yet, it also allows you to offer helpful downloadable files, like manuals, user guides, and more on your store front end.
Start offering customizable products with a WooCommerce file upload plugin
There are many reasons to allow customers to upload files to WooCommerce. Adding this feature enables you to offer personalization, which means it's great for print-on-demand companies, clothing stores, and gift card or photography stores. Any eCommerce store that has the scope for customers to define how they would like their product to look can benefit from this functionality, increasing your order revenue in the long term.
While all of the plugins we've mentioned have great benefits, Product Attachment for WooCommerce offers the best file upload functionality for WooCommerce. It's a really simple way to enable file uploads without coding knowledge or technical expertise.
Custom products can be made more quickly and with more thorough briefs, thus increasing revenue in the long term. Product Attachment for WooCommerce also allows the store admin to attach useful files to the product page, order page, or checkout page, with a range of different customization options available.
It's a great plugin for uploading files in both directions: from the user to the store owner and vice versa. The premium version is highly recommended. It enables admins to send attachments back to the customer and allows the customer to approve proofs and drafts of custom orders, creating a far easier and more accurate approval process.
Install Product Attachment for WooCommerce to unlock even more benefits for your store.