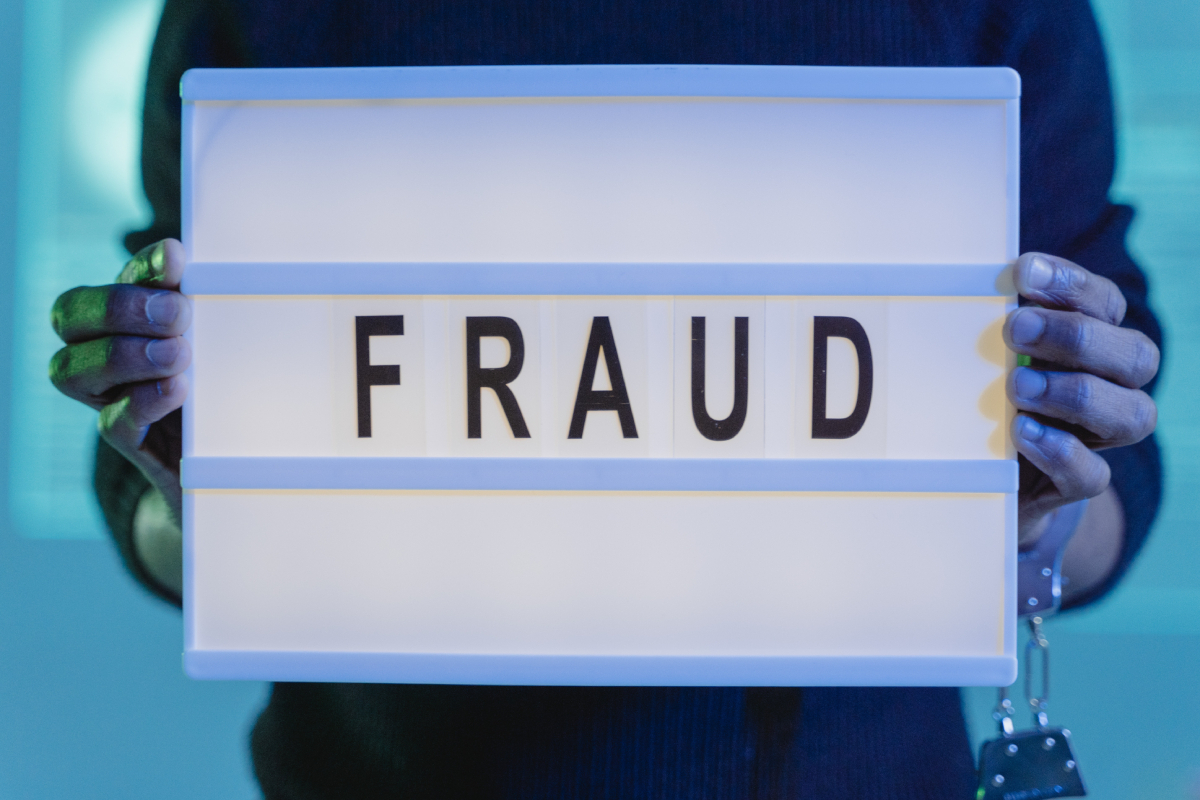 The Definitive Guide to The WooCommerce Fraud Prevention Plugin
Every eCommerce store owner worries about their store's security as technology advances. Tools like WooCommerce Fraud Prevention plugins have become increasingly common in stores. Even though online websites have become popular for shopping, fraudulent activities have also increased. The digital domain is at significant risk of cyber-attacks, including fraud transactions, fake orders, and other illegal activities. Therefore, with the digital environment being accessible to all, your store can fall prey to such events, especially if the security measures in your store are lax.
Fraud-related issues can cause catastrophic losses for your business which can be financial, brand-related, reputational, or loyalty-based. That is why you must implement the right tools to prevent fraud in your WooCommerce store. However, before you learn about working with WooCommerce Fraud Prevention Plugins, there are several other things you need to know.
Table of contents
Types of eCommerce Fraud
Your WooCommerce store can fall prey to various common fraudulent activities at any time. According to a Juniper Research report, retailers of online stores were at risk of losing over $20 billion in 2021 due to fraudulent online activities. Here is a list of a few such activities which can harm your business –
Identity theft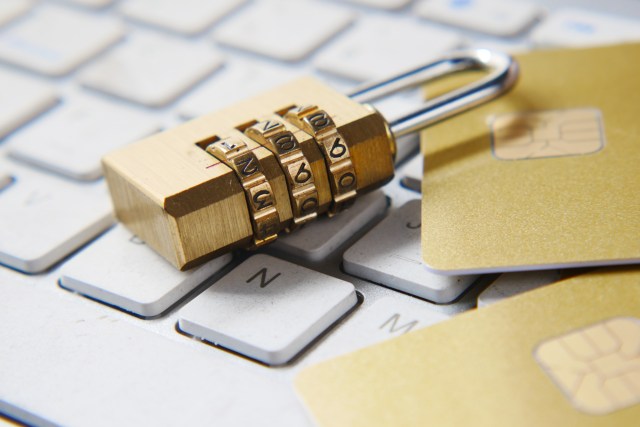 As its name describes, identity theft is a form of illegally impersonating an individual or a customer by acquiring their personal information and using it without their consent. Such type of fraud harms your eCommerce store and your customers as it puts your consumer data and their personal information at risk. By stealing your customer's identity, the impersonator, on most occasions, can order products from the original customer's registered account.
Since identity theft occurs when a hacker controls a user's account, it can cause tremendous financial losses if undetected and unreported. According to research from OpSec security, 86% of online consumers were victims of identity theft, credit/debit card fraud, or a data breach in 2020.
Card testing fraud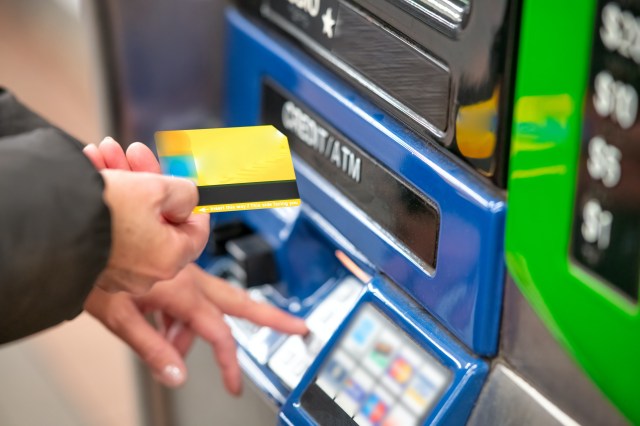 Card testing or card cracking is a form of digital fraud in which the fraudsters try to determine if the information on the stolen card they have is legitimate. They later use this card to make purchases on your WooCommerce store from the cardholder's account. Then, the person trying to check the card may obtain the stolen credit card information by buying it illegally.
Additionally, it may give rise to legal and financial disputes between the customers and eCommerce store owners. One of the most common types of fraud on online platforms, it is impossible to avoid card testing from occurring.
Refund fraud
According to a survey, the retail industry loses about $24 billion annually via return frauds and abuse of eCommerce store return policies. Additionally, 6% of the 10% of returned transactions were fraudulent in 2020, as reported by retailers.
In this type of fraud, the imposter or the person using your user's stolen identity will make a purchase from your website. However, once the customer realizes they did not place the order, they may file for a refund, leading your store to bear all the costs. The fraudster may also directly contact you to send the refund using an alternative method apart from the user's credit card.
Clean Fraud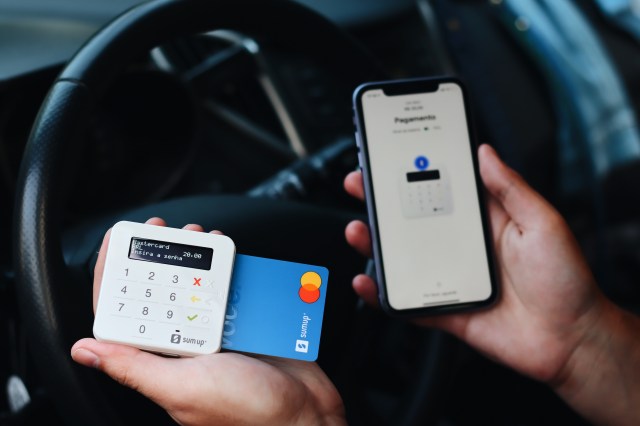 It is the most difficult to detect since this fraudulent transaction requires meticulous planning to look legitimate. Since it does not get flagged or noticed by the security of online stores, it is easier for fraudsters to commit clean fraud. It gets carried out using stolen credit card data to impersonate the cardholder. The AVS, CVV, and other ways of verifying the transaction's authenticity can be useless in detecting such fraud.
Friendly fraud
Also known as chargeback fraud, this type of fraudulent activity is relatively common since people have started using online payment methods as their primary source of payments to eCommerce stores. In a friendly fraud, the user purchases a product from your website with their credit card. They later request a chargeback from their bank after having received the goods of the purchase from you.
If the bank approves, the customer receives a refund of the money they spent while also being able to retain the goods. WooCommerce merchants like you are left to face additional charges and the original cost of goods. Almost 30% of all chargebacks initiated are due to the transactions made with stolen information.
Interception fraud
One of the trickiest and most common fraudulent activities is interception fraud. It requires the fraudster to place an order on an eCommerce website using the information obtained through various means. They then get the purchase delivered to the customer's address to increase the order's legitimacy. However, the plan is to intercept the package before it gets delivered to the address.
The fraudsters can change the delivery address and reroute the purchase via customer service or by contacting the shipper.
Phishing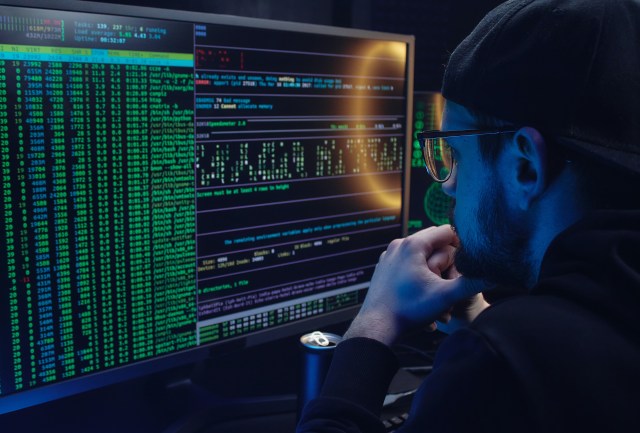 It is one of the longest-running scams since the development of digital technology. Phishing involves fooling an individual into voluntarily giving away their personal information in response to something they saw in their email or SMS. According to this scenario, the fraudsters may present themselves as a service provider, merchant, bank, or eCommerce website.
The retail sector suffers the most phishing attacks at 60%, according to research by Tessian in 2021.
Apart from these, several different types of fraudulent activities are prevalent in the digital space. It includes account takeover fraud, merchant fraud, affiliate fraud, fake orders, triangulation fraud, check fraud, etc.
Recommended for You: How to Set up Fraud Protection in WooCommerce
The Need to Accurately Detect WooCommerce Fraud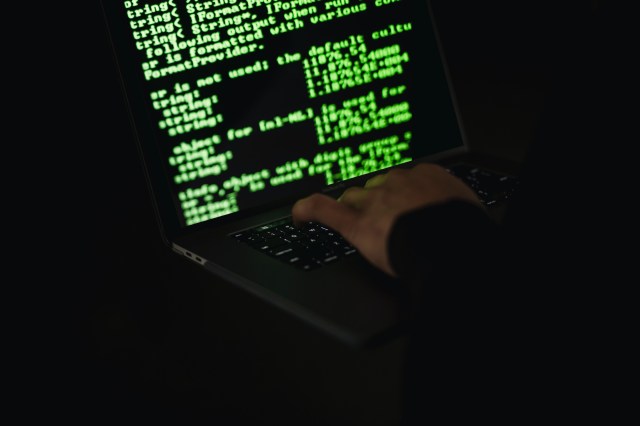 Cyber-attacks and fraudulent activities are inevitable, no matter how rigorous you make the security in your WooCommerce store. At some point, there may be a risk of breach. These activities have also gained rapid momentum since the online platform provides a sense of anonymity and opacity to fraudsters.
However, failing to detect fraudulent activities on time can result in a significant loss of revenue, consumer data, store data, and business viability, thus damaging your business. Therefore, it is essential to implement fraud-detecting measures to help locate and prevent fraud. Without the proper ability to discover fraudulent activity, your eCommerce store may be putting your and your customer's information at risk, which may get used for illegal reasons. Additionally, your customers may feel safe if your store can detect fraud, resulting in a positive relationship with users.
Preventing WooCommerce Frauds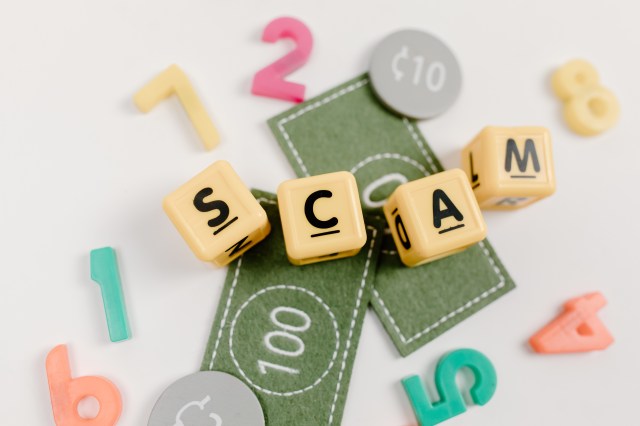 With the daily transformation of technology, fraudsters are adapting newer ways of committing fraud. According to a 2022 report by MRC, around 75% of global organizations reported an increase in fraud attempts directly targeting merchants over the past two years. Therefore, it is essential to prevent fraud.
Avoiding the occurrence of fraudulent activities on your website is a multi-step process. While there are several plugins to prevent fraud on your WooCommerce store, implementing a variety of such steps can ensure that you get enhanced protection. It also makes more financial sense to stop such events from occurring rather than spend extensively on damage control.
Here are a few steps you can take to prevent WooCommerce fraud –
Monitor your site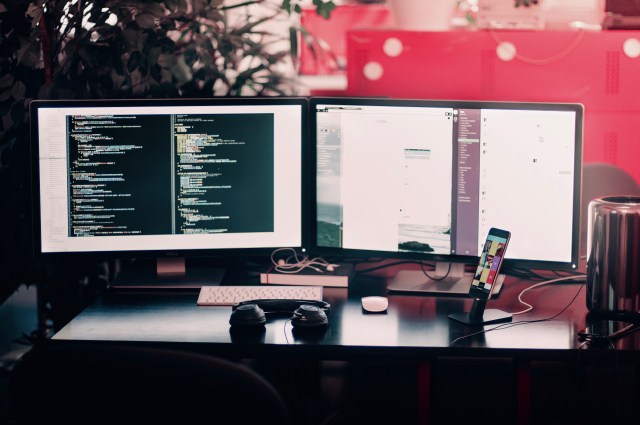 The first step in avoiding eCommerce fraud is to monitor your site. Therefore, ensure that your website has updated security standards, and scan for flaws that can make it vulnerable. Back up the store data regularly, scan the store for malware, update the shopping cart plugins, and ensure the SSL certificate is working and that you use strong passwords for admin accounts and access to the database. Additionally, you also need to monitor your site for suspicious activity.
Maintain PCI compliance
As a business that supports digital transactions and accepts digital payment methods, it is essential to maintain PCI compliance. The Payment Card Industry Data Security Standard (PCI DSS) comprises a set of security standards and guidelines. These rules ensure that your WooCommerce store stays protected via payment methods. Since all companies that accept, process, store, or transmit credit card information must follow the guidelines, it can help you maintain a secure digital environment for your business.
Enrich your data
As an eCommerce store owner, you may feel that it is essential to collect user data to make the shopping journey easier for your customers. However, if your WooCommerce store undergoes a data breach or a hack, all your user data will be compromised. Therefore, you should only collect the data you need to complete the transaction and ship the product. Through routine checks, ensure you have not collected sensitive information like card numbers, passwords, birth dates, etc.
Keep detailed order records
Frauds like chargebacks, fake orders, and refunds can take a heavy financial toll on your business. In order to avoid that, you must maintain a detailed registry of all your records. It should include shipping details, customer names, addresses, and the types and verification from the customer for receiving the product. Ensure that you have this information appropriately stored to counter fraudulent activities.
Use Address Verification System
Several banks provide online retailers with tools for address verification to detect and stop fraudulent transactions. These address verification services (AVS) check if the billing address submitted by the current user matches the information at the issuing bank. It also helps the merchant determine if a particular transaction should be accepted or rejected. Reliable credit card services like Visa and Mastercard are known to provide these services in major countries worldwide. Additionally, using geolocation to detect the fraudster can also help.
Check CVV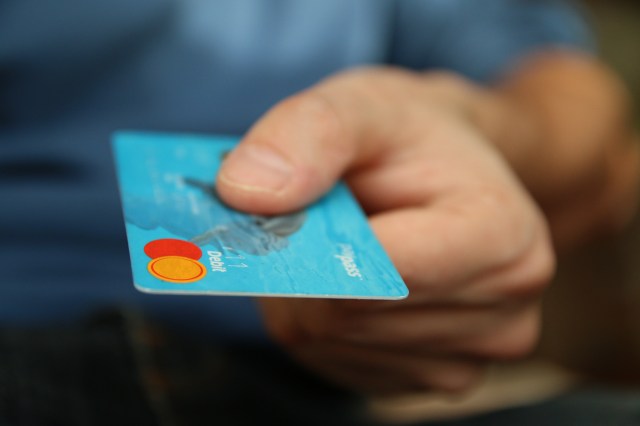 If a customer is paying via a card, ensure that you authenticate the transaction using the Card Verification Value (CVV) on the back of credit and debit cards. It can help you ensure that the card is in possession of your customer.
Be careful during the holidays
Holidays like Christmas and Black Friday are hotspots for fraud transactions. Since customers are in a hurry to make purchases and may be more preoccupied than usual, they may sanction any transaction or fail to detect any warning signs of fraud. Therefore, it is essential to scrutinize foreign orders or minor purchases in bulk. Analyzing customer behavior patterns during such times can also be extremely helpful in detecting a suspicious transaction.
Reverse social media lookup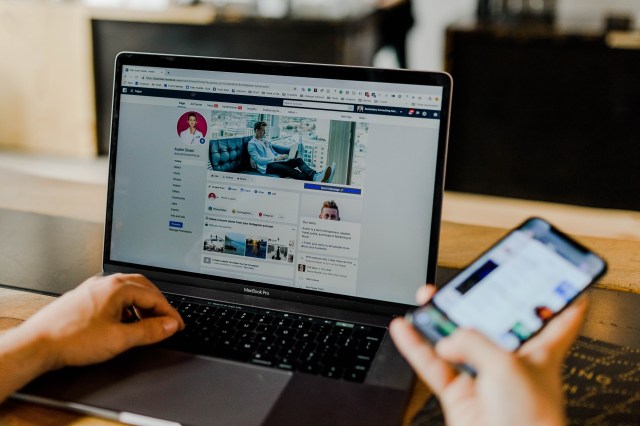 Social media lookup or reverse social media search is a way to get basic information about a user. You can use such tools to determine your customer's legitimacy and determine whether they are authentic or a fraudster. If you feel a particular user is unsafe for your business, you can immediately blacklist them from your store.
Use fraud prevention solutions
A comprehensive fraud prevention solution is the best way to ensure your WooCommerce store is protected against fraudulent activities. The plugin includes third-party solutions like fraud prevention plugins for WooCommerce that detect the identifiers of fraudsters and flag such users. These plugins protect you as the eCommerce merchant from various frauds by blocking and blacklisting suspicious users and providing customized settings to enhance your store's security.
Maintain blacklists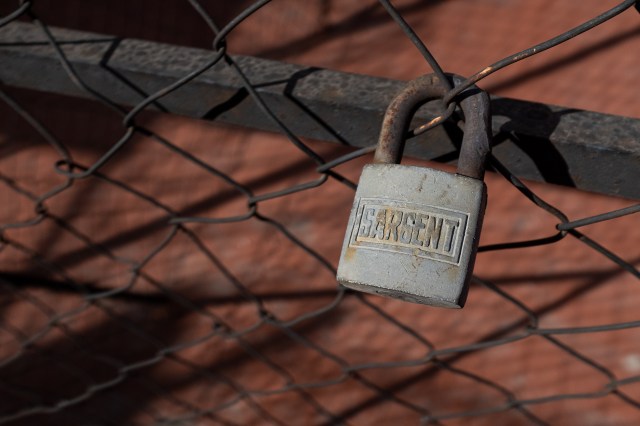 After installing a fraud detection or prevention solution for your WooCommerce store, you can start creating blacklists. It helps enhance the security of your store by blocking off recurring fraudulent users. When a user is on the blacklist, they cannot make purchases on your website. However, they can still commit fraud by accessing your store through a different stolen identity. Therefore, it is essential to consider implementing other strategies in addition.
In addition to these above, you can implement additional measures like avoiding cash-on-delivery payment methods, encouraging user registration, shipment tracking, two-factor authentication, geolocation, and biometric verification to secure your WooCommerce store.
WooCommerce Fraud Prevention Plugin – A Comprehensive Solution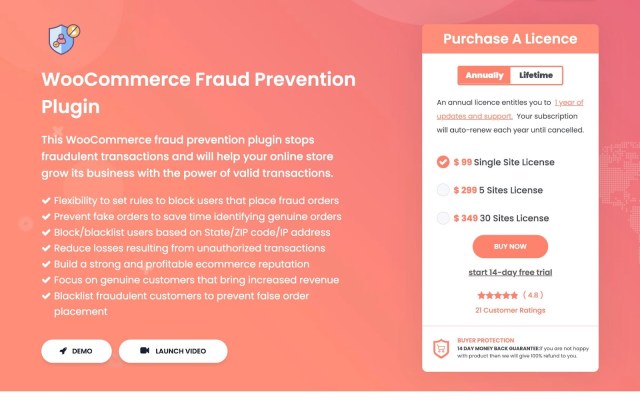 If you are looking for a one-stop solution to enhance the security of your WooCommerce store, you can install the WooCommerce Fraud Prevention Plugin. As its name suggests, the plugin helps prevent fraudulent transactions by detecting suspicious users. It also lets you customize the security parameters according to your requirement, giving you enough flexibility in your store. The plugin aims to help merchants facilitate legitimate and valid transactions and securely grow their online businesses.
Recommended for You: How to Hold a Fraud Order on WooCommerce?
Features of WooCommerce Fraud Prevention Plugin
Once you sign up and install The Dotstore's plugin, you can purchase an annual or lifetime license according to your site requirements. Purchasing the plugin offers you a variety of features, from blocking people who place fraud orders to preventing fake orders. Here is what you can do with the WooCommerce fraud prevention plugin –
Block suspicious users
One of the plugin's best features is that it lets you block suspicious users on your eCommerce store. If you want to prevent different types of fraud, you must consider multiple avenues through which you can restrict users to minimize damage to your website. The plugin allows you to block users based on the following –
IP address
Fraudsters may frequently use illegitimate or malicious IP addresses to access your website and place orders. If you have noticed that a particular IP address has recurrently caused trouble for your WooCommerce store, you can directly block or blocklist them by entering their IP address in your plugin settings. You can add multiple IP addresses to block several suspicious users simultaneously.
Zip codes
There may be an occurrence of repeated fraud orders from one area. If the problem continues for several months, you can block suspicious customers by blacklisting their zip codes. Thus, customers from these blacklisted zones may not be able to place orders, and you may not be able to deliver to such zones.
States and Countries
Phishing and other scams are usually carried out by fraudsters using a Virtual Private Network (VPN) to cover their original location. However, if you can uncover the location of such repeated attacks, you can blacklist these users by selecting their states or countries.
Mobile phone numbers
The plugin also allows you to restrict your website to users with specific phone numbers. If you discover that a particular user is a fraudster during the verification process, you can add their number to the block list to prevent them from reaccessing your website. It also ensures that your customers only use valid mobile phone numbers to place orders.
Domains and domain extensions
Cyber attackers and fraudsters can often spoof a domain and create a fake website or email to fool users into divulging other details. You can see this in phishing attacks that can harm your business. The Fraud Prevention plugin allows blocking multiple domains and domain extensions that you find suspicious to prevent fraud.
Web browsers
Most of your users will be accessing your website via a browser. However, hackers can easily hijack browsers and take control of the user's device, which compromises their data and your store. They also have scams designed to redirect users to sites containing malware. To avoid falling prey to such occurrences, you can block multiple browsers of your users.
First name and last name
Back to simpler ways to block users, if some users are deliberately causing fraudulent activities on your store, you can blacklist them by adding their first name and last name in your plugin's blacklisting settings.
Email address
You can also add the email addresses of orders with a high risk of fraud. The plugin also has a new automatic blacklisting feature to block users with their emails automatically.
Shipping zones
If the fake orders or other fraud activities on your website get restricted to a specific geographic zone, you can prevent it by limiting deliveries in certain shipping zones. It means that users from those zones will not be able to order products from your store.
User roles
The plugin also allows you to create user roles and set conditions. It can help you block users depending on their roles like wholesale buyers, admin, or non-subscribers.
Block Suspicious Users on Different Stages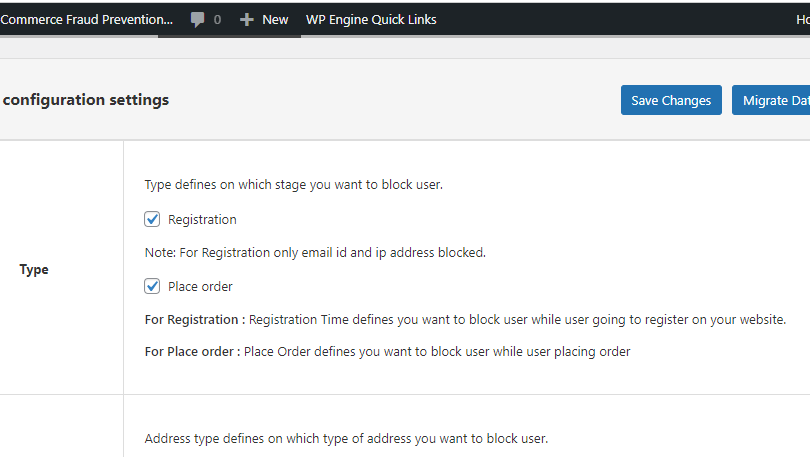 Apart from blocking suspicious users based on their features, the WooCommerce Fraud Prevention plugin also enables you to block users on different user stages. It includes –
Checkout
The checkout page filters out fraudulent transactions once users select their products and purchase them. By enabling parameters, you can enable your plugin to block suspicious users at the checkout page. Thus, the user will get restricted from placing an order on your WooCommerce store. This blacklisting only blocks users based on their email, zip code, state, and IP address.
Registration Page
You can also block certain suspicious users from accessing your website at the registration page. You can enable this by setting parameters like email and IP address so that the users using a specific email or IP address will be restricted.
Bulk Upload of Blacklisted Details
If you want to block users in bulk, you can prepare an extensive list of such users and their blacklisting details like state, zip codes, email domains, and user details. Therefore, create separate sheets for each in Excel, and you can import these in your plugin to upload and blacklist details in bulk.
Import and Export Settings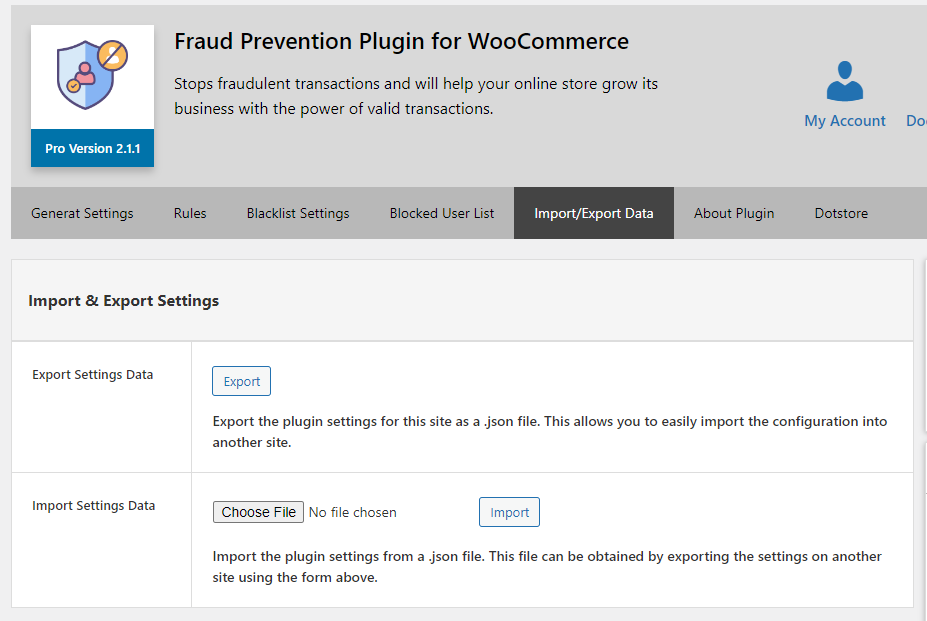 If you have multiple websites, you can import and export your WooCommerce Fraud Prevention plugin settings to another site. It will help you save time on configuring the same settings on similar new websites.
Set custom message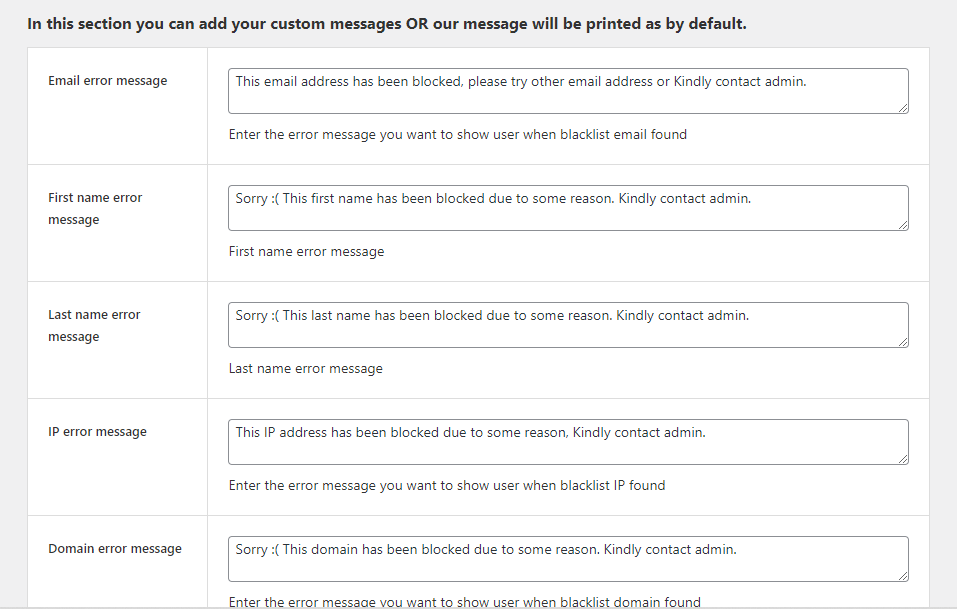 The blacklist settings tab of the plugin also enables you to add custom error messages to display to blocked users on your store. If you do not want to set a custom message, a standard, default message will get displayed to blacklisted users.
Whitelisting
You can also have exceptions in your blacklisted details by whitelisting a few according to your preferences. From the plugin's general settings, you can set up an email whitelist so that the email address listed in the list will be exempt from fraud checks. You can also whitelist selective payment methods and user roles according to your business preference.
Set customized score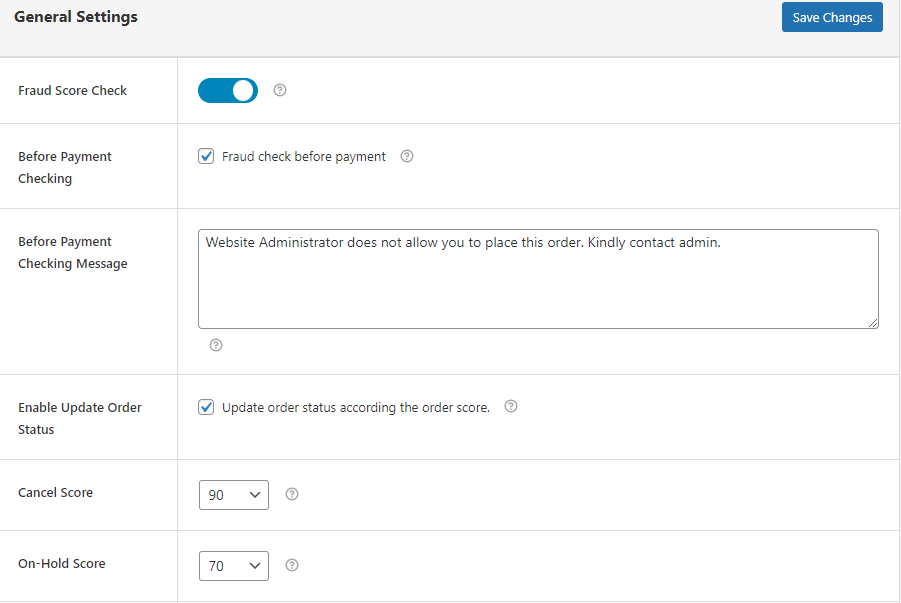 As the WooCommerce store owner, you also get the option to conduct a fraud score check. You can enable this button from the plugin's general settings to conduct automatic fraud checks according to all the rules, count the score, and then prevent any fraud orders from being placed.
Apart from these, several other features of the WooCommerce Fraud Prevention plugin can further enhance your store's security. You can also set specific rules and adjust the security of your WooCommerce store according to your business goals and preferences. However, ensure that your prime focus is to keep your store safe and secure for all your customers.
Benefits of Using WooCommerce Fraud Prevention Plugin

Using the WooCommerce Fraud Prevention plugin can have several long-term benefits for your business. Most importantly, it helps avoid fraudulent activities that could cause product loss, financial loss, and loss of trust, reputation, brand loyalty, and customer relations. Additionally, this plugin can also be beneficial for your business as it does the following –
Helps you detect fraud and prevent recurring occurrences from causing more damage down the line
Performs comprehensive checks on every user right from registration till the customer places the order
Protects your business from being vulnerable in the vast digital landscape
Enables your investors, partners, and customers to gain confidence in your eCommerce store and increase consumer loyalty
Accurately detects elements and patterns of fraudulent behavior by users
Provides enhanced security to your online store and provides you with the capacity to customize parameters
Helps in profit generation by reducing risks and catastrophic losses
Since fraud is common on the internet, it is advisable to use such a plugin in addition to other fraud prevention tools available on your website. Other plugins can help you enhance the security of your store. Therefore, research your requirements thoroughly before choosing the plugin you prefer.
WooCommerce Fraud Prevention Plugin vs. Anti-Fraud Plugin – Which One Should You Use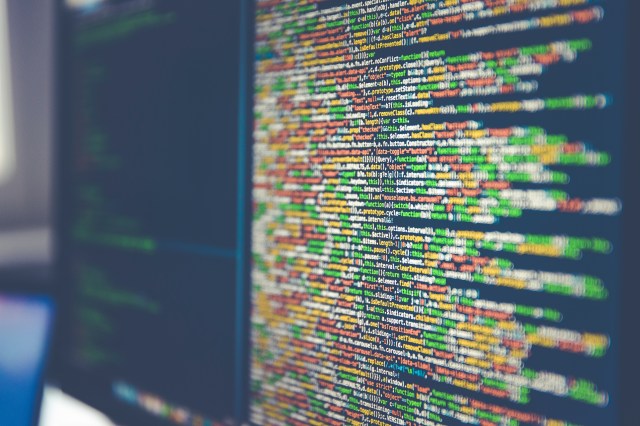 In simplest terms, the WooCommerce fraud prevention plugin stops/ prevents fraudulent transactions. It provides opportunities to mitigate loss, prevent financial damage, and trace patterns of fraudulent activities. It also automatically blacklists suspicious spam users who can be a potential threat to your website. The plugin's main focus is to conduct comprehensive checks on all the user elements on the website right from the time a user accesses the website.
On the other hand, anti-fraud plugins on WooCommerce primarily focus on analyzing and mitigating risks. Their first function during a purchase process is to check for any suspicious actions by the user. Such types of plugins assess risks by assigning a risk coefficient to actions and then automatically block orders that pose a significant risk to the website. The anti-fraud plugin creates safety rules to stop fraudulent purchases by checking for potential threats.
Here is a chart to compare the features of the fraud prevention plugin and anti-fraud plugin –
| WooCommerce Fraud Prevention Plugin | WooCommerce Anti-Fraud Plugin |
| --- | --- |
| Blocks users based on first name, last name, domain, domain extension, web browser, state, country, mobile phone number, shipping zones, user roles, as well as IP address, zip code, and email | Blocks users based on email, IP address, zip code and order |
| Automatically restricts suspicious users from accessing website, and suspicious customers from proceeding to checkout at the payment page | Reviews fraudulent checkouts and registration based on rules |
| Provides option to choose between a standard or customized error to be displayed to blocked users based on their reason for being blocked | Displays standard error messages to blocked users |
| Comprehensive rules for blacklisting to enhance security on WooCommerce website | Limited rules for blacklisting users on WooCommerce website |
| Whitelisting feature to allow specific users based on various parameters | No users are exempt from blocklist |
| Import Excel sheets with lists of details of blocked users | Manually enter lists and details to block |
| Enhanced, well-rounded view to prevent multiple fraud types | Focused on fraud rules and score weight |
The main difference between the both is that the WooCommerce Fraud Prevention plugin focuses on preventing fraudulent activities. In contrast, the Anti-Fraud plugins on WooCommerce are designed to catch fraudulent transactions as they happen.
If you are an online retailer looking to amplify your WooCommerce store's security and prevent fraudulent activities, choosing the WooCommerce Fraud Prevention plugin for your website would be the right choice for you. Additionally, it offers much more flexibility in terms of settings and features to customize your security requirements according to your preference.
Quick Recap
As technology evolves and automation enhances convenience for people, they are becoming increasingly comfortable with shopping from the comfort of their homes. However, since a significant chunk of sensitive information is available in the virtual world, several people may be trying to take advantage of it. Therefore, it is essential to be alert and implement the proper measures to prevent major damages in the future. As a WooCommerce store owner, it is necessary to ensure you use adequate fraud prevention methods to avoid being vulnerable. You can install The Dotstore's WooCommerce Fraud Prevention Plugin to enhance your website's security.