The secret of a WooCommerce store is seamless and perfected shipping. Shipping delays and the not-so-perfect WooCommerce Shipping calculator are the main reasons behind the high cart abandonment rate, disloyal customers, less re-selling, and other key workflows. If shipping is not smooth, it hardly takes a few days for a WooCommerce store to fall on the ground.
If this is not what you want for your store, it's high time to construct a perfect shipping strategy that includes many things like using the best WooCommerce shipping calculator, providing a clear description, and many more. In this guide, we bring a lot more for you that should be on your priority list as and when you have to prepare a shipping strategy.
Need for a Perfect Shipping Strategy for WooCommerce
We hardly took a fraction of a second to tell you that a perfect shipping strategy is the need of the hour. But what made us say so? If this is what is bothering you, check out the list of key reasons that compelled us to conclude this.
A perfect shipping strategy has a direct impact on customer satisfaction. It's because seamless shipping delivers shipments on time, removes delays, charges fully optimized shipping costs, and even promotes accurate WooCommerce shipping calculations as a WooCommerce shipping calculator is used.
Such a strategy allows online stores full control over WooCommerce shipping and optimizes the shipping cost. It lets online stores select the right shipping method and shipping carrier that suits the most store requirements and the right package.
A well-planned WooCommerce shipping strategy can aid in managing inventory levels. It lets online store owners determine how much stock to keep on hand and when to restock.
A perfect shipping strategy supports international expansion by addressing the complexities of cross-border shipping, such as customs regulations, duties, taxes, and shipping times.
As a perfect shipping strategy provides accurate shipping cost estimates and handles returns effectively, it leads to a reduced cart abandonment ratio.
Hide Shipping Method For WooCommerce
Configure your store to hide all other shipping methods when free shipping is available.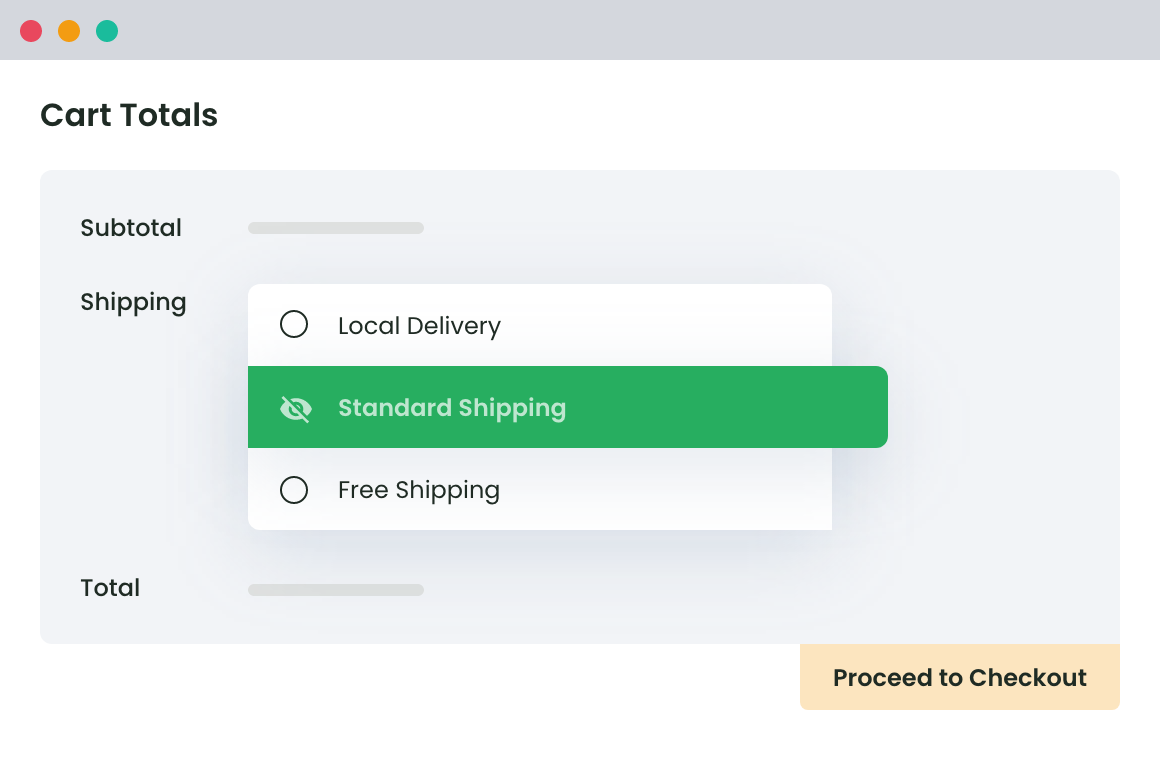 What to Keep in Mind As You Prepare a Shipping Plan?
If you're able to grasp the essence of what we wanted to convey to you in the above text, it must be clear to you that having a fully optimized WooCommerce shipping strategy is the need of the hour for any WooCommerce store.
However, not any random strategy will do the job. It has to be perfect in itself, which is possible by keeping the below-mentioned pointers in mind.
1. Do Not Confuse the Buyer
A lot of things happen backstage when a WooCommerce store sets up the shipping process. For instance, there will be a Free Shipping process based on the pick-up process, product category, cart total, and many other factors.
If all of this is visible to your customers, they will be confused. They are only interested to know about the final shipping cost that they have to pay for their products. So, the easiest way is to use a Hide Shipping plugin to keep the UI neat and complexities-free for the customer.
A Hide Shipping WooCommerce plugin is a great choice to make on this front. With its help, you can easily:
Hide shipping methods from customers and display only the final cost.
Remove clutter and simplify the checkout process.
Customize the shipping page for each customer. You can show relevant shipping methods to the customers and hide the irrelevant ones.
Manage and configure multiple shipping methods.
Improve the conversion rate as customers will have a cleaner and more user-friendly checkout process.
Trim down the shipping-related queries from the customer side, as they will have shipping-related details right in front of them.
Hide Shipping plugin allows you to set Basic and Advanced Rules for your store. Basic Rules allow you to set up the hide shipping process based on location, user role, cart, attributes, and products.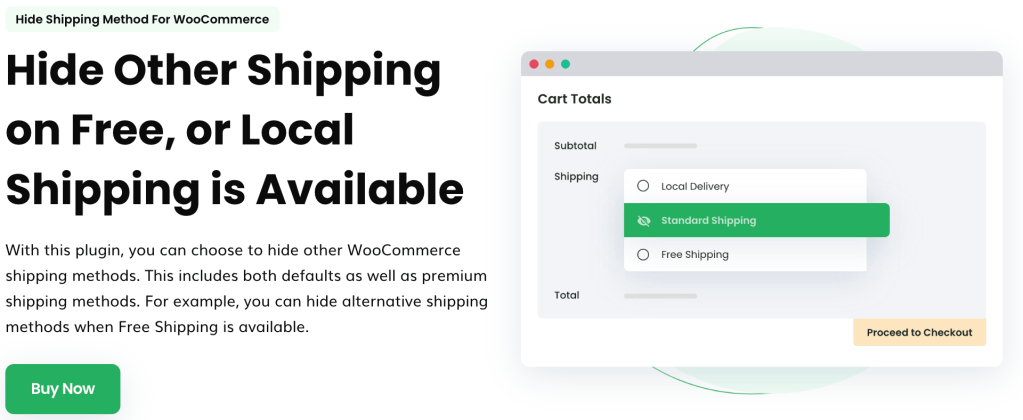 With the help of Advanced Rules, you can have attributes that carry a minimum and maximum value of product quantity, weight, subtotal, category quantity, and other factors. The great thing is that these two rules can work together or in full isolation from each other using the OR or AND logic.
2. Use a WooCommerce Shipping Calculator Plugin
The next step that you can take towards having a perfect WooCommerce shipping strategy is to start using a WooCommerce shipping calculator. With the help of this tool, you can:
Provide real-time shipping rates to the customers as it lets store owners connect with various shipping carriers' APIs to fetch real-time shipping rates. Based on the customer's location, the weight and dimensions of the products, and the chosen shipping method, you will have an accurate shipping cost.
Take multiple shipping methods on board and allow their customers to pick a shipping method according to their needs and requirements.
Have a fully streamlined international shipping process. They can have fully accurate shipping costs according to international shipping rules, customs duties, taxes, and import restrictions. This ensures a smooth and accurate international shipping process.
Generate shipping labels directly from your WooCommerce dashboard.
You have a lot more to enjoy with an advanced WooCommerce shipping calculator, provided you've picked the right kind of WooCommerce shipping calculator plugin.
We highly recommend using the Advanced Flat Rate Shipping plugin for this. You can go through its documentation to understand how it works.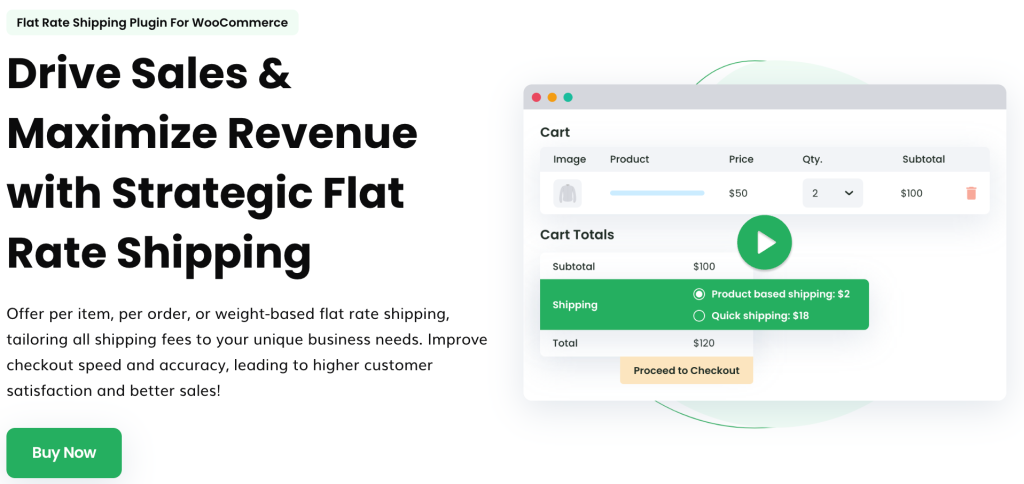 3. Provide a Full Description of Your Products with Images
When you're designing a shipping plan for your store, you need to ensure that you're providing the full description of your products with images. With this, you have a chance to:
Reduce the return and disputes as customers will receive what they see in the store.
Calculate the right shipping rates because accurate weight and dimension details are offered.
Provide accurate packaging considerations.
This one step can bring a lot to the table. You must use a compatible and feature-rich WooCommerce shipping plugin to define the product attachment and size chart. We have two recommendations for this.
Our first recommendation is the Product Size Chart WooCommerce Plugin. The plugin is designed so that WooCommerce store owners can easily define a product size using its ready-to-use default size charts.

Need customization? Go ahead and make it happen, as the plugin is designed in a way to customize product size charts based on the category and product type. In addition, you can:
Assign one product chart to multiple product categories
Create multiple-size charts to meet all sorts of customer requirements
Create highly engaging and visually appealing product charts to engage customers
Save time with its 10+ ready-made size chart templates
Clone the size chart easily
Create endless size charts
Add custom CSS options
This is only a quick overview of its endless capabilities. You can learn more about this plugin here.
The next plugin that we will recommend to you is Product Attachment for WooCommerce.
This WooCommerce shipping plugin is the easiest way to:
Include as many attachments as required to upload on the online store
Make your store capable enough to support multiple kinds of file formats, including PDF, JPG, and videos
Add valuable data and insights to the product pages
Use any URL as the attachment
To save a great deal of time while uploading bulk attachments
Define fully customized attachment rules for your store and do a lot more
As the plugin is highly compatible, you can easily use it with WooCommerce shipping calculation plugins.
In addition, this plugin is compatible with other WooCommerce plugins like WooCommerce Extra Product Options, ACF, Rank Math SEO, WooCommerce High-Performance Order Storage, and many more.
4. Optimize Your Pages for Fast Loading
As a WooCommerce store owner, you must make sure that the online store pages are fully optimized for speed and are loading quickly. Fast-loading pages are required to create a positive user experience and high SEO ranking. The easiest ways to optimize a page speed are:
Optimized images
Using a CDN
Using only useful scripts
Enable browser caching
Keep HTTP requests at a lower size
Using lazy loading
Using fully optimized codes
In addition to all the above-mentioned factors, you also have to make sure that AJAX is not causing an issue here. At times, AJAX functionalities can hinder the checkout process. When AJAX is not properly optimized or managed, checkout delays.
If AJAX scripts are interfering with WooCommerce shipping calculations, there will be WooCommerce shipping calculation errors. If AJAX scripts are not compatible with leading WooCommerce shipping plugins, the shipping process will be troubled and page speed will slow down.
5. Advanced e-Commerce Tracking is More Than Necessary
You can think of doing real-time ecommerce tracking to stay updated with the latest shipping details. With tracking, it's easy to find out what's happening at shipping fronts, whether there are any delays, where shipments are present, and other key data.
Enhanced eCommerce Google Analytics for WooCommerce is our strong recommendation here. The plugin is handy and has multiple integrations with various analytics tools, allowing you to submit the conversion value directly to Google Analytics, track the total order revenue for the store, and provide real-time data.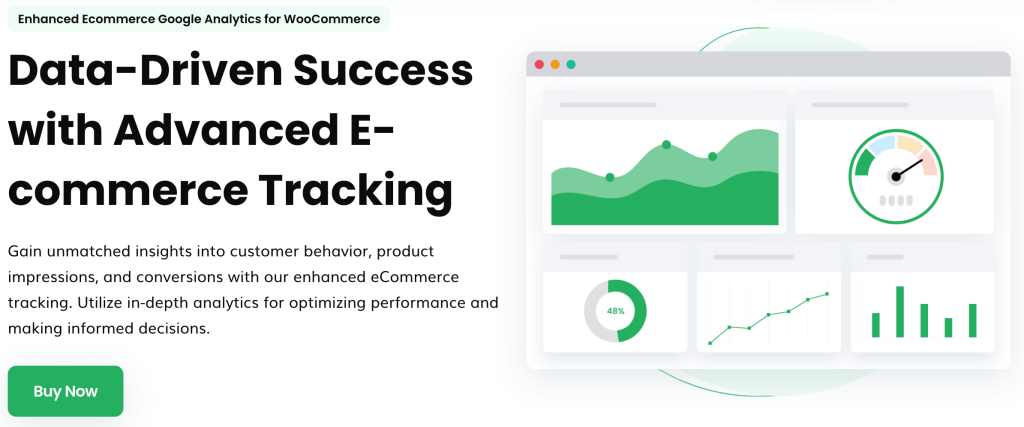 Conclusion
Perfect shipping lays the foundation for perfect success. When you plan to design a viable and result-driven shipping strategy, you must give attention to the WooCommerce shipping calculation for sure.
For this, using multiple plugins like Advanced Flat Rate Shipping, WooCommerce Product Attachment, WooCommerce Size Chart, Hide Shipping Methods, and WooCommerce Enhanced Ecommerce Analytics Integrations with Conversion Tracking is a viable solution.
So, are you ready with a perfect shipping strategy and weave success for your WooCommerce store?
Advanced Flat Rate Shipping Methods
Boost your WooCommerce store's revenue with flexible shipping options. Your business deserves the best!