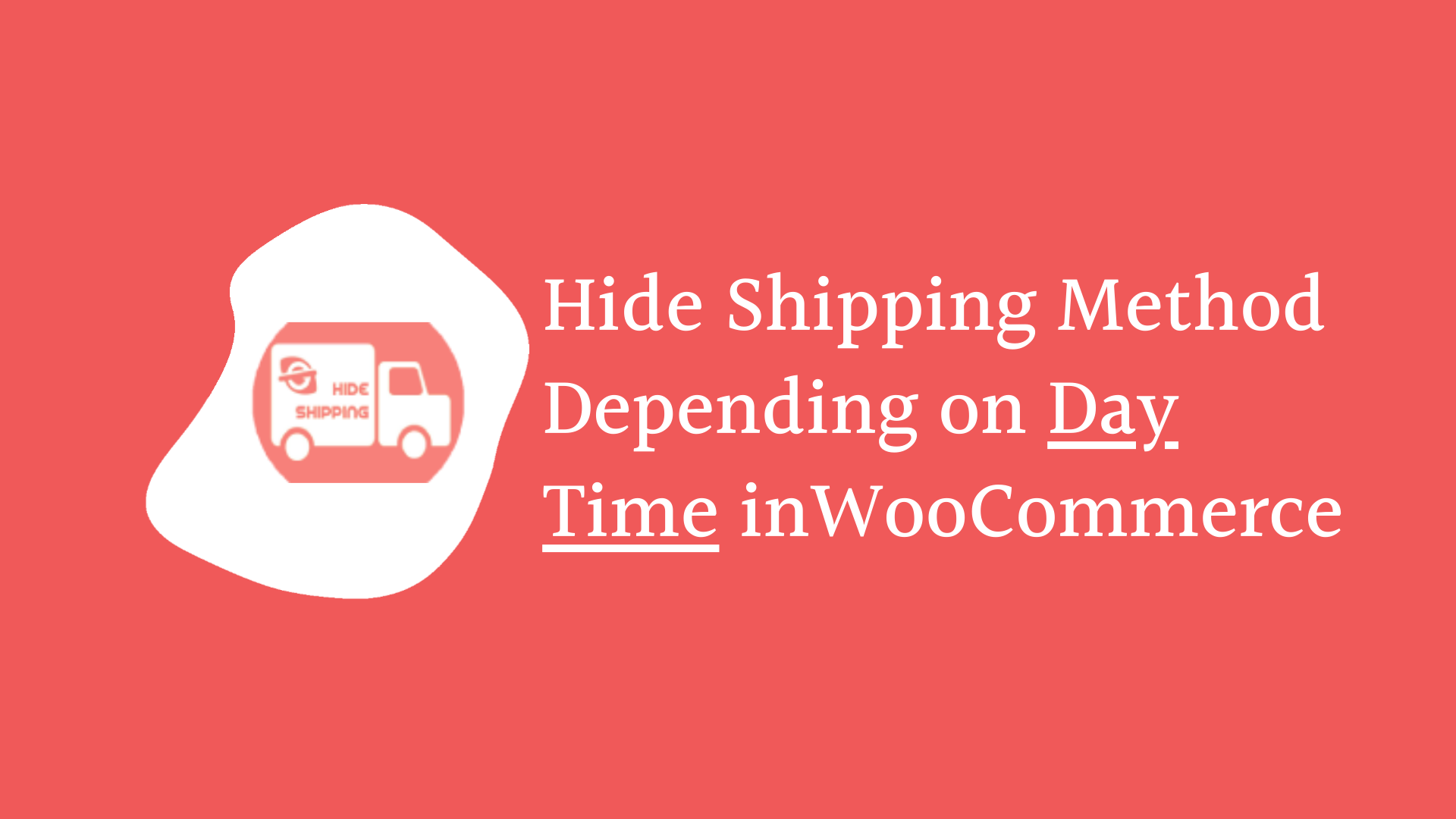 How to Hide the Shipping Method Depending On Day Time in WooCommerce
Improvement in the checkout process surely enhances the sales and shopping experience for the buyers. But the best cart pages in WooCommerce have limited options, as sellers prefer to hide shipping method(s) that are unnecessary for their particular buyer.
Do you know why?
It is because – more options make it tough for the purchasers to handle multiple methods of shipping. Things become tougher when the methods of shipping that are non-applicable aren't deactivated. To improve the user experience, you must hide the irrelevant shipping methods as per store's conditions.
When Do You Need to Hide Shipping as per Day Time?
If you have to run a sale for a particular time period and allow free shipping for a few days, it will be essential to drop the other shipping method(s) depending on day and/or time in WooCommerce store-wide.
Similarly, if you want to hide a few particular shipping methods for a country or as per the cart value during the sale, that will also require hiding your extra methods related to shipping as per described conditions.
Hide Shipping Method For WooCommerce
Make free shipping or local pickups work properly for your store by hiding all or a few shipping methods from the cart/checkout page. This plugin also lets you hide shipping methods for multiple advanced conditions.
7000+ Active Installations
8200+ Active Premium Customer
Process for hiding WooCommerce Shipping Method According to Day Time
Requirements
You'll need to hide Shipping Method WooCommerce plugin for the purpose.
The plugin can be used for hiding shipping methods according to a different set of rules. Such as users who want to hide the shipping method depending on the day time may download the plugin and the shipping mode can be hidden on both checkout and cart pages according to the customized settings.
In the next section, we are going to show you all steps of hiding shipping methods for a particular day, time, or day + time, if you want to follow the process with us, install the plugin from the link given above. Alternatively, you can use this live demo link.
How to Hide WooCommerce Shipping Methods – From Scratch to the Advanced Level Settings.
How to Setup Hide Method for a Particular Day and/or time?
We are assuming that you have installed the plugin suggested in the previous section.
Now, go to the WordPress admin dashboard of your WooCommerce store, and there must be an option in the WooCommerce menu, named Hide Shipping. Click on it and go to General Settings.
Here, you will have to choose Conditional Hide Shipping Method Rules as your preference and save settings.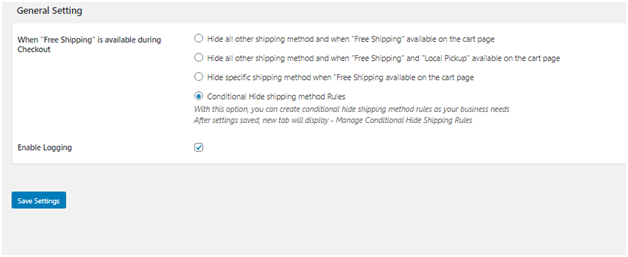 Doing so will enable another option in the adjacent tab for you. This option will help you manage conditional hiding-related shipping rules for various purposes.
In the top few fields, you just need to fill details such as rule's name, shipping source, shipping method, extra rules, etc.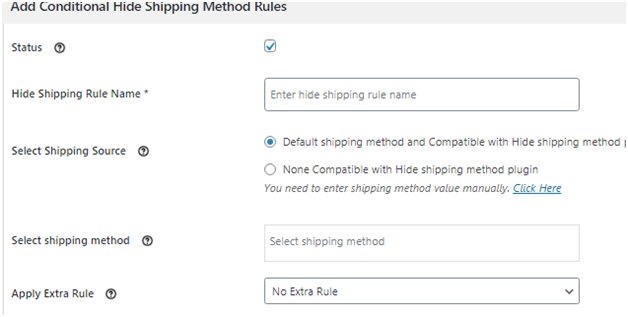 This plugin will list and pre-assume only general methods' list as shipping source. However, in case you want hide a custom method, choose None compatible with Hide Shipping Method Plugin option and manually add the name of your shipping method that you want to hide. These details are to be added in the next field itself.
Adding Date(s), Day of the week, Time for your hide Shipping Method

In these fields, this plugin allows you to:
Add the validity duration of your plugin, i.e. start date and/or end date.
Specify day of a week, for which you want to apply this setting. Doing so will make your hide shipping configuration recurring (for each week, on a particular day. You can even select more than one day here.
You can select start and/or end time for your hide shipping rule.
Please keep in mind that all day/time-related fields are optional and can be left blank.
Specifying Conditional Rules for your hide Shipping Method while Day/Time for hiding is specified
In the previous section, we specified how to add day, date and time for making your shipping method hidden. However, you might want to add more conditions for the specified duration. For example, your sale is sometimes for a particular country of cart subtotal.
Using the Hide Shipping method for WooCommerce, you can easily do that.
To make it work, you will have to scroll down to basic hide shipping rules section and set details as per your needs. Here is a quick demo for a sale running in Cyprus only:
Similarly, you may add hide shipping conditions related to location(s), product(s), category(s), users, and various cart-related properties. Not just this, you can even add multiple conditions for various properties and set day, date and time for defining their validity.
Conclusion
The rule of thumb is to use the rules smartly for the success of your ecommerce store. The basic rules can be easily applied but users need to be well-versed with coding snippet of their online store to benefit from the advance features. Hide Shipping Methods is one such functionality.
It come with various basic and advance options for shipping. The best part is that users can fill in the week days when you want the rules to remain active. Plus, you can also add the timing of the day/hours and any number of additional conditional rules. For store with various shipping methods, it is a mandatory addition so that your web page remains uncluttered and you could deliver excellent user experience, removing the confusion for your buyers.