Order-related emails have very a high probability of being read and the links in them, being clicked. As per a study, the open rate for order completion emails is as high as 65% while the click rate for the added CTAs in the emails is around 20%. So, if your store could enable WooCommerce email attachment for customers, it surely will help you attain the high-revenue goal.
Instead of just utilizing the facilities like WooCommerce attach PDF invoice to email, attaching various attachments as per the order status yields better results. For this, you can download and use the Product Attachments for WooCommerce Plugin.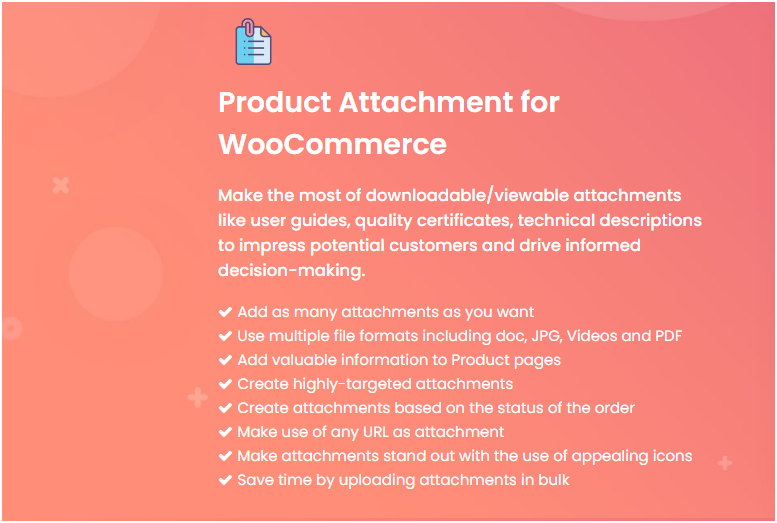 Tips for Adding WooCommerce email attachment with Order Emails
There are multiple ways, in which, you might embed attachments in your order emails. When you have the option to add different attachments for different order statuses, it's like icing on the cake.
It is found out that order completion emails, alone, are responsible for more than 28% of revenue. If you will pitch the related products and provide the additional information well, this figure may go even higher.
To further boost this rate, WooCommerce store owners must add different attachments for different order statuses, showcase attachments on order listing as and when needed. If you are using the above-linked DotStore Plugin, you will be able to enable attachments for the following statuses, alongside for WooCommerce on order complete:
On Hold
Pending payment
Processing
Cancelled
Failed
Refunded
Not just this will improve your revenue but also the user experience.
Attachment Suggestions
The types of WooCommerce email attachment files that you may consider sending to your prospects and buyers are:
User manual PDFs
How-to Guides
Explainer Videos
Vouchers or Coupons for redemption
Product Images (different views)
Refund slips
Order failure details
Order processing schedule
Delay notice with the reason specified
Cancellation confirmation
Besides the above, you may send the following for WooCommerce on order complete:
Link to related/recommended products
WooCommerce attach PDF invoice to email
Warranty cards
Why WooCommerce attach PDF invoices to email or other types of files?

There are multiple advantages of attaching PDF files or other types of attachments to your projects. See what all email attachments can handle:
Educating buyers in your WooCommerce store will improve customer retention rate
WooCommerce on order complete email is the best chance to pitch similar products
Email attachments, from the order to delivery step for shop orders, satisfy customers
Boosts trustworthiness of your brand
Reduced order-cancellation rate – decrease in product returns
Improved revenue
Better store experience for your customers
Transparent processes
Product Attachment for WooCommerce
Make the most of downloadable/viewable attachments like user guides, quality certificates, technical descriptions to impress potential customers and drive informed decision-making.
7000+ Active Installations
8200+ Active Premium Customer
How to Enable WooCommerce email attachment as per order Status?

The process is indeed simple and straight-forward when you are using a feature-rich DotStore plugin like product attachments for WooCommerce for this purpose. Though the focus of this complete guide is to educate people about attaching files to emails as per order status, the said plugin is capable of a lot more than that.
Take a live demo if you want to follow along.
Step 1
Go to the Plugin Dashboard through the plugin name link in the WordPress admin panel sidebar.
Now, from the Settings tab > Order Attachment Setting section, enable the email attachments for your WooCommerce store.

From the main plugin settings, you can order statuses for sending email attachments.

Please be noted that the choices made in this section will be applied store-wide. If you do not want to add a global rule for email attachments for orders, or in case you want to enable attachments regardless of the order status, you can skip making any choices here.
Besides the above-described settings, you may set product page title for attachments, order page title for attachments, customize the appearance (file icon or the download button), set the visibility for the attachments (user-role based), and decide expiry dates.
You may also decide whether to open the attachment in the same window or in another.
Step 2
After finishing the setting part, make sure that you save all changes and move to the Bulk Attachment tab now.
In this tab, you can now add multiple bulk attachments one by one, and edit them later on.
For each of the bulk attachments, you can set a title, description, attachment type (uploaded file or an external link, visibility (products/categories), and expiry date/time. You may choose to show/hide each of them as per your requirement.
Then, you may add WooCommerce attach PDF invoice to email or audio/video/doc/excel/image files too.
The order statuses, for which, each of these attachments will be made visible, can be set separately for all bulk attachments in the Product Attachments for WooCommerce Plugin.

There is no limit on the number of attachments that you may add for WooCommerce on order complete or other order status values while using the Product Attachments Plugin by DotStore.
Here is an example how your added attachment for order emails will look like: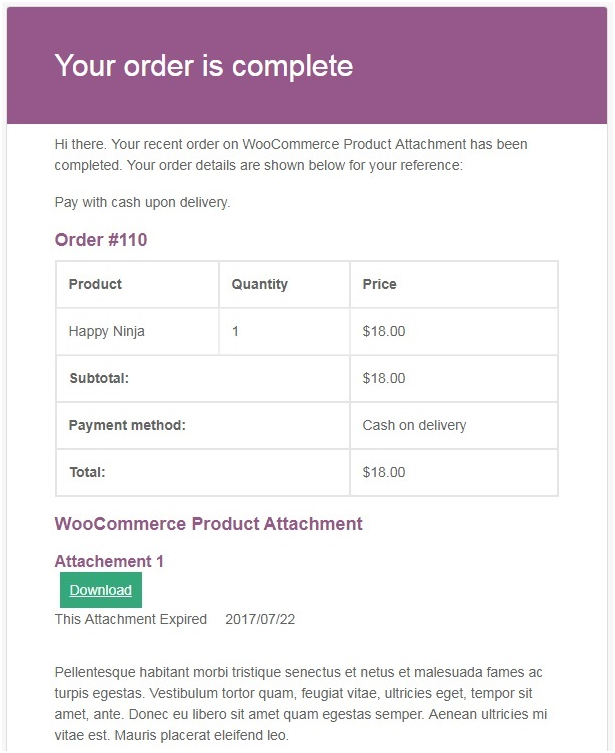 Conclusive Summary
WooCommerce email attachments are very useful for sharing information as well as promotional content with your prospects or buyers. As you will WooCommerce attach PDF invoice to email, the chances of your files being viewed are quite high. So be it WooCommerce on order complete or any other status, add useful attachments and impress your buyers from now on.