Operating an online store, you must-have products of various kinds, sizes, and categories. To set a flat rate shipping method is definitely an easy way out, yet it isn't the best thing to do. You might have to ship the product(s) to different regions, and having a single shipping rate will either cost you or your customers. Hence, the need for an alternative.
Table Rate Shipping is a unique concept that allows store managers to optimize shipping, and add rule-based methods to calculate the final shipment fee. This is where you need to have a table rate plugin.
What is the table rate plugin?
Table rate plugin is an advanced solution designed to help store managers with the configuration and setup of shipment fees. A table rate plugin is one that allows you to have one or more rules, each of which implies a single order.
Let us understand this through an example.
In the traditional method, nearly every store has a shipping method based on the weight of the products to be shipped. Say, $5 for 5-10lbs, $7 for 11-15lbs, so on and so forth.
With the table rate plugin, you can add more rules to the table. Say, add $5 to the shipping fee if the product added belongs to shipping class XYZ. So, if the cart has products from XYZ and weighs 12lbs, the total shipment fee suns down to $12.
This way you can optimize the shipping cost in an attempt to serve your customers without incurring any loss on your end.
What is the difference between table rate and flat rate shipping?
The primary difference between the two shipping methods is the level of customization. Flat rate shipping keeps everything sorted and simple. Irrespective of the type of product, the location of delivery, the cart value, or the user type, this will have a standard shipping fee for all.
On the other hand, table rate shipping is customized and relies on several factors. That is to say, table rate shipping is categorically divided and takes into account every aspect of the order. Unlike flat rate shipping, which will charge all to their customers $X, table rate might have a shipment fee less than $X or at times, more than that.
Either be the case, table rate shipping is a better way for calculating shipment fee. Also, it is beneficial for the customers and the business as a whole.
The benefit of Table rate shipping
With thousands of products online, having flexible shipping rates must not come as a surprise. Probably because not products belong to the same category. They not only differ in the category but shape, size, dimensions, and price. Further, the products are shipped to different regions. Where a few might be a next-door delivery, some could be in the neighboring cities.
The shipment here would be different and possibly more than the standard fee. Table rate shipping, therefore, provides:
The flexibility to add one or more shipping methods/rates depending on various factors.
As the name suggests, all of the rules are created on a table. Hence, you can easily understand, edit, or remove them as and when needed.
Create one or more shipping methods for the same shipping zone. Set one shipping zone and then assign multiple rules to the same.
Leverage weight-based shipping methods. Configure rules in a way that fee changes with an increase/decrease in weights.
Improve sales by offering free shipping beyond a threshold value.
All in all, table rate shipping is an excellent way to add to your store features without compromising on customer service.
Use-case Table rate shipping method
Based on the product
Let's say you have an e-commerce store that deals with fashion products. Traditionally, you've set a shipping fee of $2 for every product added to the cart. If a customer adds more, the shipping fee increases proportionally. Now if someone adds 20 pieces of the same product, the total shipping fee would sum to $40. This, on contrary to $2, is a huge amount.
The best and the worst-case scenario is the customer abandoning the checkout page and leaving your store. What you need to do here is modify the shipping fee and when more than one product is added to the cart.
For example, you can set a basic fee as $2 and then increment the fee by 0.2$ for every product added. This way you not only prevent yourself from bearing loss but also manage to keep your customer hooked.
Based on the Location
For store operators that serve customers across cities often have to spend a lot more than the standard shipment fee. While offshore customers find it really appealing, bearing losses now and then isn't recommended.
With a table rate shipping method, you can easily segment rates based on the location. Say you are based out of LA and charge a shipment fee of $5. Now if you have customers in New York, shipment will incur more than $5. Use the plugin to create rules for every location, setting different shipment fee.
In addition to this, you can further add more rules to the method. Besides adding a rule for the location, you can add another rule based on the weight.
So in a general sense, $5 is the shipment fee. If you are shipping products of weight more than 10lbs, add another $2 to the shipment. And then for the customer in New York, you add another $3. The final shipment fee is $8.
Don't worry, you need not sit and code to set each of these rules. What we have is a plugin designed specifically to meet the needs of table rate shipping. To help you with the search, we have outlined the top five table rate shipping plugins to consider.
List top 5 Plugin is best for table rate shipping plugin
One of the best table rate plugins is Advanced Flat Rate Shipping Method. It offers an economical way to customize and configure shipment rates for your online store. The plugin is powered by dot store and offers an array of features regulating store performance. What's best about the plugin is that is 100% customizable and helps improve the conversion rate. Irrespective of whether you want to create location-specific rules, product-driven, cart-based, etc, the Flat Rate Shipping plugin allows you to do all.
Another top shipping plugin is the Table Rate Shipping. When looking for a plugin that allows you to modify your store shipping methods, Table Rate is the best bet. In one way, it adds to the traditional shipping methods, helping you improve the way you serve your customers. Irrespective of whether you want to set rates based on the cart weight, quantity, value, or class, the table rate shipping method has tons of features that cover all. Additionally, the plugin offers a holistic view of all the rules created, so that you can modify them as and when needed.
Increase and improve the pricing model for your WooCommerce store with Table Rate Shipping for WooCommerce. As one of the leading table rate shipping methods, this has 15+ rules, each of which enables the store manager to create conditional shipping methods. This adds to the flexibility of the WooCommerce store.
Let say you have a customer who has added delicate items to the cart. Shipment and delivery of the same will cost you more. It is important to add rules and a fee for a handle with care. Similarly, if the user wants to express delivery, the shipment fee will be more. The table rate shipping for WooCommerce will allow you to do the same.
The WooCommerce Table Rate Shipping plugin by JEM is another top-rated plugin. It is designed to keep in mind the flexibility and ease-of-usage, eliminating the need to hire IT professionals, every time you need to set a different rule for shipping. The plugin incorporates all of the different rules that might be needed to configure shipment methods.
Rule-based shipping is an entirely new concept and an important one too. The WooCommerce advanced free shipping plugin presses on the fact that a store must have variable shipping rates for different situations. Whether you wish to set a base rate or a $0 fee, a percentage of the cart value, or a fixed amount, with the WooCommerce Advanced Free Shipping plugin, you have the power to create as many rules as you want. You can also set priorities for the rules, determining which rule supersedes others in the table.
Flat Rate Shipping Plugin For WooCommerce
Full-featured and Highly Flexible Shipping plugin for creating different shipping methods with different shipping rules and maximize earnings from the shipping methods on offer.
7000+ Active Installations
8200+ Active Premium Customer
How to create table rate shipping?
Having discussed the plugins for flat and table rate shipping, we now dig a bit deeper in the process of creating shipping rate table and flat rate shipping methods for the store. To do the above, we take into account the Advanced Flat Rate Shipping for WooCommerce plugin. We took this plugin as it allows adding both, table rate as well as flat rate shipping methods.
As said above, this WooCommerce plugin is 100% customizable and offers the ease to create one or more rules based on one more condition. Without further ado, let's get into the step-by-step guide for the above. We will first showing you the complete method of creating flat rate rules in this plugin, and in the end, we will explain the method of creating table rate shipping.
Step One: Setting up the environment
Download the plugin: Before we move to the configuration process, it is a must to download the plugin.
The flat rate shipping has both a free and a premium version of the plugin. Visit the official website to download the plugin.
Once you have downloaded the plugin, open your WooCommerce site's admin side.
Enter the login credentials and move to the dashboard.
Here move down to the plugin section. Click on add new.
On the top right, you will see an upload option.
Click on it and add the downloaded file.
Now install the plugin and activate the same.
Once you are done with the above, we move to the next step.
Step Two: Creating and configuring the flat rate shipping method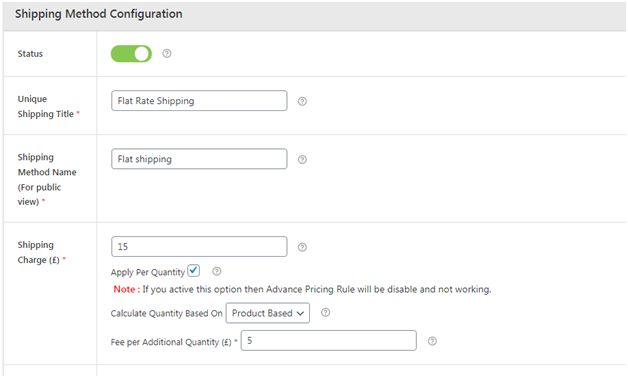 After you have activated the plugin, we will now configure it. Go to the plugin dashboard. You will find a few tags. Click on add new Shipping method.
The page with a form kind of structure with numerous fields will open up.
The first tab is a toggle switch named status. Toggle it on to activate the shipping rule. This is an easy way to deactivate a method.
Next, add a title method. This will help you differentiate between methods.
Similarly, your need to add a name to the method. Remember this is visible to your buyers.
Now based on your preferences, set a shipping fee. Either you can have a fixed rate or percentage based figure.
Specify whether the value-added is subject to taxes or not.
If the method is for a particular period, you can specify the start date and the end date.
At times, you would run campaigns for a few hours. With the plugin, you can set a time interval between which the plugin remains active.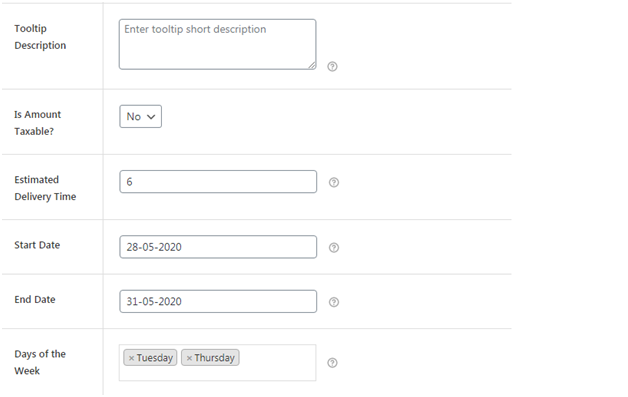 Step Three: Creating Shipping Rules
This is the most important section.
Click on Add Rule to add a row.
Move down and then select one of the parameters to create your first rule.
Select the Equal to or Not Equal To and then add the respective products for which the rule needs to be applied.
Save changes and the rule has been created.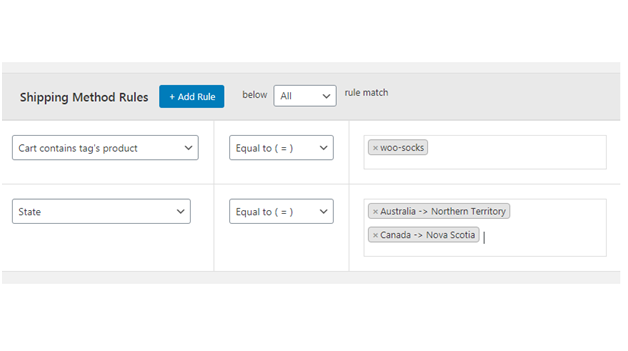 Creating Table Rate Shipping Rules
Now that you want to create table rate shipping rules, you will have to enable advanced shipping price rules. Please keep in mind that we can create rate tables by creating multiple conditional rules too. However, the process will become complicated and time-consuming if done that way. So, utilizing the advanced price rules is better.
Once enabled, you will see the navigation panes to create shipping rate rules for different parameters. As per your requirement, you may go to the desired parameter pane and fill in the details.
Advanced flat rate shipping plugin lets you add lower limit, upper limit, parameter and price for each rule you create.
Example Use cases – Table Rate shipping
Let's say you want to charge $5 when a customer purchases 1 to 10 t-shirts, $10 for 11 to 15 t-shirts, $15 for 16 to 20 t-shirts and $20 for more than 20 t-shirts. In this case, go to Cost per product and add values as you want. It will look something like this: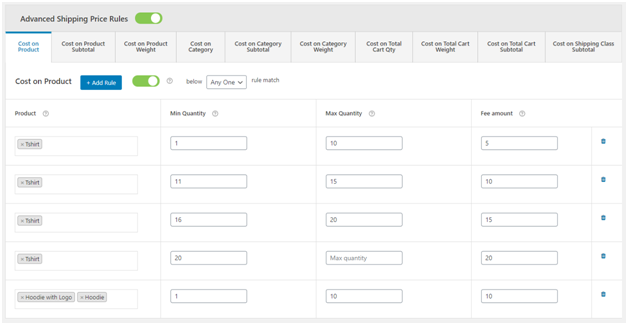 Once done, save your table rate shipping rules.
Similarly, if you want to apply shipping cost as per category subtotal. Such as, from $50 to $100 being spent in purchasing clothing, shipping fee is $10. You can create such rules easily using the advanced shipping rate plugin. Here is an example: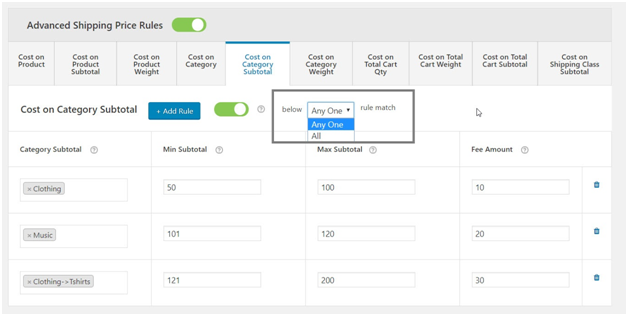 Figure 5 – Creating table for Cost on Category subtotal
The Final Word
Not just for the conditions listed in the advanced section, this plugin lets you create table rate shipping rules for even more conditions through its basic conditional rules and capability to add multiple rules. So, if you need to add table rate and/or flat rate shipping for your online store, build on WooCommerce, download the plugin, and get started!