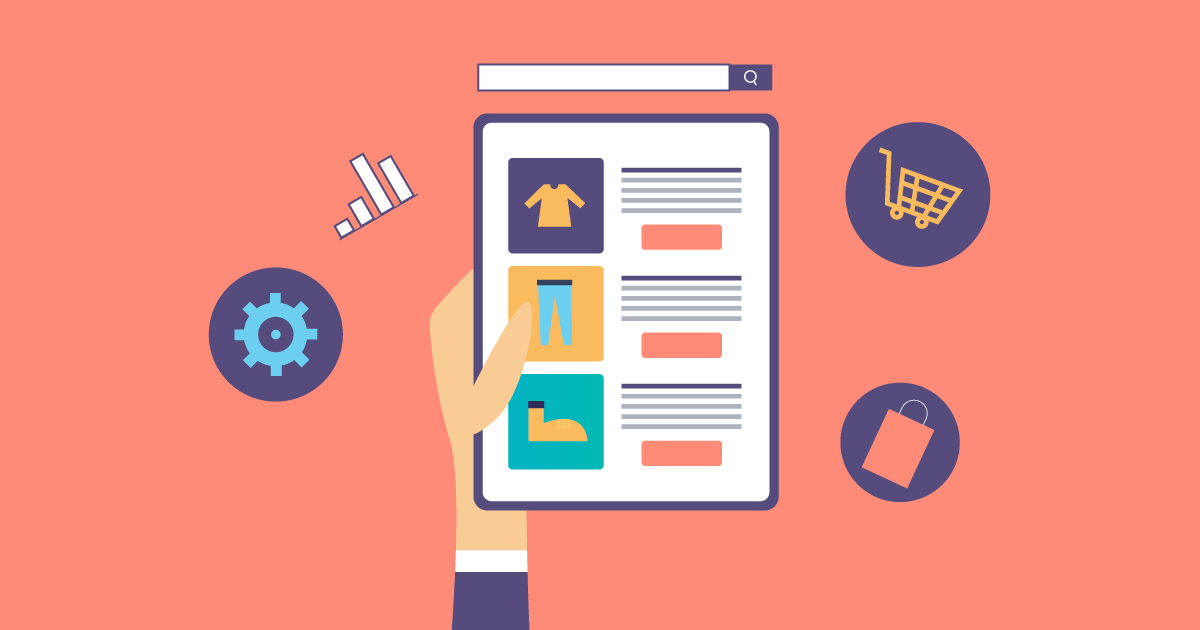 The 4 Best Free Product Sample Plugins for WordPress
Want to offer product samples to your customers?
Samples are a great way to increase conversions and encourage people to buy your products. Letting consumers try before they buy a product will help them buy smartly. By showing that you care about helping them find a product that suits them, you'll be earning their trust.
Offering free products on your WooCommerce store can be difficult using just the default features of the platform. A plugin designed to offer this functionality is the solution you need – especially if you have rules for how you want to offer WooCommerce sample products.
For example, you may want to offer free samples only when the cart value reaches a certain amount or reserve them for your VIP customers. So, it's worthwhile to know what solutions are available in the WooCommerce plugins marketplace.
This post takes you through the five best free product sample plugins for WordPress. Before that, let's take a look at the benefits of offering free product samples for WooCommerce.
Why offer product samples?
There are many data-backed reasons to suggest offering WooCommerce sample products. We've gathered a few survey findings that build a strong case for using this marketing and sales strategy.
Increase product awareness
The main purpose of offering a free sample is to grow awareness of a product and activate its sales. One study found that 35% of customers who try a sample will purchase the sample product in the same shopping trip. Another telling finding – 65% of customers that have the chance to try a product first are likely to buy it, and 78% of said buyers do it because the brand gave them that opportunity.
Also account for those among your customers who habitually try new things. To them, a free sample or product giveaway is enough reason to visit your online store! It's a lot like how people love stopping by at event stands that have giveaways and free product samples. In fact, a study found that 81% of event attendees visiting a company's display were motivated by the freebies on offer.
Increase sales
WooCommerce sample products can have a positive effect on sales. In a study, 70% of people who sampled a laundry detergent product inquired further about it. It also helps to know that 59% of consumers are likely to tell others about a new product they've experienced. Digging deeper, it emerges that free samples have measurable long-term effects on sales, extending to 12 months after the promotion.
A free product sample for WooCommerce can be the upsell you need to nudge existing customers towards a premium product. Say a customer frequently orders the same $9 foundation from your store. Obviously, the product works for them price-wise given how it is the average per unit price for this makeup in the United States. An effective way to deal with price-sensitive customers is to focus on educating them about the benefits of the 'pricier' product. For example, telling them how the $14 foundation covers flaws better and offering a sample foundation for free to see for themselves. If they like it, they may consider buying the full-size version. And if you're running a limited period discount on that product, you may see sales from even your price-conscious segment.
Draw attention to product variations
A supplemental benefit of offering a free sample is to encourage people to buy more quantities of a product they're buying anyway. An example would be allowing customers to buy samples of variable products along with the simple product they've added to their cart. Depending on your product types, you can also incite cross-sells. For example, you can offer a free pack of makeup remover with the purchase of a foundation or eye shadow.
Increase customer loyalty
If you can afford to offer WooCommerce sample products to existing customers as an incentive for buying specific products or categories, you should go ahead. Surveys find that deals have a substantial effect on brand loyalty.
The next best incentive to a free product sample for WooCommerce is a sample discount. You can offer a certain number of sample-size foundations for $1 each. So, if you're offering two samples of the pricier foundation, the buyer has to pay an extra $2. This tactic is an alternative to requiring customers to fill their cart with 'x' number of items or reach a cart value of '$y' to qualify for a sample.
You may want to experiment with different rules for offering samples and based on uptake and sales, modify your strategy. All of this will take time, but once you can confirm your numbers, you'll be able to firm up your sample offers and prices strategically for the best results.
Whether you'll be setting up free or paid WooCommerce sample products, you'll need a plugin that allows you the flexibility to set different rules in an uncomplicated way. Our picks for the best WooCommerce plugins for sample products took customized product samples into account. We also looked for features that would stimulate sample orders after trial. Based on these factors, we rounded up four plugins.
Top four plugins for WooCommerce sample products
Apart from the functionality to set up product samples, make sure to consider the ease of using the plugins and the documentation and tutorials available from the developer. We've covered the essentials in our review.
If you want to set up a number of rules for when sample offers should be displayed, this is the plugin for you. It's perfect for trying different condition-based offers and evaluating their performance to improve the design of your sample offers. A 14-day free trial should help you hit the ground running on your sample marketing, but you'll want to continue using the plugin past the trial because of how easily it allows you to create custom sample offers.
Customizations include setting up WooCommerce sample products for specific items, categories of items, or users, such as your distributors, sales representatives, or best customers. You can limit the sample quantity, and add a message warning buyers that they have reached the maximum sample quantity. This message is customizable to your brand voice. You can also create a separate menu for sample products to distinguish between inventories.
Whether you want to offer a free product sample for WooCommerce, charge a flat rate, or charge a percentage of the sample product price, the plugin has you covered. Depending on how much you want to give away for free, you'll need to decide the shipping charges you want to charge for a sample. While free shipping is a big draw, since you're already offering a free product, you can still charge for shipping, offering a discount on the usual rates.
To encourage customers to buy the product they've sampled, you can set up a follow-up email to go about a week or so after purchase. This will make it easier and more structured to track conversions.
The plugin allows you to manage custom stock, set different prices for different free product samples for WooCommerce, and specify samples only for specific product categories. You can add an order sample button for simple and variable products. Features such as user-based prices and conditional prices for samples are in the works. eCommerce store owners that need these features immediately should look to the DotStore solution. Also, Free Product Sample for WooCommerce has a rather difficult setup and configuration in comparison to the DotStore plugin.
The WordPress plugin allows you to offer paid or free product samples for WooCommerce globally, or for specific products, product variations, or categories. You can set up email reminders with customizable text, and allow customers to click through directly from their email to purchase the product.
Simple Product Sample is limited in terms of features, and suitable if you want none of the conditional pricing or email reminders of other product sample plugins. It adds a 'Request sample' to the checkout, and enables you to set a maximum number of free product samples for WooCommerce for each order.
A visual guide of how Product Sample for WooCommerce works
Select the products you wish to offer samples of or the categories of products for which samples are applicable. For example, your WooCommerce sample products can consist of tees, pants, eco-friendly clothes under 'clothing', or CDs under 'music'.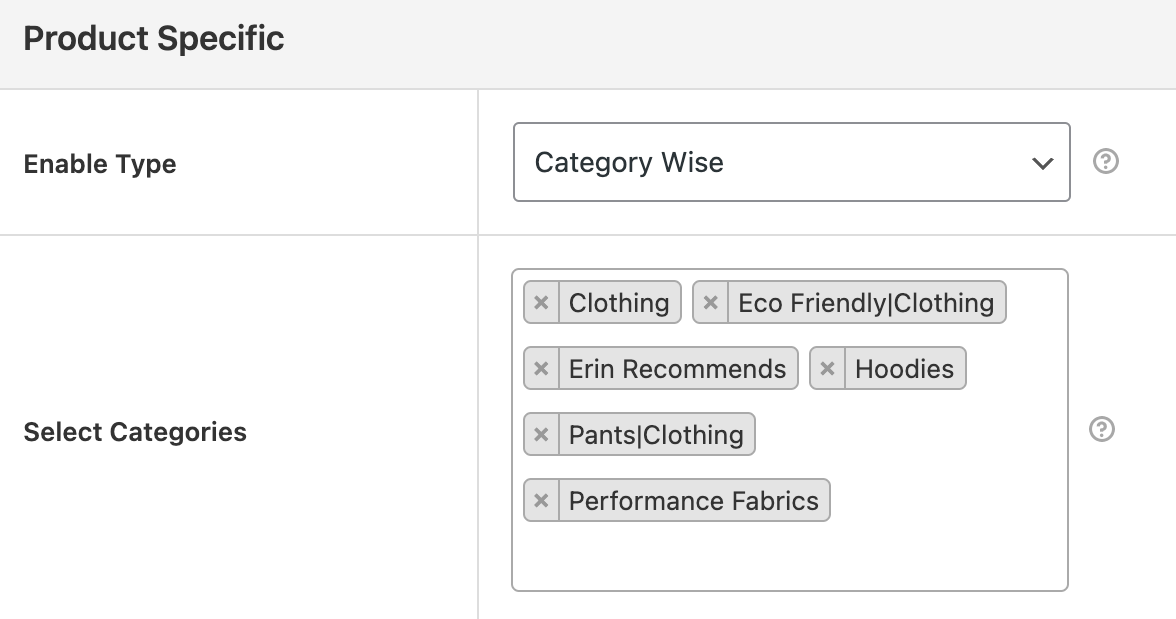 Shoppers have the choice to order a sample by simply clicking the button that says so. You can set the number of samples they can purchase.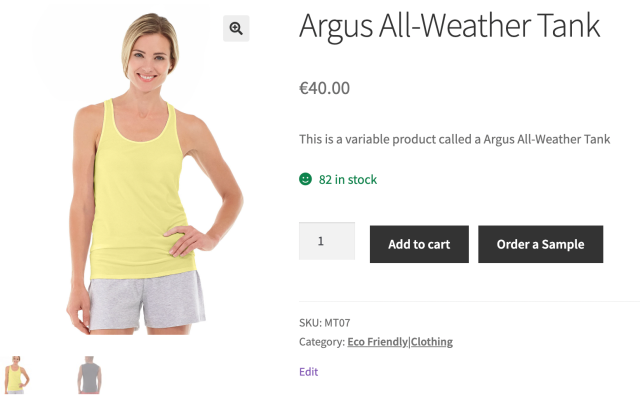 Limiting the maximum quantity of WooCommerce sample products for your store is only a matter of adding the per sample quantity from your WordPress admin. You can also create your custom maximum quantity button text here.

Setting the sample price is also straightforward. For example, if you want to charge customers a percentage of the product price, select that option and add the percentage price.

If the shipping costs of your free product samples for WooCommerce and regular inventory are different, you can configure separate shipping and tax classes. It's worth mentioning here that another plugin from DotStore – Flat Rate Shipping Plugin for WooCommerce – lets you create shipping classes based on various factors such as item weight or number of items per package, and add rules based on WooCommerce shipping classes, destination, and price.

Build customer trust and drive up sales with WooCommerce sample products
Try before you buy is an age-old tactic that pays rich dividends. While prevalent in physical sales and marketing, the tactic remains less explored by online retailers. You can gain an edge over competitors by allowing your customers to order a product for free or at a discounted price to decide if they'd like to buy the full version or place more orders.
You can think up different ways to design your sample offers, in terms of price, quantity, the type or category of product, shipping class, user, and so on. Product Sample for WooCommerce by DotStore lets you approach product samples strategically with its extensive features. It's easy to use, and benefits from the stellar customer support DotStore is known for. And it costs nothing to try! Begin your 14-day free trial of Product Sample for WooCommerce today.