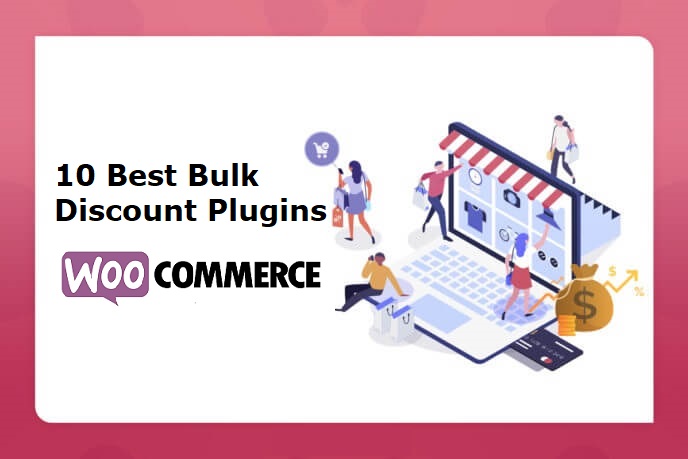 10 Best Bulk Discount Plugins for your WooCommerce
The e-commerce industry has been pacing towards inexplicable growth, and with this, the competition is rising by manifold. To lead this competition, all you need is to trade in a way that suits best the customers. Having said that, two aspects that drive attention is affordability and accessibility. Using WooCommerce, store owners surface their business over both.
It's needless to state that the exclusive online platform built using the merger of WordPress and WooCommerce entices people to visit and walk down the list of products available. However, visiting is not enough and you need to convert visitors too long term customers.
This is where Bulk Discount Plugins come to picture.
The best way to attract customers and lure them to buy is by giving them huge discounts. The more they get, the more they invest. Though the inbuilt plugin of WooCommerce has a basic discount package available, yet it is not sufficient enough to grab attention. Such plugins fail to provide bulk discounts and this begs the question, now what?
Ok, you don't have to worry about this. Because, once you enter into business with WooCommerce Development, they do all that takes to help you grow. With its exquisite bulk discount plugins, you can find your way out of the crowd and offer exactly what the customers wish for when buying.
To top it all, there are not one or two but many that you can consider while planning integrating bulk discount plugin. And wait, you need not scratch your head on Google, instead, we have outlined 10 of the best bulk discount plugin for your WooCommerce website.
Top 10 Bulk Discount WooCommerce Plugin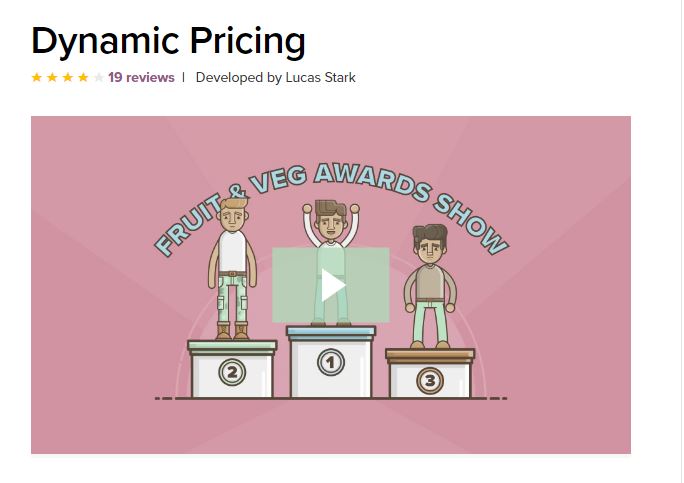 Deemed as one of the best bulk discount WooCommerce plugin, WooCommerce dynamic pricing allows the creation of category-based, product-based and role-based pricing plugins. Acknowledging the fact that this is not a third-party plugin, you yourself can configure ways to implement discount rules.
Whether you wish to give 10% discount or 15%, whether you want the minimum purchase to be 999 or 1499, the conditions are laid by you and so, it offers greater flexibility when it comes to discounting purchases.
Pros
East to use
Native WooCommerce plugin
Has a 30-day money-back guarantee.
Cons
Heavily Priced
No storefront pricing
Lacks BOGO deals
Pricing
$129 for a single site per year
Embed all sorts of bulk discounts using the WooCommerce Dynamic Pricing and Discount Rules. From bulk discount to cart discount, country-based to role-based, this has all. The plugin allows you to set up bulk discounts based on conditions. You can choose to place discounts based on categories, attributes, carts, viable products, weight, etc. Additionally, overall cart discounts can also be placed for bulk orders. For instance, get a 10% cart discount on your order for more than 10 products.
Pros
Create a discount for a fixed/percentage based.
Extra discount based on location, product, category, qty, and more
Apply multiple discounts on a single product
Set product fees on min/max, subtotal, weight, and category
Conditional rules-based WooCommerce extra fees
BOGO deals available
Group discounts available
Free gifts
The discount price is displayed on the product page.
Store-wide discount available
Pricing
$99 for a single site per year
$299 for 5 sites per year
$349 for 30 sites per year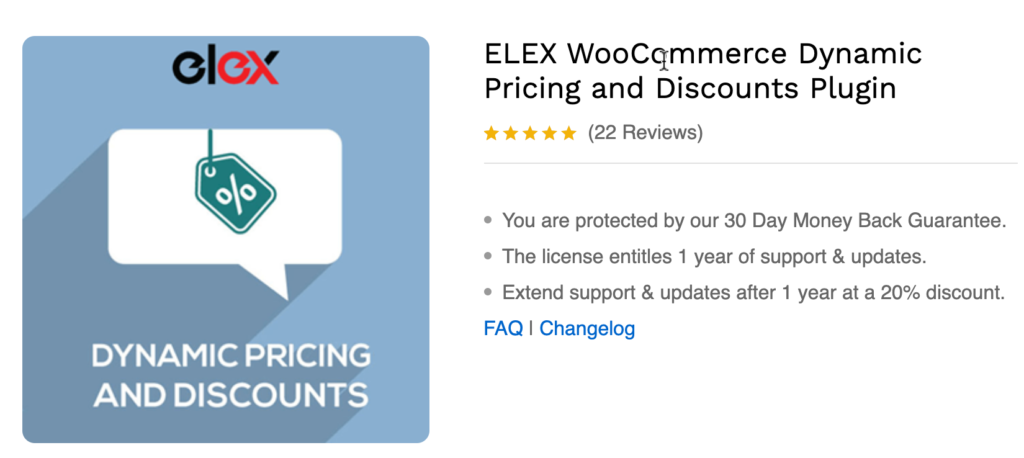 One of the most feature-rich WooCommerce plugins for promotions, the ELEX WooCommerce Dynamic Pricing and Discounts plugin has a user-friendly interface as well. This plugin will help you set up complex pricing rules specific to a product, category, cart or even at combinational level. More importantly, it offers great control for store owners to limit the maximum possible discount in each scenario.
Pros
Price adjustment at different levels.
BOGO rules
Pricing table display.
WPML compatible.
Reliable support team
30-day return policy
Cons
Not able to apply discounts on shipping rate.
Can't use it along with discount coupon plugins.
Pricing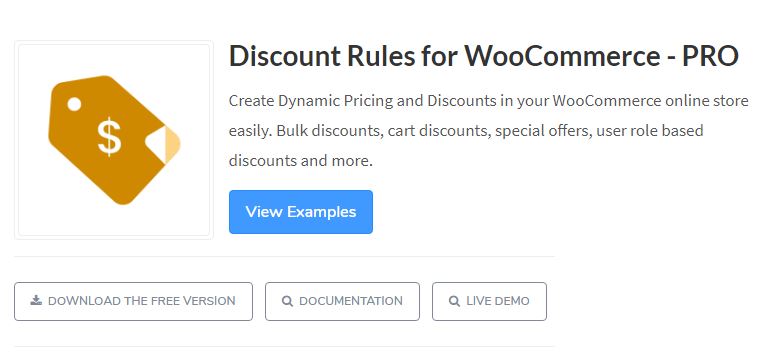 Also known as Woo Discount Rules, this plugin entails a freemium plugin. It includes discounts for price, percentage, and product. In case you wish to place to category placed pricing or separate discount, this plugin is the best. BOGO details are also applicable to WooCommerce discount rules. Other discount options include shipping based, items in cart, certain period discount, coupon code, etc
Pros
Free version available
30-day money-back guarantee
Feature-packed
Effective backend support
Cons
Pricing
$69 with 1-year support and 5 sites updates
$99 with 1-year support and 25 site updates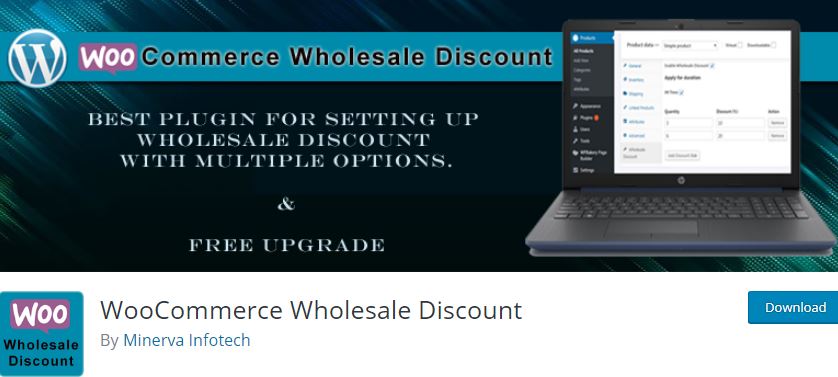 Following the WooCommerce Discount Rules is WooCommerce Bulk Discount. This plugin has multiple discount options giving you the freedom to align each as per your own understanding. Imagine you have just put up a clearance sale but how do you let your customers know about the same. Using WooCommerce bulk discount, you can display the same on the website both on the product and the checkout page.
Pros
Multifaceted discounting options
Set discount per product individually
Percentage discounts
Cons
Bulk product discount suffers various bugs
Pricing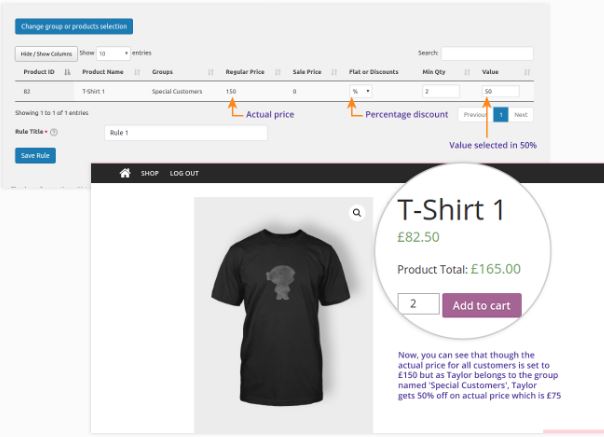 Provided by WISDM labs, the WISDM Customer Specific Pricing is among the dynamic pricing plugins. It is the sole plugin which enables you to set custom pricing for each customer. Also, you can set discounts based on cart value, product category, user roles, purchase quantity, etc.
Pros
Effectively priced
Works quickly when it comes to setting prices
Price management
Robust & Lightweight
Cons
Pricing
$69 for a single site
$79 for up to 2 sites
$199 for lifetime support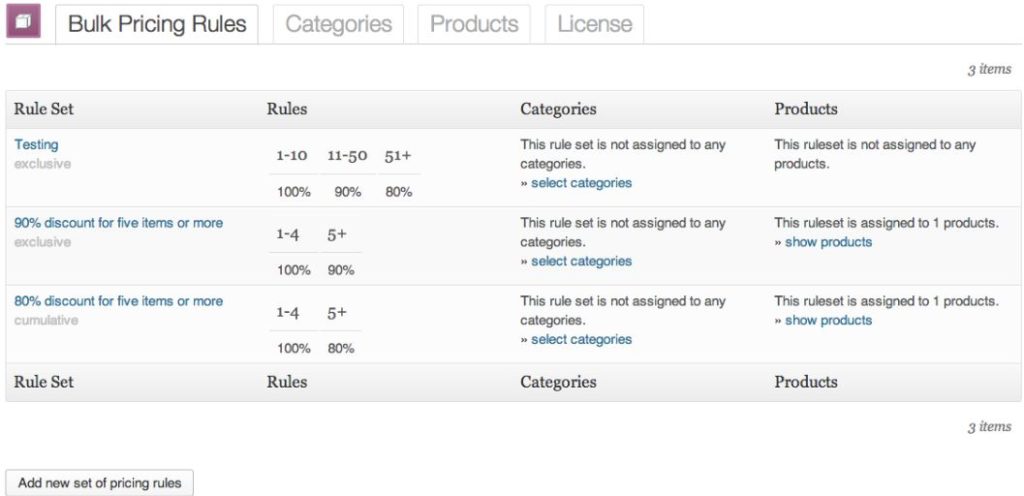 Whether you want to set up pricing protocols for a single product or a bunch of products, WooCommerce bulk pricing is pretty handy. Choose from the set of predefined rules and edit them products using WooCommerce Bulk Pricing. The plugin is the easiest to set up and can assign or set up rules when editing different products.
Pros
Set up discount pricing based on a percentage
The user role-based discount options
Category based discount
Cons
Pricing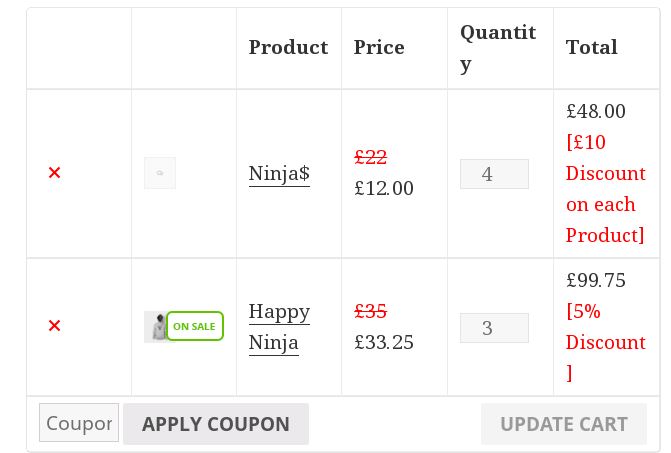 Dynamically tailored to embed product based discounting strategies, WooCommerce Dynamic Pricing and Discounts by RightPress has a premium model. You can set a discount based on a single product or a group of products or the entire store. BOGO deals are the one that attracts the users most. Different discount options include bulk pricing, product discount, category discount, tiered discounts, user role-based or targeted discount.
Pros
Extremely easy to use
Support all forms of discount
Cons
Does not have a free model
No storefront display of discounted products or likewise, offers
Pricing
$49 for Regular license and has 6 months support
$199 for Extended license and has 6 months support
$16.88 to extend support with 12 months support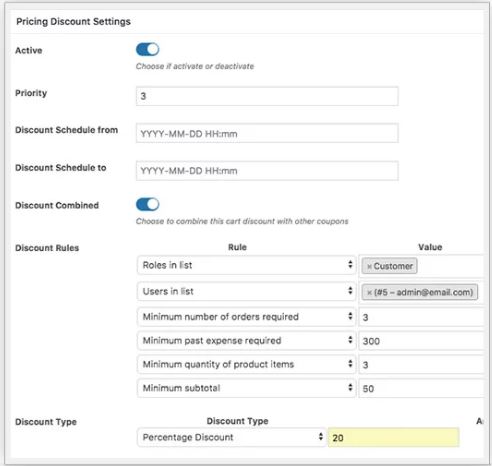 Create Adhoc promotions using YITH WooCommerce Dynamic Pricing and Discounts and grab your customers' attention. Not just for the existing ones, but targeted deals are available for the new visitors too. Different discount options consist of tag-based or category-based, price valuation, a purchase quantity discount, displaying the cheapest price for a particular product.
Pros
Cumulative pricing strategy
Free version
Ease to use interface
Cons
Does not have BOGO deals
Pro version is more feature-packed
Pricing
€73 for Single site
€122 up to 6 sites
€163 up to 30 sites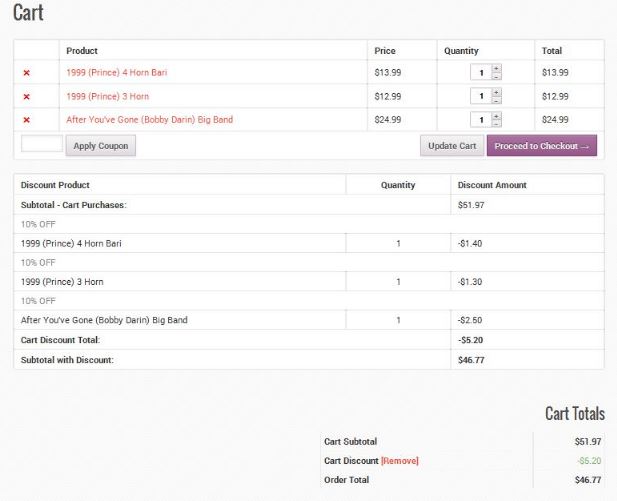 One of the best plugin for offerings bulk discount to your customers on the wooCommerce website, pricing deals for WooCommerce allows dynamic pricing options. Draft a rule as and when you wish to put up discounts on specific products. The plugin allows creating both Catalogue Price Discounts and Dynamic Cart Pricing Discounts. You can choose from the available discount options as Streamlined Processing new discount rule screen layout or the new select group options or the new BOGO function or the new clone rule function.
Pros
Allows catalog pricing
BOGO deals available
Category based pricing
Product page discount display
Excellent customer support
Cons
Basic version lacks significant features
Pricing
$50 for a single site
$80 for 2 sites
$150 for 5 sites
$300 for 10 sites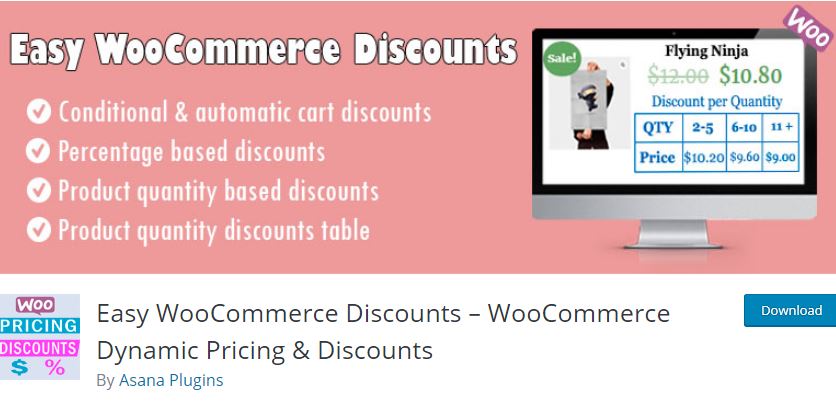 One of the best tools to create a product-based, category based or in simple terms, dynamic pricing, easy-WooCommerce-discounts offers an array of discount options. It forms the bed of bulk discount solutions giving you the freedom to choose the one best for your WooCommerce store. While the basic version has standard features, the pro version extends its feature set furthermore.
You can choose to lay discount on a particular product or the entire store, some categories or on cart count. You can put up buy X amount of apparel at Y amount each. Pricing discounts are an add-on in the basic version and makes it an ideal choice for you. Pro version has date based discount options or buy X and get discount on Y, etc
Pros
BOGO deals available
Product page display
Specific date discounts
Cons
Pricing
Conclusion
Having said all of the above, there is no one who can make the choice but you. It is you who has the sole understanding of which plugin would be better for your store and which would benefit you and your business, on a whole. Our comparison sheds light on each of the top 10 plugins, along with their features, benefits, disadvantages and pricing policy. Walk down each of them individually and then choose the one that suits best your store's interest.
In the end, it's the customers that add value to your business and so be wise when you make the choice.
Learn More