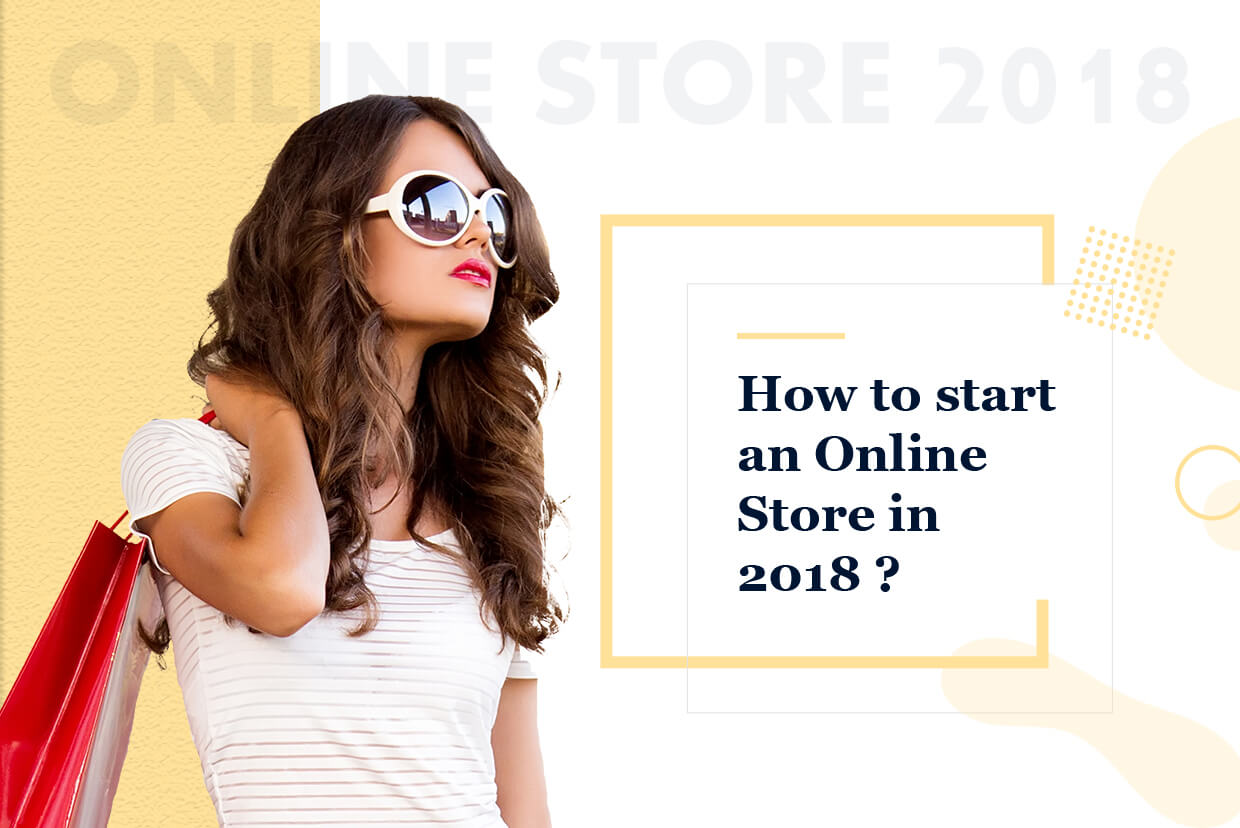 How to Start an Online Store in 2018?
2 out of 5 online shoppers can't think of living without shopping online, can you believe it?
It simply means that the scope of e-commerce is very high nowadays and therefore, every business should learn how to start an online store in 2018 and run it successfully.
In this post, we are going to tell you every tiny bit about starting, establishing and running an e-shop so that you can serve your clientele in the best possible ways.
Why Should You Start an Online Business?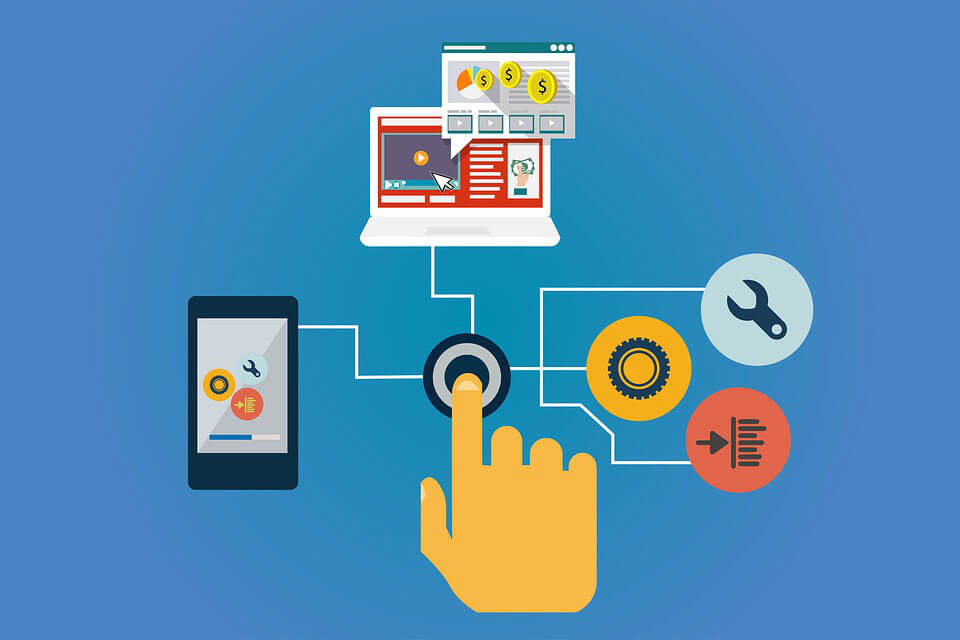 A large number of entrepreneurs are already leveraging the digital explosion to create viable and sustainable businesses or online shopping sites. 55% of all e-commerce sales are done through branded stores and 45% from marketplaces.
Do you still need the reasons to begin your own store?
Well, let us tell you some more reasons then:
Very Low Start-up Costs – No significant Infrastructure required.
Global access, 24 hours a day, 7 days a week
Opportunities to manage your business from anywhere in the world
Improved client service through greater flexibility
Bigger Customer Pool and larger servicing Range
Easy way to run sales, offers, discounts.
Brand Building
And yes, it is not required to be a super-techie to run an online store. While moving forward reading this post, you will learn how.
Most Important Factors to know about, when you start an e-commerce store:
Offline stores have lesser or high competition, depending on their geographic location and the demand of locales, living nearby – but online businesses haven't. With boosted competition, there is an increased efficiency in serving the more and more customers from anywhere. So, sales and revenue may go up.
Consider these things before you decide to take an idea forward and shape your e-commerce store by starting an online business with it:
The business should be personally satisfying you
Profitable and In-demand (if it's a new product, it should have the ability to pick up)
Not a risk and not illegal
How to Build an Online Store?
Now, as you have decided and cross-checked that your online store idea may succeed, it is the time to start working on the real project, i.e. building and launching the e-commerce store.
Here's the quick process (explained in detail in the next sections):
Decide what product(s) to sell through the store.
Choose the best technology to run an e-commerce store (and we think it's WooCommerce)
Buy Domain, SSL Certificate and Hosting for your e-commerce store
Establish the store and Market
1. Decide what product(s) to sell
Though we've already decided about what to sell while starting an online business, at this step, you have to strategize the selected products in categories. By doing this, you will be able to construct the rough structure of your online store in the mind.
2. Choose the right Technology
It is the biggest mistake that most of the users, being technically unaware, do not focus on choosing the tech stack behind their online shop. People think that developers should do it on their own. But if you are building your e-commerce store on your own, you should be fully aware of every action you take.
If you'll listen to us, WordPress + WooCommerce, Magento, OpenCart, YoKart, BigCommerce, Shopify etc. are the most popular e-commerce platforms to go for. But the flexibility and user-friendliness of WordPress online stores beat its competitors by a fair difference. So, we will be telling you about how to start an online business & set up an online store using WordPress and WooCommerce.
3. Setting up the Prerequisites of Your Online Store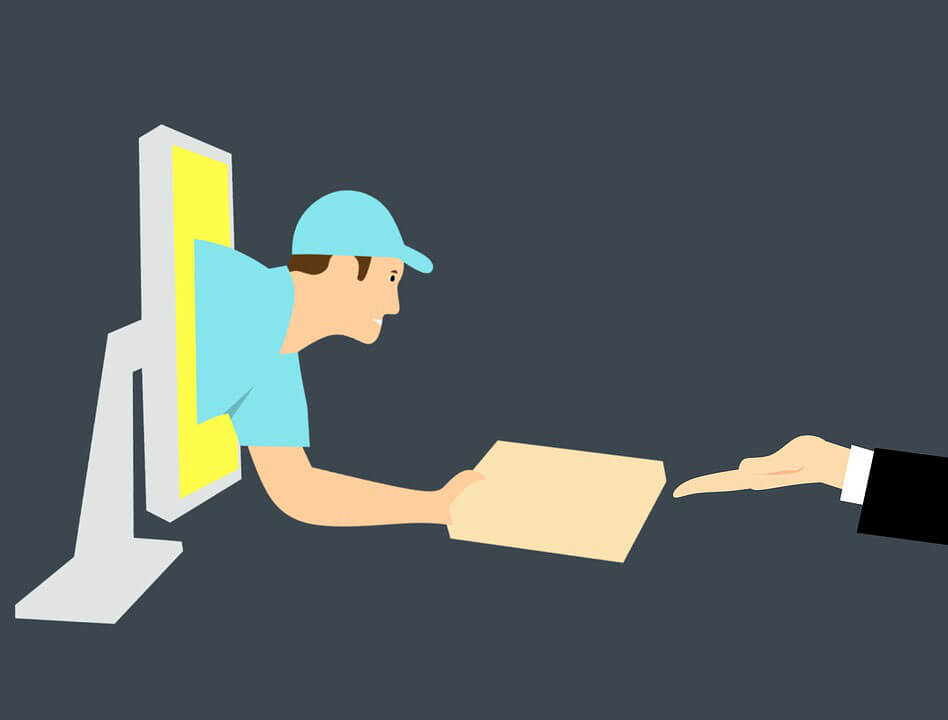 To set up your own store, 3 essentials are there:
Domain Name
Web Hosting
SSL certificate
Let us tell you about what are these, why you need these and the best procedure to set up the same.
A. Domain Name
Domain name is the name, which you've given to your site. It is mapped to your website's IP Address so that your audience could easily reach it. To pick the perfect domain name, keep a few things in mind – Keep it short, Avoid numbers and hyphens, make it memorable, it should be easy to find, and SEO-friendly. For example, you can use your business's name or a combo of your business's name industry's name.
B. Web Hosting
It is a service that allows you to post your website onto the Internet; hosting space is the home to your code and data files. Always choose the web hosting which is in your budget and offers high uptime so that your customers never have to suffer.
Keep it in mind that your web host should be providing a good backup service, spam protection, high page loading rate, etc. Otherwise, starting an online store won't be a smooth experience for you.
C. SSL Certificate
SSL adds the special security layer to your website. With SSL, you can accept the sensitive information of your customers such as, Credit card numbers, Personal information etc. It is essential for every website, which needs to set up a payment gateway, to have an SSL Certificate in place.
4. Establishing the Online Store
You have all the essentials for starting an online store now. So the last and most important thing to do now is – setting up the online store and serving your customers right.
A. Add a domain name to the Host and Install WordPress
From your CPanel, you will be able to choose the domain, with which, you are willing to set up the website. In the domain provider's login, set your IP details to redirect the site traffic to your WordPress website.
You can install WordPress manually but it is time-consuming. By taking few minutes you can install the WordPress in cPanel. Most of the cPanel includes auto-installers. By filling just a few details, you will be able to complete the procedure.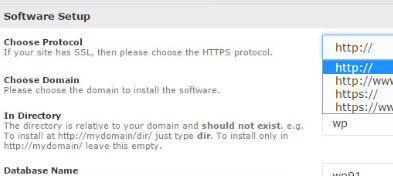 You will have to choose the protocol as 'https://' as you have the SSL Certificate set up on the respective domain. After protocol setting, choose the domain name under which your WordPress site will get installed. It will let you create online store with SSL pre-installed on it, as you have it set up on your domain already.
You also have to mention under which directory your site will get installed. If you want to install it in the root directory then remove the WP in Directory.
The last column 'Database name' let you handle Database Settings and under this setting, you will find a table prefix. This setting is generally not changed. The default is wp_.
B. Setting your website with WordPress
After installing WordPress and creating login credentials, just log in to your WP online store's admin panel. You will be able to access it by adding 'wp-admin' after your domain name, e.g. –
https://www.example.com/wp-admin
After logging in, go to the Settings -> General Page to set up your WordPress site title and description.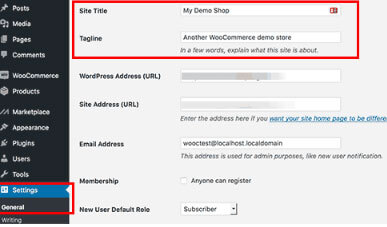 The WordPress has preinstalled SSL certificate for your domain name, but your WordPress site needs to be configured. Go to General page from the Settings option and change your WordPress address and site address to use https instead of HTTP.
ALSO READ:
Plugin Launch: Seamlessly add custom product fees or cost to products in your WooCommerce Store

Save these changes and proceed to the next step.
C. Launch your own WooCommerce Store
To run an e-commerce store with WordPress, it is required that you have WooCommerce configured correctly. For this, install the WooCommerce Plugin to create an online store. Here are the instructions:
Go to plugin > Add New Plugin.
Search for 'WooCommerce' in the WP Plugin Directory (or Download it from the above link).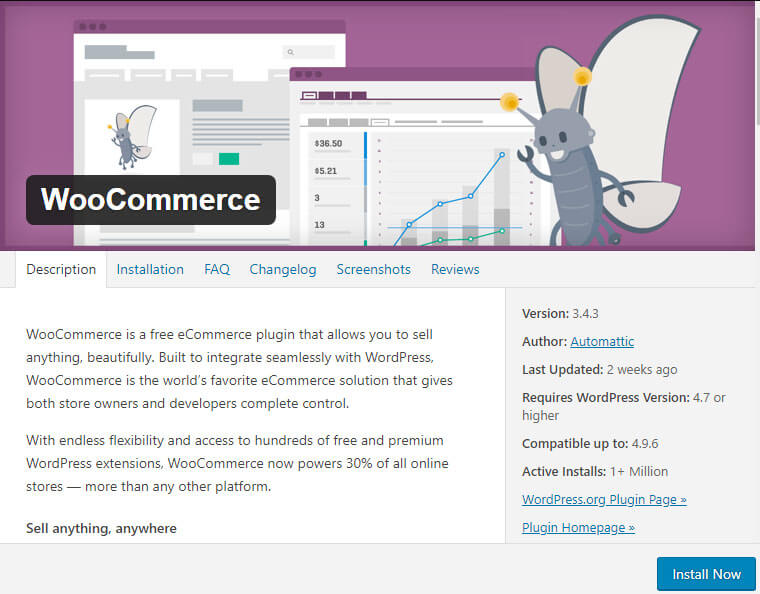 Click on install if you found it in the directory and then activate it. If you have downloaded it, upload the zip file of the plugin, install it and enable.
After completing all the previous steps, you will see a message "Welcome to WooCommerce" on your WordPress dashboard. Click on the "Run the Setup Wizard" button.

Now, it's the time to set up the information and getting started with WooCommerce.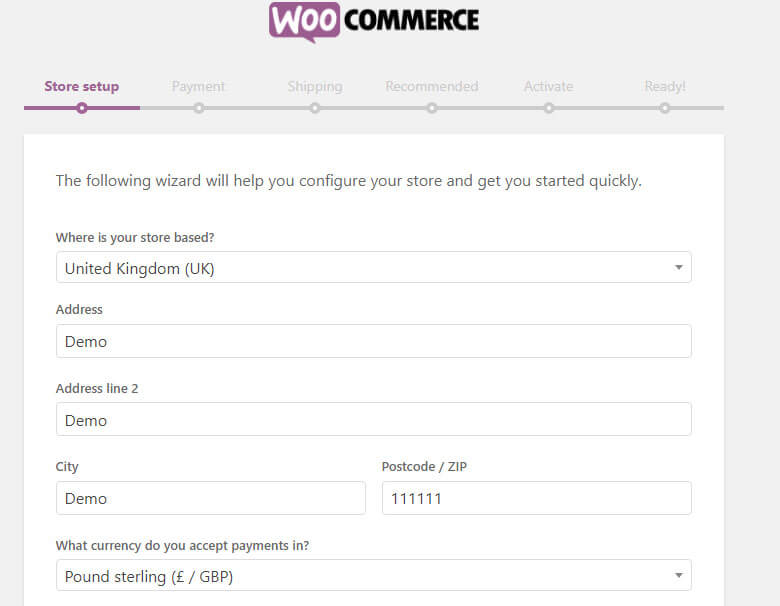 You will find some pages related to cart, account, shop and checkout. Just click on the continue button and these pages are created automatically.
Set the Path, Currency & Unit as per your location and customers.
Add Payment method for your online store. WooCommerce comes with default support of PayPal and Stripe. To add any other option, you will have to pay a certain fee and integrate that method into WooCommerce.
Add Shipping & Tax Information rules so that your store could automatically calculate the extra charges on the products. The windows will look like this:
You can leave the check-box unchecked if you are selling the digital goods or you can add this information later from the Settings option.
At the next step, it will ask you to add some essential supporting plugins such as MailChimp, etc. And finally, your WooCommerce store is ready and running.
D. How to Add the Products to your Online Store?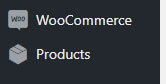 A store cannot exist (or work well) without products. So we are going to tell you how to do it.
Go to the Products -> Add New.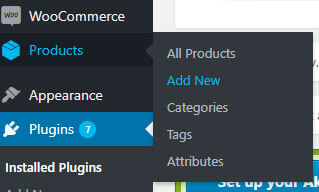 Give a title and description of your product. There should be a meaningful title and description for the better understanding and Search Engine Optimization.

Now, add the product's image, set its price and publish it.
How to add your products in a Category?
Just refer the above "Add New Product window" where you will find an 'Add category' option.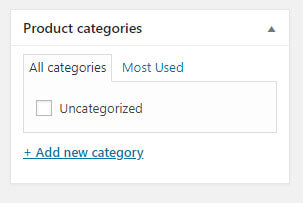 Having proper categorization will help your users browse and choose products easily.
You can also manage product-related information like pricing, inventory, and shipping from the Product Data Box. On the same page, you will find a Product Short Description Box.
Grow Your Business by Managing the online Store Better: Some Tips
How to start an online business and manage it well is definitely not an easy thing to learn, especially when you begin.
1. Competitor Analysis
As your competitors or other leading online shopping sites, who are in the same business, are already doing well in this field, it is better to take advantage of their experience.
Check out their websites and e-commerce stores.
Look at their offers and promotions.
Check website design and landing pages.
Search Engine Optimization Analysis: Check the page title, data, and Meta descriptions. Check out what they are posting in their blogs. It will give you a fair idea about what to do.
Social Media Analysis: 75% of the world's population is on social media, which makes it a great way to sell. Once you have visited their social media pages, read some comments and have done some research on their profile, you will be able to learn about marketing your online store through Facebook, Twitter, Instagram, Google Plus and YouTube.
2. Search Engine Optimization
There is no doubt that you want to appear at the top when people search for your products or services, but how?
Here are some tips:
Find the right Keywords for your homepage and product pages
You should use the keywords which are relevant for your business or brand. Don't choose the words that are too broad or competitive.
For example, If you manufacture "Coffee filters", you shouldn't use the broad keywords "natural coffee" "organic coffee". These are not the specific keywords which people search for coffee filters. Going to 'Coffee Filters in London' may help though.
Product Pages and their Meta Tags
Not just the home page and landing pages, your products should have detailed descriptions too. Adding meta-title and meta-description will be the best idea. Always keep the keyword uniformity and density optimized, if you don't want your content to be tagged as spam.
Keywords for the Blog Topics
There is a chance that you don't have a place to use more additional keywords on your site or you want to engage more customers than current. Blogs are the best bet in this case.
Starting a blog and running series of top 'n' products or just the buying guides could help you rank way higher. Use longtail keyword in your blog to rank in more searches.
Avoid cannibalization keywords
The cannibalization occurs when multiple pages of your site are trying to rank by using the same keyword. Google finds it difficult to choose the most important page of your site in such a scenario. To avoid this problem, list each page of your website with the keywords which are most relevant to that page.
3. Appearance of Website
It's the front-end which welcomes your customers. If it's built neat, responsive, user-friendly and unique – You won the half battle.
No, it is not tough doing so. Just choose the Best WordPress theme for WooCommerce which can do these things. In our perspective, Emporos is the most comprehensive option, available in the market. Check out its Fashion Website Demo or reach its website and find more business-specific demos by scrolling to the 'Pre-built Demo Pages' Section.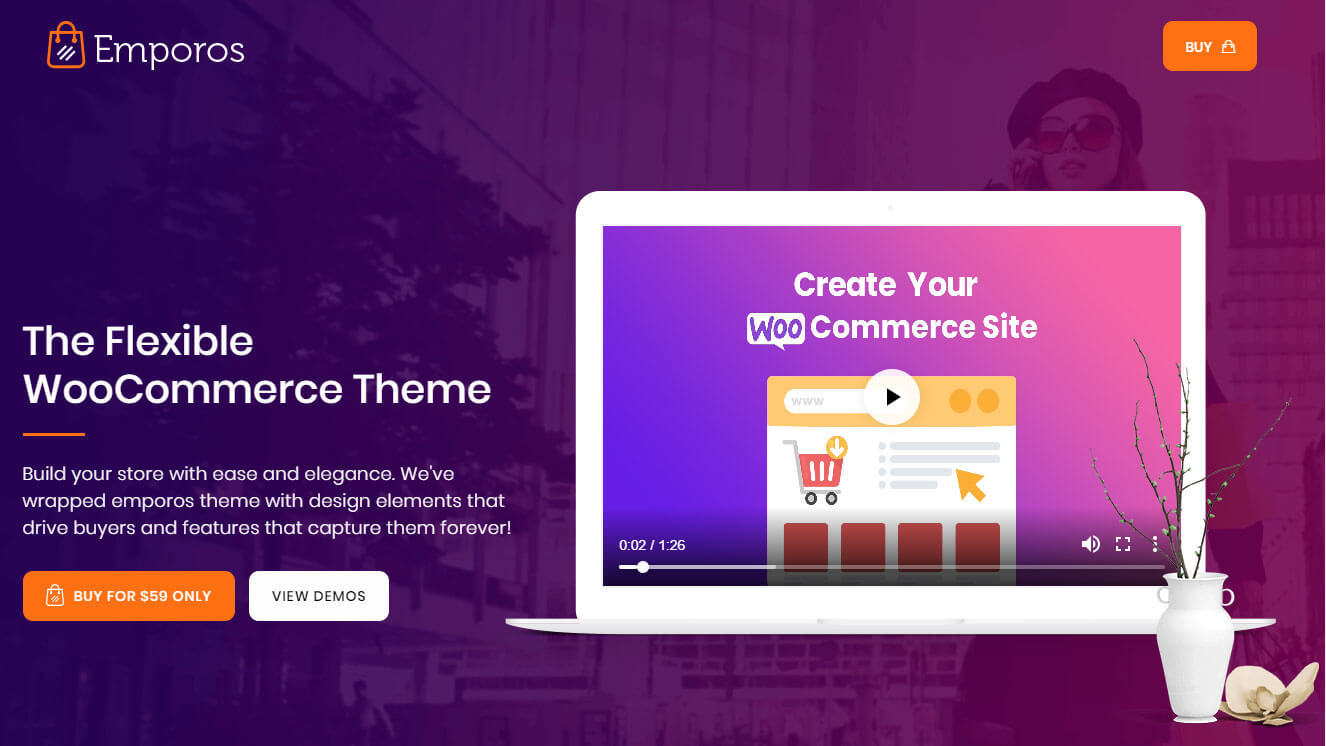 Isn't that what you wanted?
Good features backing the good design are required for your online store's success. Uncluttered, neat, fully-responsive, functionality-driven and loaded with dozens of premium Plugins, the multi-purpose theme Emporos (Link to buy Emporos) is what you need.
After purchasing the theme, you can install it by clicking on Appearance > Themes.
Upload the zip file and enable the theme to get started.
4. Advertising
When your products are good, delivery services are excellent and customer base is overflowing, you start getting a lot of mouth publicity. But to get to this point, you will need to put some efforts first. For example,
Search Engine ads (SEM)
Display ads or PPC advertising
Facebook and Twitter Promotions
Asking clients to review on different platforms
Advertising wisely and serving the coming leads in the best possible way can lead to the success of your online store. And when you are building pixel-perfect pages like these (refer the image), no one can stop you from winning.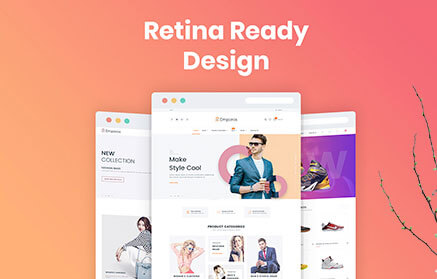 Agree?
So have you learned how to Start an Online Store in 2018 or still have queries, buzzing in your minds? If queries, drop comments below and we'll help you in getting those resolved. You can also ask us about how to install Emporos, WordPress, WooCommerce and more if needed.