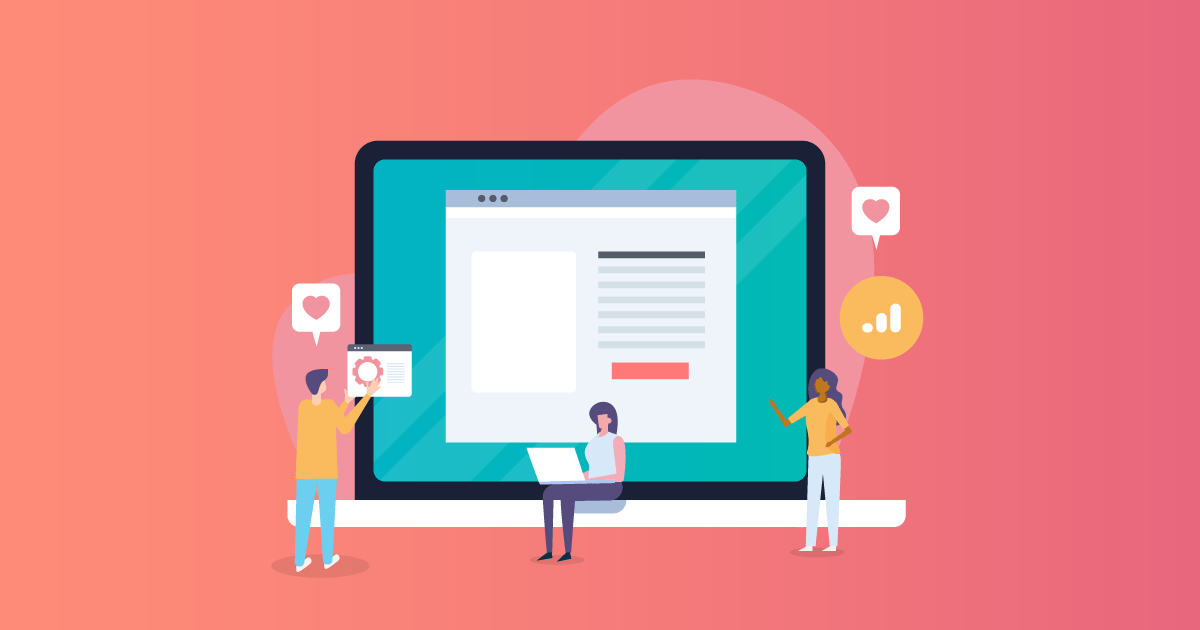 How Do I Set Up Tiered Pricing For WooCommerce Products? (Complete Guide)
Do you want to boost sales of a particular product in your WooCommerce store? You should consider implementing a volume pricing discount like bulk pricing or tiered pricing for woocommerce! 
Tiered pricing is a pricing method where sellers segment the pricing as an incentive to encourage bulk purchases. With tiered pricing, you can appeal to a wider (and more varied) audience by catering to different demand rates and price ranges, as the price per unit changes based on the quantity of a specific item sold.
Bulk pricing, on the other hand, is a volume pricing strategy whereby the entire quantity of a product is discounted when customers purchase a certain quantity. As we will explore later, this strategy works out better for your customers, as the discount is applied to the entire cart, but means that you as the store owner make less profit on high-volume purchases.
WooCommerce is one of the most popular eCommerce platforms on the market, with good reason. Unfortunately, it doesn't have built-in support for volume pricing discounts. If you need to access WooCommerce tiered pricing or bulk pricing (and all of the benefits associated with these strategies), you'll need to use a dynamic pricing plugin that enables conditional discounts.
In this article, we'll take a closer look at what WooCommerce tiered pricing and bulk pricing discounts are, how they work, what the benefits and drawbacks are, and how you can set them up for your products.
What Is Tiered Pricing In WooCommerce, and how does it differ from Bulk Pricing?
WooCommerce tiered pricing lets you create different prices for different product quantities, including setting individual product pricing for different quantity ranges of the same product. Tiered pricing can be applied to products, product categories, users (e.g., repeat customers, first-time customers), or roles (e.g., wholesalers).
Here's a simple WooCommerce tiered pricing example to give you a better idea of how it might work. If a T-shirt costs $20 in your clothing store, you might want to offer tiered pricing so that any T-shirt purchased after the 10-unit threshold costs $15, and T-shirts purchased after 30 units cost $10. In practice, it would look like this:
1-10 T-shirts: $20 per unit
10-30 T-shirts: $15 per unit
30+ T-shirts: $10 per unit
Tiered pricing kicks in once the maximum quantity of products in each tier has been reached, rather than being applied to the entire quantity of a product in your cart (as is the case with bulk discounts). In this way, each tier is filled before moving on to the next. Let's see how this looks in practice:
If a customer purchases 25 T-shirts, they will pay $425 because 10 T-shirts are priced at $20 each, and the additional 15 T-shirts are priced at $15. This is because the first tier of pricing (i.e., $20) needs to be filled before the lower price associated with the next tier is charged. Represented as a calculation, it would look like this: (10 t-shirts x $20) + (15 t-shirts x $15) = $425.
As the tiers (or demand) for the product goes up, a greater discount is applied to the units within each pricing tier. This incentivizes your customers to buy more because the greater number of products they buy, the more discounted the units they purchase will be.
In most cases, tiered pricing is more lucrative for you as the store owner than other quantity-based discounts like bulk pricing, but works out worse for the customer. Going back to the T-shirt example, bulk pricing would set the price of each shirt at $15, applicable to all T-shirts in the cart – the price change occurs as soon as you reach a set minimum quantity. The total would be $375, which is $50 less than the merchant would have made using tiered pricing.
It's worth noting that tiered pricing for product sales is different from a tiered pricing strategy that service-based businesses would implement, depending on the service given (e.g., software licensing or SaaS subscriptions).
Which pricing model should you use?
Both tiered and bulk pricing models work very well for larger businesses or when you are targeting customers that have a higher demand for your product. You can also use these strategies to incentivize smaller customers to up their orders or to move stock that isn't in high demand and take up warehouse space. You can shift more units at once, which lowers your shipping and logistics costs considerably (e.g., it's much cheaper to send 30 units to a single address versus sending 30 units to 30 different addresses across the country).
By implementing WooCommerce tiered pricing, you can bring in more revenue than you would with a bulk pricing discount. That being said, bulk pricing discounts also have their advantages. As the pricing works out better for your customers with bulk pricing, these kinds of discounts can be even more successful in encouraging higher order volumes, as customers are incentivized to keep adding products to their cart until they reach the next bulk discount tier. For this reason, bulk pricing can be a great way to help move stock even more quickly and reliably than if you offered a tiered pricing discount.
Which discount strategy you deploy will depend on your business requirements. Fortunately, it's very easy and hassle-free to set up both tiered pricing and bulk pricing discounts with the right plugins.
The best plugin to set up volume pricing discounts for your WooCommerce store
While there are a variety of third-party plugins with bulk pricing functionality, it can be difficult to find one with the flexibility to enable you to offer discounts across specific products, categories, or even across your entire store with ease.
WooCommerce Dynamic Pricing and Discount Rules from DotStore is an all-in-one pricing and discount plugin solution that makes it easy to set up bulk pricing for your WooCommerce store. Designed specifically for WooCommerce, this plugin allows you to set up many types of conditional discounts in minutes. Using Woocommerce Dynamic Pricing and Discount Rules, you can even set up different bulk pricing tiers to incentivize even higher order volumes.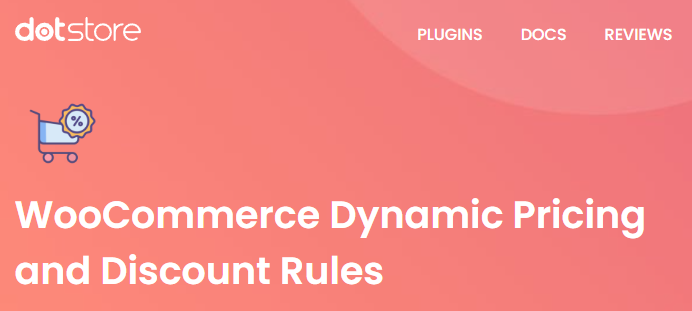 Using WooCommerce Dynamic Pricing and Discount Rules, merchants can set up a discount using a fixed price, percentage, or bulk pricing for their products. You can also apply discounts across specific products, categories, or store-wide, per location or per user role.
It's great for simple pricing (e.g., when products are sold in units) or variable pricing (e.g., when the product prices vary per weight and quantity).
Because it's an end-to-end solution, you'll be able to access a host of benefits, including notifying users directly on the product page that they can receive discounts by adding more products to their cart with a customized message (e.g., "Add one more item to your cart to qualify for free shipping!"). That way, you can increase conversions across your entire store.
It is important to note that while WooCommerce Dynamic Pricing and Discount Rules is the best plugin for setting up a range of different conditional pricing rules and discounts for your WooCommerce store, it does not support a traditional tiered pricing model. For this, you'll need an additional free plugin (more on that later). You can, however, set up different tiers of bulk pricing discounts, and we'll talk through the steps for how to do that next.
How To Set Up Bulk Pricing Tiers In WooCommerce (Step-By-Step)
Setting up bulk pricing tiers using WooCommerce Dynamic Pricing and Discount Rules is very simple and takes just a few minutes of your time.
Download the plugin and install it on your WordPress dashboard. You'll need to activate it in WordPress and navigate to 'Conditional Discount Rules for WooCommerce' under the DotStore Plugins tab of the admin dashboard.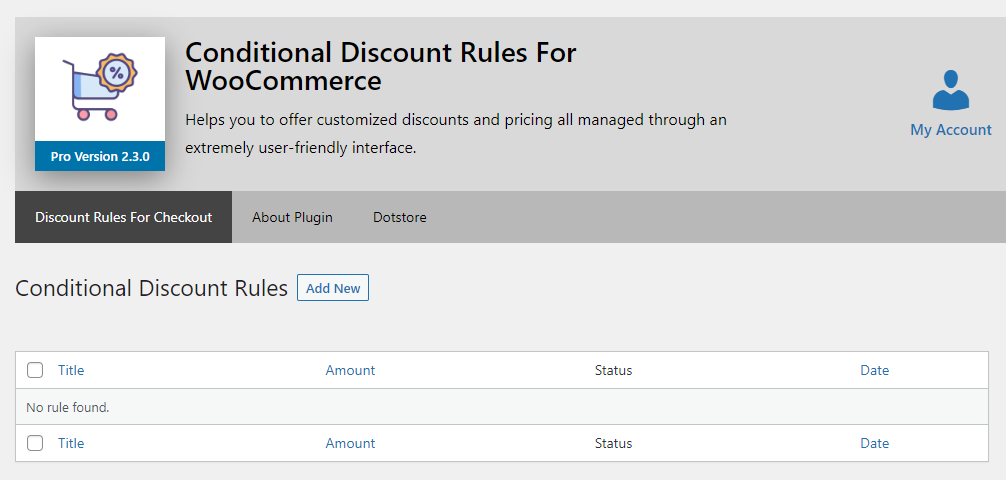 Click 'Add New' and enter a name for your discount, such as "Wholesale Discount".
Let's say you are selling organic shampoo, with a single bottle costing $10. You might choose to set up one bulk pricing tier for 10–29 units to reduce the cost to $5 per bottle, then a second tier for 30+ units so each bottle costs $3.
To do this, you'll need to create a rule for each discounted tier. Assuming that $10 is the non-discounted price, you'll enter 5 in the discount value box. Then check the 'Apply Per Quantity' box, and set the 'Discount per Additional Quantity' to 5. That will reduce the price of each unit of the shampoo product from $10 to $5.

In the 'Discount Rules for checkout' box, click 'Add Row'. Select 'Quantity' in the first drop-down box, 'Greater or Equal to ( >= )' in the second, and the figure '10' in the third. This will start applying the discount as soon as the 10th product quantity is added to the cart. Click 'Add Row' again, and this time set a rule where 'Quantity' is 'Less than ( < )' the figure 30. This means that our $5 discount is only applied to quantities between 10 and 30. Click Submit!

To set up the discount for quantities over 30, simply set up a new discount and repeat the above steps with the following settings:
Discount value = 7
Discount rule where 'Quantity' is 'Greater or Equal to ( >= )' 30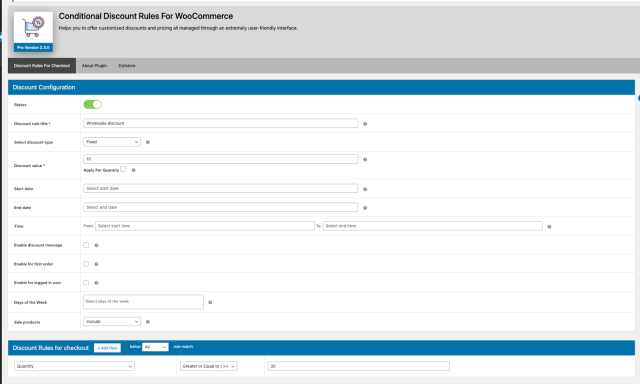 Between these two rules, you've now set up your different tiers of bulk pricing! Now, when customers place between 10 and 30 of the same product in their cart, the wholesale discount will apply.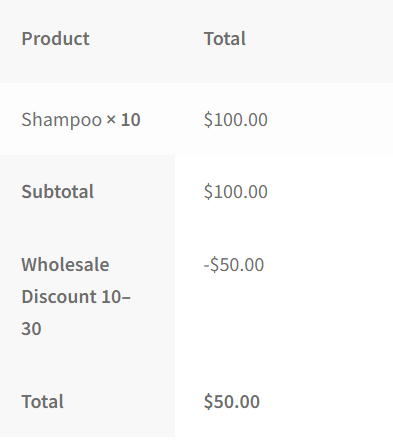 You even configure role-based discounts, which will only apply to customers with a certain user role, such as wholesale customers, for example. Simply navigate back to the 'discount rules for checkout' section and add another row. Select 'User role' in the first dropdown box, set the second dropdown to 'Equal to ( = )', then choose the user role you want the rule to apply to in the third box. For the purpose of this example, we've selected 'Wholesale customer'.

This just scratches the surface of the versatility of the WooCommerce Dynamic Pricing and Discount Rules plugin from DotStore. This powerful plugin allows you to set up all manner of different conditional discounts for your WooCommerce products in a matter of minutes.
How To Set Up Tiered Pricing In WooCommerce (Step-By-Step)
Setting up tiered pricing in WooCommerce is also straightforward:
Download and install the free WPC price by Quantity for WooCommerce plugin.
Navigate to 'Settings', then in the 'Pricing table' section, adjust the 'Pricing method' dropdown to tiered pricing.
Fill in the first column with the quantities you want each tier to start at. For example, if you want the first discount to kick in for 10–19 products, you'd set the first row's quantity to 10, and the second row's quantity to 20.
Fill in the second column with the prices you want to charge for each tier of pricing. The easiest way to do this is with percentages – for example, if you wanted to offer a 10% discount on your first pricing tier, you would write '90%' in the second column of the first row.
Fill in the third column with any text you want to show after the prices (e.g., you could write '10% discount' for your first tier, and this would then show on the product page in the tiered pricing table).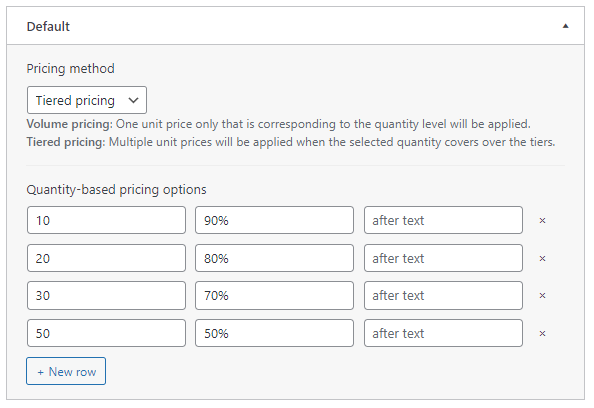 Now, when you look at the product page on the front end, a tiered pricing table will appear showing customers which discounts are available and which they currently qualify for: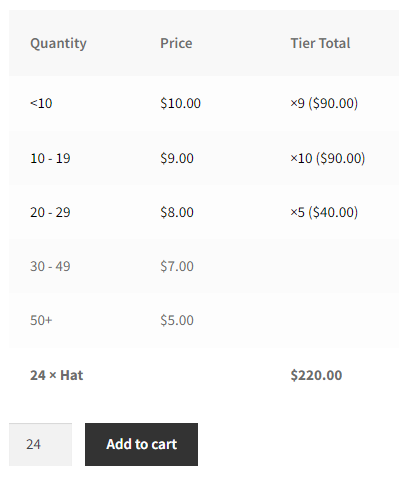 Apply volume pricing rules to encourage bulk orders
Both bulk and tiered pricing can transform your business. These types of volume pricing rules not only encourage more orders and attract bulk buyers, but can enable you to reduce the slow-moving inventory taking up space in your warehouse or storage unit in a cost-effective manner.
While there are lots of different WooCommerce volume discount pricing plugins you can try, WooCommerce Dynamic Pricing and Discount Rules is a simple solution for adding conditional discounts and volume pricing rules (including bulk pricing tiers) to your WooCommerce store. You can set it up within minutes and begin implementing advanced discounts across a number of attributes. You can choose between fixed or percentage discounts and even set up several discount rules at once. Whatever need you may have, the plugin can help you create complex rules while keeping things simple and intuitive.
If you want to sell more stock faster and scale your business rapidly, a volume pricing plugin is a way to do it. Download WooCommerce Dynamic Pricing and Discount Rules and start selling!