6 WordPress Anti-Spam Plugins to Keep the Spammer away from your website

There is a reason why WordPress is the best CMS out there. Apart from its intuitive operational capacity, it has a lot more to offer to the users. Today, we will go through to discuss the best WP plugins that will save you from the troubles caused by the spammers.
Most of the time, we need to opt for anti-spamming measures when the site has gained a considerable amount of traction. This is the time when you are constantly scaling in terms of daily visitors and engagement. Let us see what plugins both free and paid you can utilize to protect your WordPress website.
Best WP Anti-Spam Plugins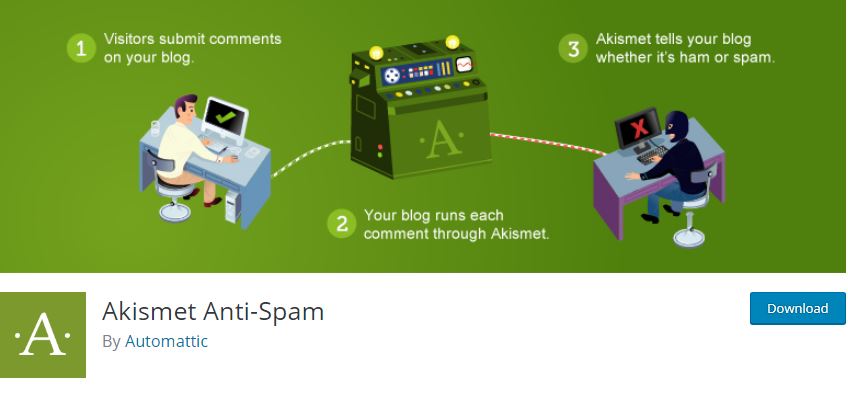 Akismet offers enterprise-sized protection for your blog or website and that too for free. The easy setup, functioning, and robust protective measures make it the first choice for every WordPress user.
Apart from this, the Akismet is free to use and will not charge you anything up to the first 50,000 spam attacks. The best thing about Akismet is that it is built by the same team Automattic, which has given us WordPress and various other robust web tools.
Pros: Akismet has its own spam filtering algorithm. As soon as someone comments on your website, Akismet will run it thought that algorithm and decide accordingly. It is a smart plugin.
Cons: One of the problems arises from its robust mechanism only. The Akismet filter tracks the comments published by all the users who are also commenting on your site. Moreover, if it finds a previous comment by the same user, it will block the comment posted for your website irrespective of the parameters.
Pricing: If you want to handle more than 50,000 comments, the premium plans begin from $5 per month.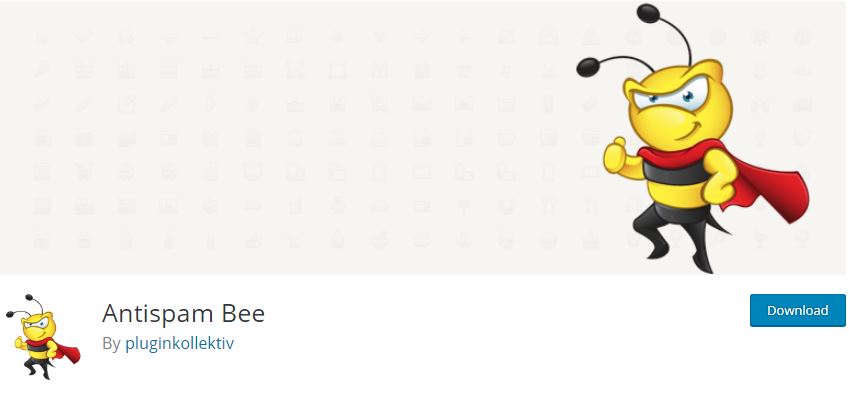 The best thing about this anti-spam plugin is that you do not need to set it up separately. All that you need to do is install it and let the plugin handle the rest. AntiSpam bee takes the comments through the spam database for filtration and posting authentication.
AntiSpam Bee plugin is the product of PluginKollectiv. It has the ability to analyze the IP addresses of the users and then blocks the suspicious ones for your benefit.
Pros:
Simple to use and comes with an option to delete the already stored spam comments.
The default option will delete the spammed comments within a month's time. This comes in handy when there is a bot attacking your website daily.
Anti Spam Bee can also show you the data and statistics for the month.
Cons: Anti-spam bee is not compatible with Jetpack WP contact forms.
Pricing: Free to use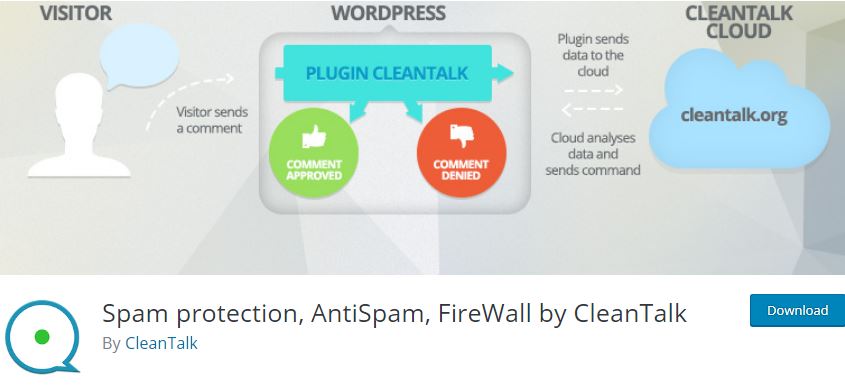 From trackbacks to Antispam bots and everything in between, the cleantalk can help you secure your website with precision. They have their own cloud-based servers and every single comment is crossed through this cloud before being posted on your website. Alongside, it can check the emails, registrations, orders, bookings, surveys and other such things to prevent spammers.
Pros: A special feature named Spam Queue stores all the rejected comments so that you can review them personally and approve it if required.
Cons: Clean talk has not shown any cons so far.
Pricing: Clean talk offers a premium plan which starts at $9/year.
Among all types of spam, this anti-spam plugin offers protection from distinct types of spam. This includes spamming related to comment, registration, trackback and contact form.
The best thing is that the spam won't even enter the WordPress database due to its efficient protection mechanism. For recurrent spammers, it has a blacklisting feature and you can also block the spam originating from proxy servers.
Pros: Anti Spam Shield is also fully compatible with WooCommerce and this is helpful when your store has gained a lot of daily audiences. It can be integrated with contact form 7 and gravity form plugins too. Other than this, you can also use it with MailChimp, mail poet, and others.
Cons: The tech support for this WordPress anti-spam plugin is not on point. They are a bit laggard when it comes to helping the customer.
Pricing: $39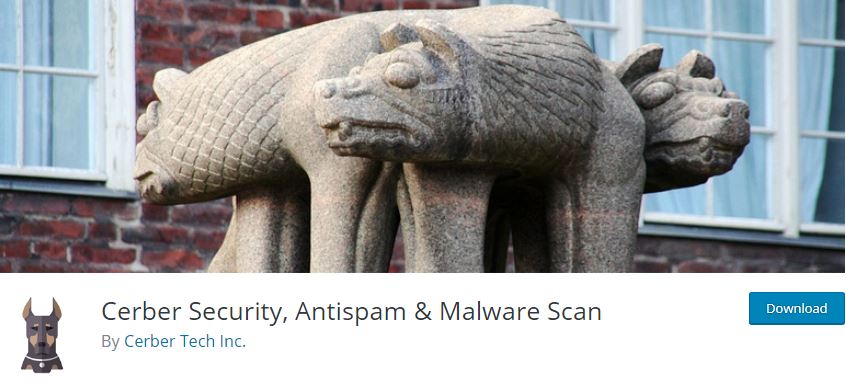 Cerber security plugin is yet another amazing and highly efficient anti-spam plugin that can help you ward off various types of spam attacks. The best thing about this plugin is that you can limit the login attempts by a user.
The feature of creating white and blacklists will further help you segregate the users on the basis of their intentions.
Pros: You can activate the Google reCaptcha to enhance your protection from bots. Cerber Security is known to streamline your website's performance and overall structure further.
Cons: the pricing for Cerber Security is a bit higher.
Pricing: $29 per quarter or $99 for the whole year.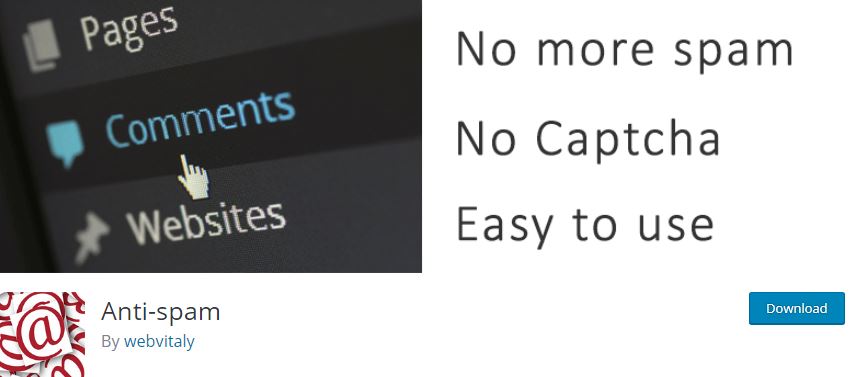 One of the best examples of blocking the spam is this plugin that has a lot of features to present to the user. The easy installation and setting up of the spam comments. It also has a storage feature whereby you can manually edit and restore the comments as per your convenience.
An anti-spam plugin is developed by Webvitaly which has also produced other effective and proactive plugins for all sorts of websites.
Pros: One of the best plugins for WordPress to combat the spamming menace. This plugin has a separate spam folder for blocked comments.
Cons: Anti-Spam may be an efficient plugin but its functions are only limited to blocking the spam comments. It cannot block spammy registration and forms.
Price: Free to use.
Conclusion
As much as WordPress has made the life of an online worker easy, it has also given several other elements to cause disruption in the normal working of the website. And to combat that you need to have any one of these 6 plugins that will let you make the best out of your efforts and allow only that traffic to your website which is authentic, purposeful and adds to your value proposition.
Plugins like Akismet and Antispam Bee which adds several layers of protection and some additional features are highly proficient and will make your work easy and streamlined.