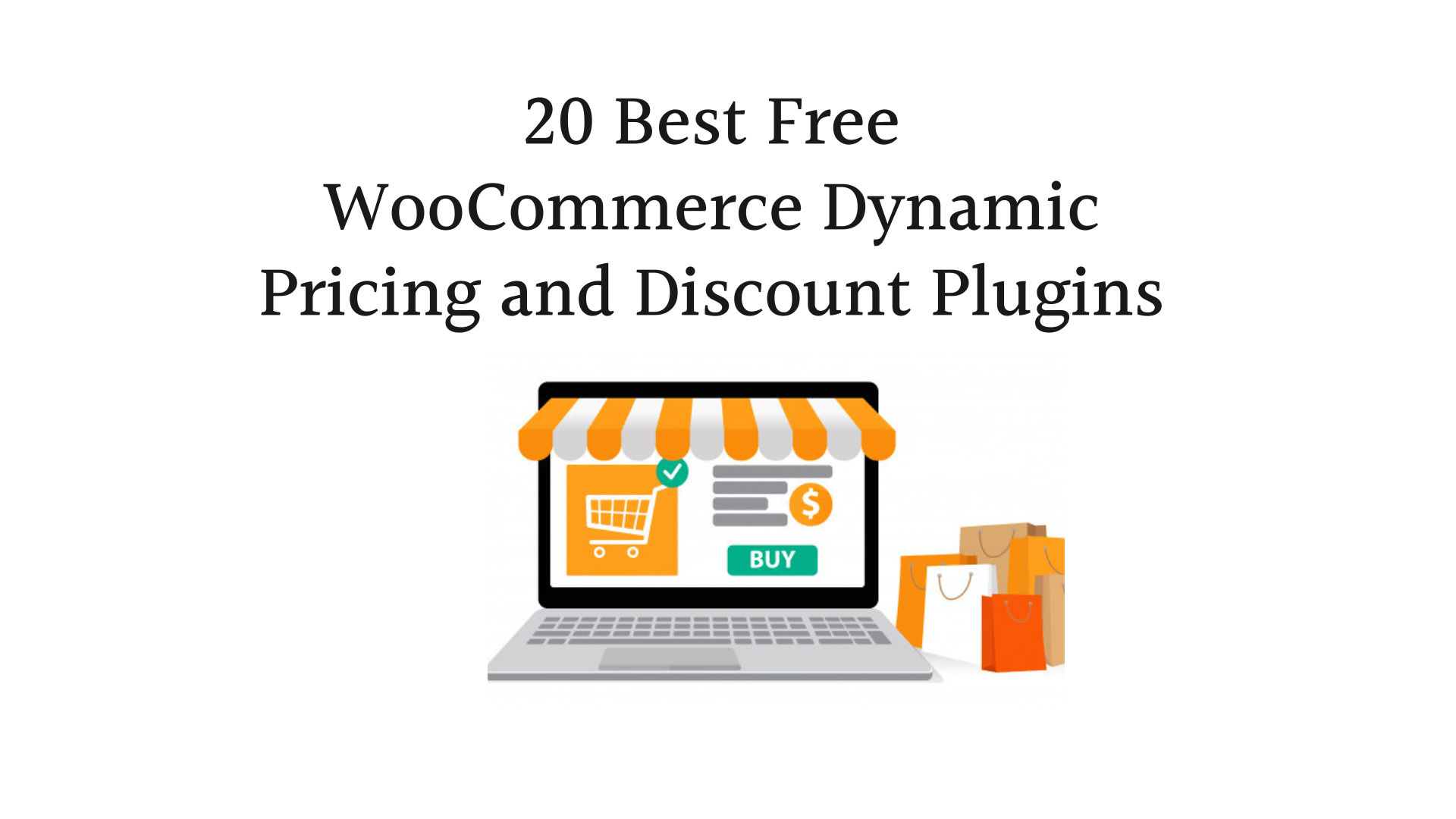 20 Best Free WooCommerce Dynamic Pricing and Discount Plugins
Discount deals are undoubtedly one of the smart ways to increase customer count and conversion rate on your e-commerce store. Shoppers are always more interested in buying things at discounted rates. Hence, offers and discounts encourage them to shop more by benefitting themselves with free offers, attractive price deals, and more.
You too can make your marketing campaigns effective by incentivizing your online shoppers with attractive discounts. All you need to do is add WooCommerce discounts plugins to your online store. It is easy to set up discounts on the e-commerce store if you use the best quality WooCommerce plugin. You may consider the following plugins for your online shop's discount strategies.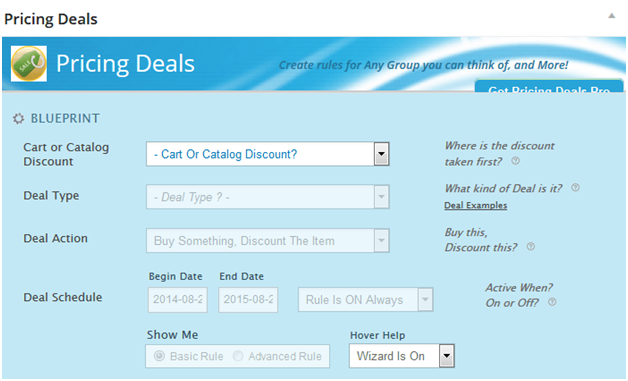 Counted among the most versatile discount plugins for WooCommerce, Pricing Deals for WooCommerce comes with a number of options for product pricing and discount. With this plugin in use, online store owners can create discount deals, decide deal action, as well as schedule the deal timing. Besides, it allows them to promote their discount offers on their online store using shortcodes.
More so, e-commerce owners will have the advantage of creating pricing tiers, wholesale value, Dynamic, Catalog, Role-based, and Category pricing. Plus, you can also offer the benefit of bulk discounts to your customers such as buy 1 get 1 offer. Creating Bulk Pricing for basic deals is also possible with this WooCommerce plugin.
Pricing Deals for WooCommerce plugin has multilanguage feature which works through GTranslate. Additionally, sellers can access detailed discount report of a particular order with the use of this plugin. You can also limit the number of customers who can take advantage of a discount offer. Overall, it's a perfect option setting discount prices and attracting increased number of customers on your online store.
Pros
It is a free version WooCommerce Discount Plugin
Allows sellers to advertise their offers
It is updated from time to time
Cons
Limited features in the free version
Its premium version is costly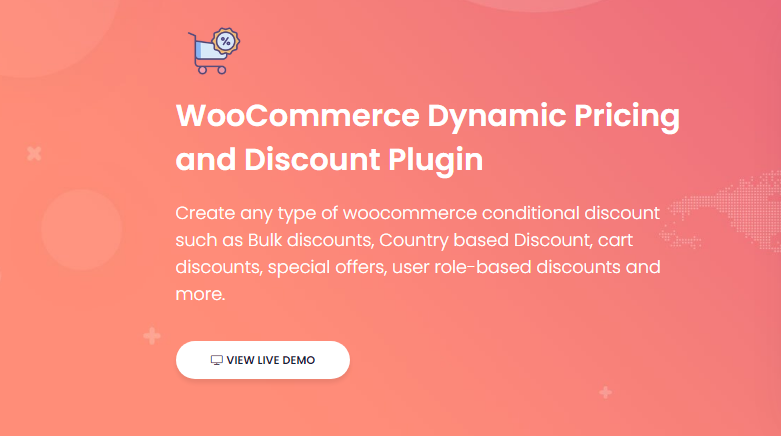 The WooCommerce Dynamic Pricing & Discount Plugin allows users to create multiple types of discounts discount for their online store. From bulk discounts to pricing, role-based offers, tiered discounts, and discounts on total order – there are so many options to customize your discount deals. Moreover, you can even create discount offers according to the location of delivery. It is easy to use and set-up.
You can add discount percentage for different products according to product type and product category. The plugin also facilitates the users to appy fixed rate discounts.
WooCommerce Dynamic Pricing and Discount Rules plugin can be pinned on your site's cart page, product list page, and checkout page. You can also add the plugin to the notifications sent to customers through email. The pricing table and discount details can be presented beautifully before the shoppers so that they are enticed to buy more. Users can set discount rules according to the number of products in the shopping cart, Products, Cart total/subtotal, buying history, category, and attributes.
Pros
The plugin comes in both premium and free version.
Its premium version is cost-effective comparatively.
Create conditional discounts for countries, cart value, user roles easily with the free version.
Bulk discounts can be created and applied with it in a matter of seconds.
Apply various conditions (single as well as multiple) for discounts using the premium plugin.
Discounts can be applied to checkout and cart pages
Cons
Limited features in the free version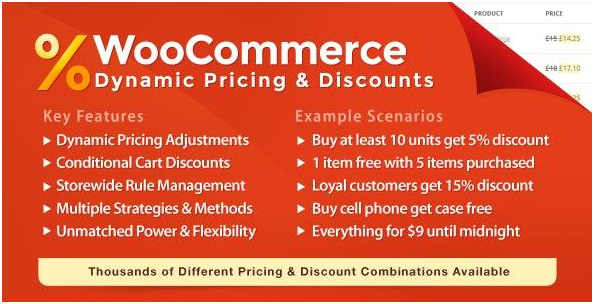 This Dynamic Pricing & Discounts plugin for WooCommerce businesses is one-in-all promotion and pricing tool that gives online sellers the flexibility of setting the prices, conditions, and discounts for their products. It comes with a wide range of methods that can easily fit all kinds of discount strategies.
It is considered one of the best plugins because it reduces the need of using a variety of tools for bulk pricing, tiered sales, special offers, promotions, exclusive deals, pricing, flash sales, bundle offers, wholesale offers, member offers, individual offers, loyalty price, pricing as per location, behavioral pricing, and others. The prices can be changed anytime.
More so, online sellers can create pricing and discount strategies for engaging the top customers of your online shop. You may also reward your best online shoppers when they achieve shopping goals such as number of completed orders, shopping limit, etc. This plugin is ideal for both wholesale and retail sales. Users my create insider offer or create a club for special customers. Sellers can also expect increase in Customer retention rate with the use of this plugin as it allows them to run promotions on their site.
Pros
Allows setting up of Dynamic pricing
Helps in earning shoppers loyalty
Easy to set up cart discounts
Supports product variations
Supports multiple product pricing
Cons
Free version has limited features
Premium version is expensive comparatively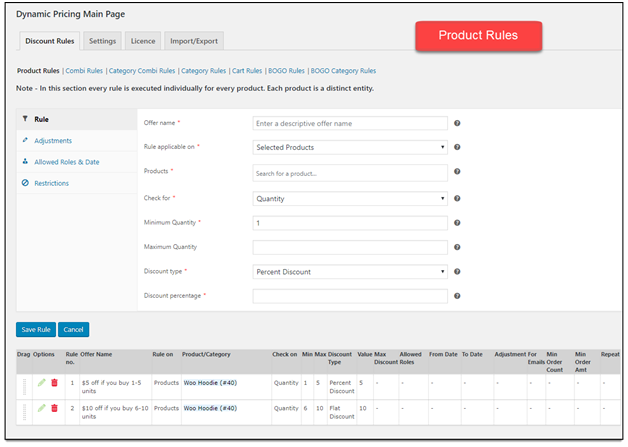 This free plugin by ELEX allows users to add flat rate and percentage discounts on their online store. The discounts can be created on category and product levels. Additionally, it also offers the benefit of setting up complicated pricing structures on WooCommerce site. It eliminates the risk of loss which may occur otherwise due to discounts.
With this plugin in use users can also add Dynamic discount details on every product. Plus, you can also include various rules to the items listed on your site. Moreover, users can set product discount based on the product's quantity, weight, and price. Online sellers can set category pricing, product pricing, combinational pricing, category pricing, BOGO pricing, cart pricing and others using this WooCommerce plugin.
Online sellers' configuration of discount based on cart level, payment and shipping method is also possible with this plugin. The best part is that you can also set German and French languages as default using this plugin.
Pros
It comes with export and import feature
Excellent customer support
Easy to use and set up
Cons
At least two product rules are mandatory for display of product pricing table
Adding multiple rules at a time increases loading time of the web page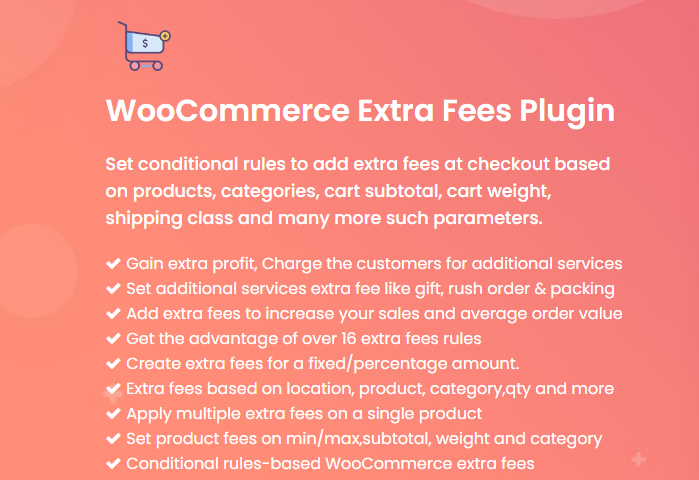 WooCommerce Extra Fees Plugin is a plugin by DotStore that allows you to create extra fees as well as discounts. So, with it, you can fulfill your store's need to give discounts as well as an applicable surcharge.
Using this plugin, running seasonal sales, festive promotions, daily deals, shipping related offers, and applying added fee for additional services becomes very easy.
The WooCommerce Extra Fees plugin takes negative and positive values for extra fees as input. So, in the case of discounts, you will have to add negative values. Alongside adding the fee, you can specify one or multiple conditions, for which, your discount will work. – Download free plugin version
Pros
Create discounts as well as extra fee methods
Apply one or multiple conditions to your methods
Add fixed or percentage-based discount amount
Apply discount for one product or one/multiple products, categories.
Give discounts as per location, cart value, product value, user, weight, quantity, and other such parameters.
Very user-friendly plugin and supportive assistance team.
Cons
You might not find it difficult to apply discounts if you do not know that this plugin takes negative values too.

If you are looking for a plugin that can help you create percentage pricing, bulk pricing, dynamic discounts, cart pricing, advanced and dynamic methods for WooCommerce shipping then opt for Easy WooCommerce Discounts plugin. It facilitates the users with high-end solutions for creating enticing discount deals and offers on their website. The plugin is ideal for both professional and beginner users as it's easy to use and install.
The plugin also comes in handy when it comes to customizing product rules for pricing based on quantity. Using Easy WooCommerce Discounts plugin for your online store will allow you to design free, advanced, cart-value based and weight- based methods for shipping.
It is one of those discount plugins that help in increasing conversion rates of the site by elevating its sales graph. The plugin encourages the potential buyers to purchase in bulk. You can set category based pricing, cart subtotal discount deals, cart total discount offers, order total discount offers, and more. There are also Shortcodes for promotional campaigns.
Pros
Availability of buy 1 get 1 deals
Allows offers display on product-list page
Permits discounts scheduling
Excellent customer support
Easy to use and install
Cons
Loaded with exceed features (which can be confusing for online sellers).

It's a powerful, free discount WooCommerce plugin used by sellers for managing and creating a wide range of discount deals for their website. With this plugin in users can easily customize the pricing and discounts. They can create percentage pricing, bulk pricing, free gifts, fixed pricing, BOGO deals, discounts based on popularity, and much more.
Users can even add discounts on cart value, variable items, and category products. You can also use it for creating discount deals based on product quantity which will further enhance the sales of your online store.
Sellers can create affiliation pricing or SendinBlue/ MailChimp newsletter for their store. It allows users to facilitate the affiliate customers with discounts. You may even add user-based pricing; address based pricing, discounts based on previous purchase, and payment mode. In a nutshell, Conditional Discounts for WooCommerce pluginis an ideal option for adding lucrative discount to your online store, while improving its growth rate.
Pros
Less impact on usage of memory
Page speed isn't affected by adding the plugin
Zero Javascript problems
Compatible with advanced PHP 7.4.8
Compatible with advanced WordPress 5.5.1
Zero activation issues
Zero resource issues
Updated from time to time
Cons
No warning or notices when errors occur (however, errors don't occur in this plugin generally).

WooCommerce bulk discount will help you create and add variety of discounts on your website. This free discount plugin lets users manage bulk, percentage, and fixed pricing in different currencies. Plus, users can also set product pricing both globally and individually.
More so, the plugin can be used for adding their discount deals to the website's order details and checkout pages. Discounts can also be displayed in order invoice/e-mail. With this plugin in use users can create discounts for bulk product purchase and they can be either treated all together or separately (for discounting).
The best thing about this plugin is that discount can be displayed on different locations (on the website) at a time. It allows users to change the price's CSS so that customers can compare after and before discount rates. However, note that you can't use the plugin's bulk pricing feature if you configure your site with coupon code. The discount deals can be localized in Czech and English languages.
Pros
Setting of flat, fixed, or percentage discount in different currencies.
Setting individual discount as per the product
Allows users to add different types of discounts on bulk of individual products
Allows User role discount creation
Users can promote products as headers or pop-ups
Periodic discount activation automatically
Cons
Advanced features available in premium version
Pro version isn't cheap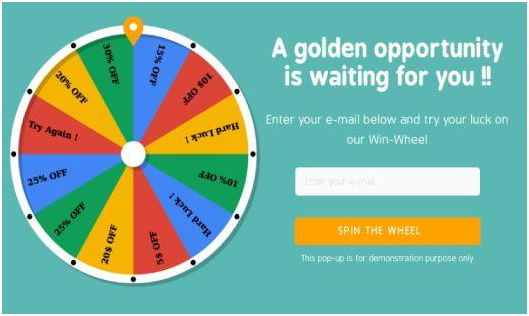 If you are looking for an effective way to engage and entice your customers then this WooCommerce plugin will prove out to be your best bet. Online sellers can easily create discounts for their products using this plugin. It also helps in increasing customer base of the online store. Ask how? When a customer visits the site a popup appears on the screen asking the visitors their email. If the buyers win, this plugin sends the relevant details of a coupon to their email address. In case they lose, visitors can consider wheel spinning unless they win a coupon. It is one of the smartest ways of collecting emails of potential buyers and grow customer base.
The plugin's spin wheel can be customized by store owners as their business needs. Moreover, store owners can customize the email template for discount deals. The best part is that you can change the style of spin wheel as per the theme of your online platform. This plugin also comes with reporting option wherein users can get detailed reports of total sales.
Pros
Wheel segments can be altered according to the colour and text of segment.
Easy to set up and use
Admin can send messages to customers once they get their email.
Cons
Users need to entice customers with out-of-the-box discount deals to collect their info
Its pro version has more features.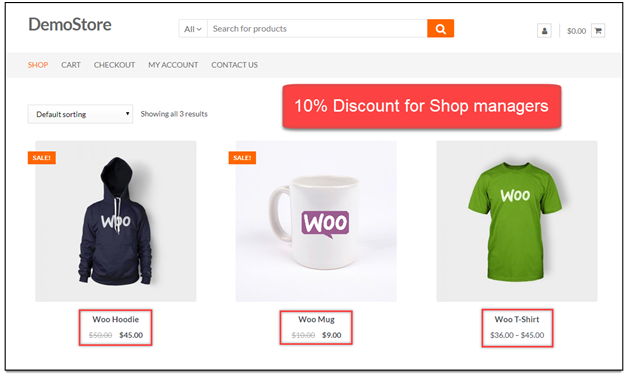 ELEX WooCommerce Role-Based Pricing Plugin is an ideal option for setting up layered discount pricing on their e-commerce store according to the user roles. Additionally, this plugin can be used for setting up role-based discounts according to product type. The free version of the plugin supports limited products but its pro version works for all types of products listed on the WooCommerce site.
The plugin also allows users to customize or remove the Add to Cart option for both unregistered and registered online sellers. Plus, you can hide the price of products or remove the shopping option completely for the entire online store or for selected user types. In a nutshell, users can convert their e-commerce site into a well-designed catalog.
Pros
Discount offers at multiple levels.
Allows users to create Buy 1 get 1 offers
Display of price table.
Compatible with WPML
Excellent customer support
Cons
Doesn't allow wholesale pricing on shipping prices.
Doesn't work when coupon code plugin is added.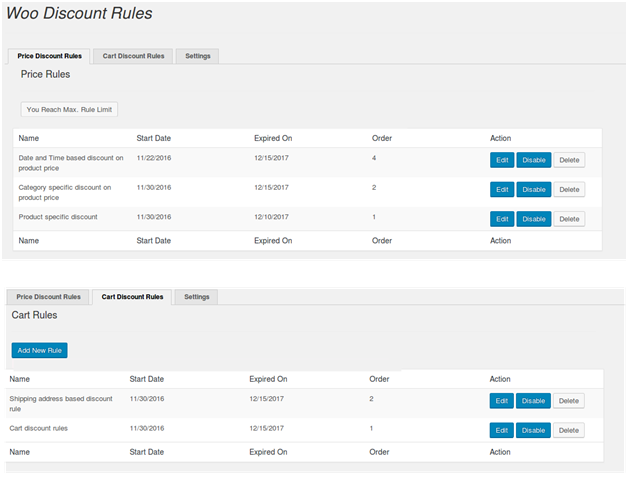 WooCommerce Discount Rules by Flycart is one of a kind discount plugin that can be used for creating dynamic discounts, bulk pricing, and advanced product discounts. Additionally, users can also create product-based, percentage, and tiered- based discount offers for their customers.
You can even create offers based on quantity of the product. The plugin even allows sellers to add discounts based on cart value at the total value or percentage amount. Moreover, you can even create BOGO offers to elevate the graph of your online sales. With this plugin in use you can offer dynamic discount offers to your customers based on buying history, categories, user roles, products, etc. The discounts can be added to product-list page, checkout, and cart pages. It can be even added to the notifications sent to customers via email.
Pros
Outstanding customer support
Easy to set up and use
Allows to run promotions on the site
Cons
Premium version has advanced features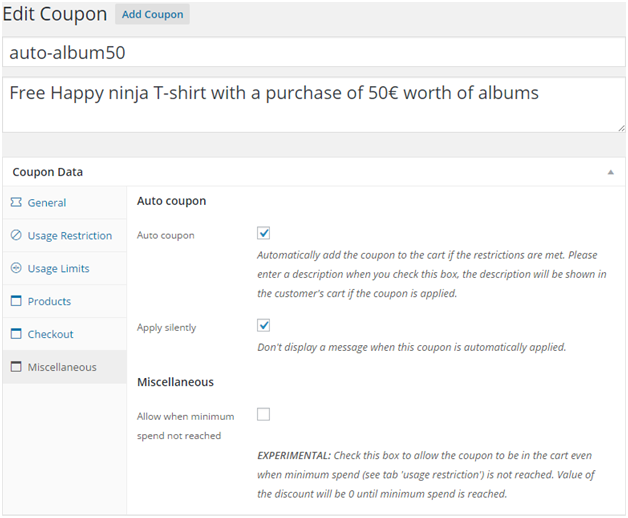 This discount plugin adds to the already existing in-built features of WooCommerce. It is an amazing option that allows users to create attractive discounts automatically on their store. After installing this free plugin, online sellers access multiple options featured on the site's coupon panel. It comes with some exclusive features that help in enhancing both sales and popularity of the platform.
You can create coupons for cart of the customers when they meet the set conditions for the offer. Plus, the plugin also facilitates users to add coupon using URL. The online sellers also have the benefit of restricting coupon according to the payment options and shipping methods opted by the customers.
Pros
Allows users to add coupons automatically to the cart
Add coupons using a URL
Coupons as per the payment mode
Coupon based on shipping mode
Coupons as per the buyer's roles
Coupon based on product combination type
Cons
Its premium version has high-end features

WooCommerce First Order Discount plugin is another perfect option for pricing your products. The plugin allows admins (website owners) to facilitate the new buyers with attractive discount offers on the first purchase they make on the site. Plus, you can also add the conditions under which the customers can take the benefit of these discounts. Users may include offers like minimum purchase value for activating the discounts.
The plugin's premium version comes with various advanced options. You can set the cart value for your customers so that they can avail the promotional offers. Moreover, you can also highlight the customer's progress of shopping. It helps in elevating the sales of the e-commerce store. This plugin is a perfect option for those looking for a plugin that can help them create promotions based on categories. It will help your customers to find their pick from wide range of options.
Pros
Excellent plugin
Advanced features that enhance the value of an e-commerce store
Simple and effective
Cons
Inexperienced sellers could face issues with set up
Major features are included in pro version

WooCommerce Payment Gateway Based Discounts and Fees plugin serves as an extension to the existing features of WooCommerce. The plugin gives the option of setting discounts or fees according to the payment gateway selected by the customer. The best part about this plugin is that it supports different types of payment gateways including standard payment options (such as transfer through Bank, Cash on Delivery, and Payment through cheque) and personalized payment options which may include any other WooCommerce plugin.
Discounts and fees can be created based on product type. On using this plugin users can create fee value, percent or fixed discount/fee, taxation, rounding, and shipping rules.
Pros
It is an ideal option for both start-ups and small business owners
Free installation
Seamless integration with the seller's WooCommerce website
Users can combine different payment methods for their e-commerce store to collect relevant data.
Cons
Doesn't facilitates with recurring payments
Its pricy in comparison to other plugins

It's a powerful plugin that helps in customizing different types of discount deals to attract the customers. The plugin is compatible with both WooCommerce and s2Member plugin. Moreover, it comes with detailed instructions for installing and setting up this plugin. You won't face any hassles using it.
Discounts Products Manager plugin can be used for creating flat or plus discount offers. Also, users can set pricing and add to any of the webpages. It supports the creation of discounts based on product quantity (both shared and separately). The offers can be promoted on different locations on the site including invoices, email, and cart, checkout, and product details pages.
Pros
Users can change the price's CSS so that customers can know the product price after and before discount is applied
The plugin doesn't work in case a coupon is configured.
Flawless customer support
Cons
Users have to pay to access advanced features of the pro version
Virtual terminal is not supported

This plugin is a perfect option for online sellers who are looking forward to customize bulk pricing for their online store's products. You can quickly create discount offers using this advanced plugin. All you need to do is install the plugin, create the deals according to the given parameters, and your offers will ready within few minutes.
WooCommerce Dynamic Pricing with Discount Rules plugin comes with advanced User Experience design making it easier for the online sellers to set the pricing and rules for the same. You can create discount offers according to the quantity and type of product. Plus, it even allows users to personalize borders and titles of the price table.
Pros
User-friendly WooCommerce Discount plugin
Advanced interface
Allows sellers to customize both Fixed and Percentage pricing
Sellers can create discounts according to product category
Removes discounts from specific products automatically (as customized)
Sellers can create pricing based on product Range or Quantity
Cons
Extra charge to access premium features

It's an excellent plugin for making discount coupons for your online store. On using this plugin there is no possibility of using a discount feature accidentally. You can define the rules for cart and create coupons for your WooCommerce store for products belonging to different categories. Misuse of coupons is a common problem in the world of online sale. Coupon conditions help in reducing these issues while making the online store more secure and efficient.
Advanced Coupons for WooCommerce Coupons can be used for creating BOGO offers, organizing coupons according to the categories, applying discount coupons via URL, restrict discount coupons based on customer role.
Pros
Plugin installation and setting up is easy
Accessible globally
Enhances the overall security of the WooCommerce store
Instant deposit of payments
It is a highly secure plugin for sellers as well as buyers
Cons
Inexperienced users may get confused while setting-up the plugin.

WooCommerce Per Payment Method Discount plugin can help you in setting up discount deals for particular payment gateways. Users can easily use plugins for their WooCommerce store by adding prices to multiple payment methods available for the customers on the site. On using this discount plugin you'll have the choice of choosing from different types of discount such as percentage, fixed, and more.
The plugin allows users to set discount or price according to the payment and shipping method, cart amount, and customer role. Additionally, you'll also have the option of setting up discount or price according to product category featured in the buyer's cart.
Pros
Increases the revenue generation capacity of the store
The plugin increases the value of cart amount
Sellers can create discount offers based on user-role
Create specific discounts and fees according to product categories
Discounts and fees according to shipping mode
Cons
Small businesses may find its premium version expensive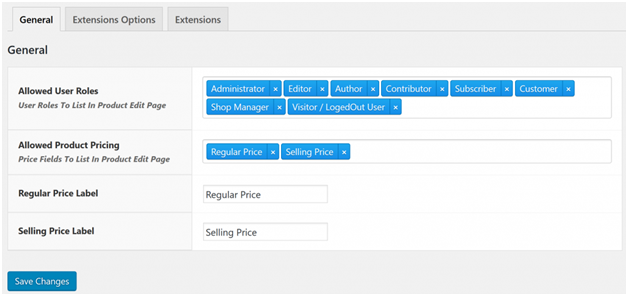 This plugin allows online sellers to facilitate their potential customers with a variety of price offers. Plus, they can even add multiple options for currency making it easier for international buyers to buy products from their sites. WooCommerce Role Based Price plugin comes with an easy interface making it easy for inexperienced sellers to set up and install the plugin.
Using this plugin, the sellers can also create attractive offers for their registered customers. Additionally, you can also customize discounts on both regular cost as well as sales rate of the product(s). It can be added to variety of products listed on the site. Users are also facilitated with short codes for better pricing of the items.
Pros
Users can easily create and manage discounts
The plugin comes with an advanced version ensuring quick and smooth processes.
It features an in-built plugin marketplace extension for the seamless experience of users.
Cons
Doesn't integrates with third party plugins
Conclusion
Discounts deals help online sellers to promote their sales. The best part is that there are wide selections of WooCommerce discounts plugins that can be used for setting up lucrative discount offers on your e-commerce store. The free plugins are ideal for getting basic offers and discount deals features on the site.
Compare the pros, cons, and features of the Discount plugins to find a plugin ideal to promote your online sales. However, note that plugins simply add value to your online store, but the success of your e-commerce site depends on how smartly you entice the customers using these tools.